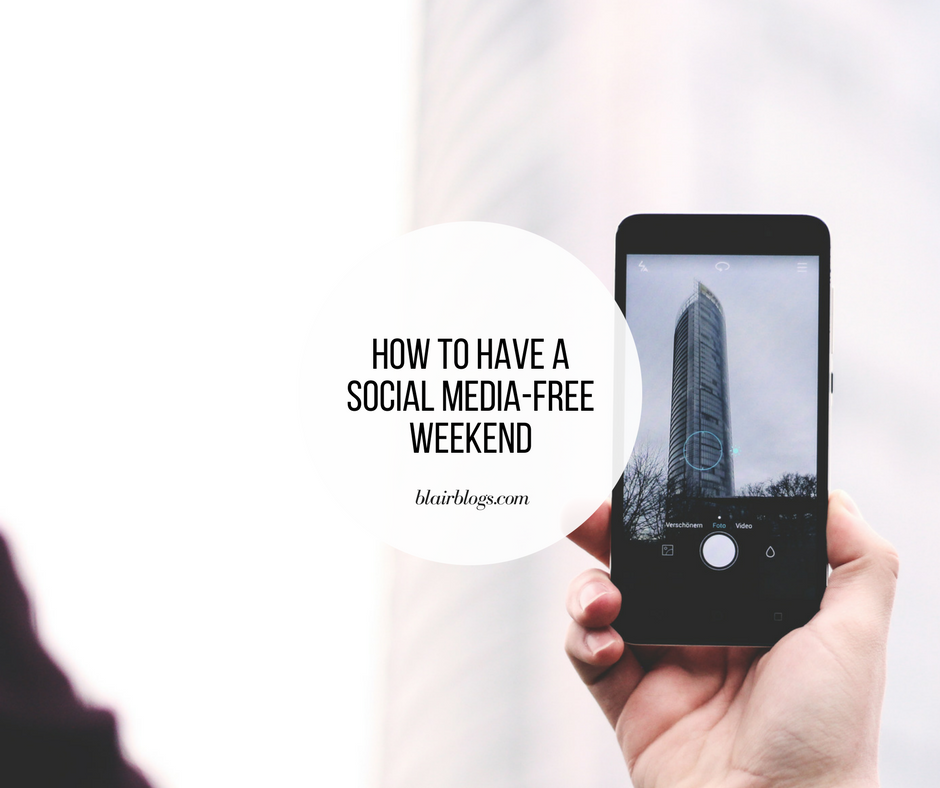 One of my goals for 2018 was to schedule and complete five social media-free weekends this year. My long-term goal is to go social media-free every weekend (or almost every weekend), but I'm choosing to start slow. (Because slow growth is still growth!)
As I've started completing my unplugged weekends, I've gotten some questions. I asked whether a blog post about this goal would be helpful on Instagram, and got a resounding "yes!"
Steps to go social media-free
In the most literal sense, this goal is straightforward and uncomplicated: just don't use social media from Friday night until Monday morning! For most of us, however, actually unplugging for any amount of time is quite challenging.
Step 1 | Decide ahead of time
I decide by Wednesday or Thursday that I'm going to do an unplugged weekend. Because I use social media as a part of my job, this helps me plan ahead. It also helps me to mentally prepare–I don't do particularly well with last-minute decisions!
Step 2 | Delete apps
On Friday afternoon (typically around 2pm if you want to get specific), I delete all of my social media apps from my phone and iPad. Facebook, Twitter, and WordPress (my blogging app) have been deleted from my phone for a while (more on that in this post: How I Gained Back 35 Hours/Week). However, I still have Instagram, Pinterest, Etsy for Sellers, and Gmail on my phone, all of which I delete for the weekend. (I don't trust myself to stay off of them!) I don't play games on my phone, but if I did, I'd delete them too. The point here is to delete any apps that cause you to be on your phone for long periods of time–whatever that is for you.
Step 3 | Say "see you later" (optional) 
This step is totally optional, but if you spend a lot of time on a particular app, going silent for almost three days may freak your friends/family out. (I didn't think anyone would notice or care, but after my first unplugged weekend, I came back to several concerned messages on Instagram!) You may want to post a quick update just to say that you're unplugging for the weekend so as not to worry anyone.
Step 4 | Unplug!
Once the apps are deleted, simply enjoy your weekend! If you're like me, you'll spend the rest of Friday mindlessly picking up your phone to scroll through social media only to be reminded that you've deleted it! By Sunday, I barely pick up my phone at all unless a text message comes through or it rings. It's so freeing! One note: I do check my email and Etsy conversations periodically throughout the weekend, but only when I'm sitting down at my desk and can tackle those messages efficiently.
Step 5 | Re-enter the world of social media
On Monday, of course, it's time to re-enter the world of social media. (Unless you want to extend your leave!) Before you reinstall your apps, however, I encourage you think about which apps you want to reinstall on your phone. Are there any that you could live without? Or any that don't need to be on your phone–things you could get done sitting down at your computer? (That's the case for me with Facebook, Twitter, WordPress, and YouTube.)
Personal reflection
This goal originated because I often feel like I'm staring at a screen all the time. Between my blog, YouTube channel, Blogger Mentorship Program, and Etsy shop, I'm online for hours each day. Then, outside of work, I spend a crazy amount of time scrolling through Instagram and Pinterest without a second thought.
The word I'd use to describe how I feel after an unplugged weekend is grounded. There's something powerful about checking out of online life and checking into real life. It's interesting how unplugging for a couple of days can be so transformative; after a social media-free weekend, I am much less connected to my phone in the days to follow.
As I mentioned earlier, my longterm goal is to go social media-free every weekend (or close to it). I'm starting slowly and gearing up to becoming more and more comfortable with the rhythm of unplugging. And I love the results!
// What about you? Have you ever done a social media-free weekend? Would you consider trying one?
Thank you for reading! You can find me online on YouTube, Facebook, Instagram, Pinterest, and Twitter. If you'd like to be alerted whenever I publish a new post, you can follow me on Bloglovin' or subscribe via email. Check out my fun tees in my Etsy shop! Are you a blogger too? Check out my Blogger Mentorship Program.