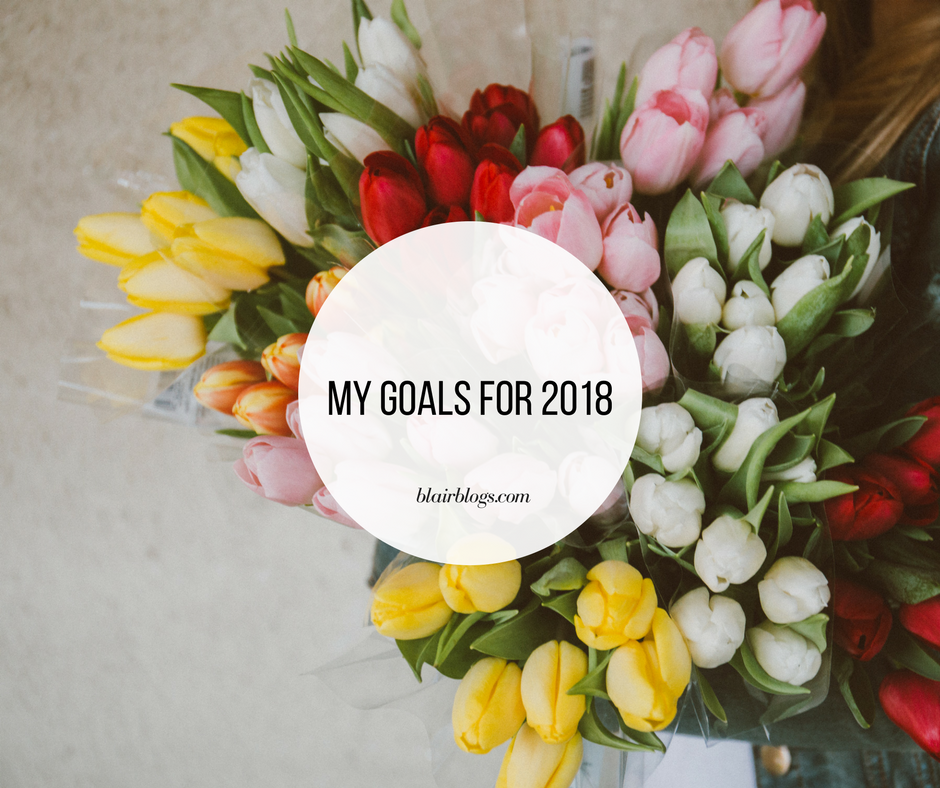 Happy New Year! I love that fresh start feeling of starting a new calendar, don't you? There's nothing magical about January 1st, but I enjoy prayerfully considering my goals and intentions for the year ahead. Last year was infinitely improved by personal goal-setting and intentionality!
Today, I'm sharing my goals for 2018. There are a handful of goals that I'm not sharing publicly (in private realms like marriage, finances, etc.), but these are the bulk of them! This post contains affiliate links.
1 | Listen to 12 audiobooks | COMPLETE
I absolutely love listening to podcasts, but there are so many books I want to read! My love of podcasts + wanting to read more books = audiobooks. The honest reality is that I don't–and won't–make time to read many physical books each month. (I don't have time during the day and fall asleep as soon as I start reading at night!) However, audiobooks fit into my life beautifully. I can listen to them while doing daily tasks like getting ready, cooking, cleaning, driving, or packaging Etsy orders.
I bought myself an Audible membership (this is not sponsored, I pay for it myself) in early December and have already listened to three audiobooks! My goal for 2018 is to listen to one book a month, 12 total! I think I may blow this goal out of the water at my current rate. COMPLETED JULY 2018
If you're interested in trying Audible too, here's a special offer for you: Try Audible and Get Two Free Audiobooks
2 | Schedule and complete 5 social media-free weekends | COMPLETE
Most of us are quite connected to our phones and computers; I am extremely connected to mine. My livelihood depends on being present on social media and the internet in general. I have some boundaries in place that help me unplug, but I'd like to take it a step further and complete at least five social media-free weekends in 2018.
For me, this will mean deleting the Instagram app from my phone, not checking Facebook or Twitter on my computer, and probably scheduling just one hour to check and respond to Etsy conversations, email, blog comments, and YouTube comments.
Eventually, I'd like to get in the habit of going social media-free every weekend, but I know that I don't do well with drastic changes like that. We're starting slow with the goal of five this year! COMPLETED OCTOBER 2018; CURRENT COUNT: 7
3 | Learn my DSLR camera
I got a DSLR last year and haven't taken the time to really learn it yet! Learning how to use my camera was the only goal I had in 2017 that I didn't complete. I did spend several weekend afternoons playing around with it, but I'd like to spend some seriously dedicated time to understanding and learning my DSLR this year.
As far as resources, I've already purchased Clickin' It | A Guide to Mastering Your DSLR Camera, printed it, and put it in a binder. I've thumbed through it, I just need to spend some good hours experimenting with my camera based on what the manual says. Additionally, I plan on taking an online photography class through Nicole's Classes sometime in the spring. I  tend to do quite well "teaching myself" different skills, but some outer accountability will be helpful here.
4 | Implement weekly power hours for house cleaning
Have you heard of power hours? I watch a lot of YouTube, and many YouTubers utilize them to clean and organize their homes. The idea is to create a task list and then tackle it in one "power hour." The focused cleaning time plus the fun beat-the-clock element creates a fast-paced, motivating environment.
This year, my goal is to tackle a cleaning power hour each week (more or less). I hope to film some of them to share on YouTube, so if you love speed cleaning, make sure to subscribe to my channel! I've gotten tired and bored of my old cleaning routine, which has made keeping up with it a drag. I'm hoping that power hours will infuse some novelty and motivation back into my cleaning routine. ONGOING THROUGHOUT YEAR
5 | Grow my YouTube channel to 10,000 subscribers | COMPLETE
I have fallen in love with creating YouTube videos! It is so much fun and so different from blogging, which I've been doing for close to six years. A totally new medium for content creation has expanded my creativity and skillset. This year, my goal is to grow my subscriber count from the current 2,600 to 10,000! It's a big goal, but I plan on sharing lots of new videos and I think I can do it! If you'd like to help a sister out, subscribe here. 🙂 COMPLETED MARCH 2018
Those are my five goals for 2018! I really look forward to watching this year unfold and working toward each goal listed above. Thanks for following along!
// What are your goals for 2018? Do we have any overlapping goals?
Thank you for reading! You can find me online on Facebook, Instagram, Pinterest, and Twitter. If you'd like to be alerted whenever I publish a new post, you can follow me on Bloglovin' or subscribe via email. Check out my fun tees in my Etsy shop and listen to my weekly podcast about simplifying life, Simplify Everything! Are you a blogger too? Check out my Blogger Mentorship Program.