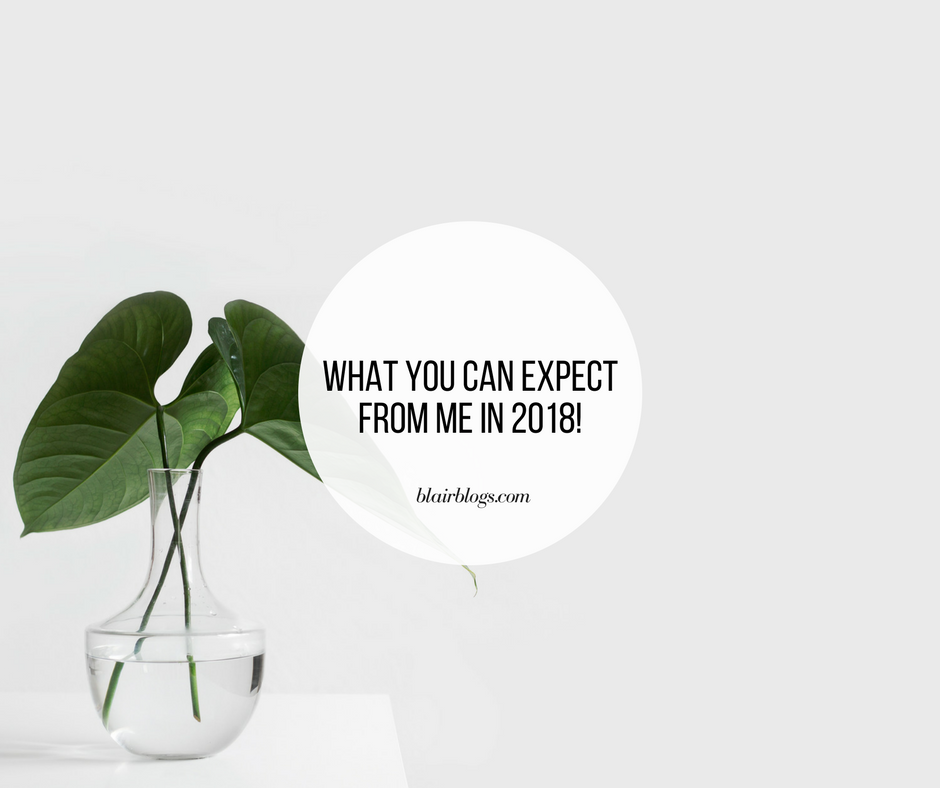 It's time for another What You Can Expect From Me post! (Last year's post here: What You Can Expect From Me in 2017.) I truly appreciate you following along with my blog (and other platforms), so today I want to share the direction I plan on taking my content in this year.
Here's what you can expect from me in 2018:
1 | A focus on my YouTube channel
I am continuing to share a new blog post or a new YouTube video three days a week (as explained here), and I plan on moving forward with that posting schedule for the time being. That said, my main focus is currently on growing my YouTube channel.
This is for a few reasons. For one, I've been blogging for close to six years; it's interesting and enjoyable to learn a new skill set and work on a totally new platform. Secondly, making videos takes me significantly less time than writing blog posts. Most blog posts take me between 4-6+ hours to write, edit, re-write, edit, create graphics, etc. Creating videos isn't brief, but filming and editing one video generally takes about two hours. (Weekly vlogs are filmed in snippets throughout the week and take about 60-90 minutes to edit.) With my growing Etsy Shop and Blogger Mentorship Program, saving time has been necessary.
Lastly, I think there's a level of getting to know someone that can only happen though seeing them speak. Clearly, I love blogging and reading blog posts, but I especially love when one of my favorite bloggers posts a video or an Instagram story! Something clicks when I can see them speak…you know what I mean? After writing so many hundreds and hundreds of blog posts over the years, it's nice to create videos for my blog readers to "get to know me" better. I hope that makes sense!
For those three reasons, I am focused on growing my YouTube channel this year. For those of you who love videos, you're in luck! If you're more of a blog reader, don't fret–I'm not giving up blogging!
2 | More lighthearted content
I guess it's a part of my personality, but sometimes I have a hard time posting "fluffy" content. However, through filming and sharing weekly vlogs (and YouTube videos in general), I've realized how much fun it can be to share the more lighthearted, unimportant parts of life. Not everything I share has to be super encouraging or inspirational; sometimes, it's okay to share the fluff!
I plan on sharing some shorter, chattier, more light-hearted blog posts and videos this year on a variety of topics. If there's anything in this category that you'd like me to share about, let me know!
3 | Continued focus on growing Etsy
In 2017, my Blair Lamb Design Etsy Shop went from being a very small side hustle to my main focus and priority. It was a wild ride! This year, we will continue to launch more designs and styles and are hoping to expand the shop to include new and different product offerings. Make sure to follow my shop on Instagram–it's where I share announcements and sales!
With Etsy's all-consuming, time-sucking nature, I will reevaluate my blog/YouTube content schedule if necessary, especially during particularly busy Etsy times, like the summer months and holiday season.
4 | Two series moving exclusively to YouTube
In 2018, both my monthly favorites ("What I'm Loving") and my word for the year ("Rooted" in 2017, "Assurance" in 2018) series will both be shared solely on YouTube.
For the past 18 months, I've written out my What I'm Loving posts here on my blog. In the name of trying something new, saving time (see above), and also because I genuinely think video is a better platform for sharing and explaining products, I'm moving this series to YouTube and will not be sharing my favorites on my blog beginning in January.
Additionally, my Assurance 2018 word for the year series will be shared on YouTube only. In 2017, I shared my Rooted series on both my blog and YouTube channel. By the end of the year, it felt like needless extra work to create an entire blog post for a video that was already hosted on YouTube, you know what I mean? Make sure to subscribe to my channel and turn on notifications if you don't want to miss my quarterly Assurance updates.
5 | New blog series: Brave Women Share Stories (BWSS)
I saved the best for last! 😉 I am absolutely thrilled about this new series. In a nutshell, I'm welcoming a series of brave women to share a particular story from their life here on my blog. My goal with each post is raw vulnerability and honesty, authentic, gritty storytelling, and truthful sharing. I want you, as my reader, to leave each BWSS post feeling encouraged, inspired, brave, and supported.
I can't wait for you to "meet" the women in my lineup. You will adore them and their courage will astound you. Ultimately, I hope their stories comfort and support you as you walk your own journey.
// Thank you so much for following along. I hope you're looking forward to new content in 2018!
Thank you for reading! You can find me online on Facebook, Instagram, Pinterest, and Twitter. If you'd like to be alerted whenever I publish a new post, you can follow me on Bloglovin' or subscribe via email. Check out my fun tees in my Etsy shop and listen to my weekly podcast about simplifying life, Simplify Everything! Are you a blogger too? Check out my Blogger Mentorship Program.