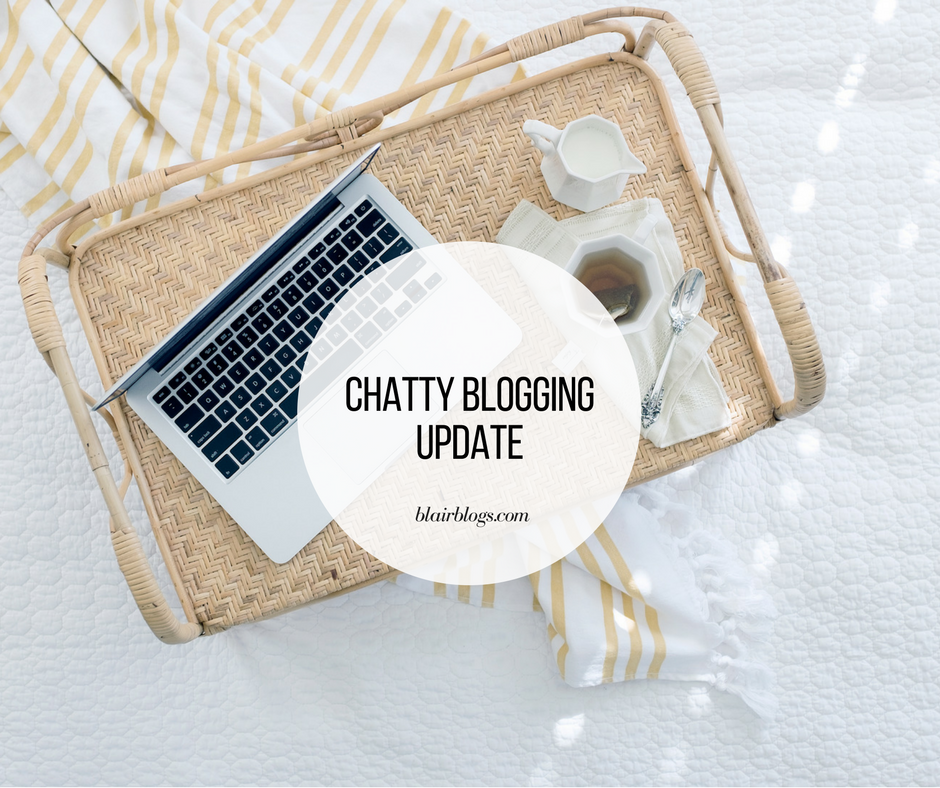 Hey y'all! I hope you've had a great week. Today I'm sharing a blogging update…let's jump right in!
Health issues
First of all, the past month has been quite strange health-wise. I've dealt with a lot of hand pain that has made typing painful and challenging. Because of this hand pain, I have intentionally pulled back from blogging and focused on my YouTube channel instead. (I've also invested in a more ergonomic desk setup, seen my chiropractor, done hand stretches, used oils, etc.)
Additionally, I've been battling horrific fall allergies. I know "allergies" sounds so wimpy, but they have been awful. Constant sinus pressure and headaches. Congestion and sniffling. Itchy, watery eyes. A sore, scratchy throat. That terrible about-to-sneeze feeling all the time. Topographically, Gainesville (where we live) is in a "bowl," so the pollen all tends to settle here. Which is why, apparently, all of us have the worst allergies of all time ever. I have tried everything. Some remedies work for a short time, but nothing has eradicated my allergies. I'm currently looking into getting an appointment with an allergist, but the closest one is 45 minutes away (of course) and I'm not at all thrilled at the prospect of long-term allergy shots (and driving 1.5 hours roundtrip once a week for them). Giant eye roll.
How this affects blogging
To put it briefly, these health issues have made writing a challenge. In addition to this, my Etsy shop is growing each month and requires significant time and energy to keep up with it. Plus, I have eight mentees currently active in my Blogger Mentorship Program who deserve my daily time and attention. All this explains my more infrequent posting schedule rather than my usual Monday/Wednesday/Friday posts.
If there's one thing I've learned for sure about sharing online it's this: the internet will never agree on what I should be doing. I get contradictory messages, comments, and emails weekly. Some people wish I would only write blog posts and stop making YouTube videos altogether; others urge me to abandon my blog and just focus on YouTube. Even when I think I'm doing a good job balancing the two, I'll get comments on how I should be doing more X, Y, or Z. Though I highly value feedback from my online community and consider it, I know that ultimately I have to choose the direction of my content and move forward confidently. If I based my content solely on feedback, we'd all get whiplash.
Moving forward
My current goal is to share new content three times a week, whether on my blog or on YouTube. Some weeks, I'll share two blog posts and one video, others I'll share one blog post and two videos, and every once in a while I'll share three blog posts or three videos. Realistically, I know this won't actually happen every single week…but it's my goal!
Though I would love to be able to write and share five new blog posts a week plus a couple of videos and keep my mentorship program and Etsy shop afloat, I can't! Well I can, but I value my sanity, a clean home, and time with my husband. 😉
I love being self-employed, but it's not always a cake walk. Thank you for bearing with me as I navigate this journey and figure out how to keep everything afloat. You guys are my favorite!
Thank you for reading! You can find me online on Facebook, Instagram, Pinterest, Twitter, and YouTube. If you'd like to be alerted whenever I publish a new post, you can follow me on Bloglovin' or subscribe via email. Take a look at my Etsy shop where I sell tees, totes, sweatshirts, and pillow covers! Are you a blogger too? Check out my Blogger Mentorship Program.