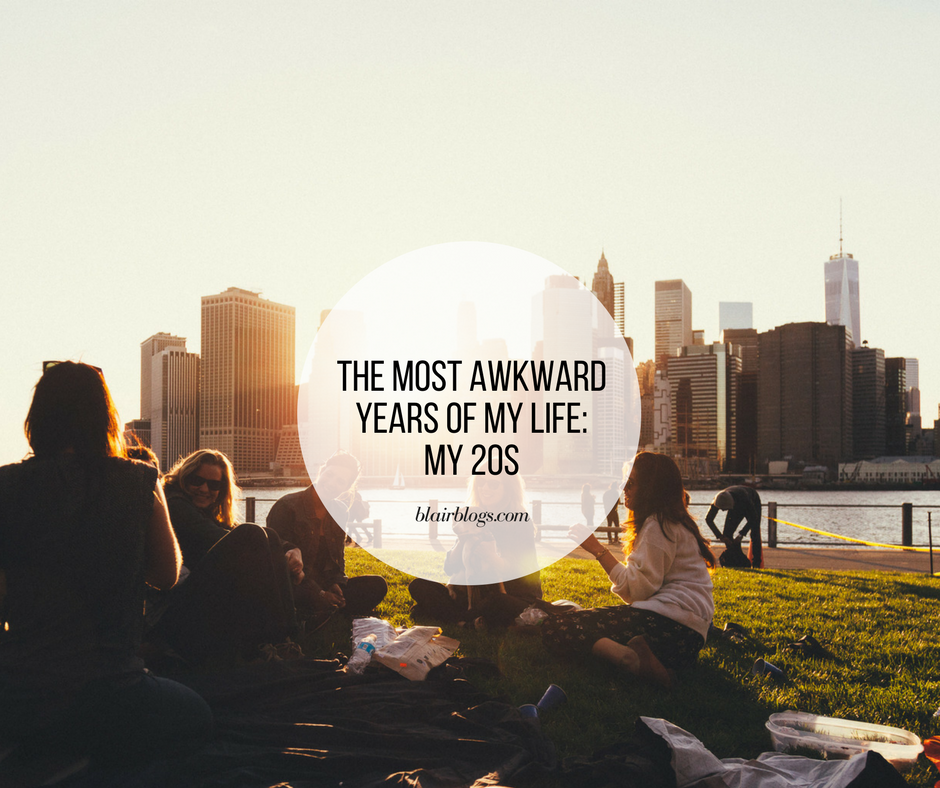 The middle school years have long been called "the awkward years." And awkward they were. We're talking flat-chested, brace-faced, frizzy-haired, unsure-of-myself awkward. Though I looked like a strange girl-woman and acted weird, my life wasn't all that awkward. I was in school, and I knew I'd be in school for the next 8+ years with people I'd known since kindergarten. I played sports as I always had. I had a small group of girlfriends. I most definitely was not interested in boys (though my friends were boy crazy!). I didn't contemplate my future much; I knew what the next decade would look like with a high degree of certainty.
The real awkward years are my twenties.
I have some friends who have three children and counting and others who live with their parents. I have some friends who are blazing up the corporate ladder and others who are still getting their degrees. I know some people who have been married and divorced, and others who have never dated. I look around at my peers and think, What the heck are any of us doing?
Up until now, we were all on the same path and trajectory more or less. Post-school is like complete chaos. Every one of us are bursting forward in a different direction. No one I've talked to feels totally confident in the path they're on, but we all push on–because what else can we do?
This period of life is strange and slightly unsettling. No one talks about how weird this stage is. People say their twenties are "the best years of their life!" I've been told to "Live them up!" and "Enjoy every moment!" and a bunch of other advice that sounds good but doesn't really add up to anything concrete.
Making friends is awkward
Making friends in my twenties has been profoundly challenging. With everyone in a different season–some single, some dating, some career-oriented, some still in school, some with a house and kids–it can be hard to find commonalities the way we always did through grade school and college. Past friendships change, and that can be confusing and isolating.
I could make friends with ease from birth through college and now I'm left scratching my head. I don't know how long this period of time lasts, but it seems like the people I know in their mid-thirties are more connected to other people/couples/families who took a similar trajectory as them. You know what I mean?
Choosing how to spend money is awkward
I don't think it's ever all that easy to budget and know exactly how to spend money, but I've found it particularly difficult in my twenties. With the messaging to "Live it up while you still can!", there's pressure to travel the world and cross every destination off my bucket list. Simultaneously, I feel pressure to save money, buy a home, and settle into it before babies come. I feel the same opposing pull to both buy "fancy" clothes, shoes, and handbags "while I still can" and to save every spare dime I have for the future. What are we supposed to be doing?
Career paths are awkward
Almost everyone I know (who's my age) has said something along the lines of "I like my job, but I don't know if I see myself here longterm." Because we don't know what our longterm plans are! Because we're in this weird hybrid stage where we act like adults but don't totally know "how to adult!"
Many (most) of my friends have jumped out of the career they thought they'd stick with and into something completely different. Many of my friends (and me) are working on building our own businesses and figuring out finances and business plans and taxes and everything else. Many of my friends worked for a couple of years and then went back to school to get a degree in another field. We're all trying to find our footing, trying to find somewhere we fit, trying to figure out what makes us happy but also helps others…and allows us to pay the bills!
Knowing where to live is awkward
I always knew I'd move out of my hometown, so post-college, I applied to jobs in cities all over the country and ended up in Austin, Texas. During the two years I lived there, I thought I'd found home and would spend the rest of my life with an Austin address. As many of you know, I was wrong. Now that I've lived here in Gainesville for over two years, I constantly wonder where we'll be for the next five years, ten years, 30 years. I love exploring new places and am very open to moving–but where?
Many of my friends who have stayed in their hometowns feel the same way. Do I want to stay here forever? Is there adventure somewhere else? Could I live far from family? Do I want to?
Romantic relationships are awkward
Some people choose to remain single, some people don't want to be single but are, some people have been dating their significant other for a decade, some people get married, some people end one relationship for another, some people try online dating for the first time, some people try online dating for the last time…we're all trying to figure out who we want to spend our life with, if anyone. The pressure! 
This mixed with trying to make friends, figure out our budgets, and make the "right" career choices? It's a moment.
Embracing the awkward
I think all the twenties-awkwardness boils down to this: we (people in our twenties) feel the pressure to have the present and the future planned out perfectly. We feel the pressure to have it all figured out. But we don't have it all figured out–at all. What if we laughed through the awkward and embraced these years instead?
I am certain that folks in other age brackets feel awkward too, and I'm not discrediting that. (In fact, if you're not in your twenties, I would love to hear what kinds of awkwardness other decades of life bring! You know, in the name of preparation.) I am only acknowledging that my twenties have been quite awkward, and I know I'm not alone.
In my own life, I am making a daily effort to be okay with changing friendships, having a hard time meeting new friends, living in a small little town I don't love, thinking about growing our family, not knowing the future of my blog/Etsy shop/whatever else, not knowing exactly what we should or shouldn't spend money on, etc, etc. I like to be in control, so this is not easy for me. 
But! Through the awkward, I feel there has been a lot of self growth and maturity. (Twenty-somethings, has this been your experience?) Perhaps that's what our twenties are for–figuring out that we'll never have it all figured out and being okay with that. Letting go of control and trusting God to guide us. There's life to be lived in the awkward.
"In their hearts humans plan their course, but the Lord establishes their steps." -Proverbs 16:9
// Did you find/are you finding your twenties to be awkward? How have you navigated this?
Thank you for reading! You can find me online on Facebook, Instagram, Pinterest, Twitter, and YouTube. If you'd like to be alerted whenever I publish a new post, you can follow me on Bloglovin' or subscribe via email. Take a look at my Etsy shop where I sell tees, totes, sweatshirts, and pillow covers! Are you a blogger too? Check out my Blogger Mentorship Program.