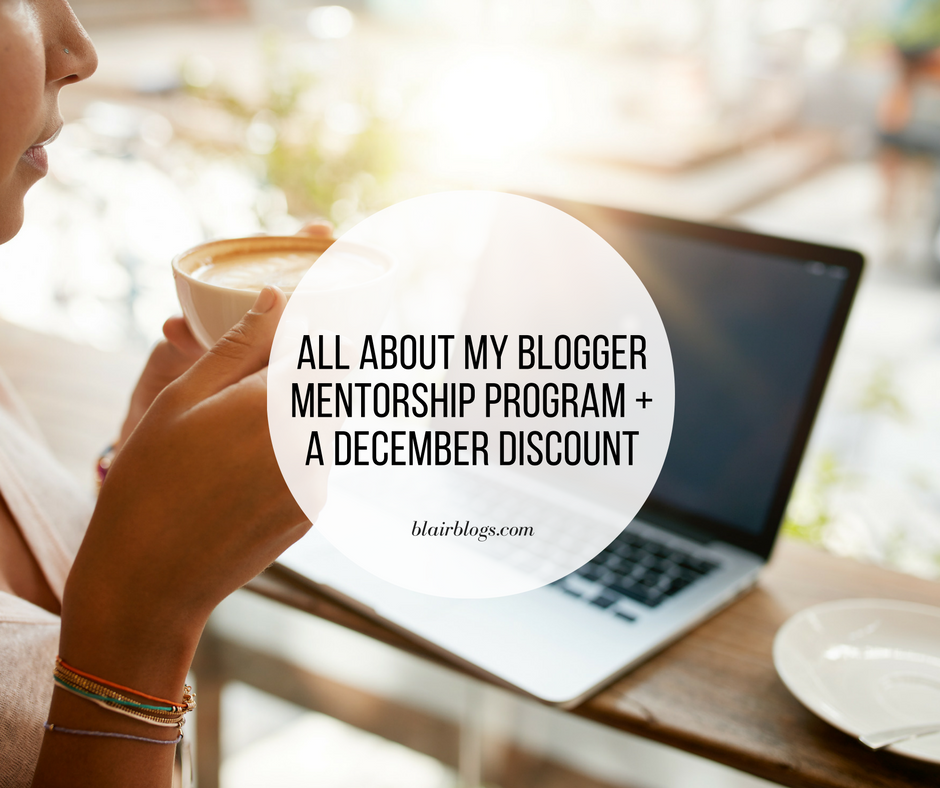 I launched a Blogger Mentorship Program this summer, and it has hands-down been my most favorite "project" to date. You can read all the nitty gritty details here, but it's basically a three month program for people who want to create and launch a blog, people who have started a blog but don't know how to build and grow it, people who have been blogging for a while and want to take their site to the next level, and almost everyone in between. 😉
I've worked with 22 total mentees, seven of whom have already completed the program (three more are graduating this week!). My past and current mentees are some of my most favorite people ever–and I'm not "just saying that!" They are interesting, creative, brilliant, thoughtful, diligent, dedicated, and a thousand other wonderful things. I truly adore each one. I haven't written much about the mentorship program, but it is a major part of my day-to-day schedule. I usually spend several hours communicating with my mentees each day, plus more time researching and creating individualized monthly plans and recommendations. I absolutely love it!
My mentees are incredible women from all over the world–from New Hampshire to Australia to Canada to Colorado to Tennessee and beyond! Getting to know each woman over our many Skype sessions and emails is truly a joy, and adds a unique layer of trust and friendship to the program. I've become such good friends with my mentees that we'll often lose track of time while Skyping and end up chatting about totally non-blog related topics for hours.
Plus, all of my mentees and I are in a private Facebook group, where we share information, resources, and encouragement. It's a safe place to ask questions, share challenges and victories, and get to know other bloggers who are working hard, too! If you want to meet some of my mentees who have already completed the program, you can read their bios here.
I believe this program works because it's individualized, communicative, and flexible. Each one of my mentees has a different, personalized experience based on her goals, needs, personality, schedule, life stage, etc. I love the challenge of finding solutions and to-dos for each woman based on her, not on programming. There's nothing one-sized-fits-all about it! My mentees agree; check out their testimonials here.
All that to say that I'm offering a discount for anyone who signs up for the Blogger Mentorship Program in the month of December–instead of paying the typical $249, the price will be just $179 through December 31st!
All mentees who sign up during the month of December will begin the program in February or March of 2017. That way, all of my current mentees will have graduated, and I'll have the bandwidth to give a new group of mentees lots of personalized attention, resources, information, and encouragement. It's a great time to invest in your 2017 goals–if one of those goals is launching a blog, growing your blog, or taking your blog to the next level, I'd love if you'd consider this program!
If you're interested, please email me at [email protected]. We can go over any questions you may have, you can decide my program is the right fit for you, and we can get the ball rolling! For more information, check out my Blogger Mentorship Program page. I would love to get to know you and work with you!
PS- If you're interested in purchasing this program as a gift, I can mail you something for the recipient to unwrap!
Related: Introducing: Blogger Mentorship Program
Thank you for reading! You can find me online on Facebook, Instagram, Pinterest, and Twitter. If you'd like to be alerted whenever I publish a new post, you can follow me on Bloglovin' or subscribe via email. Check out my fun tees in my Etsy shop and listen to my weekly podcast about simplifying life, Simplify Everything! Are you a blogger too? Check out my Blogger Mentorship Program.