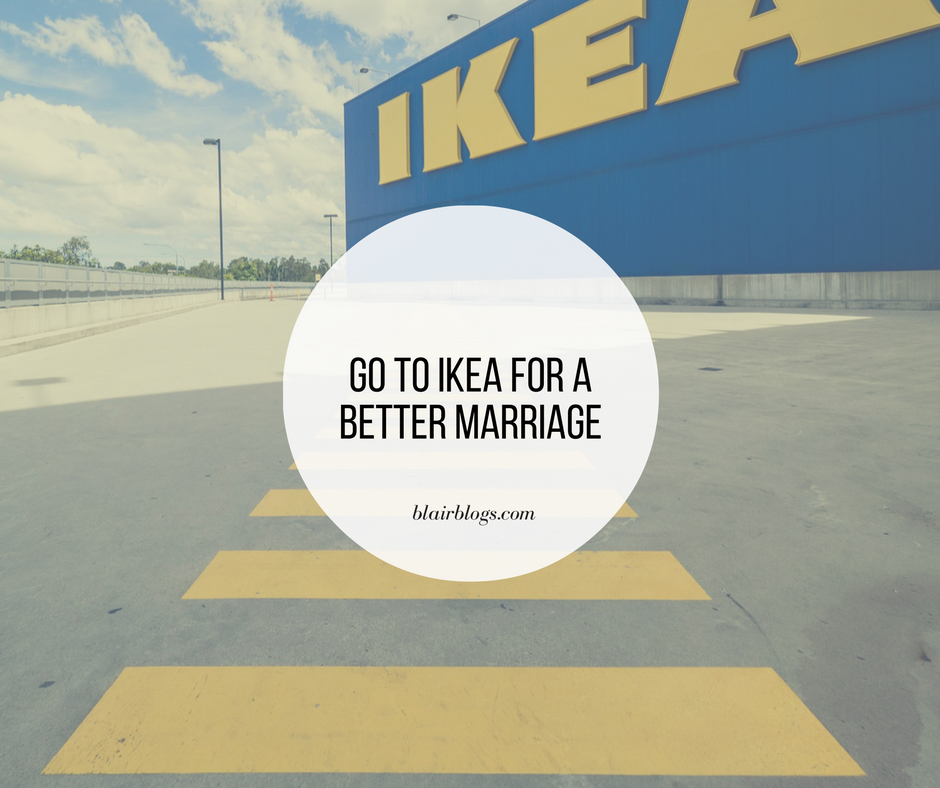 A theme central to marriage is refinement–learning to love selflessly through triumphant joy and hard challenges, resulting in becoming a "better person," which in my world translates to becoming more like Jesus.
This process is traditionally thought of as long-winded; over years of time, slow change, transformation, and refinement occurs as married couples learn to communicate, serve, forgive, appreciate, and love one another well.
If, for whatever reason, you have the urge to speed this process up, go to Ikea with your spouse. I'm so serious–Ikea is a marriage refinement pressure cooker. You will experience joyous highs and devastating lows, all in a giant blue and yellow box. (A sarcasm font would come in handy here.)
This is multi-faceted. First, you have to drive to Ikea. Seeing as there are like 12 stores in the entire US, this will usually take about 30 minutes to an hour. Then, parking. You'll enjoy a game of real life Frogger as tired Ikea people with 17 heavy boxes in their cart and a half-melted frozen yogurt cone in their hand walk aimlessly through the lot to somehow load their too-small cars full. (Not making fun, I am squarely in this camp.)
Next, you'll have to meander through the showroom. I actually love the showroom because it gives me decorating ideas, but some other shoppers frequently pretend like the showroom is an actual room in their actual house. Yesterday I saw three people put their iced Starbucks drinks in a fake kitchen fridge to keep them cold while they shopped. Help me.
The showroom presents many major marriage stressors: navigation, large crowds, language difficulty (I'm looking at you Knopporp, Tofteryd, and Malsjo), hunger, sore feet, financial decisions ("I think we have $6,000 worth of furniture in our cart right now, should we rethink a few things?"), and the necessity of clear communication and agreement on which TV stand is best.
Once through the showroom, it's time for the warehouse portion. The first part of the warehouse, with the small household items, is a literal battle against impulsive purchases. This is where budgets go to die. "But we need orange candles for the fall!" "Do you think we should pick up champagne glasses since they're only 59 cents?" "Ooh, don't you want to update our throw pillows?" "$99 for that rug is a great deal, don't you think?"
The second portion, where you locate aisles and bins, find the correct piece of furniture in the correct stain/color, and load it into your cart, is a literal battle against laying facedown on the suspended Ektorp sofa and sobbing quietly.
Once all of that is complete, it's time to get in line. As a company, I think Ikea is brilliant–they have revolutionized home décor and furniture in a huge way. However, their checkout lines are the exact antithesis of brilliant. Why is the conveyer belt only four inches wide? Why can't I see the cashier? I understand nothing about this.
Then, it's on to cinnamon rolls and frozen yogurt. Because the obvious time to purchase these treats is when you're also trying to maneuver a cart that weighs approximately six tons, right? So, dodge the small children and get some sugar. Mostly for your marriage's sake because your blood sugar is low and your temper is short and you're all the way over it.
Now, for the fun part. Loading up your car. The car-loading zone is a good idea in theory but there is never a spot available in practice. (At least not when we shop, which is on the weekends, when the entire world population visits the Dallas Ikea.) So yeah, the only viable option is to roll your stuff to the back of the parking lot, where you had to park, and try to fit it into your car.
Once home, you have furniture! Oh, just kidding. Not yet. You have 54 brown, flat, heavy boxes, each with "simple" instructions featuring a jovial stick figure easily putting together his furniture. He mocks me every time. This part is a test of following instructions, patience, and how long your fingertips can go without bleeding.
Finally, exhausted as you may be, you have furniture. You're done.
My husband Riley and I have been through this exact process more times than I'd care to mention lately. Our marriage has withstood the refining Ikea fire, and we're better off for having walked through the flames. Yesterday, we spent all day in Ikea and only came home with a pack of napkins and an end table. Despite this, our house is starting to look pulled together, and we're not broke, so I'll take it. 😉
// All joking (and slight exaggeration) aside, exhausting and time-consuming situations like shopping at Ikea have actually helped us learn how to communicate, be patient, and get on the same page. What real world thing refines your marriage relationship?
Thank you for reading! You can find me online on Facebook, Instagram, Pinterest, and Twitter. If you'd like to be alerted whenever I publish a new post, you can follow me on Bloglovin' or subscribe via email. Check out my fun tees in my Etsy shop and listen to my weekly podcast about simplifying life, Simplify Everything! Are you a blogger too? Check out my Blogger Mentorship Program.