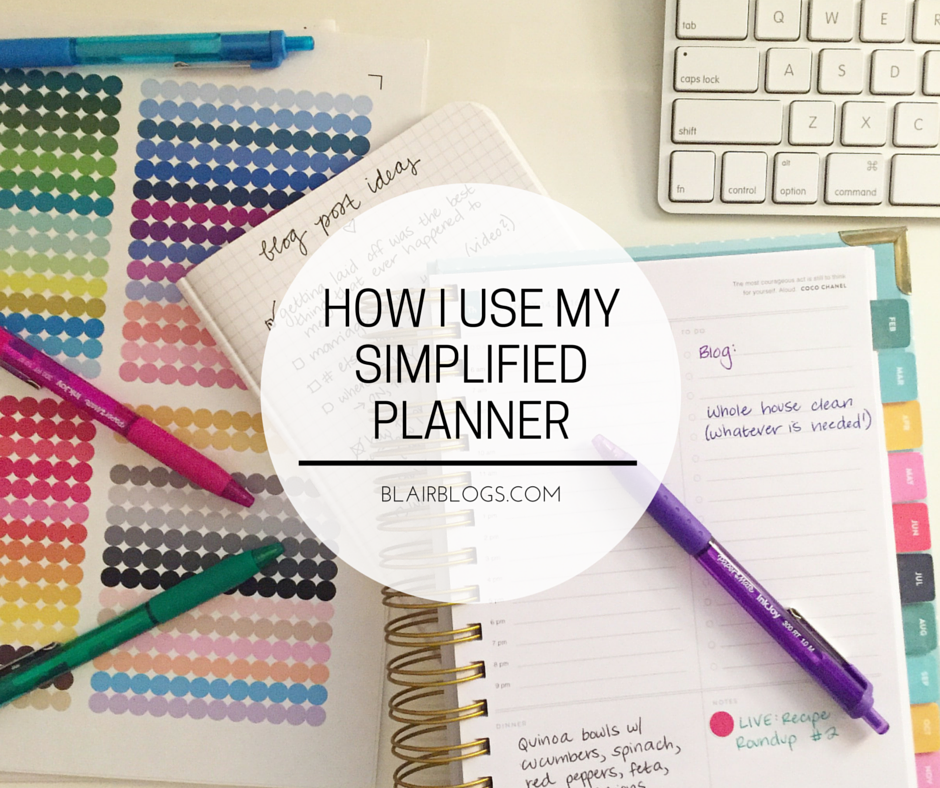 I find a lot of joy in planning ahead. It makes me feel at peace and helps me to prepare for what's coming up. It helps me stay on top of my responsibilities and it holds me accountable for the things I don't enjoy (like cleaning the floors!). On the day the 2016 edition was released (September 2015), I purchased Emily Ley's Simplified Planner. Today, I'll show you how I use it. (This method could apply to almost any planner!)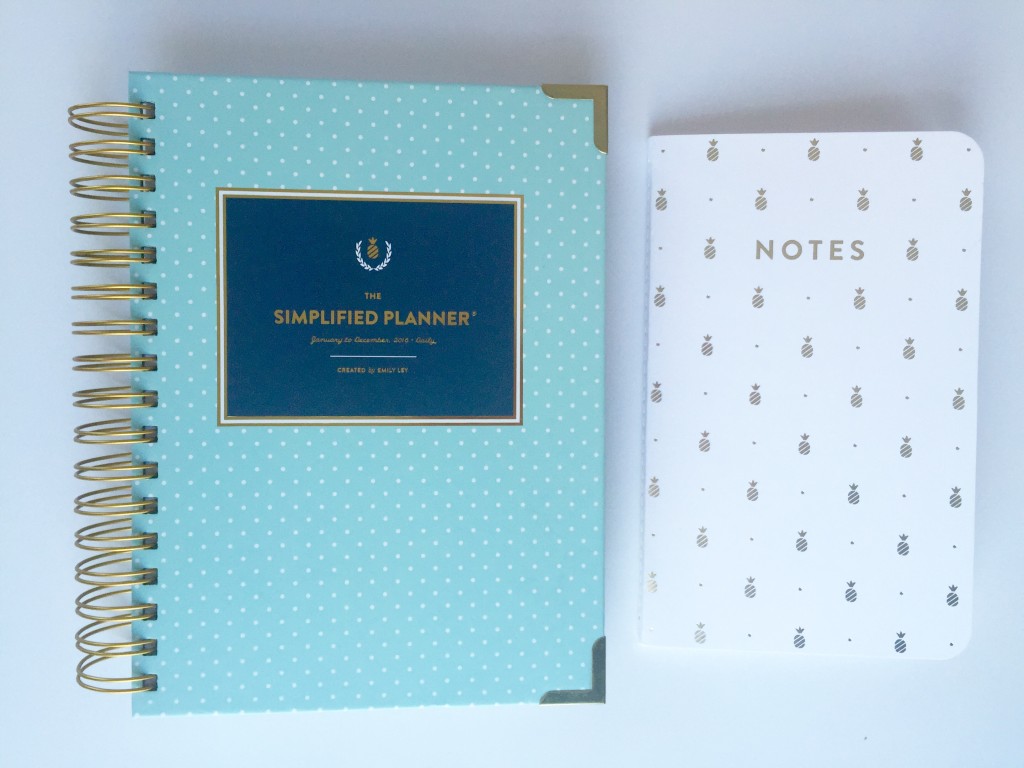 Step 1 | Plan dinner and blog posts
On Sunday evenings, I always sit down and meal plan for the week ahead as well as schedule out my blog posts (I've shared this process on Instagram here and here). After I'm finished with that, here's what a day in my planner looks like. As you can see, I've written in purple the title of a blog post that I need to write, in the dinner box what we'll eat that night, and in the notes section what post is going live that morning and which social media platforms I need to broadcast it on.
This way of scheduling out these two things at the beginning of the week saves me so much time and energy. It takes me over an hour to decide on five blog post topics and five meals, so packing that into Sunday evening has proven to be significantly more efficient than wasting time each day on those decisions.
If you're not a blogger, consider planning dinner and something (or somethings) else in your life that take you a lot of time to decide on. For example, perhaps it would be wise to decide ahead of time what you'll eat for breakfast or lunch, too. Or when you'll go to the gym, or what type of exercise you'll do each day. Maybe you need to decide ahead of time what outfits you'll wear based on your schedule. Do you catch my drift? By spending time on Sunday night thinking through these decisions, you'll save lots of time during the week.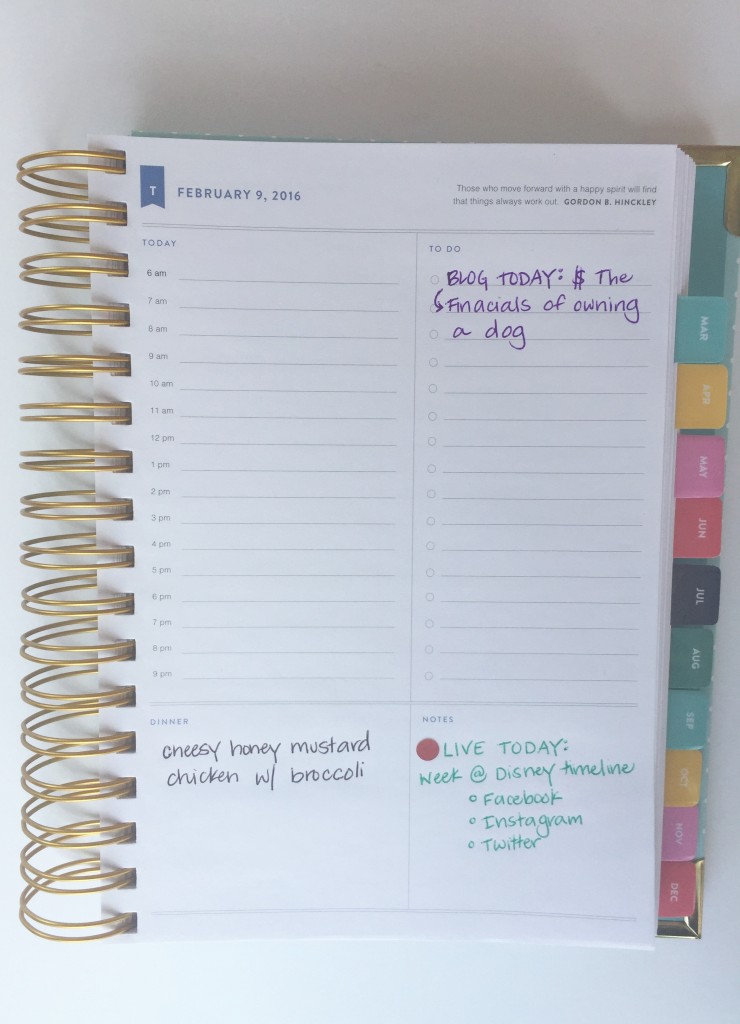 2. Plan out day and tasks
Then, each night, I spend about 10 minutes planning the following day's schedule and task list. I check to see if I have any appointments scheduled and then plan the rest of my day. As I go, I add in the chores and tasks that I want to get done. I also look up the recipe for the following evening and make a note of how long it takes to cook so that I can spend my time in the kitchen efficiently and wisely.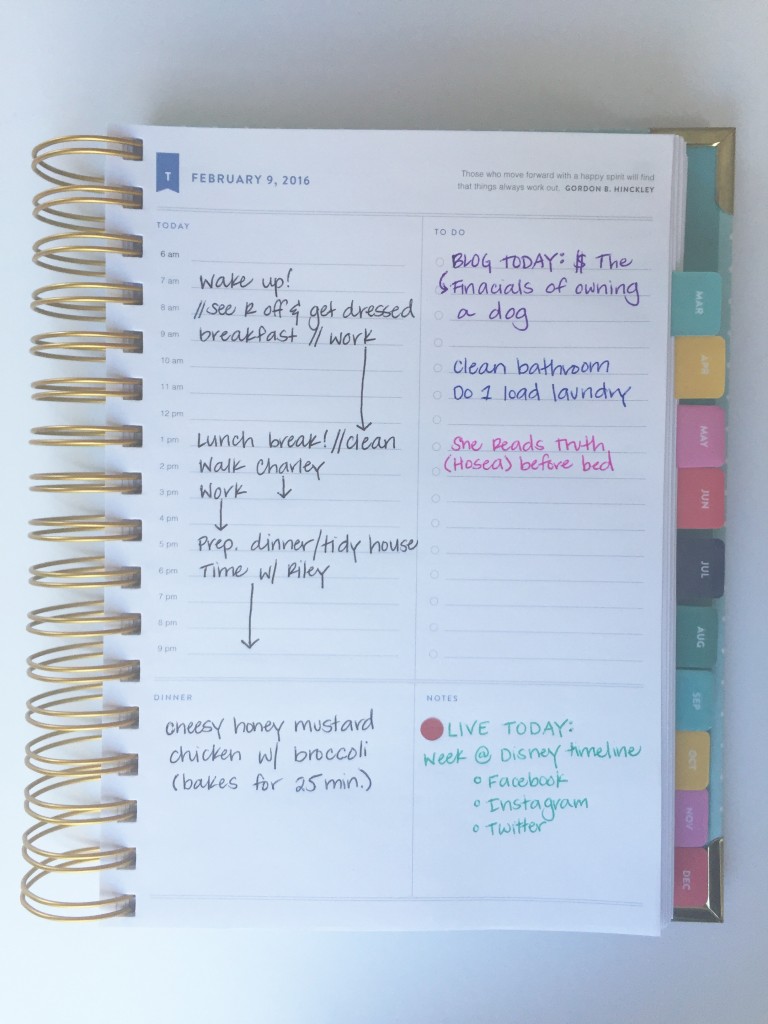 // Notes on using my planner
Pens: I use these InkJoy pens for my planner since they write beautifully but don't bleed through the pages. (Also, they're cheap–just $3!) Here is how I color code my planner: purple for advance blog post writing/researching/photographing, green for daily live blog post and social media amplifications, blue for cleaning, pink for Jesus, and black for everything else.
Stickers: I've made lots of stickers for my planner using my Silhouette. If you don't have a Silhouette (or a Cricut), you can find lots and lots of planner stickers available for sale on Etsy.
Notebook: I bought my Maybook when the Emily Ley gold foil pineapple notebook was for sale. It's no longer available, but you can find her flat pineapple print here or check out the hundreds of other Maybook designs here. Maybooks fit perfectly into the front flap of the Simplified Planner, and I use mine for everything from blog post ideas to to-do lists to long term goals.
// Do you use a paper planner? How do you schedule your time?
use the image below for Pinterest