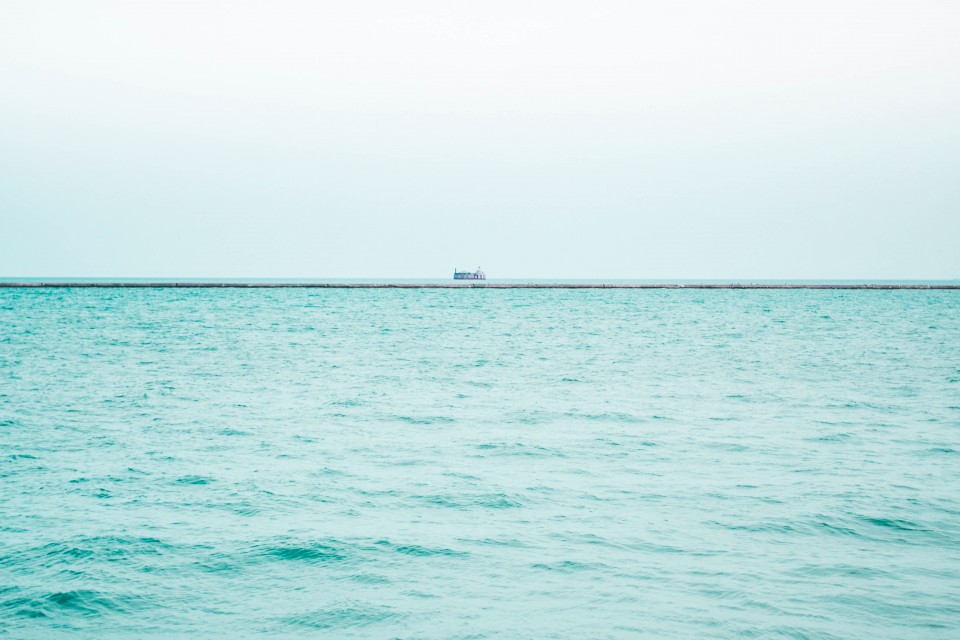 In almost exactly one month, it will be three years since I graduated from college. Since then, I've moved five times, held three different jobs, raised a puppy, met and married my husband, and bought a house. These years in "the real world" have been packed–with lessons learned, incredible relationships, faith-testing challenges, and abundant joy. Now that I'm "settled," or at least married and living in one place indefinitely, I can look back with clarity on my transition from the college realm into adulthood.
Lately, and I presume because we're creeping up on college graduation time, I've received several emails asking me the same thing, more or less: how did you decide to move to Austin after you graduated? Why did you decide to live alone? How did you make friends? What was it like being alone in a new place? Etc, etc. I'd love to share my story today to answer those questions, and also hopefully pass on some encouragement and a sprinkle of wisdom.
First of all, I graduated in May of 2013 from Elon University in North Carolina with a degree in Business Marketing and a minor in Spanish. At that time, I was dating someone who lived outside of Austin, Texas, was a year below me in school (but older than me), and was attending college about 3-4 hours away from Austin. We had been dating about 18 months when I graduated, and it felt serious at the time, so you'd think I would've gravitated toward Texas in my job search. However, that wasn't the case.
I loved living in North Carolina during my college years–the weather is awesome and mild, the landscape is beautiful, the cost of living is affordable, there's a lot to do, and the people are warm and Southern. I really had my heart set on staying in North Carolina, and I became okay with the fact that my then-boyfriend and I would have to figure out our next steps once he graduated a year later. But after applying to literally hundreds of jobs and interviewing for a handful, I was hit with reality: finding a job out of college can be challenging, and I didn't want to live at home, so I needed to be willing to relocate wherever.
After praying for an open mind, I acted on my realization. I applied to jobs literally all over the United States. I even applied for jobs in places that I'd never been before, like Minnesota! My mindset shifted from one of control to one of release and I cultivated a sense of willingness to go wherever God opened a door. I remember feeling extremely excited about my future because I knew that there was an adventure in store for me, even if I didn't know where.
More interviews over the phone, over Skype, and in-person (in Maryland and North Carolina), some "We think you'd be a great fit, but you don't have any experience," some, basically, "You'd be terrible at this job, we've found someone else." Graduation came and went and I moved back in with my parents in Maryland. Just a few weeks of living at home, though, and my then-boyfriend's mom told me about an opportunity to work with one of her friends at a tech company in marketing in Austin. Apparently, the company was specifically looking for an entry-level marketer (because college grads are cheap). Though I was truly open-palmed as far as where I'd relocate, it was exciting to think that I'd be closer than 30 hours away to the person I was dating.
I had two long, intensive phone interviews with this company before they asked me to fly down for a third and final interview in-person. Because I knew that flying to Texas wasn't something that I could afford to do on a whim, I prepared for that interview trip as if I had already been offered the job. I created a detailed apartment search binder while I was in Maryland based on the information that I could find online and planned to find an apartment to rent while I was in Texas in the case that I was offered the job.
And that's exactly what I did. I flew into Austin at the beginning of the week, interviewed with the company on a Tuesday, was offered the position that same day, and had signed a lease for an apartment by Thursday. I flew back home on Saturday. It was a whirlwind of a week! I was so thankful that I had spent time researching ahead of time because I likely wouldn't have been able to nail down a place to live so quickly otherwise.
Because I had specifically been in prayer about moving anywhere that God opened a door for me, I had no hesitation whatsoever in accepting the job and moving to Texas. I knew it was my next step, no doubts at all. (I was naturally a little nervous, but more excited than anything.)
As far as living alone, I knew from the day of graduation that I would live alone if I could. (Actually, for as long as I can remember I've dreamt of living alone!) I am an introvert, I love to be alone, I am very refreshed by being alone, and I wanted, for the first time in my life, to live alone. As a child, I shared my bedroom and bathroom, and I did the same in college. After college graduation, I was financially independent, and even though it would've been cheaper to live with a roommate, I was willing to sacrifice other things to be able to live by myself. It just really appealed to me! (And I absolutely loved it so much. I loved living alone!)
Anyway, after another month in Maryland, I moved to Austin on the 4th of July! I shipped my belongings in a pod and drove with my mom in my little Honda Civic to Nashville on July 3rd, where we stayed a night, and then on to Austin. I will never, never, never forget the day that I arrived in Austin. I didn't get to move into my apartment until the 5th, but I remember sitting on a high school football field with my mom and our family friends, watching the fireworks on July 4th, over-the-moon about starting my new life in Texas. (I love Texas with all of my heart…but that's for another post!)
The next day, a Friday, I moved into my apartment. I barely had any furniture, but that didn't matter. I was so proud of that little space, I remember just laying on the couch and looking around thinking, "This is my home!" My parents flew out on Sunday afternoon (my dad flew in to help my mom and I move), and I started work on Monday.
As I said, this was early July. My then-boyfriend went back to school early in the first week of August, so we had just a few weeks together before he'd be 3+ hours away. During those weeks, I really expected us to spend lots of time together, exploring Austin, etc. (We were finally in the same state! We only lived 20 minutes apart! Of all places, I ended up there!) That's not what happened at all, though, and that began a slow-but-steady decline in our relationship; now I can see that it was like the beginning of the end.
Work was work, it was long and boring. I was stuck in a cubicle, everyone I worked with was at least 20+ years older than me, and I obviously had no say in anything since I had no experience at all! I definitely didn't love it (or even like it), but it was a good way for me to grow my skill-set and network, and I recognized that and felt blessed for it. Having a job at any time in life is a privilege and a blessing, and I was thankful to be able to be working and provide for myself.
The months went by. July was a blur, figuring out work and being confused by my relationship. By August, I was starting to feel more comfortable at work and in the city. By September, I started to really learn Austin and fall in love with it. I began to feel more grounded and was ready to meet some friends, so I joined a local church, got in a Small Group, and started serving in the Middle School Ministry. There, I met women who I still talk to all the time. Lifelong sister-friends. My church home became my community. Sometime in October, I went to visit my then-boyfriend at school, and that weekend was, in retrospect, a turning point–the spark was really dimming for me, but I couldn't understand why. I had moved closer but we felt more distant? What? By Thanksgiving (which I spent with his family), I knew two things: that I wanted to start looking for a new job in the new year and that if something didn't change fast, my relationship was going to be over.
Fast-forward to December. By then, I was fully plugged into my church community. I got together with a few girls from my Small Group every week (in addition to our Small Group meetings and church on Sunday), and we had real, authentic, vulnerable friendships. Those girls were (and continue to be) some of my favorite God-gifts I've ever received. They were my family. They made it okay for me to be far from home. I was never homesick; I could just call them. They were so important, so beautiful.
On December 8th, I got my sweet puppy Charley. He was so perfect. Then, on December 9th, it was my birthday. And on December 10th, I found out that the company I was working for was laying off almost everyone, including me. I remember thinking: "GREAT. I have a puppy and rent's due, but no job. And my relationship is crumbling. This should be great." I spent a little time sulking, crying, and vomiting (out of shock), and then, prayed, received holy, unbelievable peace, and got over it. I knew in those moments that God had something bigger for me, and I decided to be brave.
Just a few days later, one of my friends from church told me about a job opening as the Early Childhood Director. I had specifically been praying for a new job working "for kids," and this was it. It was staring at me right in the face. Lots of interviews later, and just 10 days after getting laid off, I was hired at church. I literally never missed a paycheck (I got two weeks severance). God had a plan and He wanted me to be a part of it, and He made that happen. No one will ever, ever convince me otherwise. It was so awesome.
With a start date of January 6th, I went home for Christmas with Charley, and my then-boyfriend flew to Maryland on the day after Christmas as well. Those days, from December 26th when he arrived, until we flew back together on the 30th, were rough. Rough all the way around. It was abundantly clear to me that I couldn't marry him, which was a hard pill to swallow after a couple of years of being convinced that I would.
But, I felt secure. I felt brave and courageous. I had a job, thank God! I had incredible friends and community. I knew my way around Austin and loved it. And I had done all of that on my own–he had been three hours away almost the whole time, so I hadn't been leaning on him. Because of all this, I was able to anchor my soul to my faith, find peace, and break up with him on the first of the year.
That month of January was crazy. New puppy, new relationship status, new job. But I was so happy and fulfilled. I actually loved what I was doing! I loved the people I worked with! My soul felt steady and secure even as my world was flipped upside down. I can't explain it–I know I should've crumbled, but I just didn't. I knew with complete certainty that God had my future, and I was okay with not knowing what it would be.
In February, Riley (my now-husband) and I had our first date. Immediately I knew we'd get married. He was everything I wanted, everything I had prayed for all my life. He was it, and I knew it, and he knew it. We were engaged by the end of the year and married by the following Summer!
At over 2,000 words on this post (and counting), I can answer all those how did you…fill in the blank? questions with: I trusted God with His plans for my life. (Jeremiah 29:11) I never, never, never would have thought that I'd be living in Texas, married to Riley Lamb. NEVER. I never thought I'd love living in Texas so much! I never thought I would get laid off from my first post-grad job! I never thought I would work at a church in ministry! I never thought so many things about my life, but God has continued to direct my steps in incredible ways.
So I say: go for it. Be brave and courageous, and live a life worth living. Step outside of your comfort zone. Move to a new city. Meet new people. Learn new streets. Discover a new culture, new cuisine, new ways of thinking and living. Say yes to adventure! Fear keeps people locked up in places they don't want to be, with people who don't build them up, doing things they don't want to do for far too long. There's no magic formula: it's saying yes to the life you want, and being brave as it unfolds before you. And for me? Saying yes was so worth it.
This is my command—be strong and courageous! Do not be afraid or discouraged. For the Lord your God is with you wherever you go. -Joshua 1:9