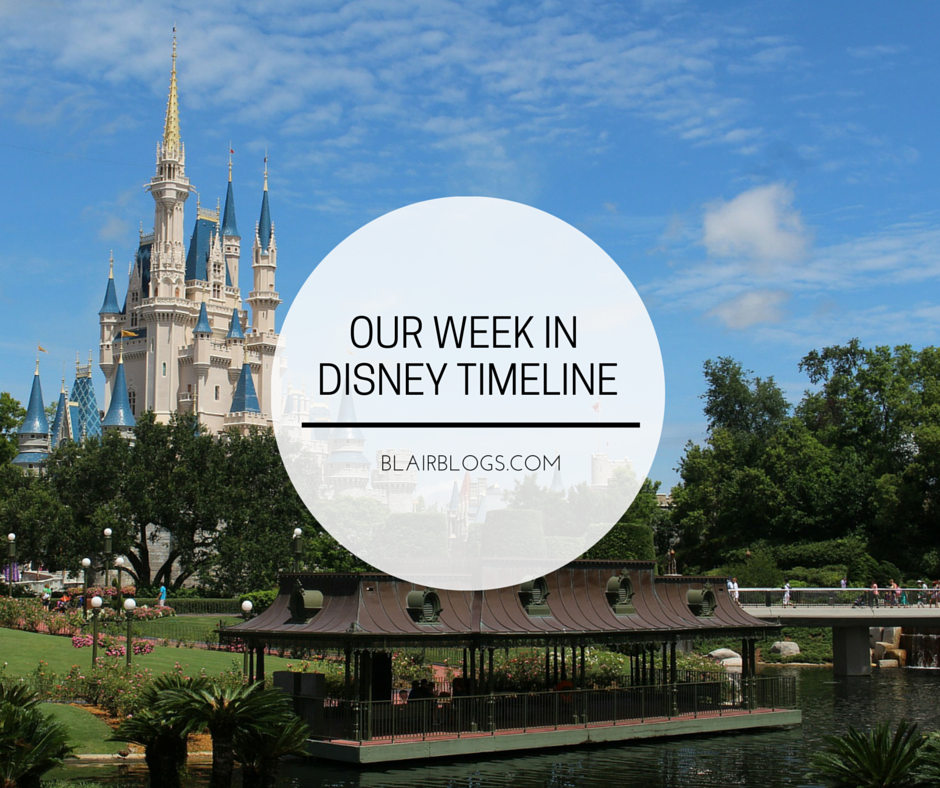 Our trip to Disney is right around the corner…just 81 more days! I posted in early January about the restaurants where we made reservations in Disney (post here), but today I'll update you with our timeline for each day we'll be in Orlando.
I've put together this timeline based on my research on WDW Prep School, The Unofficial Guide To Walt Disney World 2016, Disney Tourist Blog, the Disney planning site, and Mouse Savers. For me, planning a trip is half the fun! This works well for Disney especially, where planning ahead is critical if you want to eat in certain places and ride attractions without long waits.
Sunday
On Sunday, we'll fly from Baltimore (where we'll be for our friends' wedding) to Orlando in the morning. After arriving around noon, we'll pick up our rental car and drive to the hotel. We plan on getting unpacked and changing and then heading to Universal Studios for the remainder of the afternoon and evening. We have park hopper tickets at Universal, so we can freely go between Universal Studios and Islands of Adventure by foot or by taking the Hogwarts Express! We'll be tired this evening, so we'll likely head to bed early.
On our way home, though, we plan on stopping at a grocery store to pick up some water (Orlando's water is really yucky) and snacks for the week.
Monday
On Monday morning, we have breakfast reservations at Cinderella's Royal Table in Magic Kingdom at 8am, which is an hour before the park opens. We'll be up bright and early so that we can take some photos of Main Street and the castle without the bustling crowds that will arrive later in the day. We also planned this early reservation because it allows us to dine at the castle without missing out on early morning touring time, which is some of the best.
After breakfast, we'll spend the rest of the morning and early afternoon in Magic Kingdom. We don't have lunch reservations, but there are many different places where we can stop to grab a bite as we get hungry. Then, probably around 1pm or 2pm, we plan on heading back to the hotel to rest for 2-3 hours. Nearly every Disney expert recommends an afternoon break regardless of the age of the travelers because that's when the sun is the hottest and the crowds are the highest. We'll go rest for a little while or swim before heading back to Magic Kingdom in the late afternoon.
A few more hours of touring and we'll head to California Grill, which is located in the Contemporary Resort, just one monorail stop away from the park, for our dinner reservation around 7pm. It's a lovely restaurant with delicious food and probably the "fanciest" meal we'll have all week. (Though almost nothing in Disney is really fancy!)
After dinner, we'll head back into Magic Kingdom for a little more touring and Wishes (the nightly fireworks show) at 10pm. We plan on viewing the fireworks close to the front of the park so that we can bow out afterwords and get back to the hotel in time for a good night's sleep!
Tuesday
On Tuesday morning, we'll leave for Animal Kingdom about 30 minutes before the park opens at 9am. We plan on heading to the safari first since we've heard that the animals are most active in the morning, and then to ride Expedition Everest, which is a roller coaster that I've heard several people describe as the best ride in any Disney park! After a few more hours exploring Animal Kingdom and some lunch (wherever sounds good), we'll head to our hotel again for the same mid-afternoon break we took on Monday.
After some sleeping, pool time, or whatever, we'll go to Hollywood Studios. On previous trips, I have visited Hollywood Studios for an entire day, but almost every attraction is closed right now for refurbishment! The park is expanding to include Star Wars Land, which is a massive project. To allow for this, there have been many permanent closures and some temporary. All this to say, we're only spending a half day at Hollywood Studios!
We'll tour what is open at Hollywood Studios (and hopefully ride Rockin' Roller Coaster at least a few times–I love it!), and then head to Hollywood Brown Derby for dinner at 6pm. We initially had reservations at 50's Prime Time Cafe, which I outlined in my Disney dining post, but I changed our reservation a few weeks ago to Hollywood Brown Derby for a few reasons.
First of all, I've been to 50's Prime Time twice, and though it's fun, I was really up for trying something new. Secondly, Riley and I looked over Hollywood Brown Derby's menu and became super interested in their options–especially the house specialty, grapefruit cake! And finally, because I could book a Fantasmic dinner package at no additional cost. With this, we will get VIP seating tickets after our dinner for Fantasmic, which is an incredible water/lights/character show at Hollywood Studios.
So, after dinner and a little more touring, we'll head to Fantasmic around 9pm to enjoy our VIP seats and the show!
Wednesday
On Wednesday, we're heading to EPCOT, which is probably my favorite park. It's really like two parks in one, with the World Showcase, which is like a string of mini-replicas of 11 different countries, complete with gardens, buildings, shops, and restaurants for each one, and Future World, which has lots of innovation/technology/futuristic rides and pavilions. It's massive (twice the size of Magic Kingdom) and just unbelievable.
All that to say we'll definitely arrive at EPCOT before it opens on Wednesday so that we can enjoy the quieter morning touring hours together. I can't wait to explore this park as an adult because I remember with joy how much it captured me as a kid!
We have lunch reservations at Le Cellier, which several people have told me is their favorite Disney restaurant. I've never been, but it's in the Canada pavilion in the World Showcase, and I know the restaurant is known for its cheddar cheese soup and pretzel bread, and that's about all I need to know! Sign me up.
After lunch, we'll tour for a while longer or head back to our hotel for another afternoon break. I wouldn't be surprised if we don't leave EPCOT, though, because of its size and offerings. (Plus we have a break day on Thursday, which I'll explain below.) Whether we take a break or not, we have dinner reservations at 6pm at Via Napoli, which is a pizzeria in the Italy pavilion in the World Showcase. Yum!
Before we leave EPCOT on Wednesday, we'll watch Illuminations at 9pm, which is another water/lights/music show. (Every park but Animal Kingdom has a nightly show, Animal Kingdom does not because of the animals!) After Illuminations, we'll head back to our hotel. I'm sure we'll be exhausted by this point!
Thursday
…Which brings us to Thursday! We decided to take Thursday as a rest day. We'll sleep in, eat breakfast at our hotel, and then decide what to do for the rest of the day. Our plan is to go back to Universal Studios and/or Islands of Adventure because we have a two-day ticket and will have only used one of the days on Sunday.
We plan on spending the late morning and early afternoon at the parks and then heading back to our hotel to freshen up before we head to Disney Springs (formerly Downtown Disney). Disney Springs has lots of charming shops and delicious restaurants, not to mention top-notch people watching. This day is also my blog's 4th birthday, so I hope to find a cupcake or some other celebratory dessert to celebrate! We'll round out our low-key day there and head to bed early if we're tired.
Friday
We haven't nailed down our plans on Friday because we want it to be our flex day based on what where we'd like to spend more time. I'm almost positive that we won't need any more time at neither Hollywood Studios nor Animal Kingdom (though I'd be open to either if Riley wants to revisit one), so I think we'll either spend the entire day at Magic Kingdom or the morning at EPCOT and the evening at Magic Kingdom.
What I do know is that we'll spend the evening at Magic Kingdom since we have a 5pm dinner at Be Our Guest, which is a restaurant located inside the beast's castle. (I can't wait to try the grey stuff!) Of course, if we're both dying to head back to EPCOT for the entire day, I can cancel our reservation at Be Our Guest and we can go another time! I really want to make a plan on Friday based on where we want to be and what we want to do, especially if there's something we weren't able to do earlier in the week.
If we are at Magic Kingdom after dinner on Friday, we'll enjoy Wishes, the fireworks show, one last time, before heading back to our hotel to pack and prepare for our departure the following day.
Saturday
Being that our flight departs early on Saturday morning back to Dallas, we won't have time for anything but showers and breakfast before we load up and head back to the airport. Though an early flight means no more vacationing, it also means getting home early to rest, grocery shop, do laundry and prepare for the week ahead. We will, of course, also have Sunday to recover. I'm sure we'll need both days–Disney is a super fun vacation, but not a super restful one. We can't wait!
We're really looking forward to our trip in May! I've already started packing and buying items here and there that we'll need, which makes it feel so close and exciting. If you're a Disney lover, you totally get this post and all the planning that goes behind Disney trips. If not, that's okay–you can read one of my others! 😉
// What are your favorite attractions or restaurants in Disney? What's your favorite park?