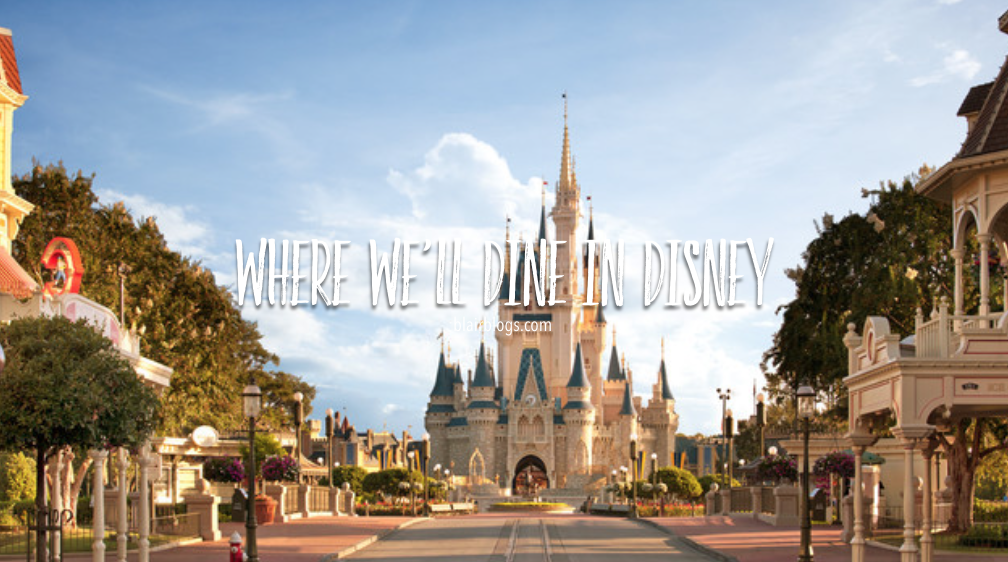 On Friday, it will be exactly four months until we leave for our week-long Disney trip in May! (We're actually going to Disney for four days and Universal for two…but I like Disney better, so this will be called a "Disney trip!") We were gifted this wonderful trip as our Christmas present (you can read all about that here), and we were so excited that we booked our entire trip on Christmas night! I stayed up until 2am making dining reservations and getting our days planned out. That may sound extreme (because it is!), but if you've been to Walt Disney World, you know that it's necessary to get the reservations you want!
You see, most families book their trips to Disney about a year in advance, and then make all of their advanced dining reservations (referred to as ADRs) when their trip is 180 days away. Disney has incredible restaurants, but they book up fast, so most people get up early on the 180 day mark to make all of their ADRs for the restaurants they're interested in. Though there are dozens and dozens of restaurants in each of the four parks, plus all of the on-site hotels, there are a few places that are nearly impossible to get reservations, especially if you don't book right at the 180 day mark.
Unfortunately, since we booked our trip in December for May, so we were already down to about the 130 day mark. I wanted to go to Disney (and not postpone our trip) more than I wanted to eat at particular restaurants, so I resigned myself to the fact that we'd eat at mostly quick/counter service places, and save table service (places where you need reservations) for another trip. I decided to go online to the Disney site anyway, though, and see if there was any availability for even one of the restaurants I was hoping to dine at. I was completely shocked but elated to find that there were still reservations available at every single restaurant I wanted! Hooray!
So, for all you fellow Disney lovers out there, here's where we made reservations. I'm most excited about our first and last meals!
Breakfast at Cinderella's Royal Table
By God's grace (seriously), we somehow snagged the much-sought-after 8:00am breakfast reservation at the charming restaurant inside Cinderella's castle in Magic Kingdom. The 8:00am reservation is coveted because it will get us into the park an hour before Magic Kingdom opens to dine. Though the attractions will be closed until the official opening time, we'll be able to wander down Main Street and take incredible photos without any people! It'll be so incredible, especially since this will be my first time in Cindy's castle. I can't wait!
Dinner at California Grill
I've eaten at California Grill (located on the top floor of The Contemporary, which is a resort hotel) several times, and the food, service, and views have always been spectacular. The restaurant overlooks Magic Kingdom and has an awesome observation deck for after-dinner fireworks viewing. Plus, the food is gourmet and delicious, and there is a lot of sushi and seafood on the menu, which Riley is super excited about!
Lunch at 50's Prime Time Cafe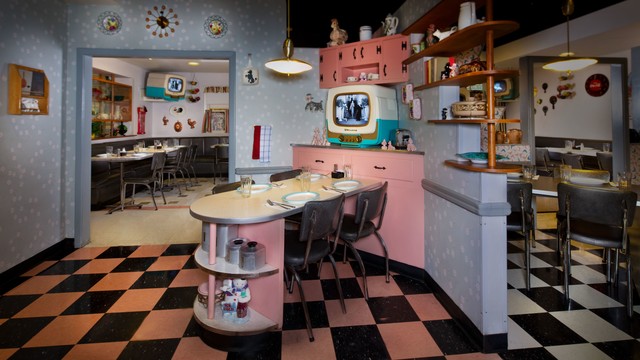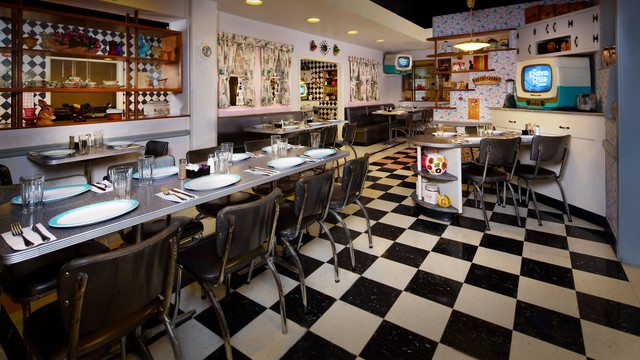 Prime Time Cafe is hilarious. It's like walking on to a 1950's movie set. Each table is inside an old-fashioned kitchen, the waitresses refer to themselves as "mom" and treat you as such–they'll yell at you to take your elbows off the table and ask you to eat more vegetables if you want dessert. The whole experience is incredibly fun…and the food is delicious comfort food like meatloaf and fried chicken! One of my favorite parts? The dessert menu is inside a ViewMaster (you know, those blue things with an orange handle–photo here)!
Lunch at Le Cellier
I've never been to Le Cellier, but I've only heard great things about it. It's located in EPCOT in the Canada pavilion, and its menu looks amazing. I don't have much to say about this restaurant, other than I can't wait to try it! I can't believe we were able to snag a reservation here–it's one of the hardest places to get into in all of Disney!
Dinner at Via Napoli
My mouth waters every time I think about dining at Via Napolia. Like Le Cellier, it's located in EPCOT, this time in the Italy pavilion, obviously! It's famous for its pizza, which is made with ingredients that are all flown in from Italy, including the water (!), and then baked in authentic pizza ovens, which were also flown in. I ate here on my first trip to Disney over 11 years ago, but I don't remember it well. I really look forward to trying it with new eyes (or new taste buds, I should say!)!
Dinner at Be Our Guest
Be Our Guest is a new restaurant located inside of the Beast's castle and is widely considered the most difficult dining reservation to get at Disney World. And somehow, we got in! (For dinner, no less!) I can't wait! I booked a dinner reservation for our last night in Orlando…I think it will be a magical way to end our trip. (Side note: I am really, really, really looking forward to trying "the grey stuff.")
Some other places we considered but decided against were Chef Mickey's (too expensive for so-so food, and neither of us are super into character interactions), Coral Reef Restaurant (I've been several times and wanted to try something new, plus I hate seafood, and there isn't much else), and Cítricos (we ran out of room on our itinerary, and it's super expensive–it'll be on our list next time!).
There are, of course, lots of places that we'll be sure to try that aren't reservation restaurants. Like, obviously, I'll eat at least eight Dole Whips on our trip. And a few Mickey Ice Cream Bars…and some churros…and I'd love to try a Brioche Ice Cream Sandwich from the France pavilion in EPCOT…and, honestly, I'm just glad that we'll walk so much each day! 😉
// What's your favorite Disney restaurant? What's your favorite Disney snack food?
featured image via disney.com