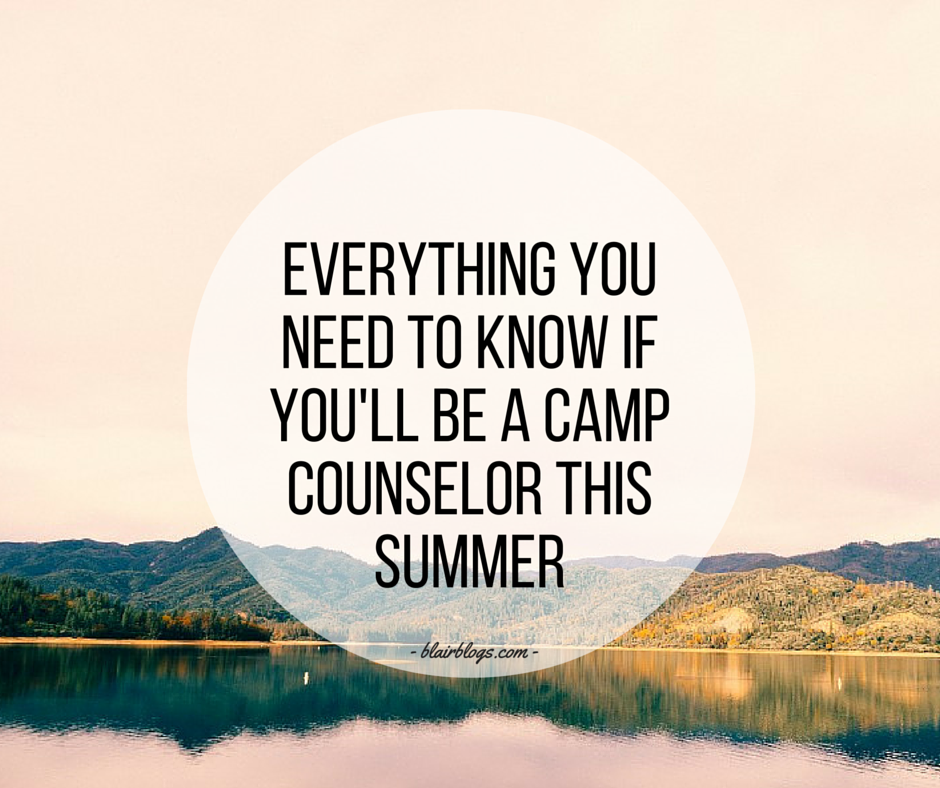 It's a crazy story how I ended up working as a camp counselor the summer after my sophomore year of college. You can read the full, detailed story here, but here's the short version: I'd already committed to a summer job when I had a vivid dream that I was meant to be a camp counselor, so I completely changed my plans and moved to a camp in Texas for three and a half months, where I ended up meeting my husband. It is literally a fact that my entire life was changed because I was a camp counselor. Not only did I find healing and joy that I was desperately seeking at the time, but I fell in love with Texas, where I ended up moving and building a life.
Needless to say, I loved being a camp counselor. I often joke that if I could do it as a career, I would. (Though it's really not a joke.) I also spent ten summers at camp as a child, so I'm a camp lover all the way around. Though it's been five years since I flew to the middle of nowhere for my 14 week stint as a camp counselor, I remember my time at camp vividly. Today, I'll talk through everything you'll need to know if you're going to be a camp counselor this summer.
Before Camp
Prepare Mentally, Physically, Emotionally, Spiritually
Mentally: You're about to spend your entire summer putting other peoples' needs before your own. It's likely that these people will be small, demanding, and sometimes ungrateful. Prepare yourself mentally for this. In a healthy environment, your camp directors will praise you and recognize you for your efforts, but don't expect the same from your campers. I led the youngest group of girls when I worked at camp, who were between six and seven years old. They didn't usually thank me when I applied their sunscreen or brushed their hair at night or mailed their letters for them or cut up their chicken or refilled their water bottles. And that was okay, my time with them was precious still. Be aware of this and know that this job isn't a whole lot of applause–but it's a whole lot of fun!
Physically: Your schedule is about to get flipped on its head. If you're used to staying up late and sleeping in, you're in for a real treat on that first night at camp when light's out is at 10pm and the wake up horn sounds at 7am! If you can, prepare for this sleeping pattern in advance, even if you just go to bed and wake up an hour earlier. It's a shocking adjustment at first, especially if you're in college and used to the opposite schedule. Additionally, you will move more than you probably ever have in your life. When I worked at camp, not only was I teaching various sports and activities, I was also trekking all over camp to wrangle my campers and taking hikes with my camp BFF on our time off. You may want to consider starting a walking regime (or increasing the frequency of your workouts) to build stamina ahead of time.
Emotionally: I have never had as much fun or laughed as hard as I did during the summer that I worked at camp. That being said, I've probably never had so many emotional meltdowns in one period of time, either. I remember putting my girls to bed, getting in the shower, and crying on several occasions. Being a camp counselor is a really hard job! It's like instant motherhood-level responsibility for homesick, wild little girls who are still heavily dependent on adults at all times. There were times when I was absolutely exhausted and thought I would keel over and die if another camper asked me a question that I'd already answered! It's okay if you have some hard moments. Really, it's normal. Prior to camp, prepare yourself for these breakdowns and decide in advance that you'll be okay. At camp, find some camp counselor friends who you can laugh with and share stories with when you're drained–you'll need this boost every now and again.
Spiritually: God is going to rock your world at camp–I can guarantee it. You will feel confidence and bravery and courage and a sense of adventure awaken within you. You will fall in love with crazy little kids who say crazy little things and your heart will burst wide open. You'll melt into a puddle when these little ones love you and hug you and ask you to hold their hands. Prepare for your world to be rocked. Pray a specific prayer before you leave. I remember praying that the girls in my cabin would feel Christ's love through me (even though I didn't work at a Christian camp) and that I would develop a sense of boldness at camp. These prayers were wildly answered for me–what will you pray?
Gather Addresses
One of my most favorite things about being in the middle of nowhere for a summer was writing my friends and family lots of letters. I probably sent a few hundred over the months that I was a camp counselor (and I received quite a few, too!). Before you depart, make sure to gather addresses from all of your friends and family. I don't recommend creating a "Write to me at camp!" Facebook group…it's a little off-putting and doesn't usually work. Instead, be the first one to send out letters and include a return address for the recipient. People will write you back!
Contact Camp With Any Questions
If you have any questions about any aspect of camp, it's wise to ask those questions before you arrive. For example, if you have a food allergy, email the camp director and ask what the best way will be to accommodate and manage it. Or, if you take nightly medication, ask whether you can keep it with you in your cabin or if you'll need to leave it with the nurse. If you have a summer wedding you're attending in another city, get in touch with camp and find out how your absence will be covered and if you'll need to do anything special to make sure that it is. These kinds of clarifying questions will help to put your mind at ease before you arrive and also prepare your expectations.
Connect With Co-Counselors Online
I would imagine that almost every camp has a private Facebook group where counselors can connect before camp, share photos during camp, and stay in touch after camp. It was fun to "meet" some of my co-counselors online in the Spring and then get to know them in person once camp was in session during the Summer. Beware: there will always be someone who is overly enthusiastic and literally posts something new three times a day before you've even met him/her. You may want to turn off the group's notifications and just check in when you want. (Just helping you to be a good social media boss for yourself!)
Get Rent and Bills Settled
Where I worked, I didn't have cell phone reception within a one-hour radius of camp. Us counselors had internet access, though it was spotty at best. Believe me when I say that you will not want to be trying to get in touch with your apartment complex, landlord, water company, or electricity company while you're at camp. It will be a huge, frustrating headache. You need to make those preparations and arrangements ahead of time.
Schedule Appointments For After You Return
If you're in college, and especially if you go to school out-of-state, you probably schedule many of your medical appointments for summer break. But you're not going to be at home this summer! Before camp is a good time to call your dentist, orthodontist, doctor, gynecologist, optometrist, etc. to schedule an end-of-summer appointment. Also, many college students get their wisdom teeth removed over the summer. Think about scheduling that surgery shortly after you return from camp so that you have the maximum recovery time before you head back to school! If you have the money to do so, I'd also recommend booking a spa day upon your return. After I arrived home from camp, all I wanted was a massage, a mani/pedi, and to get my eyebrows done. I didn't notice how much I'd "let myself go" at camp because, well, I was at camp. Once I reentered society, I was desperate for a little pampering!
Start Packing Early
Packing for camp is slightly overwhelming. I mean, really, you're going to be away for months and you'll likely be far from the closest Target or Walmart. (The remoteness of camp is what first sparked my Amazon Prime addiction…) Your camp will send you a packing list, and you should take it seriously. Yes, you do need jeans in the dead of summer for horseback riding and hiking. Yes, you will want ugly water shoes for teaching water sports in the lake. Yes, you do need a sweatshirt because the mornings and evenings can be chilly. Outside of what you're recommended to pack, here's what I would add for counselors:
Kindle loaded up with books (or bring a bunch of books, but they're heavier)–I read lots at camp during "rest hour"
Bible and journal (my lifesavers at camp)
Pillows, blankets, a quilt, your favorite teddy bear, and bed linens (you'll be on your little bunk all summer, you'll want it to be cozy)
Bag of your favorite snacks and/or candy
Stationary and stamps
Fun cabin items like bandanas, glow sticks, bubbles, colored hair spray, face paint (we used this for bonding with our girls)
Pack of construction paper and markers (we made lots of signs as reminders for our girls–"Do you have your towel?" "Camp's return address is X" "Remember to turn off the lights!")
Craft items like friendship bracelet string, yarn, scissors, beads, etc.
Girly cabin night items like fun nail polish, face masks, foot scrubs, etc.
Several long-sleeved t-shirts, sweatshirts, and hoodies (we woke up so early that it was still chilly and the evenings were, too)
Costume items like tutus, crowns, fairy wands, superhero masks, etc. (theme nights, cabin nights, just for fun)
Laptop or iPad (I kept mine in the counselor lounge but used it to blog, email, and catch up on my off-periods)
iPhone or iPod and headphones (same as above)
Speaker (for jam sessions in your cabin)
Comfortable sandals like Chacos (I lived in these)
Large backpack (you'll end up playing mom all summer and will carry around your girls' schedules, water bottles, crafts, etc. plus your binder and personal items)
A few dressy outfits, like sundresses or jeans and a top (for nights off or when you're tired of shorts and a t-shirt)
Rain boots and a rain coat (camp goes on, rain or shine)
Games like UNO or Apples to Apples
A lot of the items above are for your cabin. I didn't bring a lot of cabin stuff initially, but ended up ordering a huge box of it from Amazon upon arrival. My campers and I had so much fun painting all of our nails the same color, or wearing bandanas to dinner, or creating bunk name cards, or playing UNO before bed. We spent lots of time making friendship bracelets and beaded necklaces for one another and loved getting dressed up for theme nights together. Think: bonding. If you've ever been on a sports team or in a club, you know how great it is to feel like you're "in." These little items really help to bond children together and make each one feel like they belong and are "in." (You can do this on the cheap–order from Oriental Trading or go to the Dollar Store!)
At Camp
Make Friends By Being Kind and Asking Questions
I don't think I've ever had such a wonderfully eclectic group of friends as I did when I was a camp counselor. There were people I befriended from all over the world, from all different walks of life, coming from various cultures and backgrounds, with a vast rainbow of personalities. We all got along famously, despite our very apparent differences. My two rules for meeting new friends are: be kind and ask questions. When you're genuine and authentic and kind and you ask real, thoughtful questions, people want to be your friend. It's as easy as that! It was my experience that making camp friends was uncomplicated and fast because we were all together all the time…and everyone wanted friends!
Keep An Open Mind
No matter how many times you've visited your camp's website or called your camp director, there will always be things that you don't expect. I cannot emphasize enough how critical it is to keep an open mind when you're a camp counselor! You may be asked to teach a sport, class, or activity that you've never taught before. Be open. Say yes. Learn a new skill! (I learned how to throw on the pottery wheel so that I could teach kids ceramics…it was so much fun!) You may be asked to lead an older group of kids when you were planning on being with the little ones. Be open. Say yes. Discover how hilarious middle schoolers are. You may be paired to work with someone who you don't think you'll get along with. Be open. Say yes. Be kind and ask questions. 😉 The point is, you cannot predict or plan everything that will happen to you this summer. Some of the most special memories you'll have will be the ones that resulted from keeping an open mind!
Love and Support Your Fellow Counselors
As I mentioned earlier, camp can be very, very draining. There will be times when you're on cloud nine, happy and energized and fulfilled, and a fellow counselor will be worn out, tired, and miserable. Be intentional about loving and supporting your co-counselors. Write encouraging notes and leave them in their mailboxes. Slip a piece of candy into their backpack during the day. Greet your friends with big hugs. When you create warmth, it will radiate back to you. For me, when I was at camp, I really wanted to start a morning Bible study for counselors. I felt like we all needed the encouragement! I got the go-ahead from the director, and I planned for a 20 minute get-together each morning before the kids got up. (This is where I met my husband!) This ended up greatly blessing me and many of the attendees, and it was not difficult for me to prepare a brief scripture reading and a few discussion questions during our free time every afternoon. Find your own way to love and support your fellow counselors, they'll be so thankful for your encouragement and you'll have a lovely place to land when you're crumbling in return.
Cherish Your Time Alone
You will have very little time alone while you're at camp. Aside from showering or using the bathroom, I probably had just three or four cumulative hours of alone time all summer long. I am an introvert, so this was a major obstacle for me. Even if you're extroverted, you will need to take a break from the constant socializing sometimes. So, when you find yourself with ten free minutes alone, cherish that time. Sit. Lay down. Read. Look at the lake. Sip on your water bottle. Put on mascara for the first time in three weeks. Whatever you do with that time is up to you, but take it and cherish it. The few times that I had a moment to myself are still burned in my mind because they allowed me to process all that I was experiencing at camp. Cherish your time alone.
After Camp
Take a Breather
You will be absolutely exhausted when you arrive home from camp. If you're like me, you will also be very, very sad. One of the hardest things that I've ever had to do was leave camp. I mourned it for months. The first half of my junior year was a drag because I just wanted to be back in the Texas sunshine! So, when you get home, take a mini-vacation. If you're close to the beach, spend a day or two there. If you're not, then just take some time to sleep in and enjoy a spa day, even if you paint your own nails! You may be ready to see your friends and extended family right away, but you may need a little time to get your feet on the ground first. Do all the things that you couldn't do at camp: take a long shower or bubble bath, swim in a two-piece (hah!), walk your family dog, go out to lunch with your girlfriends, go through your camp photos, whatever. Just take a breather for a couple of days as you're reentering society.
Stay In Touch With Your Camp Friends
Camp friends are the best friends. Make sure to exchange contact information before you leave, and then follow each other on social media once you're home. I still text my camp friends! Also, if your camp is having a counselor reunion sometime in the Winter (ours was in January), make plans to go to that if you can. This will help you handle the intense camp withdraw you'll likely be dealing with. (I'm telling you, I was legitimately in mourning!) If you're not far away from camp friends, make arrangements to spend the weekend together at some point during the school year!
Send a Thank You Note to Your Camp Director
Your camp director is the person who made all of the fun and memories possible! Send him/her a thank you note with a favorite camp photo once you're back home. Not only is this gracious and kind, but it's a way to bookend your season of employment at camp. This will leave your director with a pleasant "taste in his/her mouth," which can come in handy when you need a recommendation letter or reference for future employment.
Preserve Your Memories
As vivid as camp is in your mind when you first return, the memories will sadly fade as life goes on. Make an album with your photos. Write down captions and the names of campers and counselors. Journal your highlights. Blog about a few favorite memories. You will cherish these moments for years to come, so spend a little time preserving them.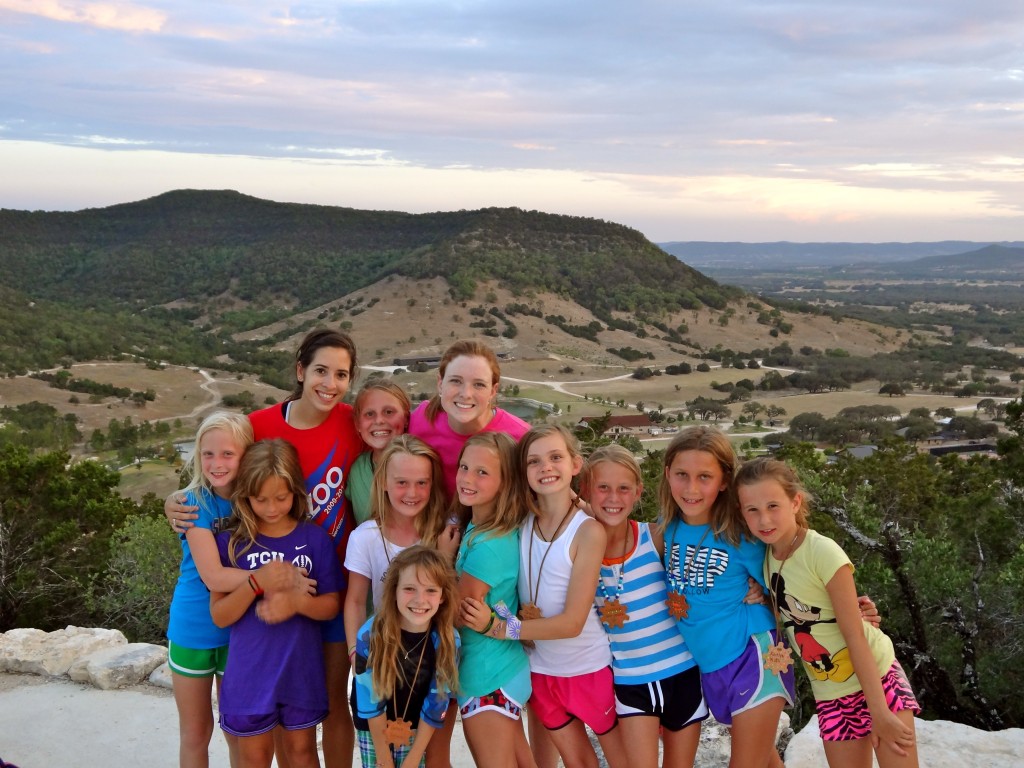 I had six different cabins of girls throughout the summer that I worked at camp, but the photo above pictures my favorite one. I still think about these sweet ones often. (Fun fact: Lance Armstrong's twin daughters were in this cabin! They were absolutely as sweet and kind as could be! I met him when he dropped them off at camp, his calves were as big as my waist.) These small people left fingerprints all over my heart. I loved them so!
Below are photos of some of our camp friends at our wedding last July. In the first, we are doing our "pow-pow Pioneers" hand gesture that we often did at camp (counselors were called pioneers!). We invited many more camp friends, but because we're all scattered throughout the country, some couldn't attend! They were there in spirit! 🙂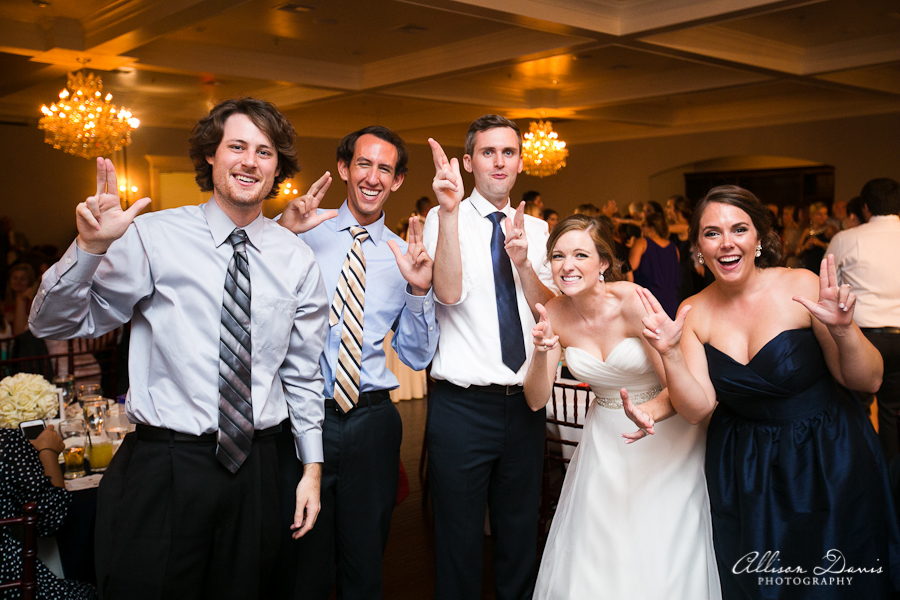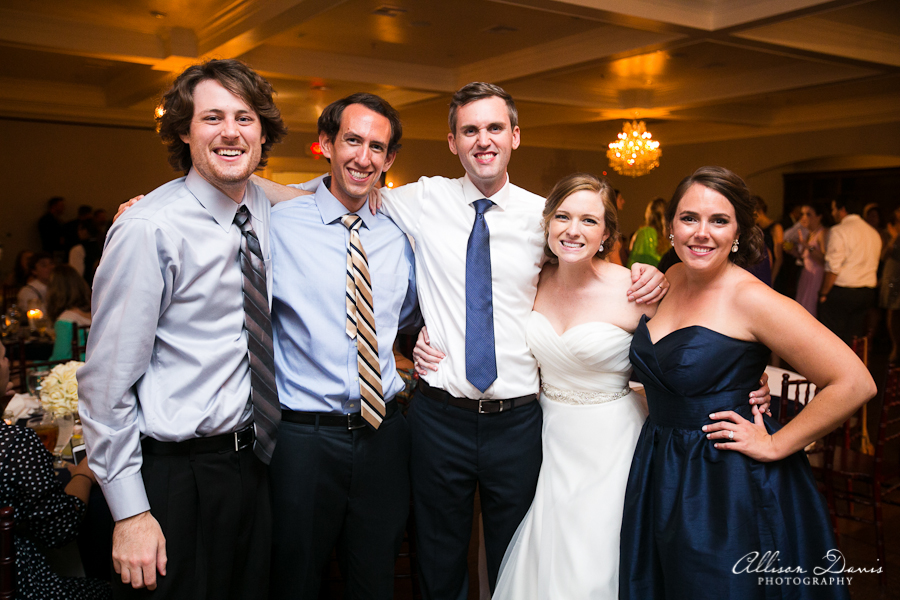 If you have any questions about being a camp counselor, comment below and I'll be happy to answer you. Relax, prepare, and get ready for the best summer of your life!
use the images below for Pinterest