There are so many reasons why I love to blog. I love to write, I love to journal, I love to interact with my readers and other bloggers…but most of all, I love the way I have such a unique way to capture my life. It's amazing to read old posts and see how God answered my prayers. I love to remember holidays and events that I wrote about. I love to reread how I felt at different times in my life.
I hope y'all are ready, because this is the best storyline my blog has seen yet. I'm getting married!
Today, I'm going to explain the road leading up to the big question. In another post, I'll talk through the details of the actual engagement (which took place on December 27, 2014)…if you'd like to see photos before that post, check out my Facebook page or my Instagram!
How We Met
My fiancé Riley (still so much fun to say!) and I met in the Summer of 2011 at a camp in the middle of nowhere, Texas. (I wrote a post on my entire experience at camp here.) He was spending the summer trying something new (being a camp counselor) before he moved to Los Angeles in late August. I had just finished my sophomore year of college and was desperate for a new adventure.
To be honest, we weren't close friends at camp. We were both dating other people at the time, we were–and still are, clearly–six years apart in age, and we had developed two different groups of camp friends.
Our only touch-point was when we had Bible study together each morning. I led the study, and usually between six and eight counselors would show up to pray and discuss scripture before the sun came up. There were only a few people who came every day without fail, and Riley was one of them. I liked him, but I didn't like-like him. 😉 Not yet, anyway. We don't even have any photos together from our summer at camp except the group shot below!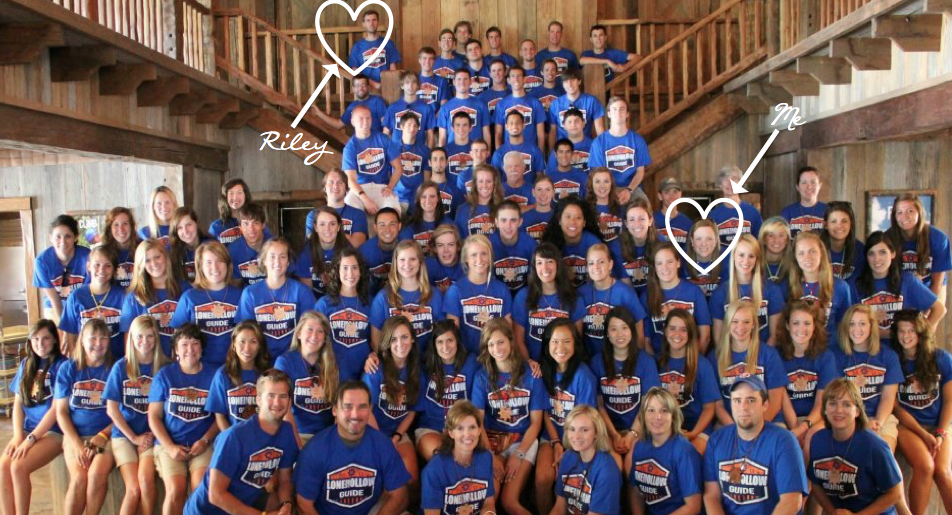 After that summer, Riley moved to LA, I moved back to North Carolina to finish school, and we didn't stay in touch. We have a Facebook and Twitter trail that spans from September 2011 to January 2014 that we reread now and laugh about…it was just the usual stuff–happy birthday messages, a few chats here and there, and a couple of Twitter interactions. Nothing out of the ordinary.
Individually from September 2011 to January 2014
Between the time when we met at camp and January of last year (when we reconnected), I studied abroad in Spain, graduated college, moved to Austin, Texas, started a job in marketing, lost said job in marketing, got a puppy, broke up with a long term boyfriend, and started a second job at Gateway Church (my current position).
During that same time, Riley moved to LA for eight months from Denton, Texas, tried to find employment with no luck  (thank God!), moved back to Texas, broke up with a long term girlfriend, found and adopted a cat, started working as a graphic designer and screenprinter, and got an apartment.
We were both busy, both of us "finding ourselves," both completely unaware that our paths would ever cross again. Riley was relatively up-to-date on my life given my Facebook page and blog, but I truly had no idea what he was up to whatsoever. I actually thought he lived in Utah!
Reconnecting after several years
On New Year's Day of last January, I broke up with a long term boyfriend, as I just mentioned. Although we had dated for quite some time, I knew the relationship wasn't right, and God really protected my heart and mind after I broke up with him. I wasn't crying, I wasn't miserable, I didn't gain 10 pounds from eating ice cream. I was truly at peace and okay.
But that's not how most people feel after breakups. So when Riley sent me a Facebook chat in mid-January, asking me how I was doing, I was convinced that he was doing so because he was a kind person and wanted to make sure I was okay…little did I know that he was, as he puts it, "waiting for [me and my ex-boyfriend] to break up so [he] could take me out."
So we chatted on Facebook every couple of days for a few minutes…then, those minutes turned into hours…then those Facebook messages turned into text messages, then those text messages were around the clock (literally) for over two weeks. Finally, after weeks of communicating via Facebook chat and text messages, Riley called me one chilly afternoon when I was walking Charley, my dog.
I'll never forget that phone call. I was so enamored with him from the start. His voice wasn't how I had remembered it, (which is almost comical to say, since we almost never spoke at camp), but he was the same funny, sweet guy I had met years earlier. I could tell you exactly what we talked about that day, for about 30 minutes–Jell-O cheesecake, The Walking Dead, religious groups who go door-to-door, my dog, our jobs. I remember it perfectly.
After I hung up the phone, I wanted desperately to talk to him more. Apparently he felt the same way, because that phone call sparked dozens more phone calls over the next month or so. We would talk for five or six hours at a time, laughing hysterically, catching each other up on our lives (really, teaching each other about our lives to begin with), reminiscing about camp, and sharing about our families. We talked constantly.
In mid-February, Riley asked me out on our first date, for coffee, which made my heart leap since I had been praying for a man who loved coffee as much as I do. (Silly prayer, I know, but I've always wanted to go on coffee dates with my husband! They're so cozy and sweet.) We met in Waco, Texas, a sleepy little college town in between Denton and Austin. After sitting and chatting over iced coffee for a few hours, he asked me if I would like to go out to dinner. I agreed, and we continued to laugh over dinner. Once dinner was over, I was bummed. I didn't want to drive back to Austin–I wanted to stay and laugh with this awesome guy! Once again, we were on the same page, because he laughed after dinner and asked me if I wanted to get coffee again. Yes! A nine hour first date must mean something good, right?
That night, when I got home, I journaled that I thought I might marry Riley. We were so unexpectedly compatible–we shared the same strong faith, a similar sense of humor, Christian morals and values, and very close dreams and aspirations for the future. I knew right away that he was it.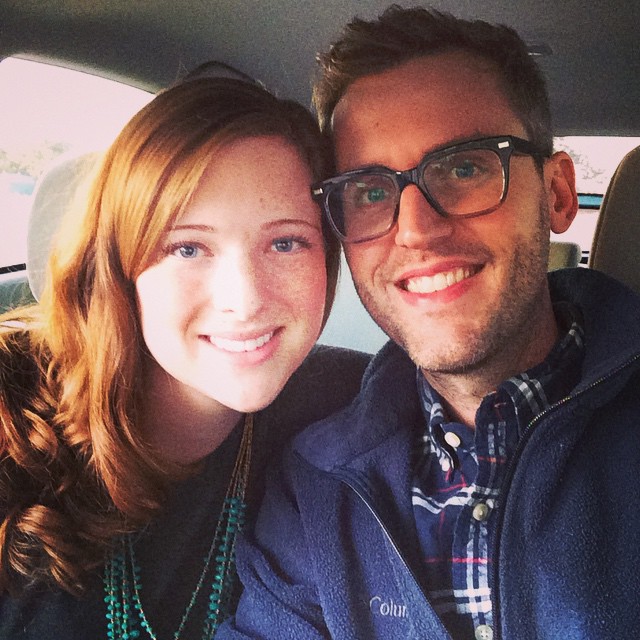 Defining our relationship
It wasn't until late March that we actually sat down and acknowledged that we were dating. We knew that we were, of course, since we were spending so much time together, but we just hadn't put it all on the table. So, March 28, 2014 marks our first day as "officially" dating one another.
Just a couple of weeks later, in April, we had our first conversation about marriage. It was so clear to both of us that marriage was in our future as a couple that our conversation was natural and easy…almost comically so. I remember him saying "I could see myself marrying you," and replying, "I could see myself marrying you, too." That was pretty much it. Love can be so complex, but it can also be so simple.
Several months after that, we exchanged over-ripe "I love you's." I had been in love with him since our second date in early March! From there, we continued to have light (but frequent) chats about our future together. We were both so sure about marriage that we started a private board on Pinterest and began to dream about future houses, our wedding, my engagement ring, etc.
Falling deeper and deeper in love
I met Riley's family for the first time on the 4th of July; he met mine just a week earlier on our family vacation to Pawley's Island, South Carolina. We all meshed well, which was such an answered prayer.
As we continued to go on [really fun!] dates, our hearts continued to be woven together in a way that I can't describe. Dating Riley, unlike other guys I saw in the past, wasn't a chore, it wasn't draining, it wasn't tiring, it wasn't full of effort. It was completely natural, easy, and peaceful. I am my best self when I'm with him. He has adopted my dreams as his own, something I've never experienced that has resulted in a love deeper than I knew existed. We have conversations about everything, nothing is too weird or too shameful or too strange. And we laugh! We giggle with laughter any time we're together–all the time, we laugh. He has submitted his heart and life to Jesus, which is more attractive to me than any other character trait. How else to say it? We go together.
All of this falling for one another led to December 27th, when Riley asked me to be his wife.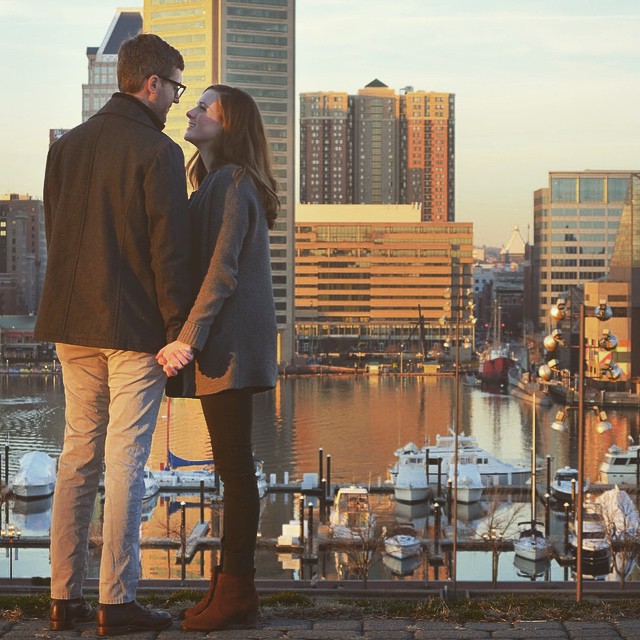 Stay tuned for Our Engagement Story: Saying "Yes!"