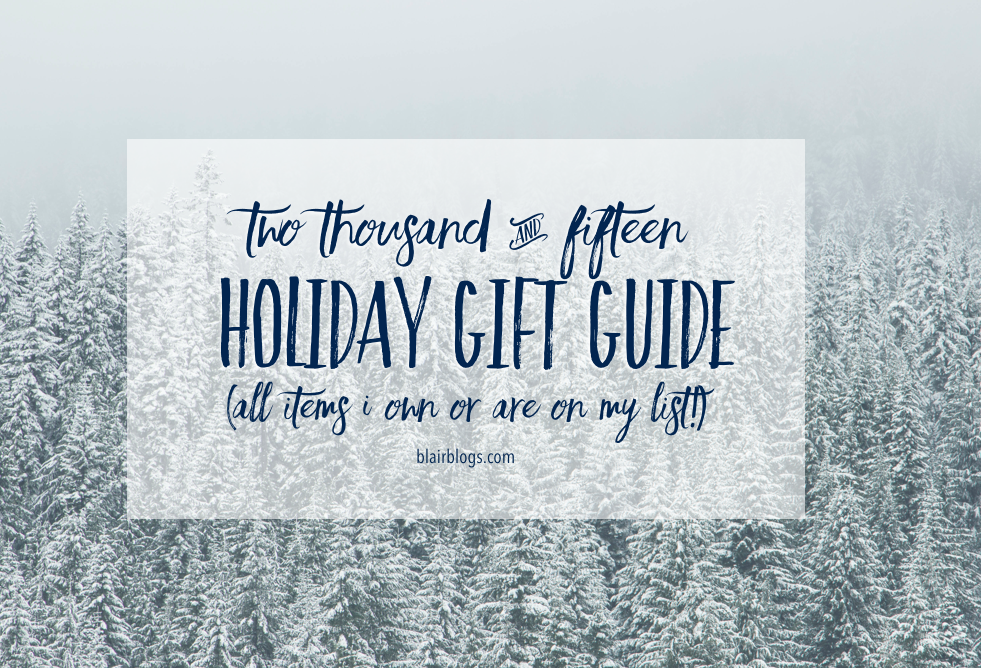 Are you finished with your holiday shopping yet? (Have you started yet?) It's my goal every year to be completely finished by Thanksgiving, and I'm happy to say that this year, my goal was met! With my birthday in early December (the 9th), then Christmas travel back to Maryland, and then Riley's birthday (the 27th), the more I can get done ahead of time, the better. Now that my shopping is done, all I have to do is wrap everything and put it under the tree!
My trick to getting all of my shopping done so early is that I buy everything online…everything! This saves me significant time since I don't have to drive anywhere or fight crowds, and with coupon codes and special online deals, I end up saving money, too. Plus, for me, the joy in gift giving is abundant when I shop from the comfort of my pajamas on the couch, with Charley curled up on my left and Riley with his arm around me on my right. So much better than chaotic stores and messy, picked-over shelves, where I feel like I can't thoughtfully process each gift.
So today, I'm sharing some great gifts that you can buy online for the people you love (or for you to send to your mom/husband/sister/boyfriend if they're looking for a gift idea for you!). Right now, today, you can click through and have these items shipped to your home–some will even be wrapped for you! That's my idea of simple…and simple is good as I strive to say no to crazy this December. Every item on this list is something that I already own and love, or something that's on my own Christmas list this year–nothing random! (I've rounded the prices to the nearest dollar for simplicity's sake.)
Clothing & Accessories
Items on this portion of the list are geared towards ~18-29 year old women, since that's where I fall demographically, so I know what I (we/at least many of us) like. Of course, other women may enjoy these items, too! (I didn't add men's clothing and accessories to this section because, honestly, I don't know what they want! 😉 )
Extra Long Flowy Tunic | $20 This tunic is adorable and so, so comfortable. I have it in the charcoal color, and I love the way it swings with me as I move. There are lots of colors to choose from, it fits true to size, and it's perfect for pairing with leggings and boots for the Winter season. There's someone on your list who would love this!
Merry & Bright Gold Foil Sweatshirt | $22 Oh, I love this sweatshirt. I think it would be perfect as a Christmas gift! It could easily be worn with jeans, leggings, or even with cute pajama pants for a cute-and-cozy Christmas Eve PJ set! Leave it to Etsy to have the most festive handmade items.
Plaid Blanket Scarf (a.k.a. the scarf every fashion blogger has) | $11 This is a great stocking stuffer or gift for your girlfriends because it's trendy but inexpensive. (Or, grab it for yourself–it'd be really cute paired with a dress or tunic and leggings!) It's a particularly easy gift because there's no size-guessing here…it's just a giant scarf!
3 Pack No Slip Skinny Glitter Headbands | $18 Another awesome stocking stuffer! With all the hair tutorials on blogs and YouTube today, people are experimenting with doing their own hair now more than ever. These would be perfect for adding some bling to an outfit, or for the fitness lover in your life to wear as she works out!
J.Crew Factory Flannel Sleep Pant | $25 Do you shop at J.Crew Factory? I do, all the time! The prices are great and I love the J.Crew look! These pajama pants are so cute–I especially love the pair with the lambs on them since my last name changed to Lamb in July! I often give pajama pants for Christmas or birthday gifts…they're the kind of thing that people won't usually buy for themselves, but everyone loves. Plus, since they're only worn to bed, it's okay if you don't quite know someone's personal style–chances are they'll love whichever PJ pant pattern you choose!
Kate Spade Glitter Wallet | $110 This wallet is so fun! I have the exact same one in tan (this one) and I've used it for over two years. I really love it, and it's held up beautifully. This is a great gift, and super festive with the silver, gold, or rose glitter! If you know someone who doesn't carry a purse (which is surprisingly a lot of people I know), this would be an especially perfect gift–stylish and fashion-forward, but not a bag!
Home Décor & Household Items
Anthropologie Candle (Capri Blue "Volcano") | $27 I always smell Anthropologie before I see it whenever I'm walking through the mall…I just love the way that store smells! Luckily for me (and anyone else who loves the smell, too), the candle that Anthropologie burns to keep their store smelling delicious is easily found online! This is at the top of my Christmas list this year…I am such a candle junkie! (If you want the white mercury glass container instead of the iconic blue one, you can find that here.)
iRobot Vacuum Cleaner | $320 This little gadget will set you back a pretty penny, but according to the rave reviews (plus a few friends who have one and love it), the price may be worth it. I would love an iRobot. My least favorite chore is sweeping/mopping our laminate floors every week or two…it just takes forever. (Especially since Charley tracks in lots of leaves and branches and debris each day!) If you have a clean freak on your list, or someone who has a toddler or has recently adopted a cat or dog, this may be the right gift for them!
Essential Oil Diffuser | $27 If you haven't heard about the oil craze that's swept the nation, you must be living under a rock. But really, everyone seems to be using essential oils for their health and wellness benefits. (I use lavender on the bottom of my feet and back of my neck to combat anxiety and peppermint on my temples to get rid of headaches!) There are now essential oil diffusers that will, well, diffuse essential oils throughout the room. If there's a health nut you're buying for, or even anyone who prefers natural things, a diffuser would probably be well loved. (You can grab a set of oils for them to diffuse here for about $20…or you can contact a friend who is an independent sales rep for essential oils and purchase through her!)
Love Grows Best In Little Houses Pillow | $20 I just love the saying printed on this pillow…it makes me tear up every time! In fact, I wrote an entire blog post based off of it which you can read here. If there are newlyweds on your list, chances are, they're living in a little house. This would be a thoughtful and sweet gift for them! Clearly, it'd also be great for anyone living in a little house, but I know that as a newlywed in a little house, I'd love it!
Black + Decker Dust-buster | $60 We got this dust-buster (or "handheld vacuum") as a wedding gift, and I literally use it every day. It's super powerful, has great suction, and can pick up spilled coffee grounds, cobwebs, hair, dirt, or even scorpions (!!!) that crawl into our home. I can't think of anyone who wouldn't love this gift–moms, dads, college students, newlyweds–I mean, who couldn't use a good dust-buster? I especially like this one because it folds up to be tiny and can fit in the corner of our cleaning closet!
Poo-Pourri | $10 When I lived in Austin, I worked at a church. On my very first day, I was asked to go to a local store and buy FIVE bottles of Poo-Pourri as goofy prizes for the high school students' Winter Camp (it was sort of an unintentional hazing/initiation if you ask me). It was intensely embarrassing enough, and then the cashier said, "Oh, honey. You don't need five bottles!" I turned redder than Santa's suit. #notarealsaying But, I must say, this stuff absolutely works. I bought it right after Riley and I got married, and our bathroom always smells lovely and citrusy, which is especially helpful since we only have one! Though it could be a gag gift, you should give this to every married couple you know and stuff it in all the stockings–it could save marriages and noses alike! And you can buy it online–no embarrassment necessary!
Cozy Flannel Sheets | $22 I have had my eye on these sheets for months–in particular, these sheets in the scottie dog print! How adorable are they? Unfortunately, I have a husband who hates flannel sheets because he gets too hot, so I'll just add them to this list and remember the Winters of yesteryear when I could enjoy the soft flannel at night! This set is on sale right now, so snatch it up for the comfort-lover in your life!
Kitchen Appliances & Tools
Crock-Pot Slow Cooker | $49 At the exact moment that I'm typing this, I have the yummy smell of beef stroganoff floating through my home, coming out of this exact Crock-Pot. Two nights ago, I used this Crock-Pot to make chicken fajitas…and Riley and I agree that they're the best we've ever made! So moist and easy. I love using my slow cooker–loading it up in the morning after breakfast, and then having the entire day to enjoy, no cooking, no dishes, no mess! If you know someone who's busy but loves to cook, this would be the perfect gift. There are dozens and dozens of great slow cooker recipes online, so even the laziest, most uninspired chef could make something delicious.
Multicolored 12 Piece Knife Set | $20 If you don't cook, you may not know the importance of great knives. But seriously, the old saying is true–"A dull knife is more dangerous than a sharp one." Anyone who loves to cook but can't afford a $600 knife set would probably love some new, sharp, and in this case, really pretty knives! Though their size may put them in the stocking stuffer category, I'd discourage that! 😉
Automatic Breadmaker | $128 I've had this bread maker for about three years, and I still use it all the time. I make pizza dough, dinner rolls, baguettes, focaccia bread, and lots of different flavors of sandwich bread like honey whole wheat, salted rosemary herb, or cinnamon raisin swirl! It's super easy to use–you just throw all the ingredients in the bowl and push start. The machine does the mixing, kneading, rising, and baking for you! Your favorite bread lover or baker would probably love this for Christmas!
Immersion Blender | $35 A lot of people think immersion blenders are unnecessary, but I would beg to differ. I use mine at least once a week for making soups and sauces! It works beautifully, it's safe (no transferring hot liquids in and out of a traditional blender!), and the clean up is a breeze. Plus, this one comes in a variety of beautiful colors–I have the mint one! Anyone who loves to cook would probably love an immersion blender.
Coffee Bean Grinder | $20 Riley and I have this coffee bean grinder and we use it often. We buy whole bean coffee instead of ground because grinding your own beans makes coffee tastes so, so much better. Plus, you'll get that floaty coffee aroma throughout your home afterwords! We like all the settings that this tiny-but-mighty grinder has to offer as well as the fact that we can grind enough beans for 12 cups of coffee all at once, which comes in handy when Riley makes his cold brew! The coffee lover in your life would likely love a little grinder! (You could wrap a bag of coffee beans and a mug along with this grinder…such a cute themed gift!)
16oz Coffee Vault | $15 We don't have this, but it is on both of our Christmas lists! (Plus the name is super awesome: COFFEE VAULT.) We are constantly grinding beans (see above!), so it would be nice to grind an entire bag and then store it, knowing it would stay fresh for a couple of weeks as we brew and drink our coffee. Plus, the stainless steel looks nice and matches with our canisters for things like flour and sugar (we have this set), so that's a bonus, too! This is a great gift for the person who loves both coffee and having an organized kitchen!
Paper Goods
Real Simple Magazine Subscription | $12/year This is a cheap, cheap, CHEAP gift, and a really fun one, too! It's the gift that keeps on giving! 🙂 I love Real Simple and have received a subscription to it for Christmas for many years…it's always a fun surprise when I get my glossy magazine in the mail each month! Of course, you don't have to choose Real Simple, there are lots of magazines to choose from (best selling subscriptions on Amazon here)! This is a great gift for your dad or brother (or anyone else who's hard to buy for)–just choose a subscription that they'd enjoy, buy it for them for Christmas, and they'll be sure to love it all year.
Illustory Craft Kit | $16 If you have kids or are buying for kids, oh, there are so many little ones who would LOVE this. It's a bookmaking kit where a kid can write a story and illustrate it, send the art and text to the Illustory company, and then receive a legitimate hardcover book with their story in it! Plus, an adorable "about the author" page. Too cute, and really fun! (I admit that this breaks the I-already-have-it-or-it's-on-my-list rule, but 8 year old Blair would have adored this, so it counts!)
Planner Stickers | $2-5 These cute stickers are like jewelry for planners! There are many adorable Etsy shops that sell planner stickers, but some of my favorites are Planning On Point,  Planner Press, and The Preppy Planner. If you know someone who uses a paper planner, she'd probably love a few fun sets of stickers to deck it out with! (Also! Did you know that you can buy emoji stickers?! These would be hilarious and so much fun as a gift, stocking stuffer, or to stick on gift tags!)
Emily Ley Simplified Planner | $58 Speaking of paper planners, I bought this one for 2016 in the Mint Dot pattern. I can hardly wait to start using it in a few short weeks! This planner is awesome because it is exactly what its name suggests…it's simple. There aren't 47 different boxes and lists on each page, it's just a daily schedule and to-do list, with a spot for planning dinner. This would be perfect for the paper-loving gal in your life: your mom, friend, sister, co-worker, aunt, whoever!
Personalized May Book | $20+ If you've never designed a May Book for yourself or as a gift, you're really missing out. It is so much fun! You get to choose the pattern for the cover of the book (there are hundreds of options), add a monogram or title if you want, and then decide what kind of pages you want to fill it with (like lined, grid, baby book, fitness tracker, engagement planner, etc.). It's a blast, really! This is my go-to gift for friends. And May Designs frequently runs sales, so you can sometimes snatch a book for up to 40% off! Because these books can be so personalized, they could really be for anyone on your list. (I designed one for myself to slide in the front pocked of my Simplified Planner!)
The Life-Changing Magic of Tidying Up | $10 You could, of course, gift any book (here are some best sellers if you need ideas), but I highly recommend this one. I reviewed it here, and as I mentioned in my review, it has influenced me greatly. In fact, it's definitely been the most influential book I've read in 2015. It's small and fast to get through, so it's likely that the recipient will actually read it! (And probably be changed by it!)
Stress-Relieving Adult Coloring Book | $9 Riley bought me this a couple of months ago when I was having a stressful week. I was skeptical at first (I mean, how "stress relieving" can coloring actually be?), but I was surprised at how creative and calm I felt after spending an hour coloring some of the patterns in this book. If you know someone who likes crafts, you could bundle this and a pack of markers or colored pencils for a sweet, creative gift!
…There you have it! 26 gift ideas so that you can find the perfect gift for the people who you love the most! (Or for you to send to them…for them to buy for you! 😉 ) Happy online shopping!
// What's on your Christmas list this year? Anything that's on my list as well?