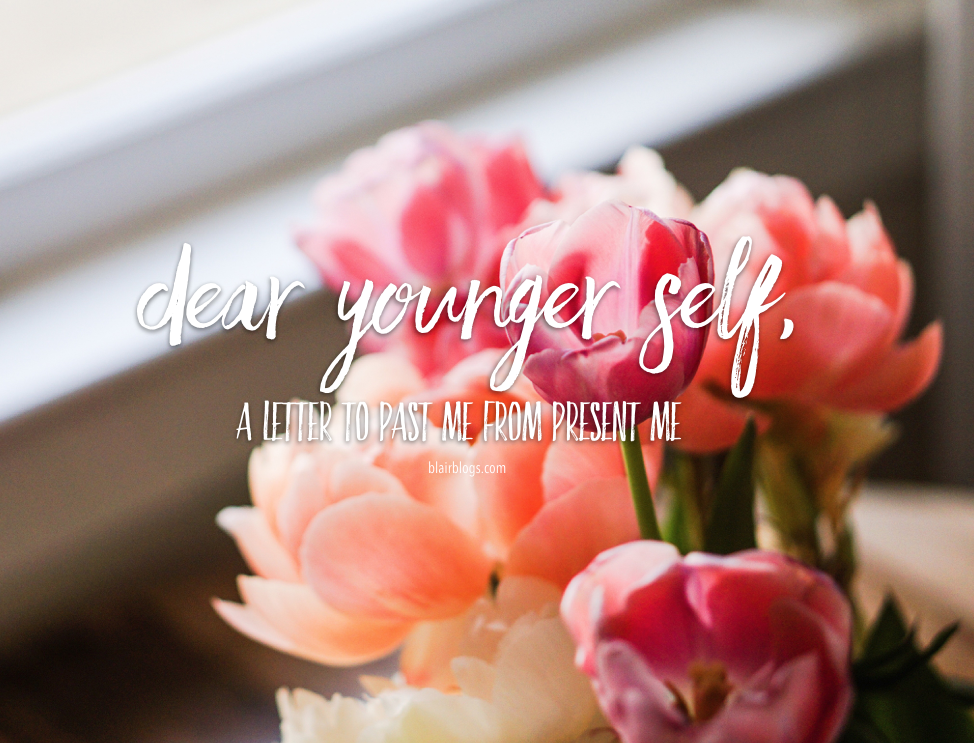 Dear Younger Self,
First things first, I have some bad news to break. I know you think Hannah Montana is the best show on television, and Miley Cyrus is an awesome role model, but it's not and she isn't–don't worry sister, you'll come to realize the truth in time. (Oh, and you're going to marry a man named Riley, so unfortunately your plan to name your firstborn Miley is out of the question.)
I also know that it's frustrating sometimes living with two little siblings and your parents, but the compromise you're learning now will serve you well in college and beyond. And I promise, some day you'll live on your own, and everything in your home can be labeled and color-coded and organized and perfectly tidy. The joy this will bring you will be great. You will, however, outgrow your obsessive need to change your bed sheets every few days…because, girl, ain't nobody got time for that. For now, enjoy the short, sweet years of "pillow piles" in the living room and filming music videos to Nickelback songs in the backyard. (Because I promise you'll never do either again!)
Your summers at camp will be every bit as life-changing as they feel to you now. I know when you're at camp you feel on-fire for God, completely alive, and passionate about living out His plan for your life. And even when you watch people you love walk away from your God, and you feel heartbroken and alone, it is precisely that fiery passion you first experienced at camp that will ignite in you a spark of faith. And it will carry you through. As you grow, that spark will consume your life, and you will know joy you've never known.
On another note, yes, the Twilight books keep you company for countless hours as you pour over them. And yes, I know, you can't imagine any man more perfect for you than Edward. But oh, sweet girl, you'll grow and meet a man who blows any sparkly vampire out of the water for you…and funny enough, he'll love Twilight too. In fact, you'll watch the second movie right before your first kiss with him. So hang in there.
The way that you love to create, those hours you spend in the early morning and late at night creating little clay items for your dollhouse, or building shelves, or learning to cook with mom in the kitchen? That spirit of creativity will serve you well–you'll learn in time that it's a fiber of your being that can never be frayed or pulled.
You want to be a teacher, I know. And the hours and hours you spend creating lesson plans and worksheets won't add up to anything but fond childhood memories, but you'll cherish them still. Though you won't end up choosing that path, you'll be very, very happy with the path you do choose. And your college degree and subsequent jobs will shape you into a woman with big dreams and an even bigger God.
When you get up early in the morning to write, and then stay up late journaling, and you just write and write until your notebooks are full and your dad keeps asking Can I delete all these Word documents, Blair?, yeah, pay attention to that. Listen when you're told that you're a good writer. Notice that you get straight A's in English. Take note, because you'll learn one day that writing is your heart's song. You'll learn how words on a page can bring inspiration, healing, acceptance, and joy to people you'll never meet. Your heart will swell with a dream to write full-time, and then you'll start a blog, and in time you will write full-time. Start believing in yourself; believe that you're good enough and you will be.
It hurts me deeply to know how ugly you feel, how uncool. How you hate your hair and freckles and skin, how you wish you were skinnier. But, oh, dear one, you're so beautiful just because you're you. You will learn to be gentle with yourself, you'll learn to love the body you live in. (Oh! And there will be wonderful women on the internet who post hair and makeup tutorials, so you'll figure out what to do with that crazy hair and fair skin in time, promise.)
Okay, I know you think you're missing out because you don't have a dog. I know you're trying to fill that dog-shaped-hole-in-your-heart with other pets, but sister, just don't. Because that goldfish you get? You'll give it away to the man down the street with the pond. And that hermit crab you get? You'll give it away, too, to friends who have other hermit crabs and want another. And that chinchilla you get? That too will be given away to the next door neighbor (who will intensely cherish it and allow it to run free through her house). Wait. Just wait. Because a little grey bear is in your future, a puppy who will change your heart and life forever. You'll name him Charley and he'll be your best friend and your self-proclaimed firstborn son. You're not missing out–you're waiting for the best pup–wait and see.
Don't be upset, but I need you to be nicer. You know just what to say to send a word-dagger right to the heart, and you know it. But you're hurting people when you do that, and it's creating fractures and bruises. Words are powerful, and I need you to use them more wisely. Because once you learn this lesson, you'll realize that the same power your words have to break down and wound is able to build up and heal. Choose to build up and heal. Be nicer.
There are a lot of people in your life who you don't agree with, and it's really, really hard. Their decisions, their convictions, their morals, their actions–I know, I know, they all feel so wrong. But you don't know the battle that everyone is fighting, the guilt and shame and anger that's burdening them. Let go of the need to control and manipulate–you'll never change anything. Pray instead, let God fight for His own children. It's not your job, it'll never be your job. Give it up.
Alright, let's get real. You probably do spend too much time playing The Sims, girlfriend. Those hours each day after school could likely be spent more productively. However, playing that silly game–creating families and running them, it's really just the expression of your heart's deepest desire: to have a husband and children, and to run a household. Keep on dreaming about getting married and having a home to take care of, you'll get there. And you'll love it even more than playing with characters who have lime green diamonds over their heads, which is a lot, because, man, do you love those green diamonds.
Hey, I know your parents drive you crazy sometimes. You drive them crazy too. Recognize that you're all so different, and all so stubborn, and it's usually worth saying okay, mom and dad and respecting them even when it really is Brett's turn to load the dishwasher! or you really can't study because the TV is too loud! You'll be on your own in time, and then you can load your dishwasher as infrequently as you want–for now, be respectful.
Speaking of your parents, all of their quirks? Yeah, you'll inherit them. Your kitchen will always be sparkling clean and disinfected, and you'll think to check your tire's air pressure before every road trip (though whether you actually do or not is another question). You'll never have company over without candles lit and cocktail napkins set out, and your stemware will be very, very thin because that's the way your mom likes it. Your dad's perfectionism, everything hung to be exactly level, all his tools labeled and stored properly? Yep. You'll inherit all that too. And you'll be better for it, because you'll grow a heart for hospitality and a strong do-it-right-the-first-time work ethic.
I know there are raging hormones and lots of feelings and life is all too overwhelming for you sometimes. Find your peace in the Lord, your joy in Him, find your strength, your purpose, your identity in Him, and you'll make it. I promise you'll make it. And one day, it'll be late in the year of 2015, and you'll look at how far you've come, and you'll be nothing but thankful. You've got this, girl.
–
Note: This letter is not intended for my past self at an exact age; rather, my sentiments span the course of my childhood. //If given the chance, what would you tell your younger self?