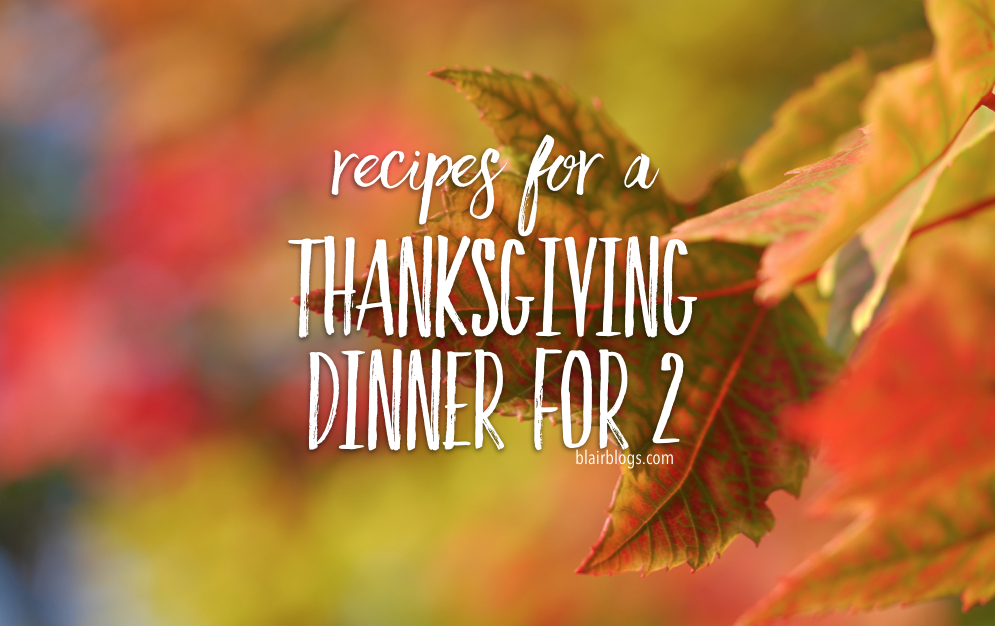 As I shared in my Instagram post yesterday, Riley and I had a just-us one-week-early Thanksgiving dinner last night. Why? Because I absolutely love to cook and we wanted some Thanksgiving leftovers of our own–but mostly because we just have so much to be thankful for this year. Why not celebrate with a delicious meal twice? We enjoyed it so much that now we've decided to have a pre-Thanksgiving Thanksgiving every year as a tradition.
I spent about four hours yesterday cooking and baking. As always, I turned on a few podcasts and the time flew by. I rarely have a reason to spend more than 30 minutes-one hour cooking, so any excuse to spend half of the workday chopping, stirring, sautéing, and mixing is a good enough excuse for me. I find such joy in it!
Finding recipes that would make the right amount of food for just the two of us (plus some leftovers) was a little tricky. Obviously, Thanksgiving dinner is usually shared with a large group, so many recipes reflect that in their serving sizes. After some searching around, though, I found incredibly delicious recipes that wouldn't have us eating turkey and stuffing from now until New Years.
As I mentioned in this post, I meal plan online using Plan To Eat. I laughed when I looked at my meal planner for yesterday–I've never had so many recipes in one meal before! Today, I'll share them in case you'd like to have a smaller-portioned Thanksgiving feast with your husband, boyfriend, roommates, or little family.

Slow Cooker Turkey Breast
The turkey was the most intimidating part of the meal for me because 1) I've never cooked an entire turkey before, and 2) I didn't want to cook an entire turkey for just the two of us! After digging through Pinterest and Google, I found this slow cooker turkey breast recipe. It was perfect–simple and easy to make in my Crock Pot (I have this one), leaving the oven open for all of our delicious sides, and we also didn't have to attempt to eat an entire bird, just the two of us.
Just a note: though you can buy turkey breasts that are boneless and skinless (similar to chicken breasts), I used a turkey breast that was bone-in. Really, it looked just like an entire turkey, but without the wings or drumsticks. Just the middle part–the breast, obviously. This was perfect for us because we still got the authentic Thanksgiving turkey flavor without all the work (or expense) of a whole turkey.
Bread Stuffing
The stuffing (or dressing) is Riley's favorite part of the Thanksgiving meal, so I wanted to make sure that it was extra-delicious. Because I didn't roast an entire Turkey, authentic right-out-of-the-bird stuffing wasn't an option. So, I did what anyone would do: I turned to Betty Crocker. I trusted that she could direct me towards awesome stuffing…and she didn't let me down! I used this simple recipe and we loved it! Because Riley loves it so much, I didn't cut this recipe in half. You easily could, though, if you're not such a stuffing aficionado.
Green Bean Casserole
I think green bean casserole is tied with sweet potato casserole as far as my own favorite part of the meal. I'm sure there are healthier, more natural recipes for green bean casserole out there, but I'm not interested. I wanted the traditional, nostalgic, delicious, cream of mushroom soup and canned green bean recipe (with crunchy onions on top, of course!). Luckily, I found exactly what I was looking for by looking to my girl Betty once again (I used this recipe of hers).
Sweet Potato Casserole
Tell me, what's more delicious than warm, cinnamony sweet potatoes with gooey, browned marshmallows on top? Oh, it's just so good. Like the green bean casserole recipe, I stuck to the simpler-is-better philosophy. I found this recipe online and chose it based on all of the rave reviews. The only thing I changed was the amount of marshmallows used, because an entire pound of marshmallows in a small one quart baking dish is the definition of aggressive. I used about half, but you can use however many marshmallows you want…I won't judge you…well, maybe a little bit. ONE POUND?!
Cranberry Sauce
I love cranberry sauce so much! My grandmother always serves cranberry jelly, and while it still adds that beloved tangy sweetness to the meal, it has always tasted a little weird and processed to me. I decided to find a homemade version, and came across this simple recipe. It was so yummy! I really enjoyed making it, too. The sound of the cranberries bursting as they boiled down into a delicious, sugary sauce was so satisfying.
Pumpkin Pie
Can you tell that I'm a traditionalist? I try new recipes all the time, but on Thanksgiving, I want what I know and am used to. So, of course, I used Libby's pumpkin pie recipe (you know, the one on the back of the pumpkin purée can?). Neither Riley nor I like traditional pie crust, so I opted for graham cracker crust instead. To be honest, I don't like pie much, and I don't like pumpkin a whole lot either, so I generally don't care for pumpkin pie, but I can enjoy one [small] slice if only for its nostalgia on Thanksgiving. (Plus, I had to make it for Riley's sake–he loves it!) And the smell! Oh, I loved the way my house smelled as the pumpkin pie was baking…so heavenly!
And now, for a few additions to the meal that didn't require a recipe…
Iced Tea
We have iced tea with lemon every single night with dinner, so I never put it on my meal planner–it's a given. We both love it! In case you're wondering how to make the perfect pitcher of slightly sweetened iced tea (which I make every other day), here's how: boil about a quart of water, remove it from the stove and steep four black tea bags in it for 15 minutes. Remove the tea bags and stir 3/4 C of sugar and a pinch of baking soda into the warm tea. Once cooled, pour the tea into a pitcher, add another quart of cold water to the tea concentrate, and refrigerate. Serve over ice with a giant slice of lemon! (I know it's weird, but don't leave out the baking soda–it takes away the bitterness and makes the tea perfectly smooth and delicious!)
Sauerkraut
I grew up in Baltimore, Maryland, where it is traditional to serve sauerkraut with Thanksgiving dinner. As I explained in my Christmas traditions post, sauerkraut acts sort of like cranberry sauce does. It's not the main feature, just a supporting role. It's great for adding some depth of flavor and interest to the meal…I eat a little of it with my turkey, stuffing, and mashed potatoes. I know it's weird, but it's really delicious! (And it's tradition. And I don't break tradition.)
Brown-and-Serve Dinner Rolls
I bake bread all the time (seriously, like twice a week), so I had originally planned on making some homemade dinner rolls to accompany our meal. (I use this recipe and it's incredible!) But, as I was grocery shopping, I saw a package of brown-and-serve rolls and decided that they would be a big time saver. Also, they're small and yummy and perfect for our little Thanksgiving! Plus, they're what we always had growing up. #againwiththetraditions
Decaf Coffee
Both Riley and I absolutely love a hot cup of decaf coffee after dinner, either with dessert or by itself. (Usually with dessert if we're being honest!) We love Dunkin Decaf and make it two or three times a week after we've cleaned up the kitchen and are settling in for the night. I love having a cup of warm in my hand as we chat, watch a movie, or play a game…plus, it makes our house smell so great!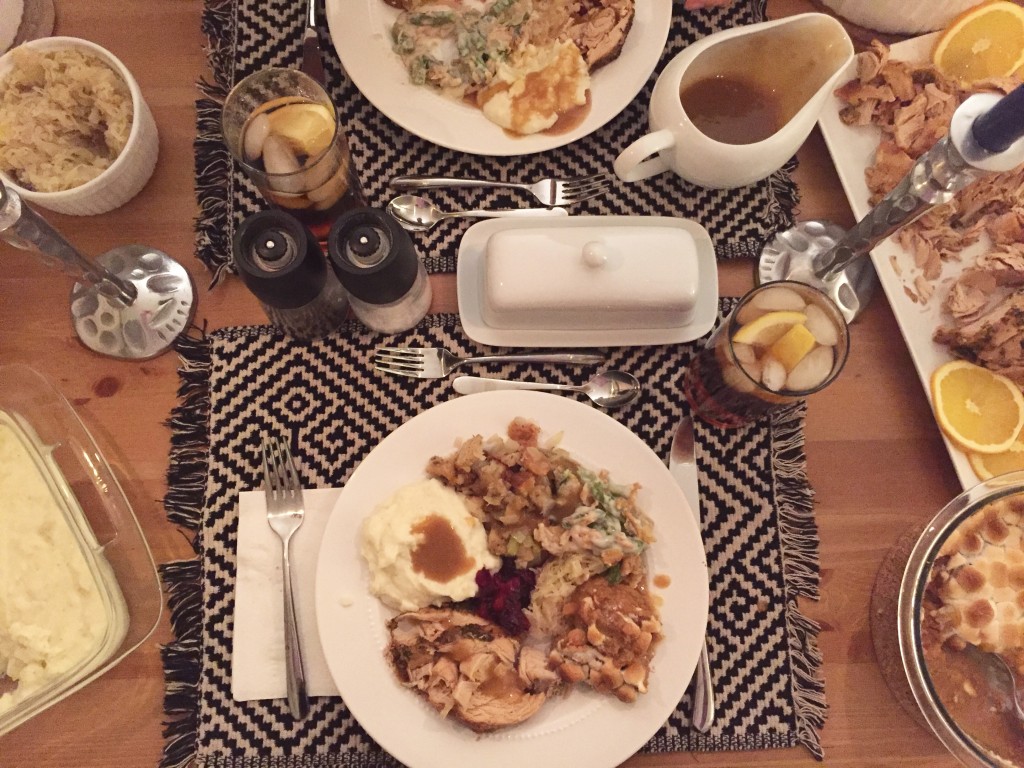 Everything turned out beautifully! We LOVED the turkey recipe, my favorite was the sweet potato casserole, Riley loved the stuffing best, and we both thought the cranberry sauce was the best we'd ever had! Now, to eat this same meal over and over again until the real Thanksgiving next Thursday! Yay! 🙂
There are the yummy recipes we used for our Thanksgiving dinner for two! Do you have more than one Thanksgiving? Have you ever thought about it? What dishes do you make?