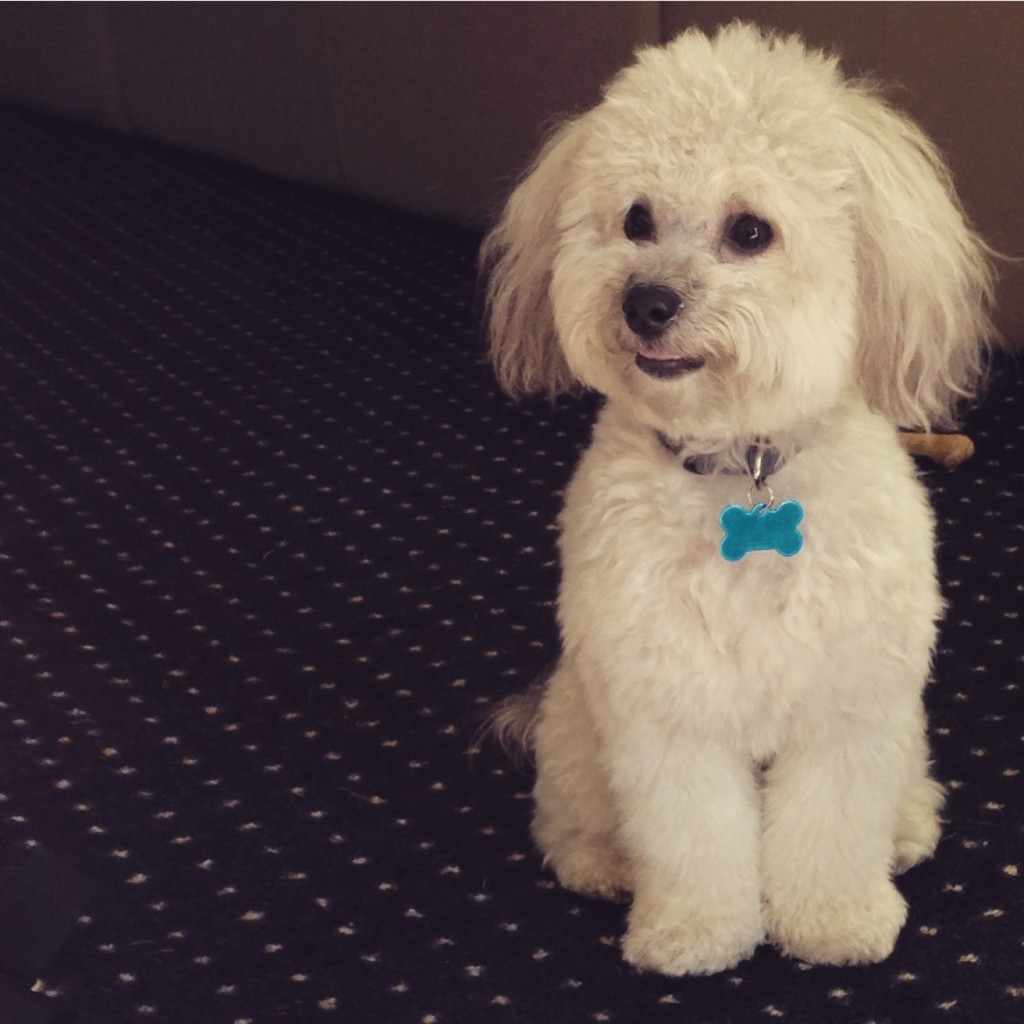 A lot of people (specifically fellow unmarried twenty-somethings) ask me about my schedule and routine for my dog, Charley. "Why did you decide to get a dog?" "What do you do with him while you're at work?" "Who watches him when you go away for the weekend?" "How do you find time to walk him?" "Is he expensive?" I totally get it–before I got Charley last December (of 2013), I was chock full of similar questions. Having a family dog is a totally different reality than taking sole and complete responsibility of another living thing!
Here's some insight into my life with Charley, the process that brought me here, and what I've learned along the way.
Deciding to get a dog puppy
I have wanted a dog for as long as I can remember. I have Christmas lists from years and years ago, each one with a bulleted "Puppy" as one of my top requests. My parents had all the typical excuses and reasons–"It's too much work," "We're away too much," "We don't have time for a dog," etc, etc. Trying to pacify me, I got a precious stuffed dog from Santa when I was nine with a tag that read "Sorry I couldn't get you the real thing…"
That little dog, Scooter as I named him, kept me quiet(er) for the next decade and a half about wanting a dog. I remember telling my mom "I'm getting a dog as soon as I get my first place" time and time again. She just laughed.
After I graduated from college and moved to Texas, it was only a few weeks before I started to obsess over getting a furry little companion. I looked at all kinds of breeds and sizes, but I quickly realized that I wanted a non-shedding, hypo-allergenic, small dog. I live in a small apartment, and I didn't want hair everywhere or a huge dog that was cramped (although I love big dogs and would love a German Shepherd someday!).
I was able to narrow down my search to a few breeds, but my favorite (from what I had read) was the Maltipoo, or a Maltese-Poodle mix. A couple of my cousins had Poodle mixes (a Schnoodle and a Goldendoodle), and both were smart, sweet dogs–and neither shedded!
I had initially intended on trying to find a dog about two years old, but there weren't any pups that fit my description. Plus–a puppy? How can you turn a puppy down?
When I saw my Charley and knew right away that he was meant to be mine. I had prayed for the right dog for months (seven months to be exact!) and when I saw him, I knew. He looked like a little black guinea pig, and his tiny eyes were precious little spheres of brown. He was the cutest puppy I had ever seen.
I drove home with him, totally elated, but also nervous and worried–I didn't know how to raise a puppy from experience, only the [countless] books and articles I had read!
The first few months
The first few months were really difficult. Like a baby, a puppy requires a lot of time and attention…from vet visits, to potty breaks every 45 minutes, to the right amount of food–it's all exhausting! I loved those months, but I wasn't sad to see them go.
After about four months, we started to get in a little routine. I would wake up, walk him, play with him, and feed him. While I was getting ready for work, I'd let him chew on his toys or play independently. I crated him with a Kong full of peanut butter, leave for work, and come back at lunchtime to let him out for an hour and walk him. Then, in the evening, I'd come home and we'd walk and play, cuddle on the couch together, and snuggle up for bed. The more of a routine we got in, the better our days got.
Finding a pet-sitter
I remember panicking, thinking, "Who do I trust with my only irreplaceable possession?" I could think of a couple of friends, but even then, many didn't have a flexible schedule that would allow them to care for him when he was still just six or seven months old and still quite needy. I began to research pet sitting services and came upon Rover. It's a website similar to Care.com, except for pets. Essentially, you can find pet-sitters in your area, read reviews, pay them online, etc. I found the most wonderful woman who works from home full-time, has two small dogs herself, lives around the corner from my apartment, charges a reasonable nightly rate, has a huge enclosed yard with a doggie door, and had amazing reviews.
I sent her a message and we scheduled Charley's first weekend with her when I knew that I would be going out of town. I still use her very frequently (usually about twice a month). When I know I'll have to work an event late into the evening, I'll book a night with her for Charley so he's not crated for too long. If I'm going away for the weekend, I book a night with her. When I moved due to ridiculous circumstances (read about that here), I booked her for moving day. She is awesome–she even texts me photos of my baby and sends me updates!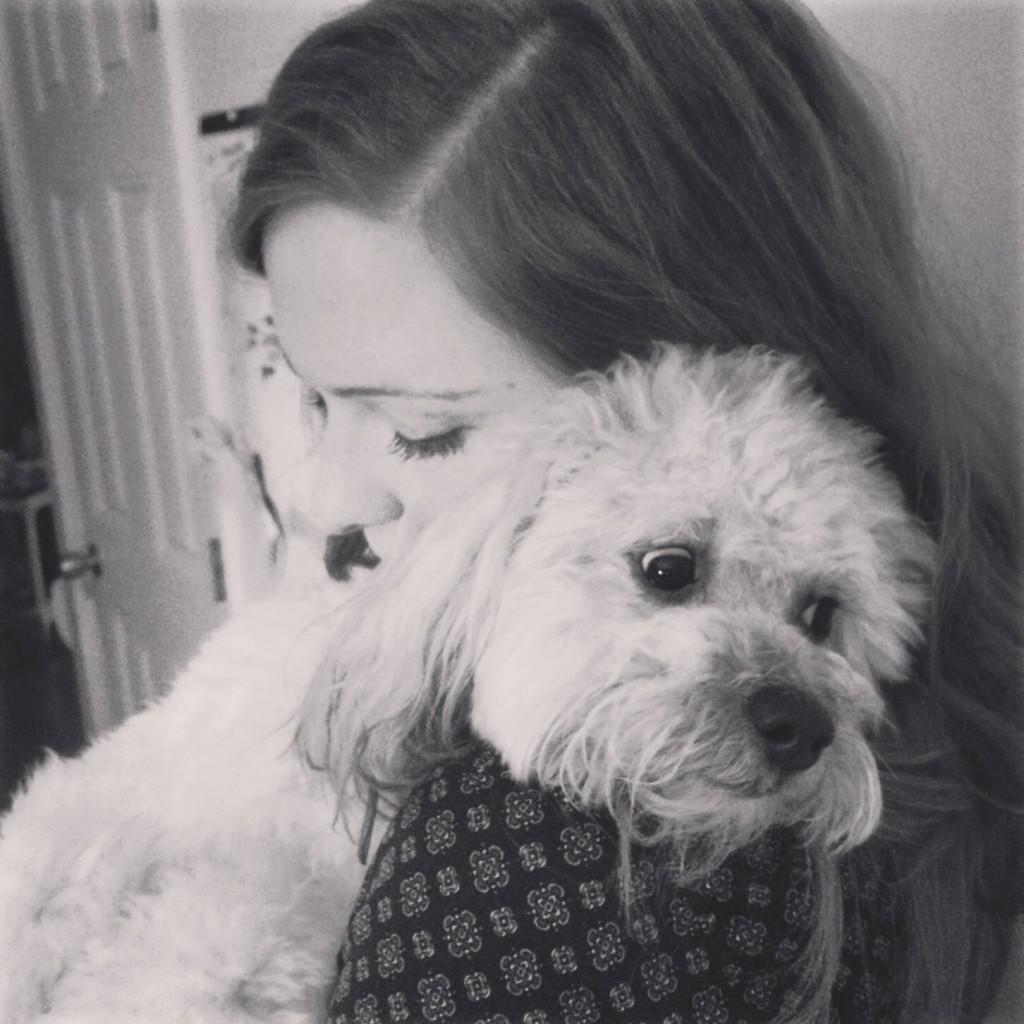 Our schedule now
Our schedule has changed quite a bit now that my little one is a year and three months old–he goes potty less often, has less crazy puppy energy, is hungry more predictably, etc. I love him so much! Here's a rough schedule that we follow daily. (No times because my day-to-day isn't that rigid.)
In the AM
We wake up, I let Charley out in the yard while I get ready
When I let him back in, I refill his food and water bowls
He plays, stretches, or sleeps, while I gather my things and prepare to head out
I scoop a spoonful of peanut butter, instruct him to "go to bed" (get in his crate), close and lock his crate, and slide the spoon through the crate
I leave the house while Charley eats his peanut butter and then cozies up for a nap
Midday
I frequently come home from work for lunch and let Charley out. If not, it's because worked from home in the morning or will be coming home early to work from home in the afternoon. He is rarely crated for more than four to six hours.
In the PM
I get home from work, let Charley out in the yard, and get comfortable for the evening
We take a walk to the mail center, sometimes going on to walk for a while, other times we just take a short walk
When I cook dinner, I refill Charley's food and water bowls
We play and cuddle as I do things around the house
When I'm ready to go to bed, I call Charley into my bedroom (if he hasn't already put himself to sleep–too cute!), remove all toys from my room, and close the door–he quickly settles down and falls asleep
Final thoughts
There is a lot to consider when you're thinking about taking on the responsibility of a dog. When you're considering adding a fur ball to your family, make sure to consider everything honestly–will you have the time to spend with your pup? The money to keep him healthy and happy? Do you travel a lot? Which breed is best for your lifestyle?
After you've weighed the options, make a weighted decision on what will be best for you. Just because you can't get a dog now doesn't mean that you'll never have one…on the other hand, just because people tell you that it'll be "too much" doesn't mean that you can't handle it!
I'd love to hear your story…comment below! 🙂
Stay tuned for a post on my puppy essentials!
Pin with this image: