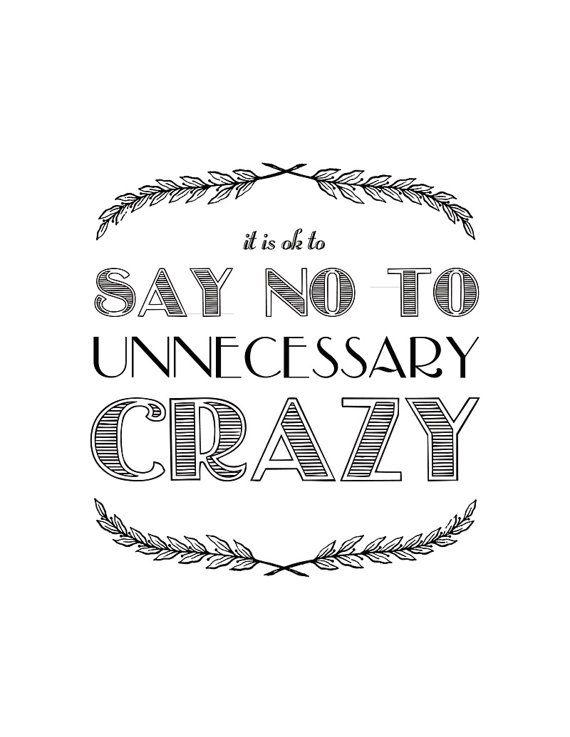 I moved this weekend…from one building to another within my same apartment complex. Yes, I packed up every single thing I own, filled in the holes in the wall, scrubbed my old apartment clean, loaded up truckload after truckload of my belongings only to move into another apartment that is quite literally a hop, skip, and a jump from the first.
Why, Blair? Why would you do that? 
Grab a seat, and a big mug of coffee. Here we go.
I moved into my apartment last July, just a few days before I started working in marketing at an IT startup (we all know how that ended). Obviously, it was a hot summer day, but I was thrilled to be living in Austin and moving into a spacious apartment in a nice part of town.
About a week after I moved in, I was cooking dinner when I heard someone knocking at my door. Not knowing anyone in Austin save a few co-workers, I was startled and confused. When I answered the door, there stood a stern woman in a security guard outfit. "Hi, I'm the courtesy officer. There's been a noise complaint made against you. Sounds like you're bouncing around your apartment being loud."
I hate getting "in trouble," and I was especially upset since I had just been cooking pasta on the stove–hardly a noisy activity. I explained to Sue (we'll call her Sue, I think that is her name) that I wasn't exercising nor "bouncing" around. "I'm just cooking dinner," I explained, "I don't have anyone over right now and I just got home from work a few minutes ago."
Sue accepted my explanation, asked me to be mindful of my noise, and left. I am not someone who takes situations like that lightly–I become extremely flustered and anxious, and it takes a while for me to settle down again.
A week after that incident, I am organizing and labeling some items in my apartment when I hear another set of knocks at the door. Again confused, having just gotten home from The Container Store within the last 30 minutes, I answer it.
Standing before me is a blonde woman holding a broken ceramic angel in her palm. She has her hand laying flat and pushes the angel towards me angrily. Through gritted teeth, "I don't know what you're doing up here, but this noise is too much! You broke this angel that my grandmother gave me!"
Defensive, confused, and alarmed, I ask how I could have possibly broken her angel.
"You're bouncing around your apartment and it made my grandmother's angel fall off a shelf and break!"
Flabbergasted and realizing that this must be my downstairs neighbor, I gently apologize that her grandmother's angel is broken but explain that there is no way that I can accept the blame. I invite her to peek into my apartment, where there is an assortment of plastic bins and baskets, a label maker, and piles of like items. "I'm just trying to get organized…I don't know what noise you're hearing, but it certainly isn't me." In a spirit of reconciliation, I write down my name and cell phone number and ask her to text me if she's hears the banging noise in the future–that way perhaps we can track down the source of it, I told her. (Really, it was so that she wouldn't report me to management again–three reports and I would get fined!)
Eventually, she backs down, but not before she tells me about a previous tenant in my apartment, who was also "too loud," so she brought her pistol with her each time she'd tell him to quiet down–"just in case."
When my neighbor finally leaves–we'll call her Amy–I remember sitting on the ground, upset and on the verge of tears. As I already explained, I become very disturbed by these kinds of situations, especially when I don't know what to do to remedy them.
For the next month after the broken angel situation, I didn't hear another thing. At the time, I thought that everything was resolved or perhaps Amy had tracked down the source of this loud, disruptive noise. Not the case, my friends, not the case.
I began to receive outrageous, harassing, uncalled-for text messages several times a month, often multiple times a week. Here's a gem of an example: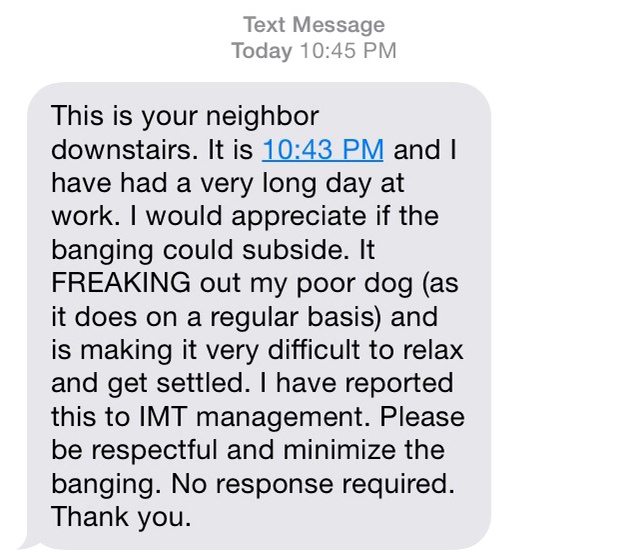 Y'all, when I got this particular message, I was laying on the couch with Charley, eating ice cream out of the carton (okay, not one of my proudest moments). I had also had a long day at work, and like Amy, was trying to relax. There were certainly no "banging" noises coming from me that evening (or any other evening). I started to feel crazy–what the heck was this woman hearing?? Also #noresponserequired
Finally, after several more insane text messages, I scheduled a meeting with management. My anxiety was ever-increasing and I was starting to become very stressed out each time I would go home. Charley even became more spastic and nervous–probably picking up on my energy. I had stopped inviting friends over altogether, even though I love to have guests. I highly value home and relaxing at home, but during this period of time, I was utterly unable to relax as I was constantly awaiting the next knock, phone call, or text message.
When I arrived at the office for my meeting, I explained the situation and showed them the text messages. They were very apologetic and said that they would speak with her and ask her to stop contacting me. One of the women suggested a sound test, where they would send one employee to my apartment to walk, jump, open and close doors, etc. and another to hers to listen. What I failed to realize was that all of this would only fuel her fire.
Instead of texting me, over the next few months, I had visits from the "courtesy officer" several times a week, accompanied by many, many phone calls from management about my "disruptive noise level." (Mind you, in a building of 12 apartments, just one was complaining about my "loudness.")
When management finally did the noise test, they told me that they didn't hear anything. Anything! And each time Amy called the courtesy officer, she wouldn't allow her into her apartment to listen for the "noise I was making." Hmm…
The final straw? A few weeks ago, I came down with a stomach-something-or-another and wound up in the ER because I had become so dehydrated. When I got home, I put on my pajamas and got in bed…just a few moments later, aggressive knocks began at my door.
I answered it, sickly and exhausted, in my pajamas, only to find two legitimate police officers waiting for me. Not Sue, the courtesy officer. Nope, this is what my tax dollars are being spent on–late night visits to my apartment for noise when I'm ASLEEP. I am always very respectful of police officers, but the situation had become so outrageous that I was rather cavalier.
"Hi, officers. I'm sure this won't be the first or last time she'll call you to complain about my noise. I've been in the ER and as you can see, am in bed. I really don't know what she's hearing. I'm so sorry to waste your time."
With that, both officers laughed, bid me good night, and left. (A monkey could have figured out that there was nary a sound coming from my apartment–I looked terrible!) From my bed I could hear angry yelling from Amy.
The next day, when the apartment office was open again, I went in first thing and asked if I had any options. The apartment manager told me I was in luck–that there had been a couple who had moved out unexpectedly that morning! Their apartment was a first floor with upgraded appliances and a yard, just around the corner from where I lived then. She asked me if I needed time to think about it.
"Nope! I don't need any time. When can I sign the lease?"
A week later, after all the paperwork was completed, and my new apartment prepared for move-in, I packed up everything I own and moved it five buildings down. And that was the best decision I've made in years. Because, guys, sometimes you just have to say no to unnecessary crazy.