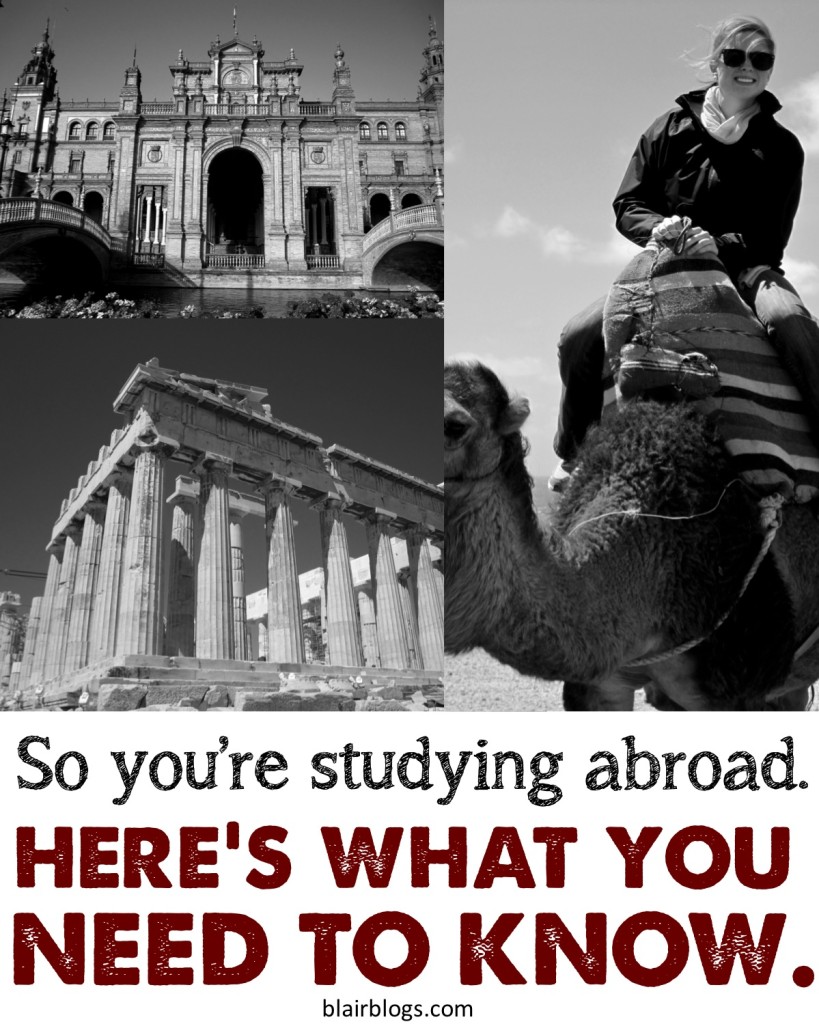 I studied abroad in Sevilla, Spain for five months this year (from January through May). If you'd like to read about my experience, check out my Spain blog.
I can remember feeling overwhelmed and anxious about my trip around this time last year, so I decided to impart what wisdom and advice I have to anyone else preparing for a semester abroad!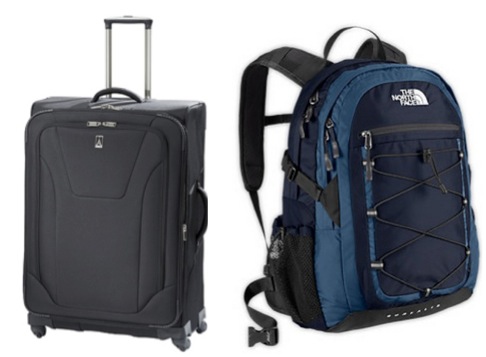 Before you pack, you'll obviously need a suitcase. Don't bring multiple suitcases (it'll be very hard to maneuver around the airport and city, and you'll scream "American!"). Invest in one large, lightweight, durable suitcase. Preferably one that's expandable, with four wheels.
In addition to a large suitcase (which you'll check at the airport), bring a medium-sized, durable backpack. You can substitute this with a small carry-on suitcase or a large backpacking pack, but budget European airlines are so extremely strict (read: annoying) about baggage sizes that a medium everyday backpack is your best bet.
If I fit my entire life into one suitcase and one backpack for five months, you can too. Anything is possible.

Packing. I hate it. It doesn't matter if I'm going away for a night or a month, I become stressed and anxious and ponder every conceivable "What if?" For example "What if it snows while I'm in Miami?" or "What if I wish I had brought my blue scarf instead of my tan one?" or "What if a rabies-ridden animal attacks me as I walk down a cobblestone path and I sprain my ankle and I have to go to the hospital and I wish I had packed a comfy sweatshirt and slippers while I healed?" 
You laugh. But you know you do the same thing. Honesty, friends. Honesty.
Obviously you know the main things to pack–pants, shirts, a camera, your passport. These are some things you may not think of that I found very helpful!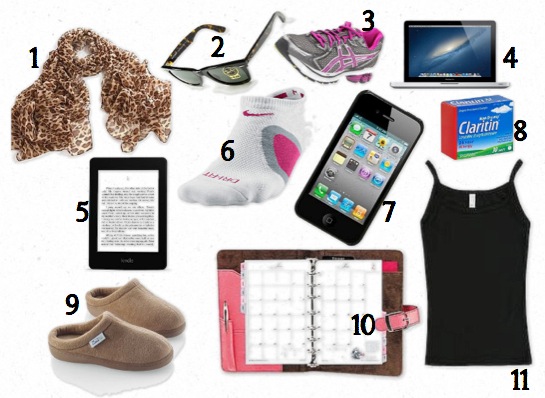 1. Scarves. And lots of 'em. I found myself wearing the same black v-neck shirt with three different scarves and feeling as though I was wearing three different outfits. They can be worn when it's cold, used as a blanket or a pillow on a plane, dress up or down an outfit, or be used to cover up when visiting holy sites (the Vatican, etc.).
2. Sunglasses. Living in a city, and walking everywhere, I would get pounding headaches from squinting on the days when I forgot to throw my sunglasses on. Buy a cheap pair off of Amazon that you don't care about…that way you'll never have to worry about breaking or losing them!
3. Comfortable Shoes. I'm about to sound like your grandma. But you just don't understand. You will literally walk 10 miles a day in some cities (I did, sometimes more!). Your. feet. will. kill. Unless, of course, you have nice walking shoes. I brought a pair of Toms, a pair of Vans, and two pairs of boots (one dressy, one comfy). I ended up buying a pair of Nike's in Spain as well. Bottom line: the shoes can be unfashionable, rubber-soled, or "American." You'll only wear comfy shoes, so only bring them. (Exception: I brought one pair of heels for going out at night. Heels=taxi.)
4. My Computer. Duh. So you can, ya know, blog, keep in touch with friends and fam, and upload approximately 458,032 photos. Approximately. Oh, and I almost forgot! So you can do work. Since you will be studying abroad.
5. Books, or an E-Reader. I didn't bring either to Spain and I really wish I had. Honestly, I'd recommend an e-reader (getya a Kindle–you won't regret it!). There is a lot of down time on planes, trains, and automobiles and you'll want something to do. I also found myself wishing for something to read when I was hanging out in the beautiful parks and plazas.
6. Nice, Comfy Socks. Random, right? I cannot impart to you how absolutely crucial nice socks are. If you have comfortable shoes but crappy socks, you'll get blisters. NOT fun. I bought a three pack of Nikes and absolutely loved-loved-loved them. Something else to consider is that most European countries do not have clothes dryers, meaning the clothes end up rather crunchy after they air dry. If you buy nice, athletic socks (not cotton) they'll dry faster and not crunchy…which is a huge plus! I'll get off my sock soapbox. But I could go on, just so you know. Sidenote: bring clothes with stretch. 100% cotton tees will stretch from being air dried and make you look like you gained 30 pounds. Ain't nobody got time for that.
7. iPhone. I almost didn't bring my American cell phone because I knew I wasn't going to use it internationally ($$$), but I threw it in my bag last minute. THANK goodness. Turns out, you can iMessage with wifi and it's a great way to check e-mail and Facebook when traveling to new cities instead of bringing my laptop (hostel+laptop=Blair with no laptop).
8. Allergy Medication. Moving to a new city (heck! to a new country!), I had massive allergy attacks for weeks. My body wasn't used to the foreign pollen and air! Please note that this is highly unusual for me. I ended up going to a Spanish pharmacy where I was given "allergy medication," AKA you'll-fall-asleep-for-12-hours-straight-medication. Drugs are a lot stronger abroad (there isn't as much red tape nor an FDA), so bring your own. Definitely toss some allergy medication, a bottle of ibuprofen, and some Pepto in your suitcase.
9. Warm Slippers with Rubber Soles. Carpet is a luxury in most countries, and there are many places where it is almost totally unheard of (Spain, Italy, etc.). Bring slippers. Warm ones. With rubber soles, so the freezing tiles won't freeze your toes off! I LIVED in mine. Love those things.
10. A Paper Planner. You'll be planning trips all over the world (squeal!), trying to juggle exams, assignments, and remember special events back at home. You need to organize that business. Grab a cheap planner at Michael's and rock it out.
11. Stretchy Camis. I cannot explain how utterly important it is to buy these. I bought a black one, a nude one, and a white one at Gap Body before I went to Spain and literally wore one every. single. day. They're so great, so versatile, and oh-so comfortable! When you travel, you won't have a lot of space and will inevitably wear the same shirt multiple times. You won't be able to wash most shirts because they simply won't dry in time. These camis? They dry supafast, making them perfect to wash at night, wear in the morning, and still feel fresh! Wear one under your shirts and bask in the glory of feeling clean.

Let me just shake you a bit. YOU ARE NOT STUDYING ABROAD IN TIMBUKTU. (Unless you are, in which case you should disregard everything I'm about to say. Go watch Honey Boo Boo or something.) You need not bring everything you'll need with you. News flash! You can buy it there.
Excuse me for being a bit rash, I just wish someone had gotten in my face about this pre-departure.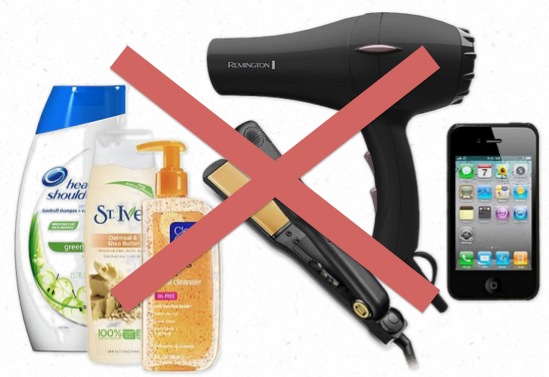 Leave it at home, and pick it up when you get there:
Shampoo, Conditioner, Body Wash, Face Wash, etc. (It's fun to try new brands anyway!) Bring travel sized bottles for the first few days and refill these bottles for trips.
Cell Phone–buy the cheapest local phone to use for calling and texting, you'll save a bundle! (Do bring it, but only for use with wifi.)
Hair dryer and Flat Iron–you'll blow your American one up. Promise. Smoke. Smoke everywhere. Not worth it. Not speaking from personal experience or anything…
While I was in Spain, I wrote a "I'm so glad I brought it!" blog post. Check that out for more on packing.

The first few days, perhaps even the first few weeks, you are going to have multiple moments of absolutely freaking out. You'll probably cry. Sob, even. You may feel scared, alone, nervous, anxious. You'll definitely ask yourself why the heck you decided to move across the world at least once.
It's hard. Believe me, I know.
Study abroad is one of those things where after you get home, you only remember the best parts. That's why people always speak of study abroad in the most romanticized  dreamy, magical, fairy tale way. Ready for wake up call #2? This is still real life. You're adapting to a new culture. new people. new food. a new city. It won't be easy. Promise.
But you wanna know something else? It'll be worth it. Pinky promise.
I truly hope this post helps all of my foreign-bound friends! If you have further questions please drop me a comment or send me an e-mail ([email protected]) and we can chat! If you're in the area and want to get together for a coffee date to discuss all things study abroad, I've love to meet up! Skype works too.
Best of luck to each of you!
The Blair Blogs Facebook Page is creeping up on 200 "Likes," once I hit 200 there will be a very special giveaway! Head over and like my page if you haven't already!