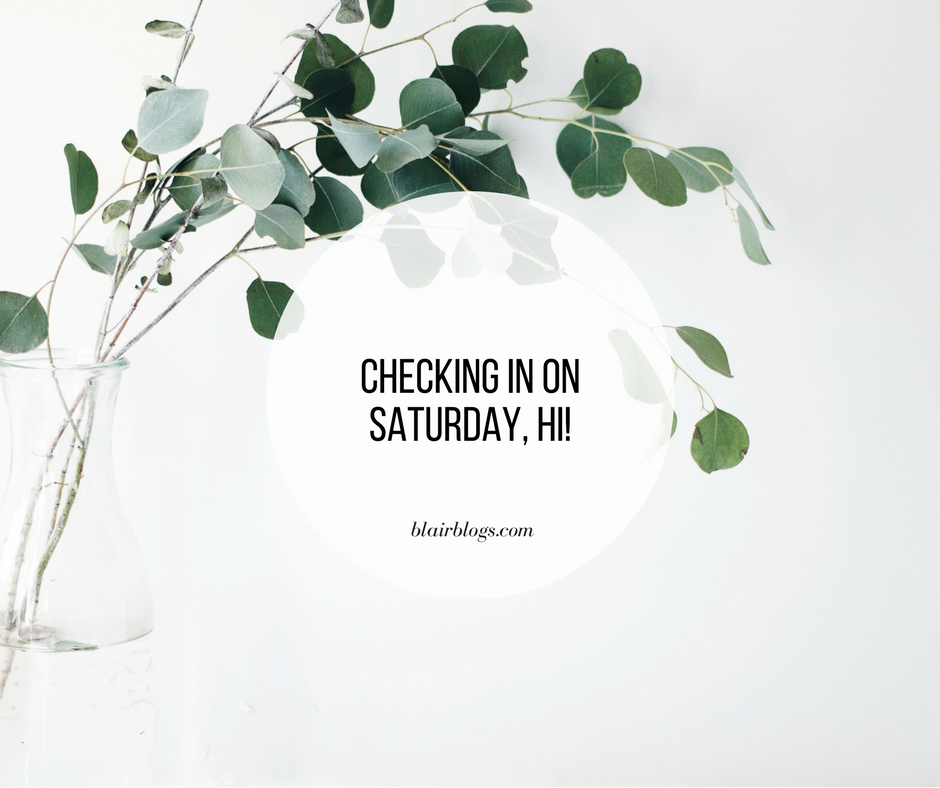 It's Friday night at 11:15pm, and I'm not even a little tired, so I'm sitting at my computer, writing this blog post. I don't think I've written a post to go live on a Saturday in years, literally. But here we are! I realize that blogging is in no way life-or-death, and I don't think any of you have been desperately wondering where I've been, but I figured I may as well check in since I can't sleep and I haven't posted anything in a while.
That has to be the worst post intro on the internet.
This month has brought a lot of good things and a strong sense of renewal–something I'm deeply grateful for. It's been so overwhelming that I've found myself bursting into joyful tears at random, a reaction that's become enough of a problem that I've started carrying a wad of tissues with me wherever I go. I kind of feel like I've woken up again after being in a foggy hazed slumber for the past year. It's the strangest, most beautiful feeling.
With this renewal, I've been heavily considering each "thing" in my life and deciding what to focus on, what to drop, etc. In my reflection, I've noticed that blogging, my first love (you know what I mean), has become little more than a task on my to-do list. And that's really crappy, because writing makes me feel like my soul can breathe when I write from a place of passion and purpose.
So, I've pulled back and thought about the "why." What I've discovered is that I'm really, really, deeply tired of pulling together "perfect," polished, 10 Ways to X posts. Y'all, I'm such a hot mess. My life is such a mystery to me. I wake up almost every day wondering what God's plan is, why I'm here in this city, how He wants to use me, what my purpose is right now.
The only thing I'm sure of is that Jesus is walking with me and He's called me to be an encourager. I hear it so often, it's like a broken record. Be an encourager, Blair.
And the less I care about the world thinking I have it all together, the more I think I can encourage others–because there's so much grace and goodness in the ugly mess. I'm living it. Wait until you watch my February Rooted video (a sequel to this one)–every clip I've shot so far has been a weepy, tear-filled mess. After filming, I always think I should re-shoot so I'm more pulled together, but I've decided against it every time–because I'd rather be raw and vulnerable and real and relatable than polished.
This goes against everything my mostly Type-A, perfectionistic nature stands for, but it's completely liberating. Bear with me as I slowly get back into posting regularly–it's a gritty process getting back to writing from a place of vulnerability. It's scary! Sure, there are still list posts to be written and experience-based advice to be shared, but mostly there's real life to be lived and lessons to be learned and words to be written in the midst of all of it.
I know this is why I've been so drawn to creating videos on my YouTube channel lately; because the videos I create feel like my authentic and honest self, and it's so refreshing.
In the next few weeks, I'm working on coming up with both individual posts and post series I'd like to write this year. If you have ideas or suggestions, I'm all ears. (Please don't say budgeting. All anyone ever wants me to write about is budgeting. Believe me when I say that writing about budgeting would not be writing from a place of passion.) You can expect a consistent posting schedule to resume around mid-February or so–I really look forward to it. Thanks for sticking around!
// Have you ever been in a similar place? Are you in a similar place right now of self-discovery?
Thank you for reading! You can find me online on Facebook, Instagram, Pinterest, and Twitter. If you'd like to be alerted whenever I publish a new post, you can follow me on Bloglovin' or subscribe via email. Check out my fun tees in my Etsy shop and listen to my weekly podcast about simplifying life, Simplify Everything! Are you a blogger too? Check out my Blogger Mentorship Program.