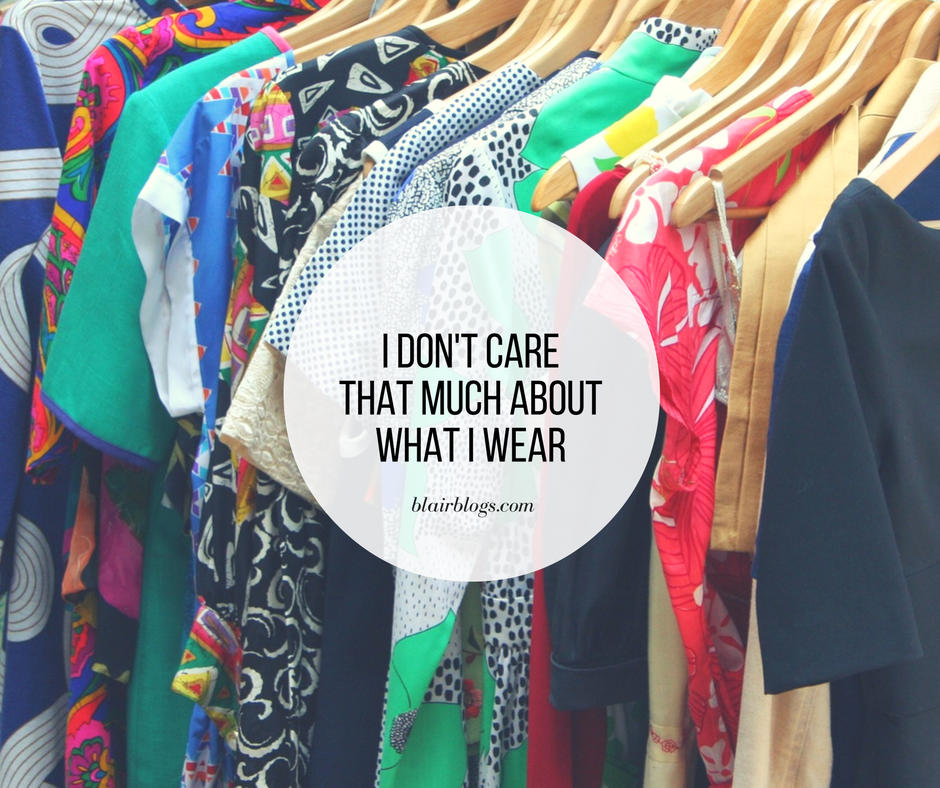 This post is about exactly what you think it's about: the fact that I don't care that much about what I wear. It's not that I don't care at all. I just don't care that much. Basically, I don't care even half as much as Instagram, fashion blogs, and other media think I should. Maybe not even a fourth as much.
Here's the thing, though: I hate looking or feeling sloppy. My friend in college diagnosed me with "FOLSIP" in jest, or "fear of looking sloppy in public." I know some girls who can throw on baggy sweatpants, an old t-shirt, and a messy bun with yesterday's makeup and look straight-up beautiful. This is not the kind of world I can live in, because when I'm sporting that same look, I appear as though I've been living under a literal rock for a few years, Patrick Star style.
So, although I don't like to look sloppy, I don't care that much about being trendy. (Full honesty? I care way more about comfort being the texture-obsessed-freak that I am.) Most of my jeans are several years old, my t-shirts are old ones from college, my "nice clothes" are accumulated from working in a corporate environment in years past, Stitch Fix (referral link), and a few sales. I like to look put together, but I don't spend that much time on it. I wear basically the same things week-to-week, rarely shop, and keep pieces for years before donating them.
I really like jewelry and using it to accessorize my [mostly classic, neutral] clothes, so there's that. And when I go to an event, wedding, or on a date with Riley, I put on makeup and curl my hair, and I feel good about myself and my life. But it's just not, and never has been, a top priority of mine to be a trendsetter or to buy new outfits every season.
I shuddered yesterday when I thought about how I wore khaki skirted overalls unironically until 7th grade. For the love. Hipsters weren't even a thing yet.
I wear almost all cotton (again with the textures), lots of t-shirts from my Etsy shop because they're the softest of all time (I would know, I went through about 12 other tees before settling on these), lots of comfy yoga pants and Nike shorts around the house, and stretchy, broken-in jeans when I'm out. When I pull myself together to go out, I enjoy it, but as soon as I'm back home, it's back to comfort.
This post is basically pointless, but what I'm trying to say is that we can't all care about everything all the time. Like, I really love to cook and I highly value a clean house, so I cook and clean a lot. Plenty of other people think that's a waste of time, and that's legitimate. I think it's a waste of time to try to keep up with ever-changing fashion trends. We can all care about different things to different degrees and still get along–that's what makes life interesting.
So, when it's a holiday, or a date night, or an event, or a wedding–I'll show up, dressed nicely, and I'll look presentable and put-together (probably). I think an outfit can absolutely change the way you feel and infuse you with confidence, but I just don't obsess over my clothes. I don't care that much. If they adequately cover my body and make me feel polished to some degree, that's good enough for me. I won't over-spiritualize this and say something in Christianese like "I care more about what my heart looks like than what I'm wearing," because even though that's true, I don't think that's the reason for my laissez-faire fashion sense. I've always been this way, even before I was a Christian. See: khaki skirted overalls.
Here's the bottom line: you don't have to care a lot about everything. You can care just a little about some things, and you can not care at all about others. I care a medium-low amount about fashionable clothes, I'm not "trendy," and I want to be comfortable more than I want to be Insta-worthy. What don't you care about that much?
// Really, tell me. What don't you care about that much?
Thank you for reading! You can find me online on Facebook, Instagram, Pinterest, and Twitter. If you'd like to be alerted whenever I publish a new post, you can follow me on Bloglovin' or subscribe via email. Check out my fun tees in my Etsy shop and listen to my weekly podcast about simplifying life, Simplify Everything! Are you a blogger too? Check out my Blogger Mentorship Program.