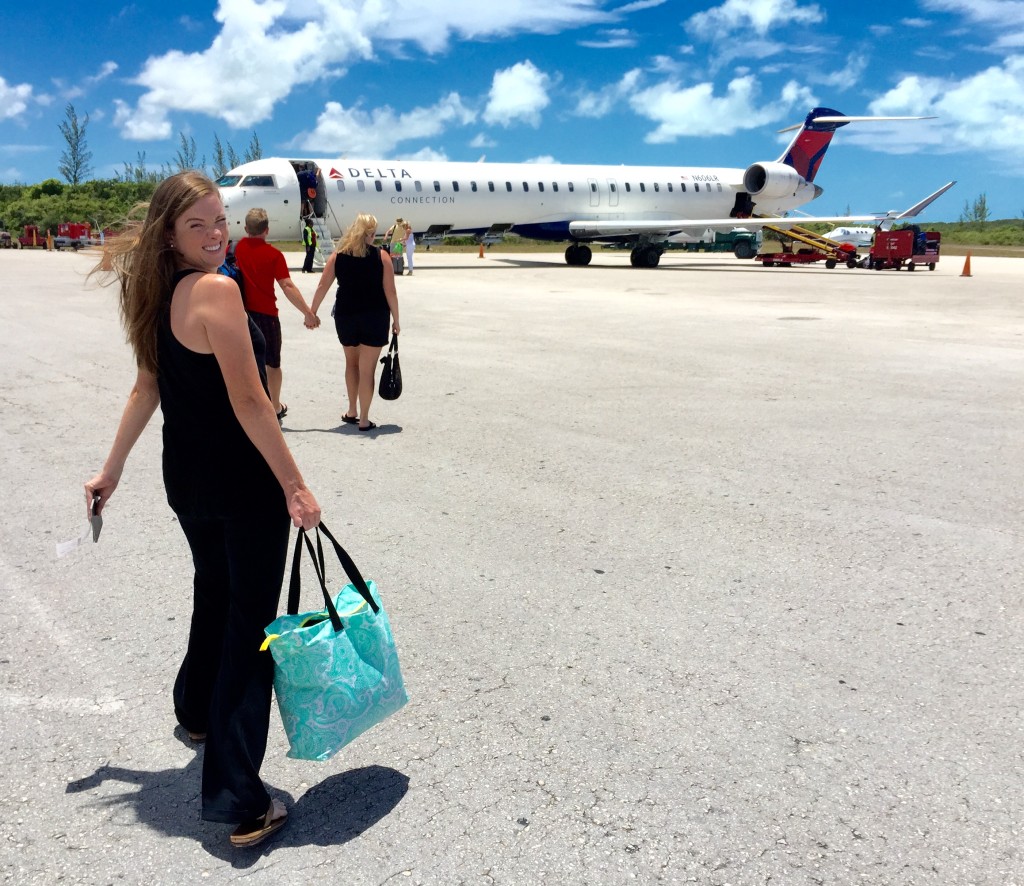 I didn't know what photo to choose for this post, and frankly, I didn't feel like painstakingly combing through all of them, so I chose this one. Not sure what that face is, probably denial that we were leaving our honeymoon. Also it ties into #1. Here we are. This is a weird post already.
I am really weird quirky. My closest friends and family may know some of the following things about me, but most people probably don't. (Sometimes it's even hard for me to recognize my quirks because I live them every day!) My dear friend Katie is the only person I know who can rattle off almost all of my quirks without giving it a second thought (she tells me that I have a lot of "rules" in my life). So, I asked her to help me with this post and she delivered big time…thanks, Katie Boo! Here we go…
1 | Being cold makes me a monster.
Aaaaall the time, people (usually family or friends on the East coast, where I grew up) comment on the weather in Texas with questions like have you melted yet? or comments like oh, Texas is so hot. (Yes, yes it is. *slow head nod*) Different folks, difference strokes because honey, I HATE COLD WEATHER. I'm pretty sure that high school was so bleh for me because I was miserable roughly 75% of the school year, just freezing my buns off, getting those awful post-shaved-legs-chill-bumps every day. I moved seven hours south to North Carolina for college and instantly become much happier, and when I moved to Texas? I've never known such joy! I would take hot any day of the year over cold. (It's almost November and I'm wearing shorts and a sweatshirt right now, with flip-flops. It was perfectly 75 degrees today. #thisisthelife) Disclaimer: it does get cold here for a couple of months (emphasis: a couple of months, not half the year), and it does snow, especially now that I'm in North Texas. I can handle it, but I won't like it. Except snow, I love a good snow…inside, in front of the fire, with hot chocolate. Anyway, I hate being cold and I'm a monster when I am.
2 | I love hand-writing things and I love my handwriting.
There's something inexplicably blissful to me about the feeling of a pen scratching the surface of a piece of paper. (I only use this pen–it's the best of the best.) I try to write handwritten notes and cards as often as I can, and I always have a running handwritten to-do list (even though I organize my the rest of my life on my computer/phone!). And, I really do love my own handwriting. This may seem prideful, but I think it's important for us all to have things we like about ourselves. Plus, I spent way too much time perfecting it during my science classes in high school for it not to count for something!
3 | I'm a "sneaky introvert."
Thanks to Katie for this term/description. She's right, though. I love to mingle and chat and make new friends. I can make small talk for hours (though I don't prefer it). I like to be with people and I like to think that I'm very friendly when I am. All of this, however, absolutely exhausts me in every single way. After a day of socializing, it will take me a full day to recover. For example, whenever I am in a wedding, and I am with people 24/7 for the wedding week leading up to the big day, it takes me an entire week to regain my pre-wedding energy levels. I always have such a blast at my friend's weddings, but I desperately need time alone to recharge! (I'm an ISTJ if you're a Myers-Briggs person!)
4 | I'm that texture person.
And not only with food, either. I always feel everything. Friends don't think it's weird at all for me to stroke their arm or feel their scarf because I literally can't focus until I know how everything feels around me. My clothes are all picked out based on both their style and their texture, equally. You'll never find me in wool or leather or anything scratchy. I wear cotton almost all the time. Though my texture sensitivities extend far beyond food, they are a big part of my dietary choices as well. There are foods that I would never touch just because their texture disgusts me–including, but not limited to: fish, things with surprise chunks (like a soup with unknown ingredients or rice pudding), sushi, pecans, Jello, and pumpkin pie (I don't like most pies–they're too gelatinous).
5 | I can't deal with too-bright lights or too-loud music.
I'm an HSP and become physically ill with I'm in a place where the lighting is too bright or the music is too loud (or it smells too strongly…or there is anything else that I would consider to be a sensory overload!). Consequently, I don't do well at house parties, concerts, or dive bars. Instead, you'll find me in coffee shops, parks, and cafés. This is something that took years to come to terms with, but now, I fully accept it. I've definitely learned to adapt to bright, loud environments, but I would never choose to be in one and I would ideally spend as little time as possible in a place like that!
6 | I am absolutely obsessed with The Office.
I've seen every episode probably six times, yet I laugh each time I turn it on. I love the characters, I love the plot lines, I love everything about this show. My favorite seasons are Season 4 and Season 5 and I watch an episode from one of those two seasons roughly four times a week.
7 | I hate cilantro with everything I am.
It tastes like soap. I won't eat anything with cilantro in it or on it. Why does it have to be such a divisive herb? Can't we all just get along and eat things that don't taste like they've been drizzled with yellow Dial hand soap? I "hated" Mexican food for years, which clearly isn't a real thing, and I now know that my manufactured hate was simply the result of this nasty little herb. Glad I figured that one out, I would've had a rough time in Texas.
8 | I love the way my dog Charley smells.
This is such a weird one. Ever since he was a puppy, I have loved the way that Charley smells. To me, he smells like a baby…you know that perfect scent? He's a Maltese-Poodle (Maltipoo), so it probably helps that he doesn't shed and has human-like hair, not fur (it doesn't all grow in one direction), so he kind of smells like his shampoo. I frequently bury my nose in his fur because I just think he smells so good! When we first got married, Riley thought I was nuts with this one. But just this morning he said, "Charley smelled so good when we got up this morning." YES. Another smell-related quirk: I can identify perfumes, lotions, and other scents very quickly from very far away. I will frequently say, "Someone just walked in wearing Burberry," or "Who just put on Eucalyptus Spearmint hand lotion?" I've learned not to say these things as often, because usually the person I'm smelling is across the room and becomes thoroughly weirded out.
9 | I adore the number 9.
I remember as a little girl explaining this love and saying: "I love the number nine because it's my birthday, it's the number of siblings in my mom's family, and it's the number of months in a pregnancy." Oy. What a weird kid. I can't really explain my deep-rooted love for this number other than to say that it's become like a wink from God. It seems like whenever I'm heading into a situation where I feel anxious, I'll be in seat 9, or row 9, or bus 9, or room 9. On the way to college for the first time, the truck in front of us on the highway for the entire ride had the license plate 999999. Clearly this could just be confirmation bias (thanks to my friend Camille for teaching me that term, she's a super smart PhD scholar), but I like to think it really is God's way of winking at me and comforting me. Clearly, I was thrilled as a kid when it was 9/9/99. Man, those were that was the glory days.
Now that I've let the entire internet see what a weirdo quirky gal I am, I would love to hear some of your own quirks! Can you relate to any of mine? 🙂