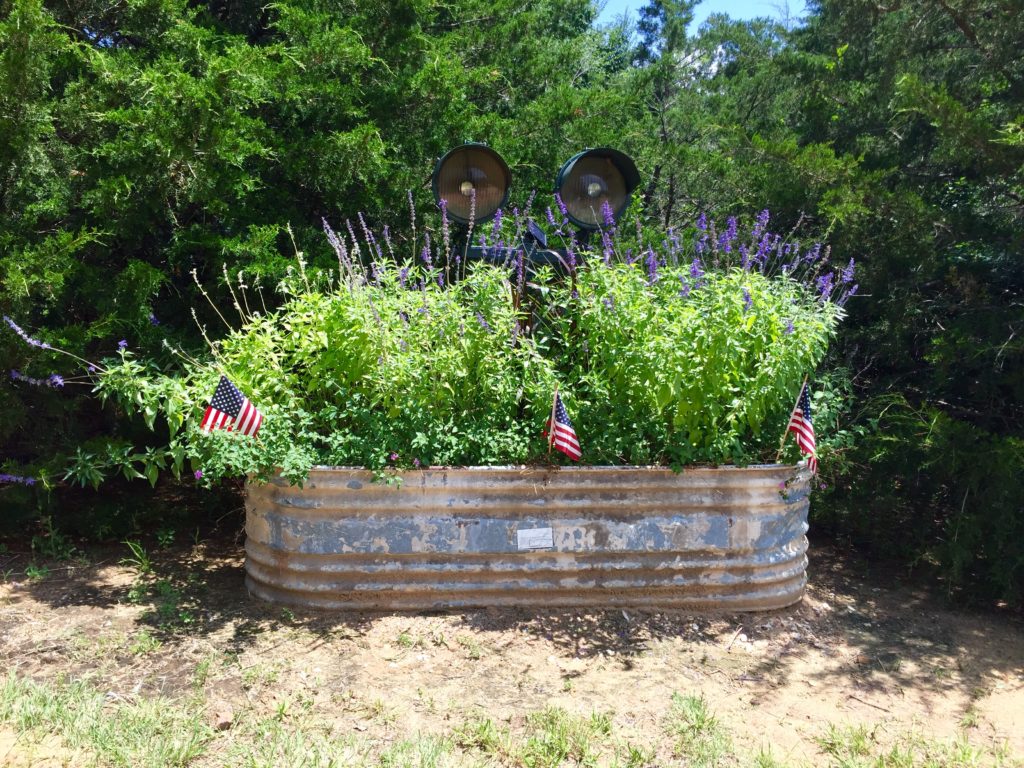 Last Saturday, Riley and I drove to a local farm for their semi-annual Lavender Festival. The weather that day was gorgeous and sunny, and I have a longtime infatuation with lavender, so we decided to drive over for the afternoon.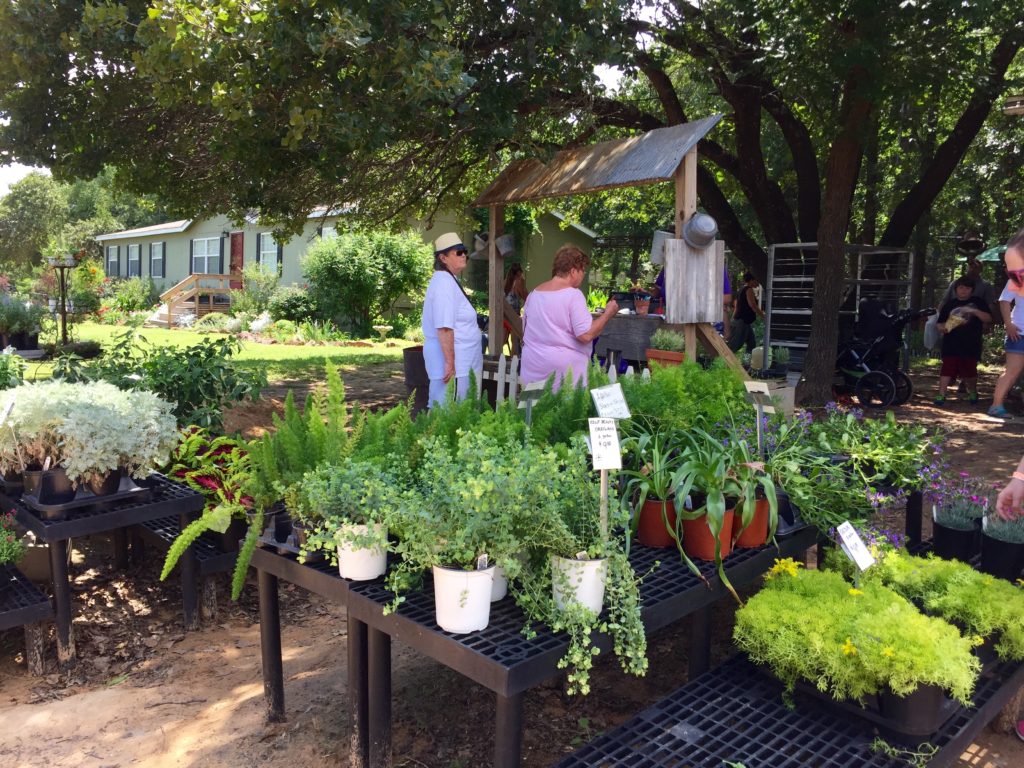 The unique thing about this farm is that it is, in fact, a lavender farm. (It's called Lavender Ridge if you're in the greater DFW area and want to check it out.) Apparently, it was a strawberry and melon farm in the past but re-opened as a lavender farm in 2006. Mostly because I'd never thought about it, I had no idea such a thing existed! The farm was beautifully maintained, and yes, it smelled exactly as wonderful as you'd imagine.
Upon arrival, we were met with a lovely shaded garden area with lots of plants and herbs for sale. I picked up a potted lavender plant to purchase but ultimately put it back because I unfortunately do not have a green thumb (as evidenced by this post; all of those plants died within weeks), and frankly can't be bothered to learn how to garden right now when we're trying to get our house together!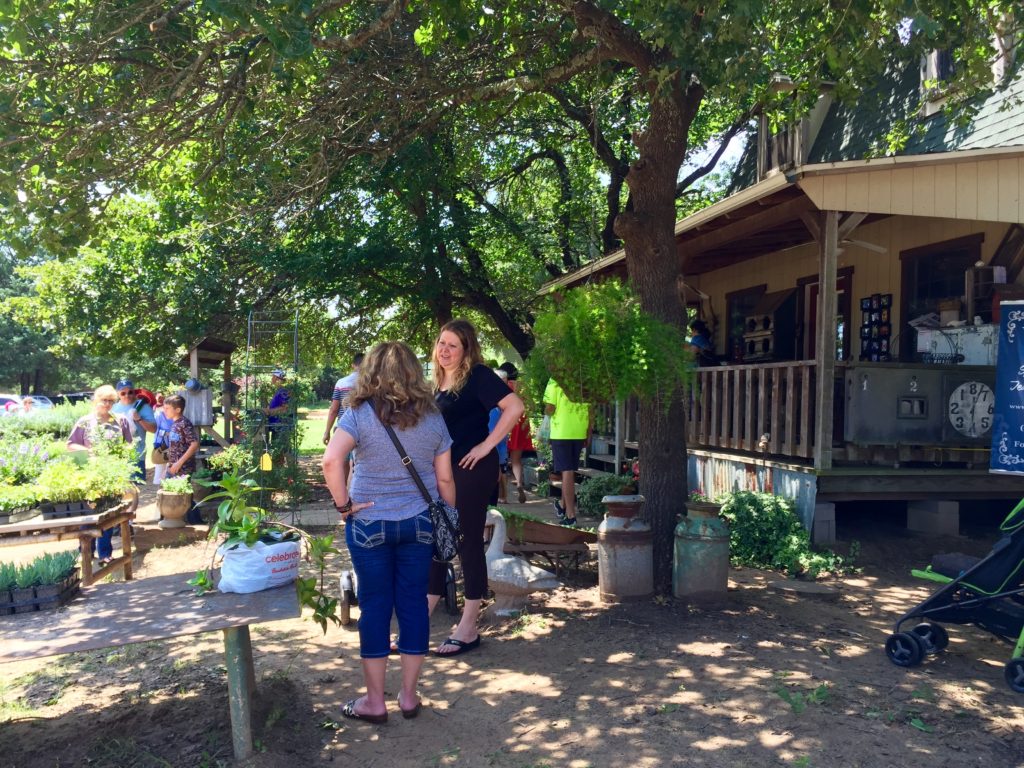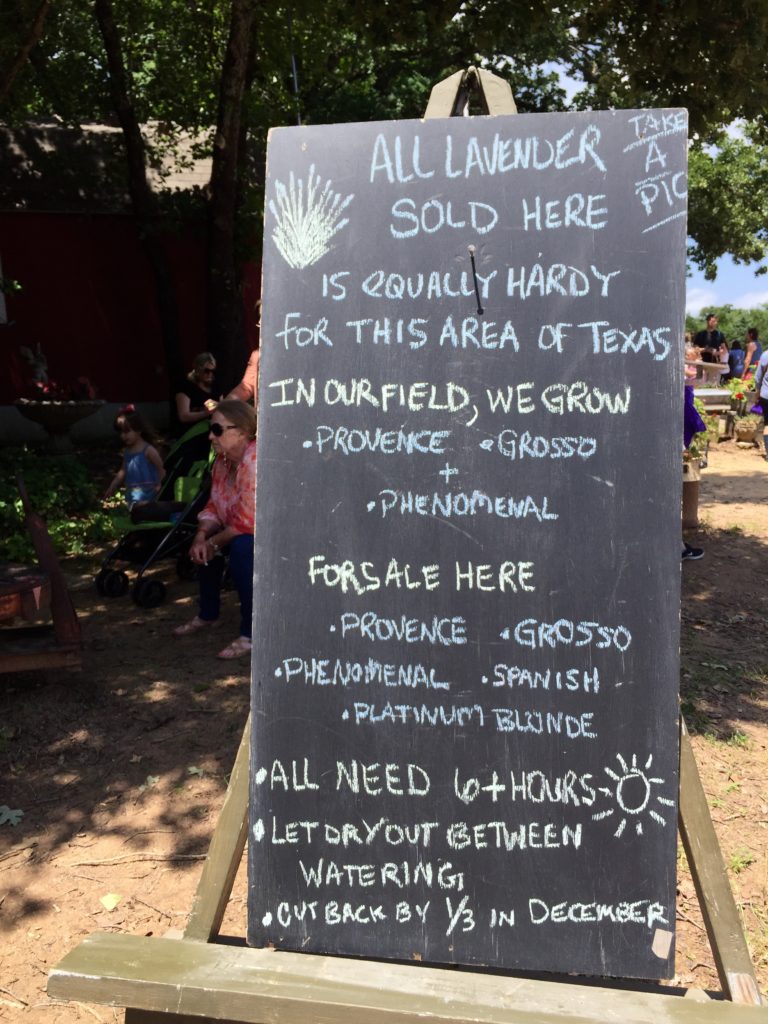 The instructions above seemed easy enough, but I have no gardening confidence at this stage in my life. As we continued to walk through the farm, we came upon several rows of vendors selling everything from terrariums to hand-painted signs to homemade soap and jewelry. We spent the better part of an hour browsing the different booths.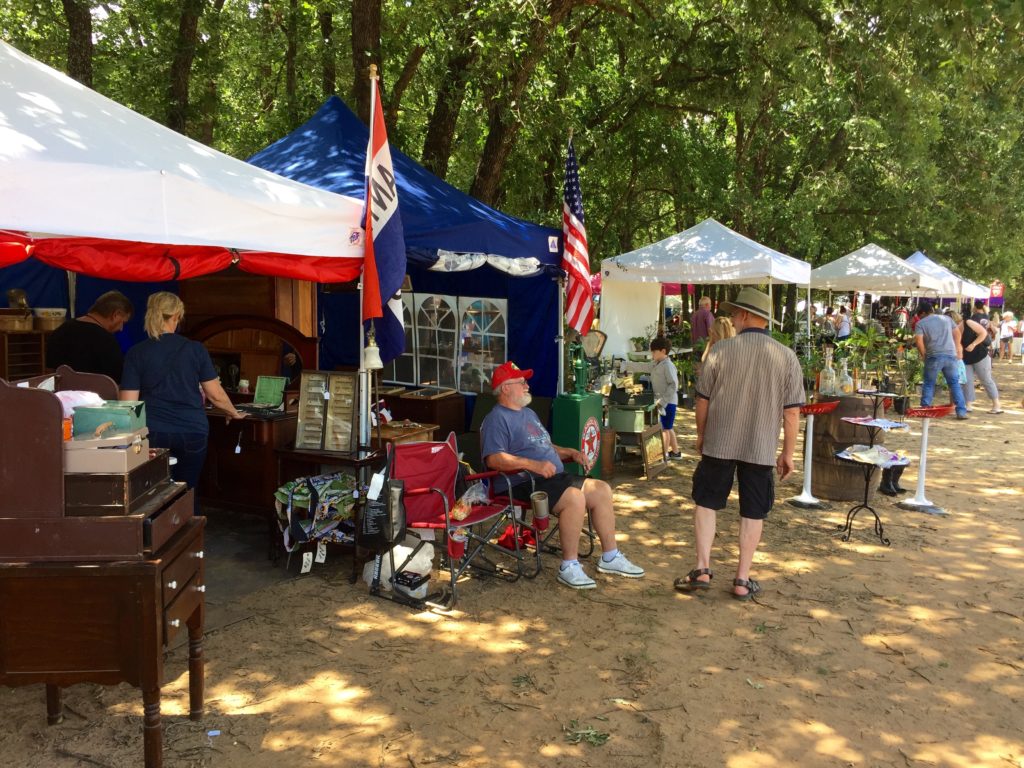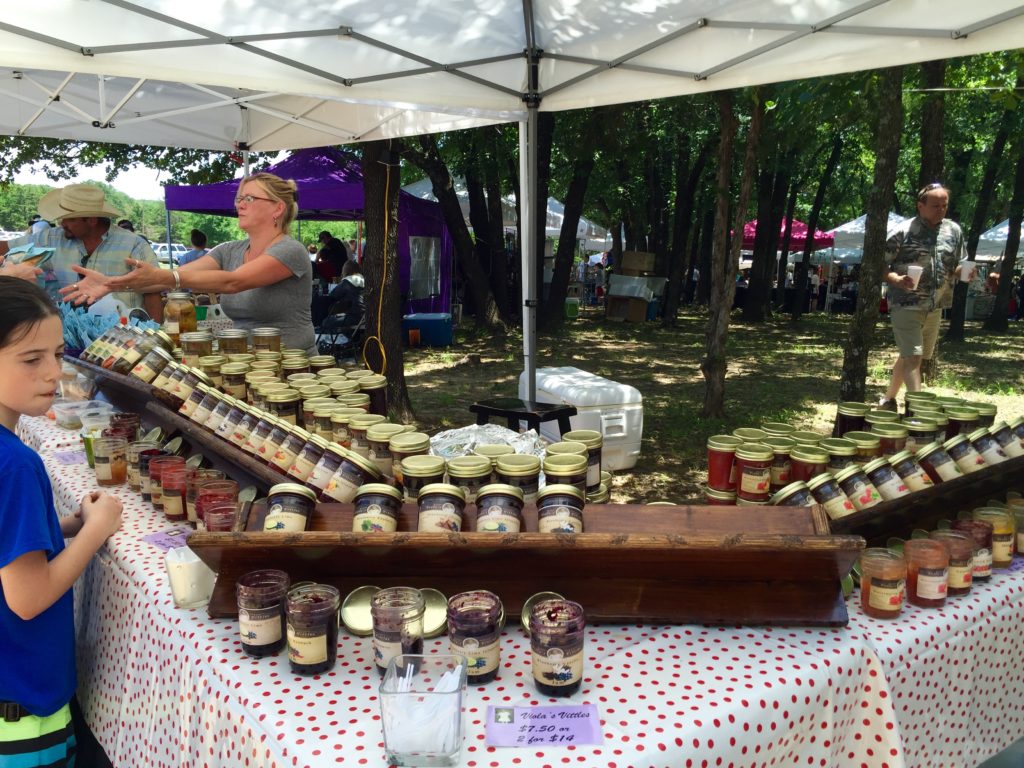 The booth above had all sorts of homemade jams; my favorite was the cherry almond. I love anything with almond flavor! There were also 15+ dips to sample with pretzel sticks; all of them were delicious as well.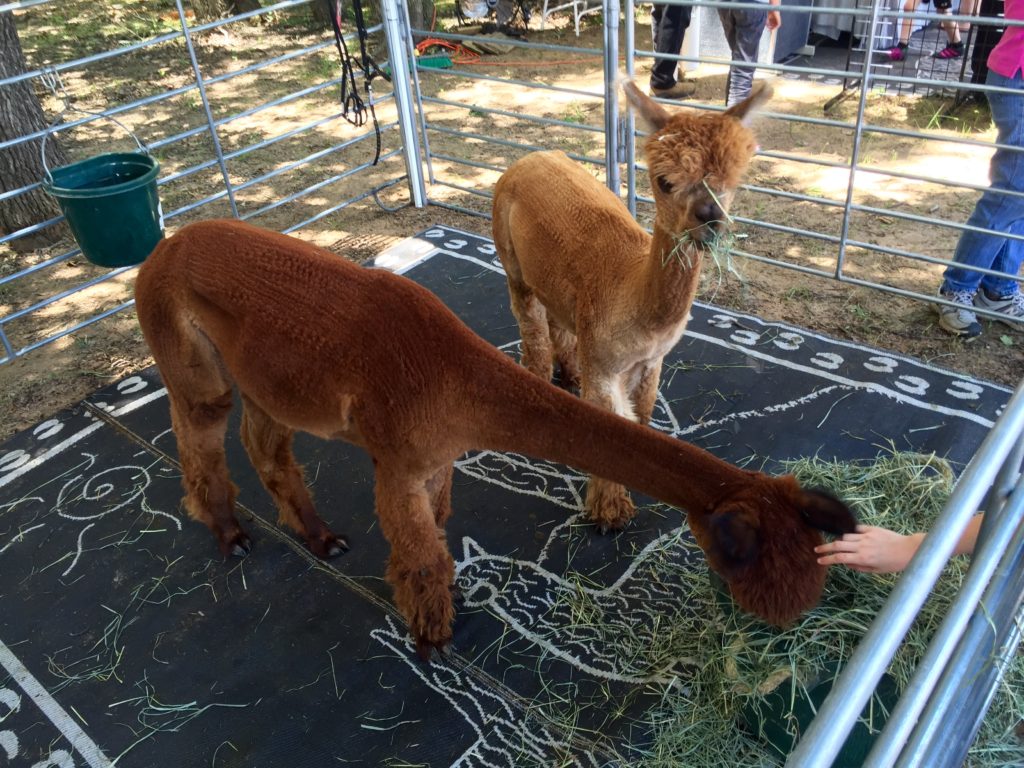 We happened upon two alpacas, who were hilarious and sassy. I think they were part of a booth that was selling clothing and accessories made with alpaca fur (hair?), but I'm not sure whether that's the case or if they belong to the farm. Either way, they were a crowd pleaser.
Then, we saw a stand that was selling local fruit wines made from fruits like peaches, blackberries, and strawberries. The vendor mentioned peach sangria, which sounded both uniquely delicious and refreshing, so we bought a cup. As expected, it was bright orange (photo below) and so, so yummy. It was made with peach wine, so you couldn't miss that sweet peach flavor. Riley and I shared it and both loved it!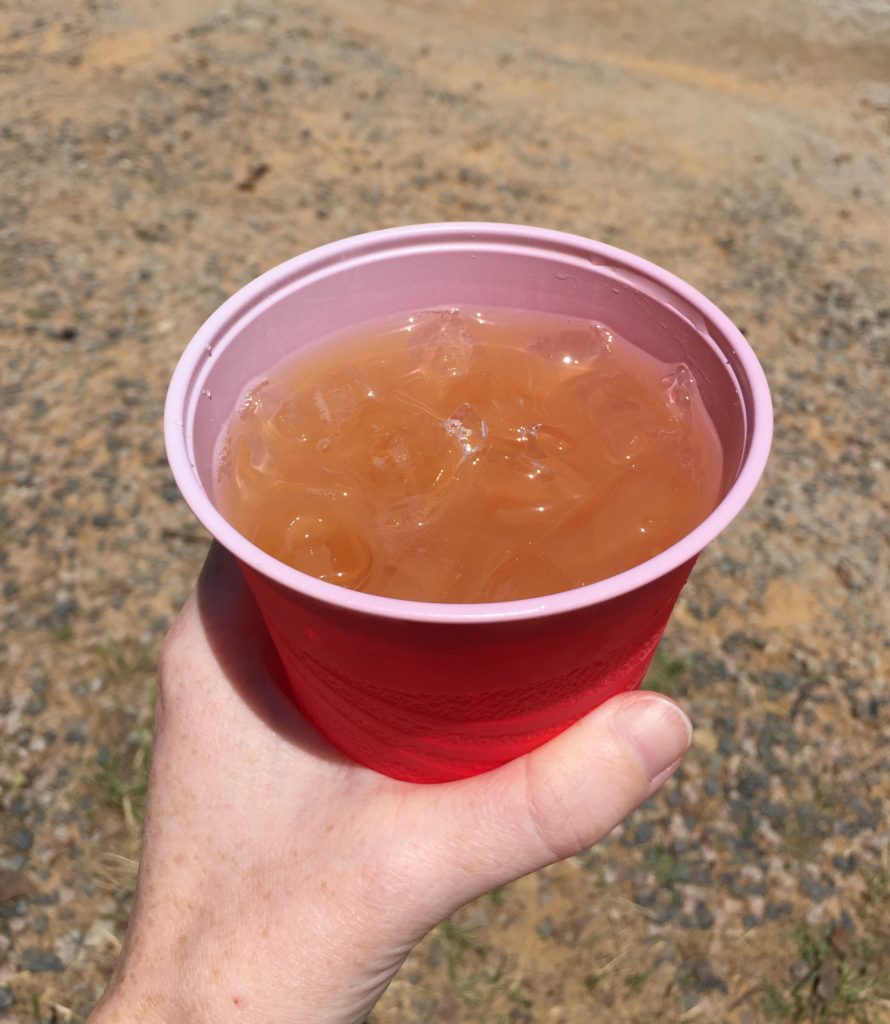 After another hour of meandering around the farm, we decided to eat at the cafe for lunch. The menu sounded absolutely delicious and with both lavender lemonade and lavender iced tea on the menu, we were sold. The cafe was small and located inside a purple screened-in porch. Although it wasn't hot, the shade and fans were refreshing and a nice way to step out of the sun for a few minutes.
While we were waiting to be seated, we snapped the selfie below. It's such a weird picture and the lighting is bizarre, but I wanted at least one photo of us from this day, so I made it black and white and here it is. (I love wearing my hair up for practical reasons but photos with my hair up are so unflattering and weird. #allaboardthevaintrain)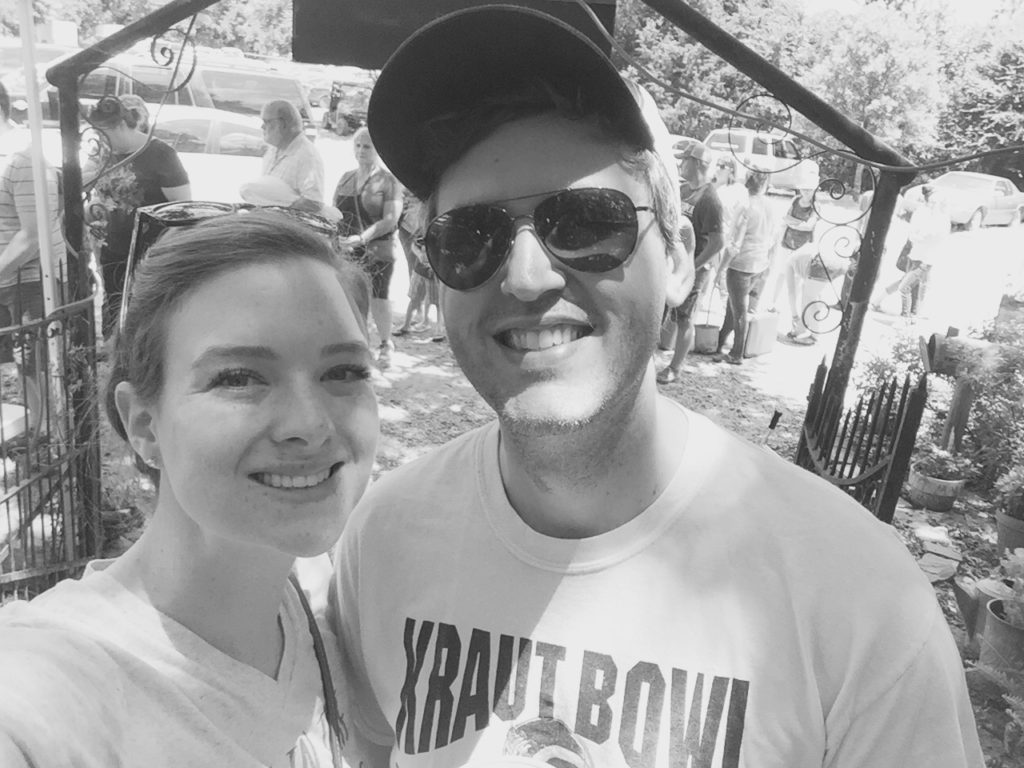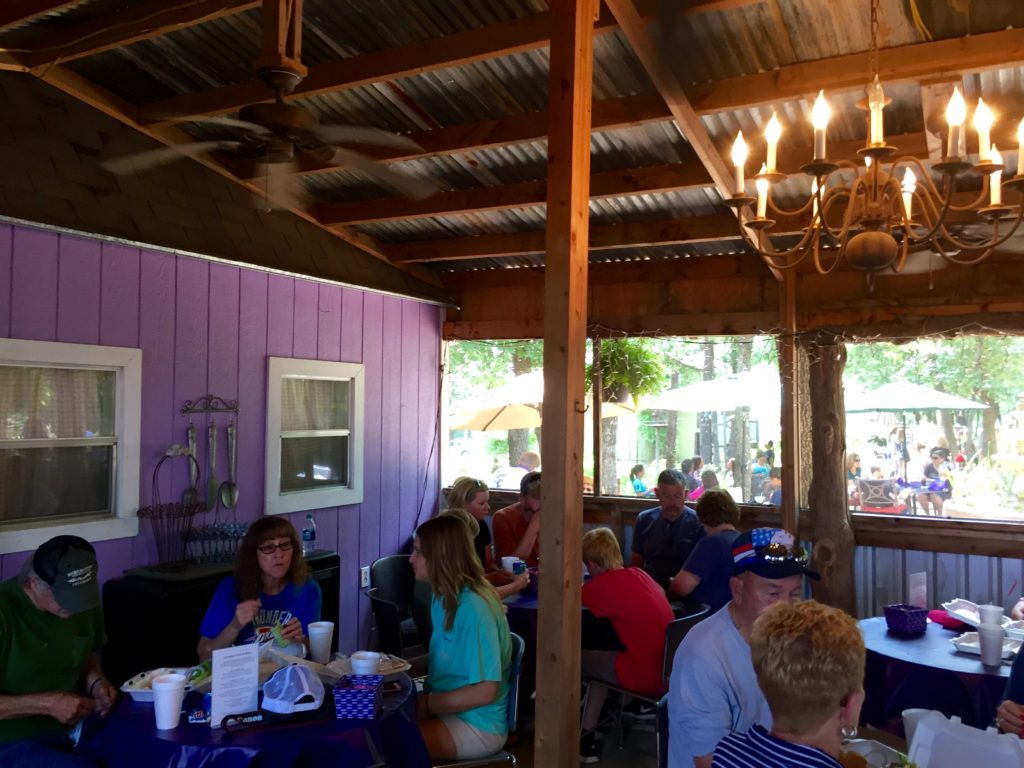 The menu was pared down for the festival, for which I was very thankful–navigating menus that I haven't previously looked up isn't my favorite! (A weird quirk of mine for as long as I can remember.) I ordered the lavender honey chicken salad sandwich with a lavender lemonade and Riley ordered a ham and swiss sandwich with a lavender iced tea.
Both of our meals were absolutely delicious. I love chicken salad sandwiches and order them often, and this is one of the best ones I've had. The lavender lemonade was good, but a little too floral for my taste. The lavender seemed to blend better into the iced tea because tea already has an herbal base, you know?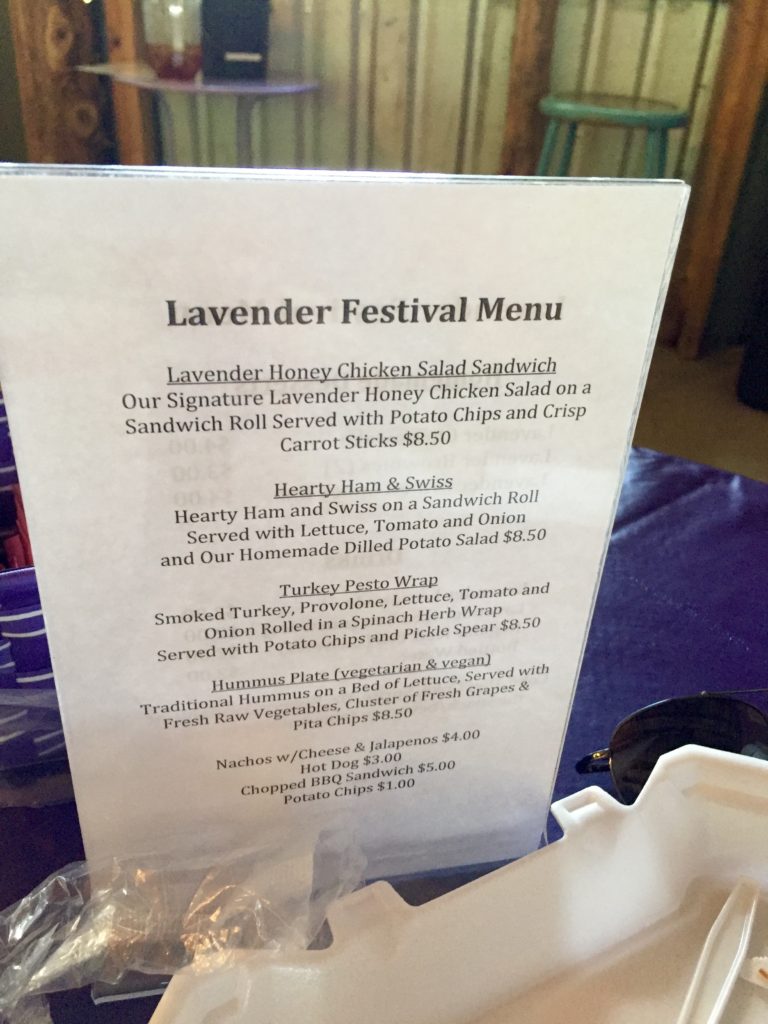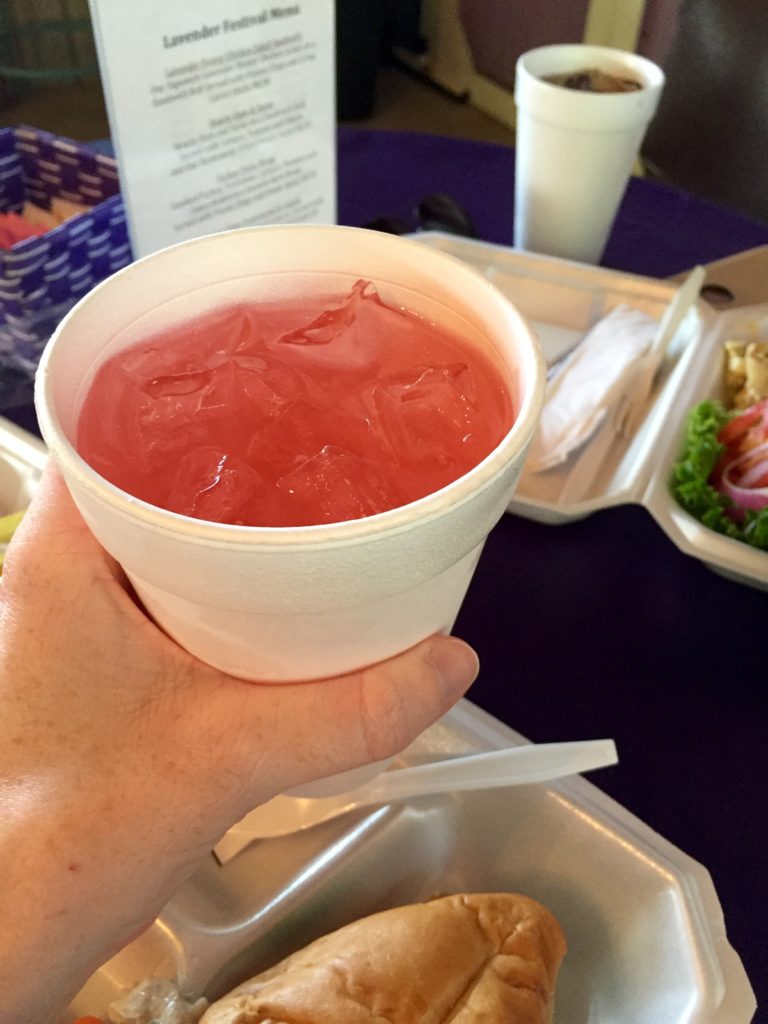 After lunch, we decided to try the lavender brownies because we'd heard great things about them. They were basically boxed brownie mix brownies with small specks of lavender in them, and they were very yummy, but not unique or lavender-y. In fact, had I not known that they were lavender brownies, I probably wouldn't have noticed the lavender at all.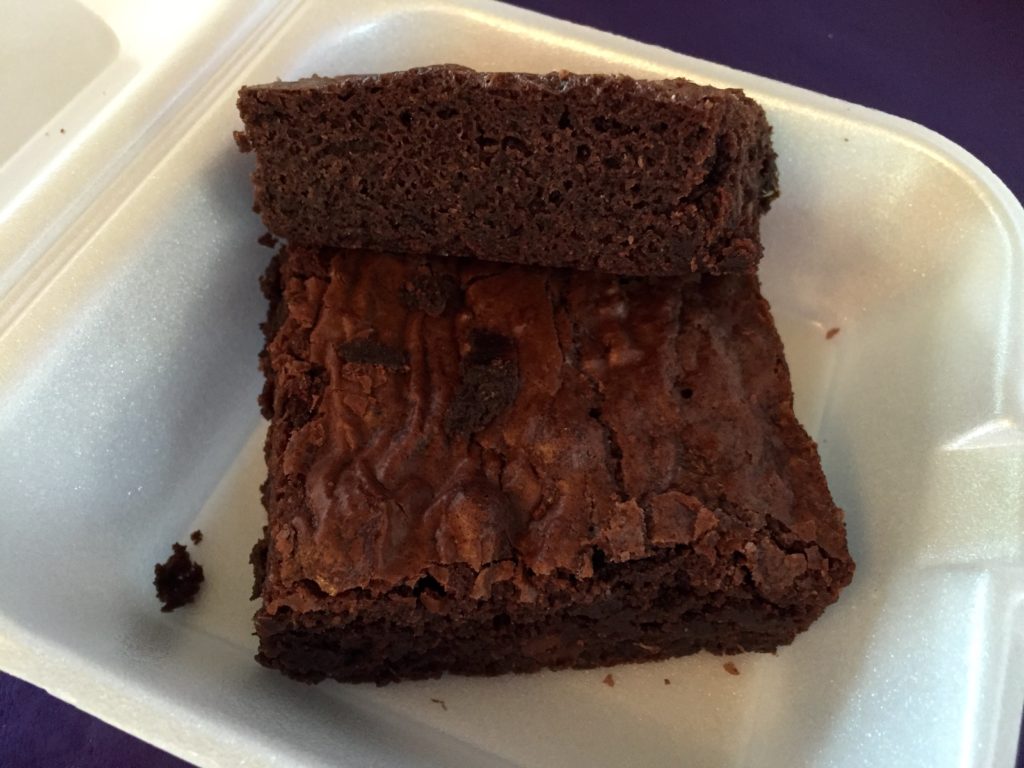 After lunch, we considered clipping some lavender in the fields, but decided against it and opted to go into the gift shop instead. The lavender fields were very sparse by this point in the season, as you can see in the photo below, but still let off a lovely aroma.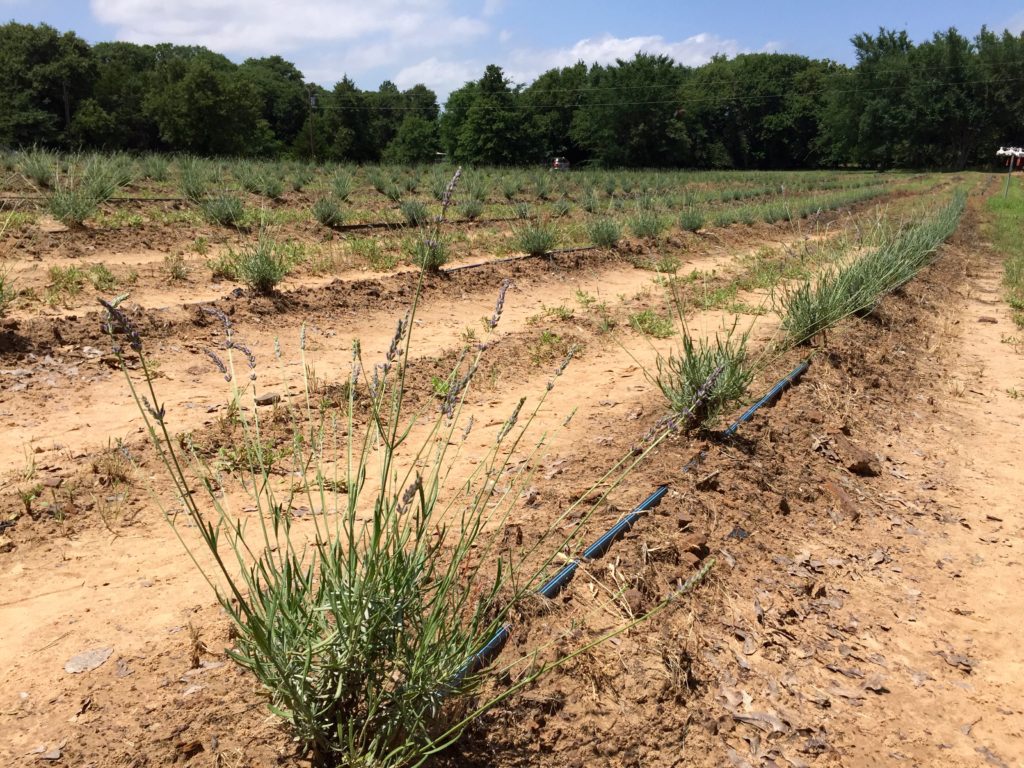 I often wish the internet had smell-o-vision, but never have I wanted that so much as now. I wish you could smell the gift shop at the farm (pictured below)! Oh my goodness, it was heavenly. The smell of fresh-cut lavender mingled with homemade soaps and essential oils and bath products and all kinds of other gorgeous handmade goods. Though it was small and crowded due to the festival, we spent about a half hour looking at everything in it.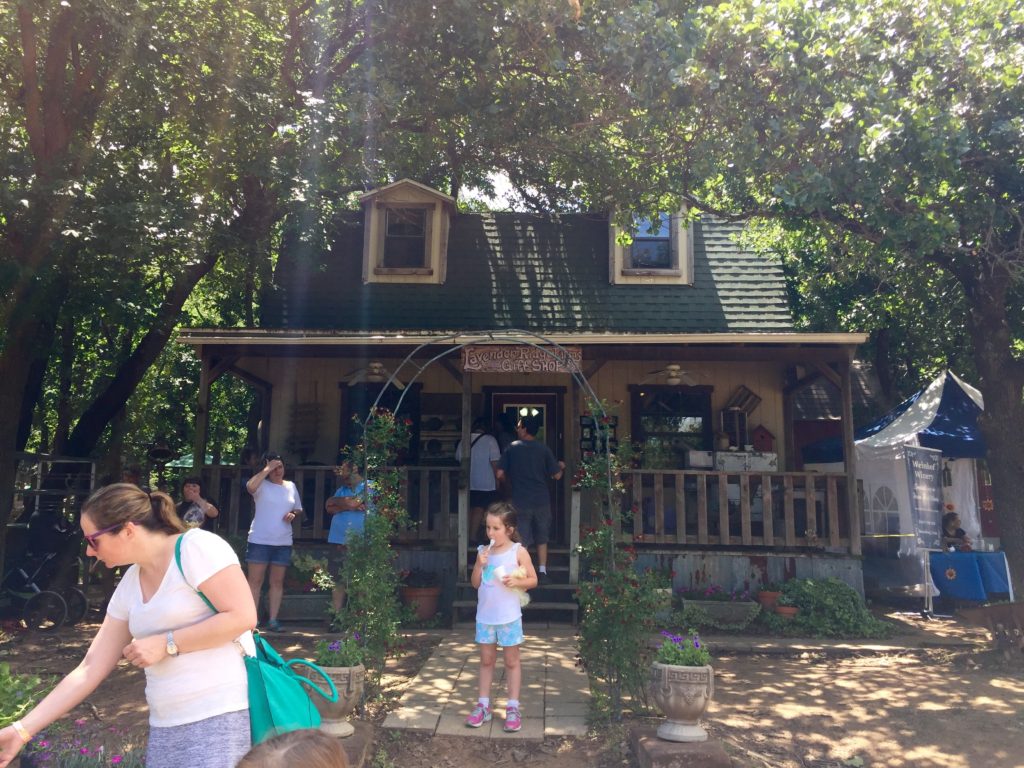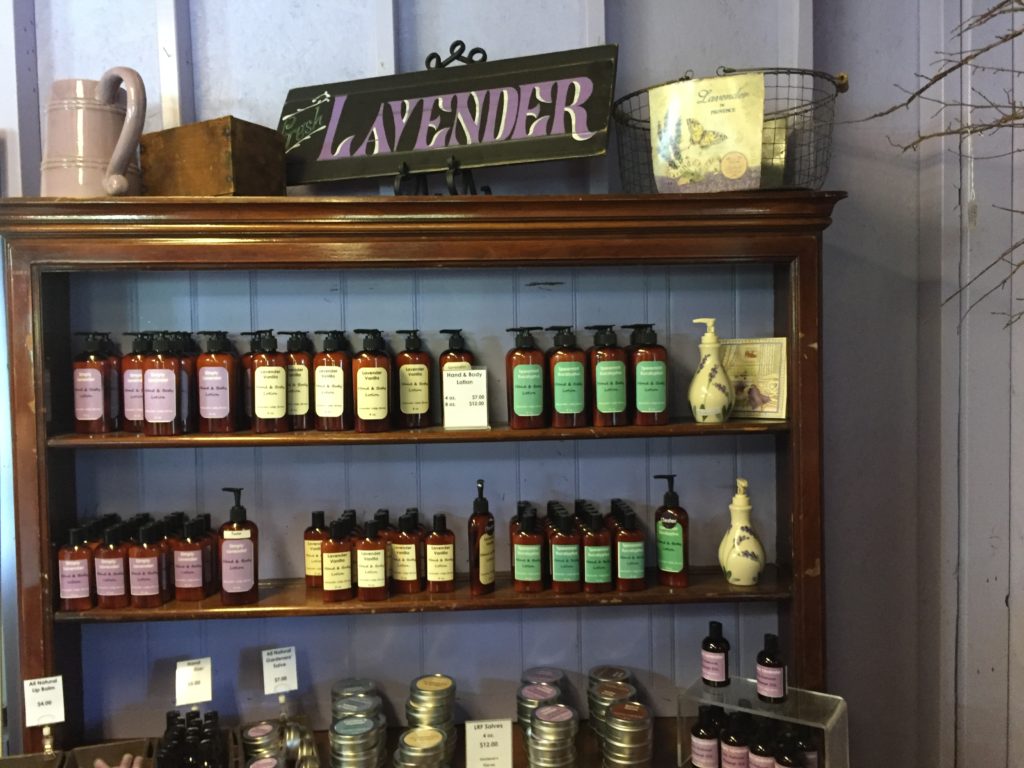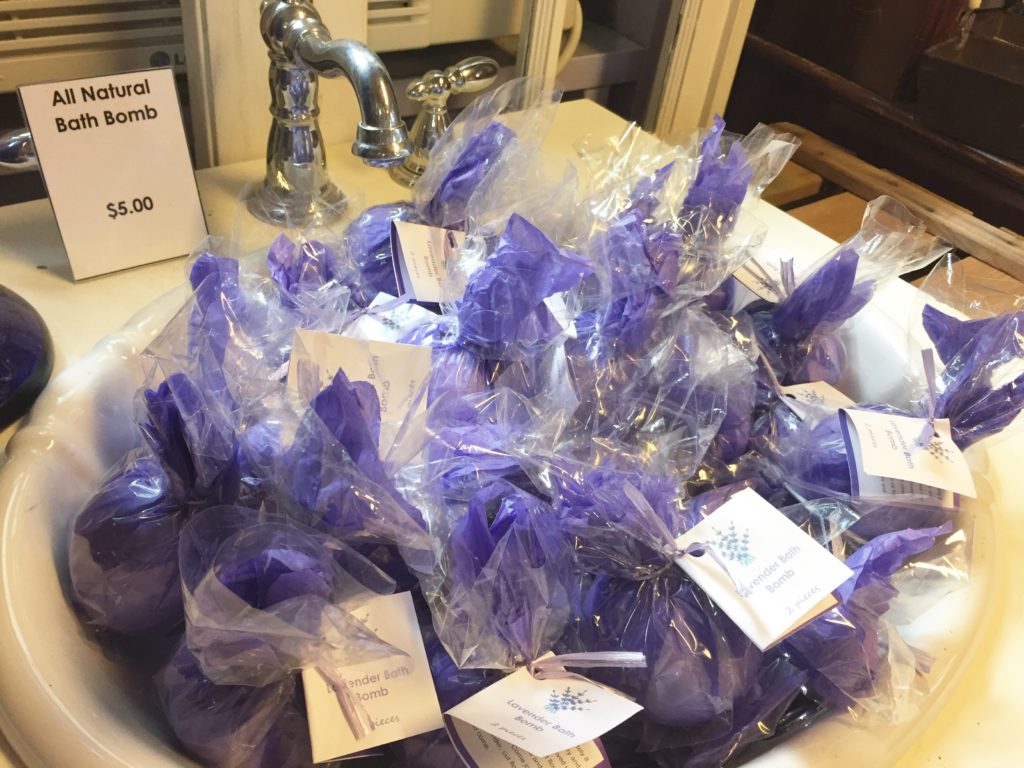 We bought a few items, including lavender and vanilla linen spray, which we've misted on our sheets each night before bed since Saturday; the smell is incredibly relaxing and delightful. We also picked up two bars of handmade soap–I chose one in a rose petal scent, and Riley picked up a "Black Jack" scent, which is like a masculine beach-y smell. I also bought a lavender bath bomb (pictured above)–I used one half of it in a bath last night and slept like a baby.
Basically, I could've bought out the entire store but forced myself to execute self control and walk away with only four items.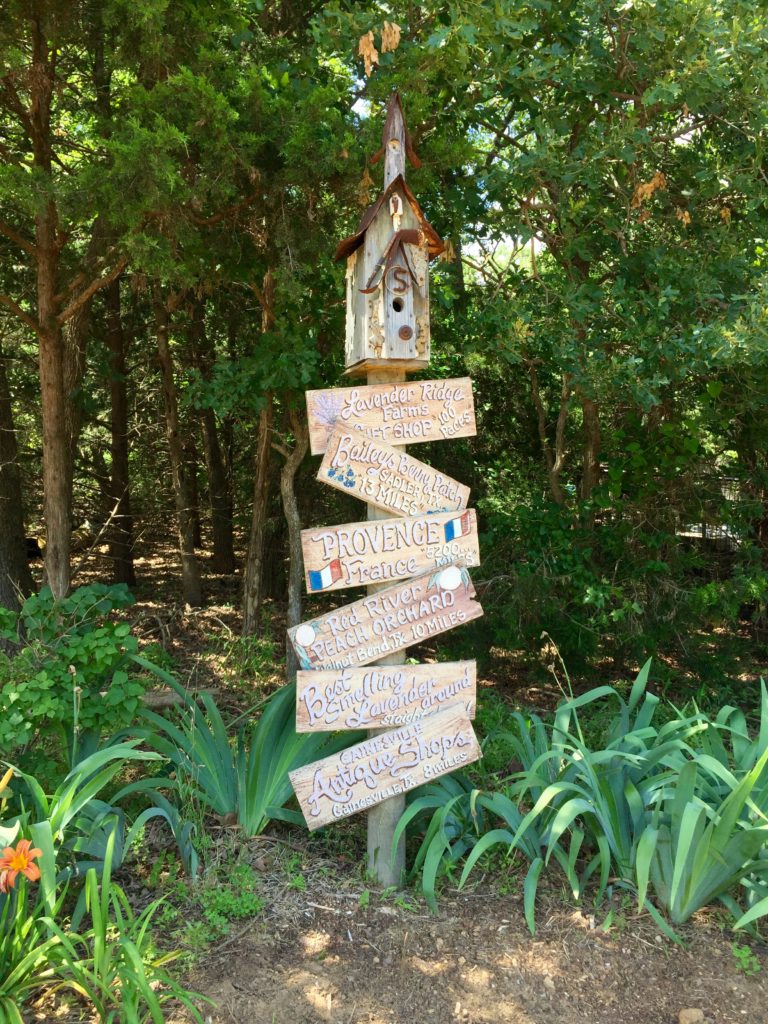 After we checked out at the gift shop, we decided to drive to an incredible (and massive) local antique store to browse. I never used to enjoy antiquing, but it's something I've grown to love a lot. I find the act of looking through antiques sentimental and grounding and really enjoyed meandering through the store for a couple of hours with Riley. We didn't buy anything (mostly because we're still furnishing our house and haven't yet started decorating), but I will certainly return in the future for some unique home décor.
What a lovely Saturday afternoon we had in the middle of a restful long weekend!
// What's the most unique festival you've ever been to? Does a lavender festival interest you?
Thank you for reading! You can find me online on Facebook, Instagram, Pinterest, and Twitter. If you'd like to be alerted whenever I publish a new post, you can follow me on Bloglovin' or subscribe via email. Check out my fun tees in my Etsy shop and listen to my weekly podcast about simplifying life, Simplify Everything!