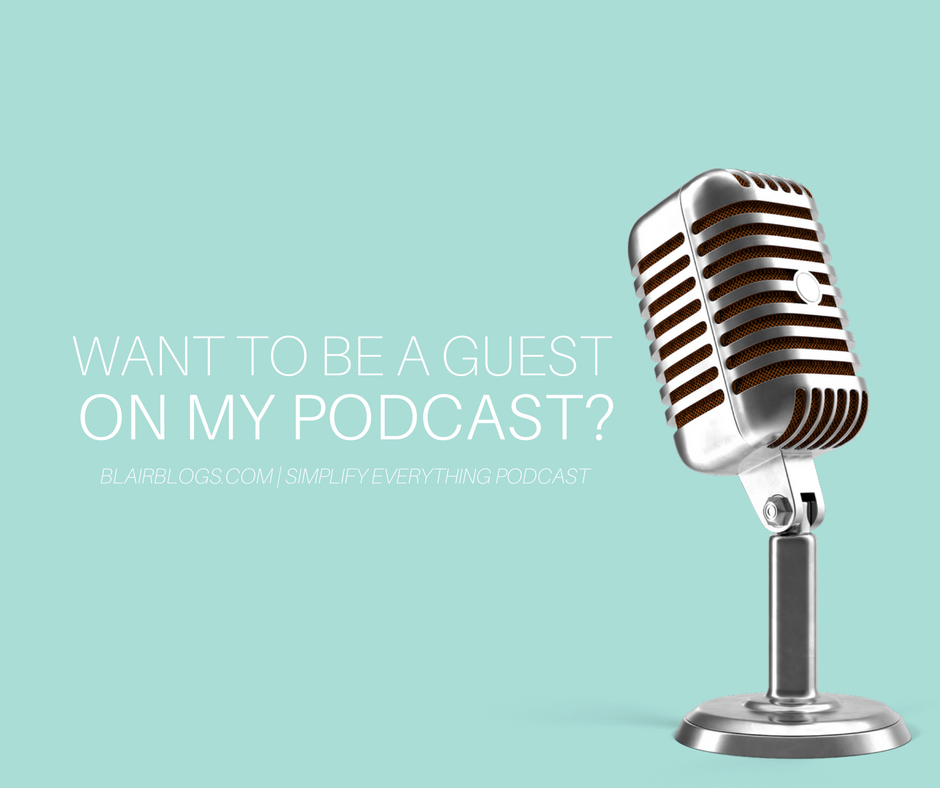 I am so excited about this post! Even before I launched my podcast in February, I looked forward to hosting guests on my show. Today's the day–woo hoo! (If you don't know, my podcast is called Simplify Everything; you can read how and why I launched it here and find a list of episodes here.) I wanted to lay a foundation of episodes before I began to host guests, and with the 22nd episode releasing tomorrow morning, it feels like a good time to start.
I'd love to talk to you if:
You have greatly simplified one area of your life and it's made a big positive impact. We will discuss what your life looked like before simplifying, why you decided to simplify, what struggles or challenges you faced, and how your life is different now post-simplification. Our phone call will be edited into a "Listener Simplification" episode. (Example: you got rid of social media altogether.)
You have a simplification dilemma and can't overcome it. We will discuss your dilemma and come up with possible solutions together during one phone call, wait a few weeks, and then discuss your progress, what you've learned, and how you've simplified in a second follow-up phone call. Both phone calls will be edited together for a "Listener Dilemma" episode. (Example: you always overpack on trips despite your best efforts.)
You have a story about simplifying that would be inspirational, funny, impactful, beneficial, helpful, or informational for other listeners. You'll tell me about yourself, share your story, and answer questions about it on a phone call, and I will edit our call into a "Listener Simplification" episode.  (Example: you were planning a massive and complicated wedding, scrapped it, and had a simple courthouse wedding instead.)
Please be:
Available to schedule one or two phone calls via Skype; each will last approximately 1 hour
Able to chat with me in a quiet place; lots of background noise is very distracting
Comfortable with speaking and sharing; I will guide you through the episode, but I'll need your enthusiasm and willingness to share to make it interesting and lively
Interested? Here's what to do:
If you think you'd be a good fit for one of my shows, I would love to hear from you! My hope is to release a listener episode once every month to six weeks, so I'm looking for several willing guests. To apply please complete these two steps:
Complete the Podcast Guest Application (that sounds much more stuffy and self-important than intended) below or here on Google Forms.
AND
2. Leave me a 1-2 minute voicemail explaining what you'd like to share below or on SpeakPipe here.
Once I've received your application and voicemail (please submit both), I'll get in touch with you within 2-3 weeks. Unfortunately, I won't be able to host everyone as I attempt to maintain a topically specific yet informationally diverse podcast. Thanks for understanding! I really look forward to having some of y'all as guests on Simplify Everything. 🙂
If you have questions, please comment below or email me…I'd be happy to answer them for you!
Thank you for reading! You can find me online on Facebook, Instagram, Pinterest, and Twitter. If you'd like to be alerted whenever I publish a new post, you can follow me on Bloglovin' or subscribe via email. Check out my fun tees in my Etsy shop and listen to my weekly podcast about simplifying life, Simplify Everything! Are you a blogger too? Check out my Blogger Mentorship Program.