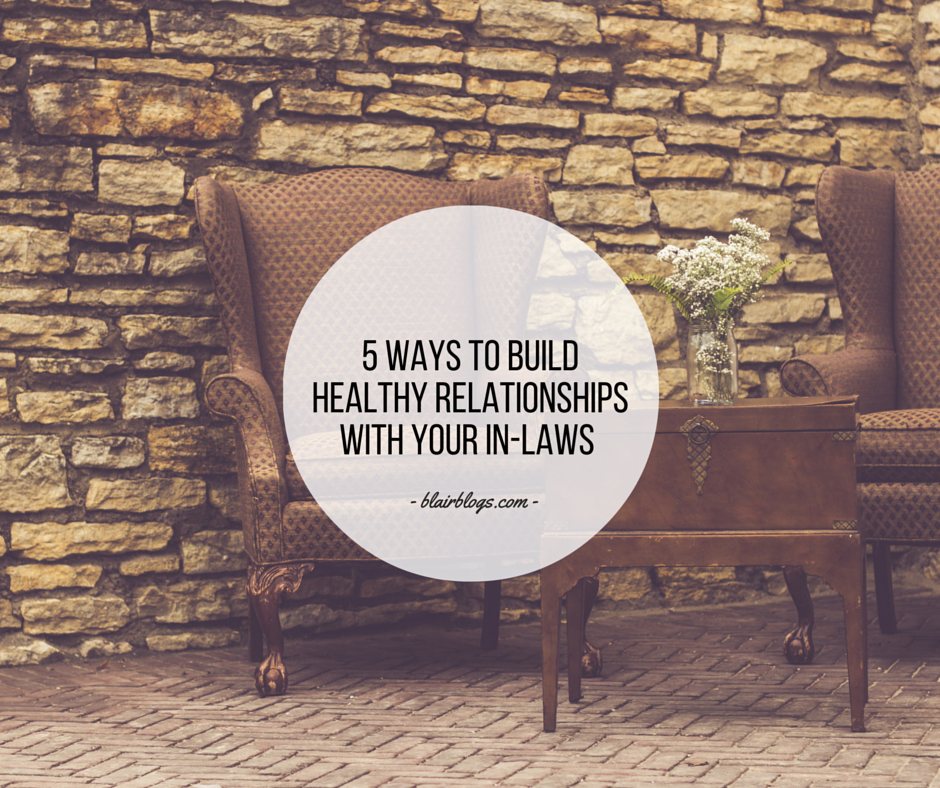 Even before my husband and I tied the knot last summer, his family was a large part of my life and my family a large part of his. Now that we're married, we've officially gained new family members in the form of in-laws. Not including extended family, I gained a mother-in-law, two sisters-in-law, a brother-in-law, a nephew, and two nieces, and Riley gained a mother-in-law, father-in-law, sister-in-law, and brother-in-law.
In the media, in-laws are the butt of many jokes and eye rolls frequently punctate sentences or stories relating to them. Sitcoms and movies capitalize on annoying and frustrating relationships with in-laws; in fact, there are many centered around this very thing. In real life, it's common practice to hear friends or co-workers expressing irritation or exasperation with their in-laws. All this compiled, "in-laws" carries a rather negative connotation.
However, my family-in-law is very precious and important to me. My mother-in-law, Monica, has supported and uplifted me throughout my marriage by speaking grounded truth and sharing faith-based encouragement to me consistently. My sisters-in-law are some of my best friends; for much of the past year, they've been my only friends in close proximity to me and have gone out of their way to make me feel welcomed and loved. My nieces and nephew make any family gathering an event and I love making memories with them.
I often say I won the in-law lottery because I cherish these relationships so much, and I do feel very blessed by Riley's side of the family. That said, building any close relationship takes time, energy, patience, and grace. It's not like everything "clicks" perfectly and all at once! Today I'm going to share some ways to think about in-law relationships based on my experience to hopefully support and encourage you in your journey to building healthy, strong, lasting relationships.
1 | Acknowledge, accept, and celebrate differences
As well as I get along with Riley's side of the family, there are many, many differences between the way the two of us were raised. Our nuclear families had different morals and values as well as vastly different interests. Instead of letting these differences polarize us, we've learned to acknowledge, accept, celebrate, and laugh about them.
For example, his family loves to watch and talk about a show called Mystery Science Theater. I literally understand nothing about it and I don't get the humor at all. After repeatedly trying to get me to join the Mystery Science Theater train and failing, it's become a ridiculous joke among us–they'll always say something like, "Well, if we show you this episode, you'll change your mind," and then we all laugh, because there's no changing my mind. That being said, they've held screenings of lots of movies I've never seen (and would probably never watch on my own) that I've really enjoyed–especially now that I'm "in" on them.
Similarly, I love the movie Baby Mama. Yes, that random Tina Fey/Amy Poehler movie from 2008. I have probably seen it over 100 times and I can recite almost the entire script by heart. (It's my comfort movie–do you have a comfort movie?) Riley's family isn't as into fluffy romantic comedies about pregnancy as I am (most people aren't 😉 ), but I've given everyone in the family a copy of the DVD, and we now quote the movie together and reference it often.
These are just two surface-level examples of acknowledging and accepting each other's differences. There are so many more: Riley was homeschooled, I went to public school. Riley's family went through the tragedy of losing his dad suddenly to cancer, parental death is a pain and devastation that I've never had to face. Riley's family is full of mountain people, me and my family are beach people. Our families cook different kinds of food, decorate our homes differently, clean differently, celebrate holidays differently, communicate differently. There is some overlap, but there are also many big differences.
Here's how I choose to look at it: what makes our families different makes our in-law relationships interesting and fun. I like that we have so much to learn from each other–new ways of thinking about things, new ways of doing things, new recipes, new inside jokes, etc. Neither one of our families are "right" or "wrong," just very different.
2 | Spend time together
This seems obvious, but so many of my friends who struggle to build strong relationships with their in-laws avoid them at all costs! Just like any friendship, spending time together is a key component of success. Even if the past has been shaky or rough, creating new memories together is a healthy way to rebuild and restore your relationship.
Some ideas? Go out to dinner together. Watch a movie or sporting event together. Take a day trip together. Work on a project together. Cook a meal together. Take a painting class together. Try something that no one has tried before, whether it be a complicated recipe or a new craft.
Time together is a great way to naturally build strong bonds between you and your in-laws. If there is friction or tension in your relationship, try to spend time doing activities that don't trigger it. For example, if you have opposite philosophies on spending money, don't go shopping together! Choose activities that will have a positive impact on your relationship.
3 | Forge a relationship independent of your spouse
In order for it to be lasting, your relationship with your in-laws should stand independent of your spouse. Though this has taken time over the years of us dating, being engaged, and now married, this is one aspect of my in-law relationships that I'm both proud of and thankful for. I interact with and spend time with my in-laws whether Riley is involved or not. We don't communicate through Riley, we text and call each other independently.
There is no other circumstance where I would forge a relationship with a person through another person–that seems overly complicated and borderline unhealthy. Why would I build relationships with my husband's family in this way? I spend time with each of his family members alone, without him, because I both enjoy their company and think it's important for our relationships to stand on four feet, not six. When we're visiting my family, Riley does the same. I often find him watching movies and chatting with my dad or playing video games with my brother while I'm doing something else. This is so important.
4 | Be honest and apologize when you need to
It's easy to let annoyances and frustrations go unaddressed in familial relationships because bringing them up will almost certainly "stir the pot" and be at least a little uncomfortable for a period of time. However, a dishonest relationship is an unhealthy relationship (more about that here). People are almost always more reasonable than they seem–if something is really bothersome, it's important to address it in a gentle, grace-giving way so that there is room for reconciliation and forward progress.
Additionally, it's important to share openly and vulnerably with your in-laws if you can trust them. Vulnerability is truly the gateway to relational intimacy; it's so important to be raw and authentic with your close family members–in-laws included!
Similarly, apologies are critical to the health of any relationship, especially those with in-laws. Without apologies, resentment will build and spoil any chance for a strong bond. I learned this very early in our marriage. On our wedding day, we were taking family photos after the ceremony. During photos with Riley's side, one of my nieces was completely over it and throwing a tantrum. (She was only two!) Everyone was spending a lot of time trying to comfort and coddle her, and my frustration was mounting because I wanted to get photos over with so that I could go into the reception and greet our guests. I finally leaned over to Monica, my mother-in-law, and snapped something like "This needs to be dealt with now so that we can get these pictures done!" through gritted teeth. Suffice to say, it was not my finest moment. My words were purely the product of selfishness and impatience–in fact, I had just left my job as a Preschool Director and thus fully understood the fickleness of a two-year-old's emotions!
After we got back from our honeymoon, I had a conversation with Monica where I apologized for being so ugly in that moment. She didn't even remember what I'd said, but appreciated my apology nonetheless. I felt better knowing that I had apologized, and never had to wonder whether she was upset with me (another relationship-spoiler). Saying "I'm sorry" is so, so hard but it will transform every relationship you bring it to.
5 | Seek God through it
I'm not speaking in hyperbole when I say that every single relationship requires work and will be challenging at times; this is the reality of imperfect humans doing life together. Seeking God in your in-law relationships is powerful and important. He will gently guide you as you learn how to love your spouse's family, teaching you patience and leading you with wisdom.
I believe that the Lord wants to bless our in-law relationships richly. In fact, in the book of Ruth, there is a powerful story of fierce loyalty and beautiful love among non-blood family when we look at Naomi and Ruth, Naomi being Ruth's mother-in-law. I've always loved this story, but I cherish it all the more now that I have a beloved mother-in-law of my own.
You can never change another person's actions, thoughts, or words, but you are responsible for your own. When you decide to reflect Christ in your relationships even when it's challenging, you are doing important work for the Lord. (If you are battling division in your family, this biblical post on in-laws may help you.) I encourage you to seek God as you navigate your in-law relationships; He is able to do immeasurably more than all we ask or imagine (Ephesians 3:20).
I love my in-laws very much and look forward to our relationships growing and strengthening as we continue through life together. I'm not an expert on this topic by any stretch of the imagination, but I've certainly grown and learned a lot in the past few years. I'd love to learn from your experience, too!
// What have you learned through your in-law relationships?
Thank you for reading! You can find me online on Facebook, Instagram, Pinterest, and Twitter. If you'd like to be alerted whenever I publish a new post, you can follow me on Bloglovin' or subscribe via email. Check out my fun tees in my Etsy shop and listen to my weekly podcast about simplifying life, Simplify Everything! Are you a blogger too? Check out my Blogger Mentorship Program.