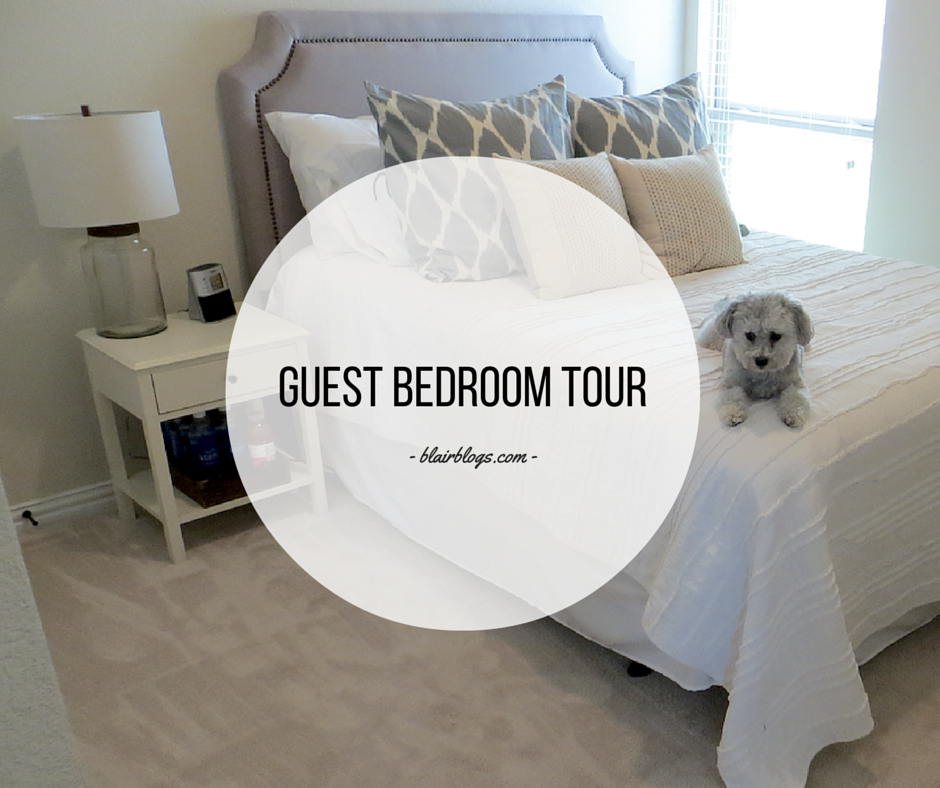 If you'd prefer, there is a "Guest Bathroom and Bedroom Tour" video embedded at the end of this post; link to view on Youtube here.
My beautiful cousin Claire has been visiting my husband and I this week, and having our guest room occupied is one of my most favorite things! Today I'm sharing a photo tour of our guest bedroom and a video tour of both the guest bathroom and guest bedroom. (I filmed/took these photos the day before Claire arrived.) For more information on hosting overnight guests, listen to this podcast episode: How To Simplify Hosting Overnight Guests.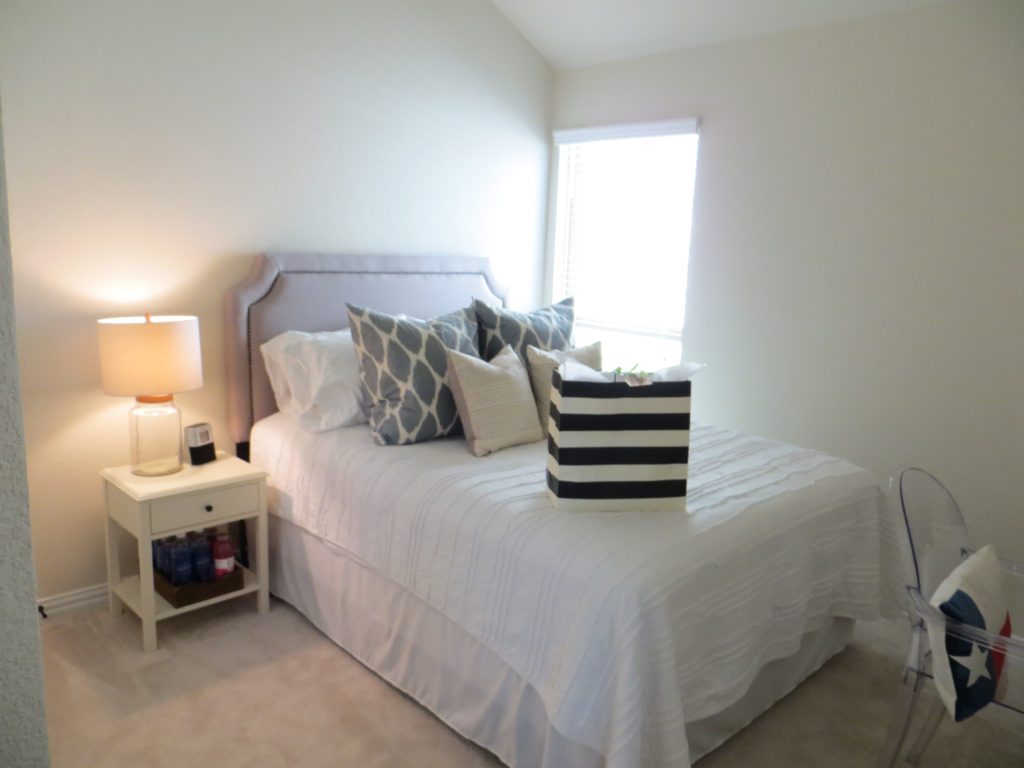 When you walk into the room, the closet is on the left wall, a desk and chair are on the right wall and straight ahead is the bed and nightstand. I almost always purchase a small gift for my guests and leave it sitting on the bed; this time, since Claire just graduated and celebrated a birthday, she got something a little more substantial!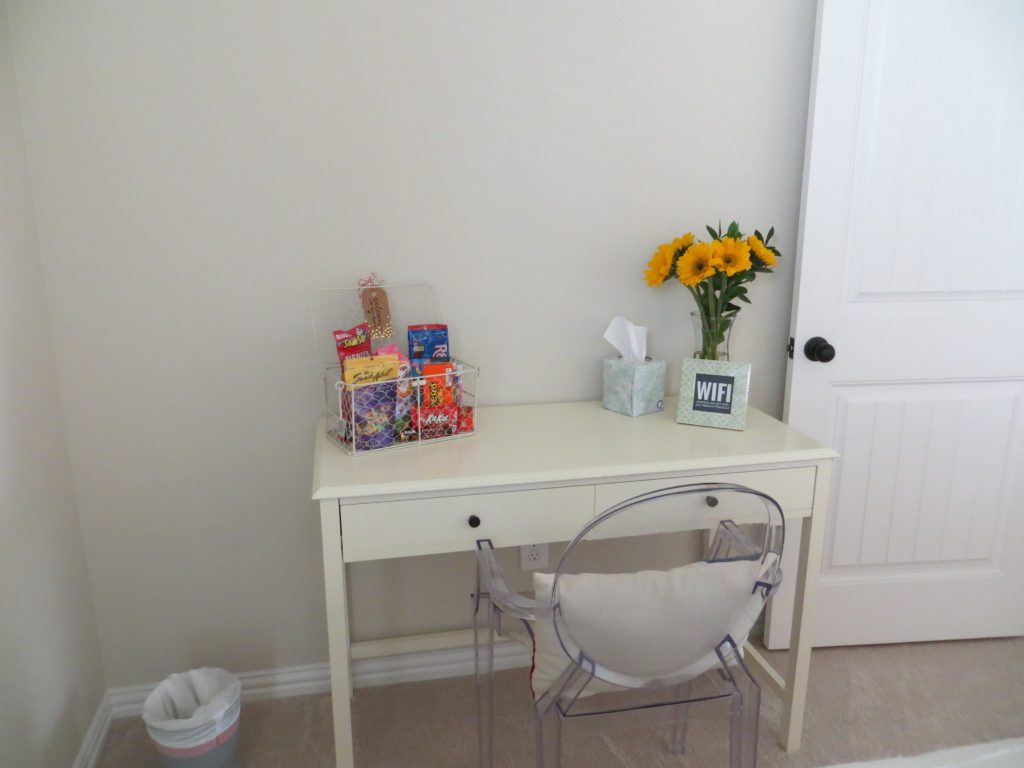 The desk area consists of a desk (clearly), a ghost/phantom chair, a trash can, a basket of snacks, a box of tissues, our wifi information, and some sunflowers. The desk drawer is completely empty save a small jewelry tray, a box of matches, and a luggage scale (all explained in the video below if you're interested). This is a great place for guests to store paperwork, computer accessories, books, etc.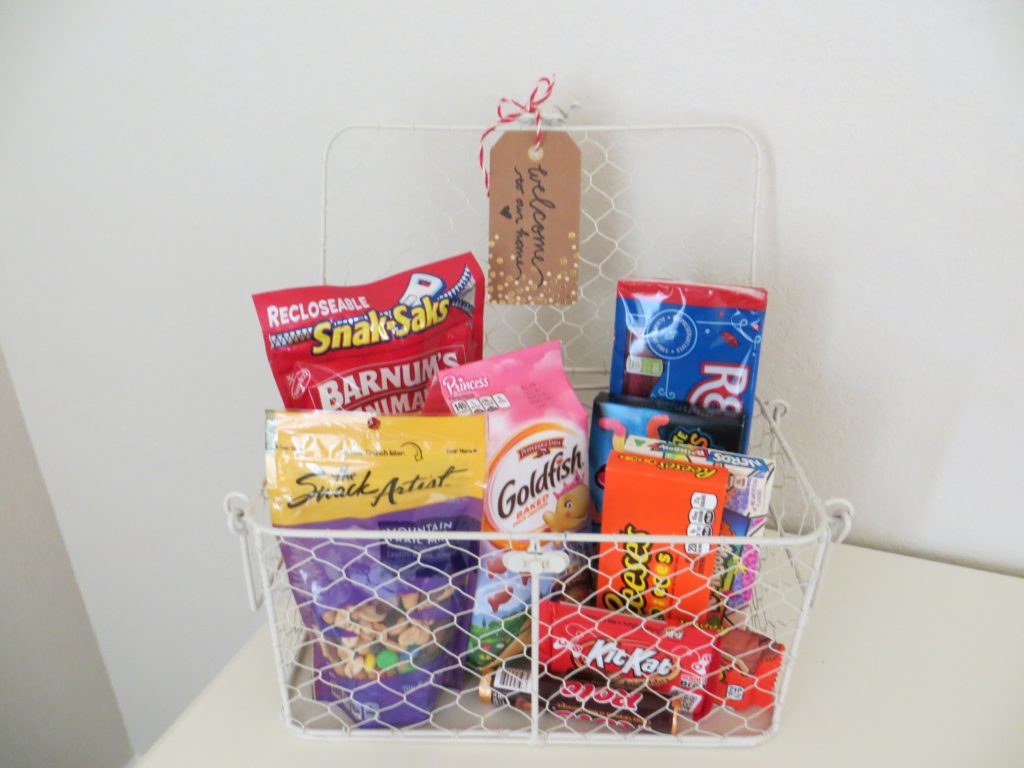 I always make sure to have a variety of different snacks and treats in my guest room. That way, if a guest gets hungry or wants something sweet, she has a plethora of options at her disposal. Also, the majority of my guests fly from the East Coast, which is a three hour flight, so whatever's left at the end of the stay makes a great in-flight snack. (The tag on the basket says "Welcome to our home.")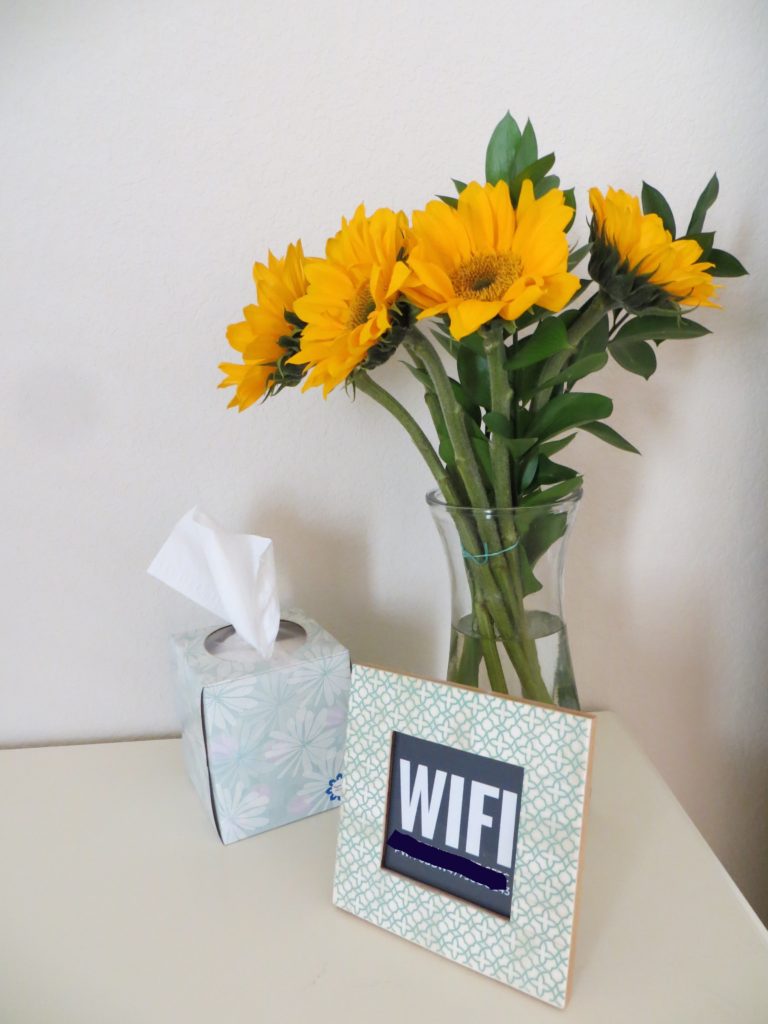 I also have our wifi information framed, a fresh box of tissues, and some sunflowers. I love the way flowers brighten up a room, don't you?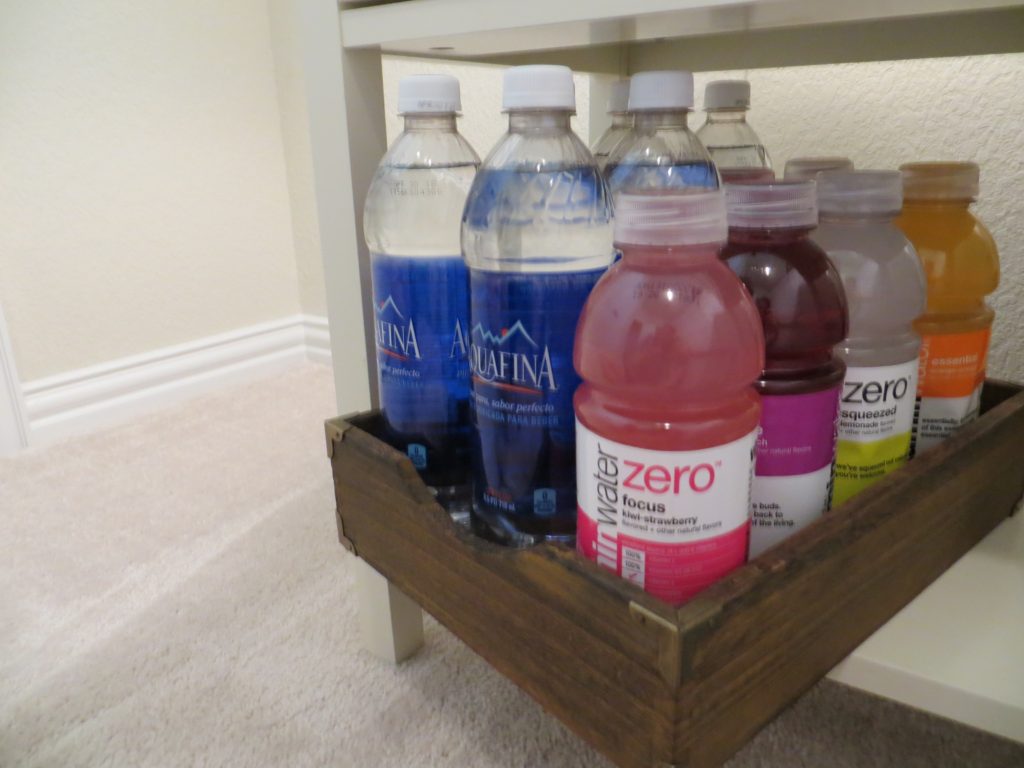 Under the nightstand in a letter tray, I have lots of bottled water and Vitamin Water. Like the food items, I think it's nice for guests to have access to their own stash of drinks at any time. Of course, the kitchen is right down the hall if they'd prefer something else or would like some ice or a cup.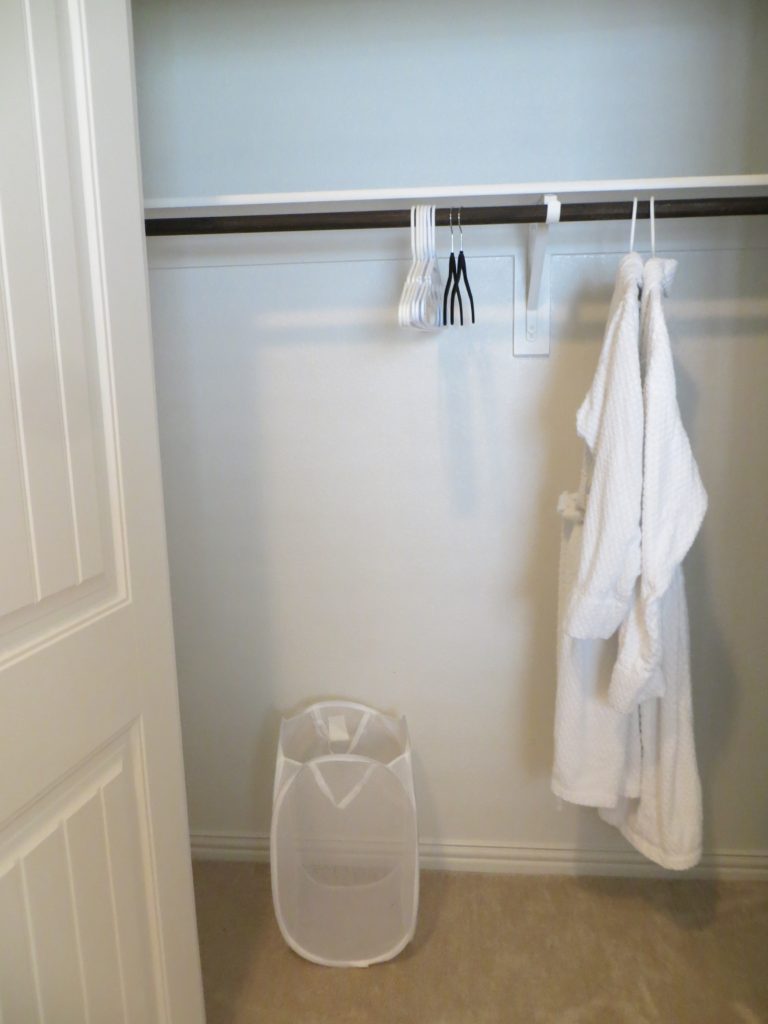 The closet is intentionally very sparse so that guests have a lots of room to unpack and spread out, especially since there's not room for a dresser in this space. (Clearly we could replace the desk with a dresser in the future, but for now, there's not one.) The top shelf is very long and completely empty, there are empty hangers, a hamper for dirty clothes, and two fresh bathrobes (since the bathroom is down the hall). Not pictured: an extra blanket that I added to the closet shelf after I took the photos.
And that's our guest room! We moved in about three months ago, so this room isn't completely finished. Here's what I'd like to add: hanging shelves in the closet (like these), a luggage rack (like this), some art on the walls, a charging hub (like this), a magazine basket (like this), and a basket of extra toiletries, which will probably live in the bathroom. (All Amazon affiliate links.)
So far, only family members have stayed with us, so they're comfortable asking if they need something like some extra toothpaste or a spare razor. As we continue to decorate and stock the guest room, I'd like to make sure that all of those amenities are available. We're working on it!
Below is a video tour of both our guest bathroom and bedroom! If you'd like a better idea of the space and some more details, you can watch it below or on YouTube here.
In the bathroom, I'd like to install some cabinet door shelves (like these) as well as some wall shelves above the toilet and towel rack for extra space to unpack and settle in. I'd also like to add some art and décor and paint the room!
Overall, I'd say we're about 60 percent done with our guest spaces, but they're clean and functional, so for now, they work for us. We love hosting overnight guests!
// Do you have a guest bedroom? How is yours set up?
Related: How To Simplify Hosting Overnight Guests (EP11 Simplify Everything Podcast) and Creating a "Guest Spot" When You Don't Have a Guest Room
Thank you for reading! You can find me online on Facebook, Instagram, Pinterest, and Twitter. If you'd like to be alerted whenever I publish a new post, you can follow me on Bloglovin' or subscribe via email. Check out my fun tees in my Etsy shop and listen to my weekly podcast about simplifying life, Simplify Everything!