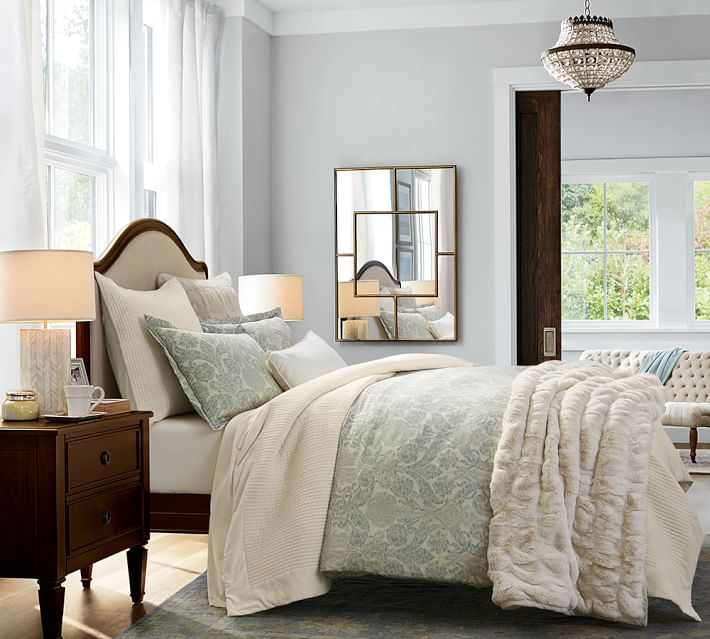 I case you missed it, Riley and I recently bought our first house! We're thrilled to move in just a few weeks and have spent nearly all our free time planning for our house and brainstorming how we'll furnish and decorate it. Today, I'm sharing our ideas with regards to décor and how we'll make this house our home.
Home Color Scheme
Though we likely won't paint right away since the entire house is currently painted an easy-to-live-with off-white, we have plans to add some color for dimension as we settle in. Beyond painting, we have decided on the following home color scheme to work with as we buy furniture and decorate. As noted, all are Benjamin Moore Paint Colors.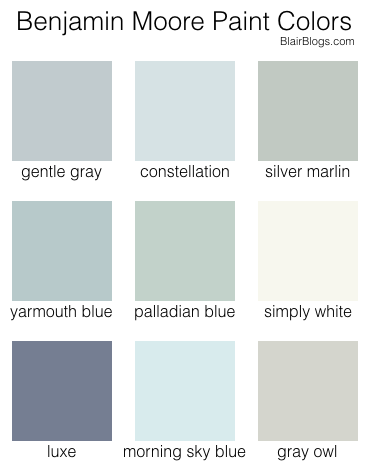 I just love the coastal, soft, relaxing blend of gray, blue, green, and white. Anyone who knows me knows that this is my palette. It's inviting, it's comfortable, it's casual, and it reminds me of my favorite place in the world–the beach. Below I've linked each color to a photo of a room with said color so that you can get a better idea of what the swatches look like on real walls.
The first room we plan to paint is our bedroom, and I have a crush on Yarmouth Blue for that. I've also thought about Constellation, or maybe Simply White walls with a Morning Blue Sky ceiling? Lots of gorgeous options. Anyway, this is our color palette we'll reference and keep in mind as we paint, choose furniture, and decorate.
Design Inspiration
Below are some photos that capture the "look" we're going for in our new home. I like clean lines, comfortable rooms, and classic colors. Especially with all the light in our house, we want it to feel airy and bright. All images are linked to their original sources and have a brief "why I love it" explanation below.
What I love: the comforter (Pottery Barn Samantha Damask–which is likely what we'll buy), wall color, and breezy white curtains. I think the dark wood is a lovely contrast to the neutral, soft bedding and walls.
What I love: the bold-yet-beautiful door color (Martha Stewart's Tidewater) against the brick house. We're really interested in painting our boring brown front door a fun shade of blue!
What I love: the white on white on white look, the wood planking on the fireplace (we're interested in dressing ours up), the whitewashed brick.
What I love: the layering of colors and fabrics, the light fixture, the extra-high, extra-long white curtains with gold rods, the unique nightstands.
What I love: the idea of wallpaper in our guest bathroom, the framed mirror, the fancy toilet paper holder, the prints hanging on the walls.
What I love: the rug on top of the carpet, the sage green bookcase backs, the coffee table, the frame hung on the built-ins.
What I love: the wall color, the personalized, mismatched-but-still-matching frame wall, the pop of the green plant.
What I love: painting the front door on the inside, the light fixture, the soft color, the slate flooring.
What I love: the color, the patterned curtains, the royal blue decorative pillows, the beams on the ceiling.
What I love: the vintage-looking bed frame, the linens, the planked gray walls, the pops of green, the décor under the nightstand.
What I love: the gray-on-gray look, the clean lines, the built-in shelves (would be easy to replicate), the darker gray paint in the shelving nook.
Our Plan of Attack
Between now and when we close, we plan on purchasing a refrigerator, a master bedroom set (or at least a bed frame and mattress), and a sectional or sofa for our den. We've decided that those are the most important pieces of furniture on our list–the refrigerator because the house doesn't come with one, a master bedroom set because we're upgrading to a king-sized bed and will put our current queen-sized bed in the guest room, which will allow my parents to come visit shortly after we move in, and a sectional or sofa for our den because we know that's where we'll end up spending most of our time in the house.
We went refrigerator and furniture shopping last weekend to get an idea of what we liked, and we've been making further decisions since then on the internet. We'll likely order our fridge in the next few days and nail down the bedroom set we want soon as well. The sofa is more difficult because it's hard to know exactly how big or small to get it. Our den is a perfect square but has a corner fireplace, so the layout and size of the sofa have proved a little challenging. We may go the build-your-own-sectional route, where you can choose each piece of a sectional and order them separately.
Then, we plan on closing on our house and actually getting the keys in our hands! (#criticalstep) Once we're in the house, we hope to paint our bedroom, and if we're feeling ambitious, another room or two. Then, we'll slowly purchase furniture over time as we live in the house and get a sense for what we need and what makes sense. The last thing I want to do is invest in furniture prematurely that ends up not suiting our needs!
We've been looking at local furniture stores as well as Ashley Homestore, Homegoods, Pier 1, Ethan Allen, IKEA, Target, Rooms To Go, Nebraska Furniture Mart, Overstock.com, Joss & Main, Wayfair, One Kings Lane, Pottery Barn, Crate & Barrel, Birch Lane, and a few others. There are some great local thrift stores and secondhand furniture stores that we plan to visit as well! (If you know of any good places for affordable quality furniture, let me know!)
Thank you for following along on this house hunting/house buying/house decorating journey with us!
// What's your style of décor? Where are your favorite places to shop for your home?