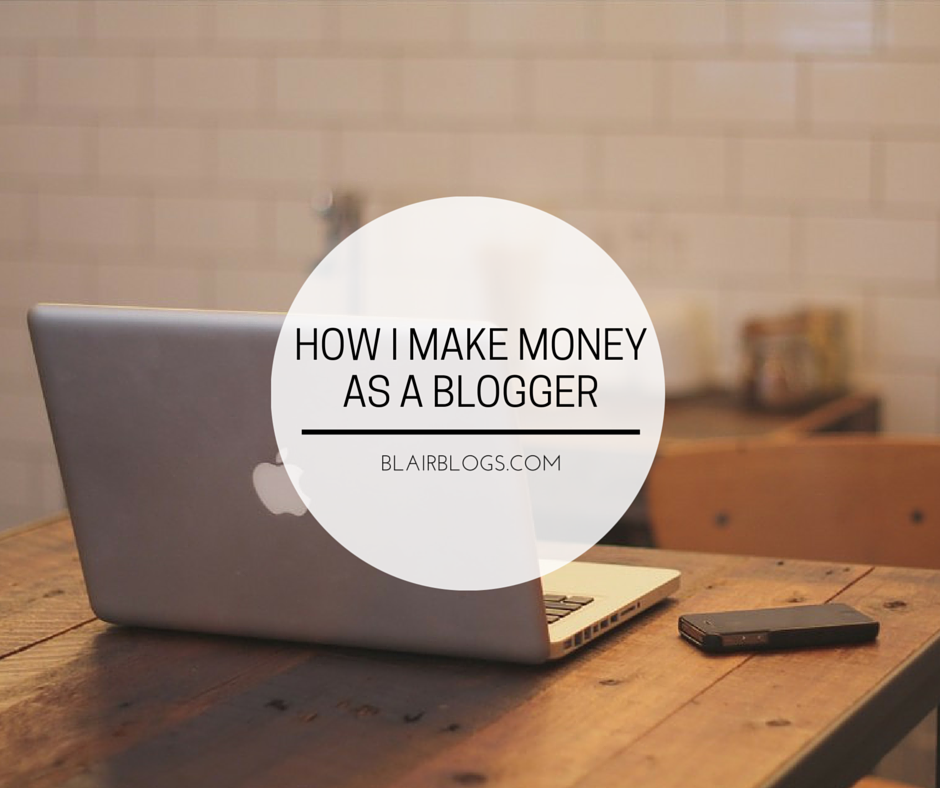 Just before I got married last summer, I quit my job in Austin, Texas and moved three hours away to a city 30 miles north of Dallas, where my then-fiancé was living. Phew! That sentence encompasses three major life transitions: getting married, changing jobs, and moving cities. Today, I'm focusing on just one transition: changing jobs. (Though this change was highly affected and influenced by the other two.)
I won't go in-depth again about why I decided to start blogging full-time; I've already explained that decision here and here. I knew when my husband and I made the decision for me to pursue blogging there would be people with questions and others who didn't understand. That makes sense. If you're not a blogger (or if you don't know someone who is), you may not know that there is an income to be made through writing online. Our decision was based on three previous years of my blogging, all sporadic, all lucrative as well (my blog "turns four" this May).
How blogging for an income works
Here's how blogging for an income works: I write meaningful, thought-out, [hopefully] helpful posts. Some are simply me sharing my life and story, others are compiled research and information, others are tutorials for various topics. Then, people read what I write. Specifically, women (98 percent of my readers) aged 18-34 (68 percent of my readers). Because my readers are mostly in this age range and almost all women, companies and advertisers with a target market that falls into the women aged 18-34 range are sometimes interested in partnering with me for exposure.
Here's another way to look at it: good blogs and good magazines have a lot in common. They both have a variety of articles on different subjects intended for a specific audience. For example, Real Simple's readers are women, mostly 25-54 years old, who are college educated and employed (source). Men's Health attracts mostly employed men who own homes (source). Cosmopolitan has the same readership that I do, women aged 18-34 (source). All three of these examples have online and print advertisements (which are, of course, directed towards their readers) that fund the creation and distribution of the magazine.
I make money in a similar way. I write honestly from my perspective (as a woman in her twenties), and other women around my age with similar interests engage with my blog and its content. Then, companies and advertising networks reach out to me to see if I'm interested in partnering with them–it's a win-win–they get targeted exposure and I get paid. (I've had the privilege of working with companies like Burt's Bees, Dove, eBay, and IZZE–all of whom partnered with me for targeted exposure to millennial women.)
My audience and blog growth
This only works, however, if I have an audience larger than a couple friends and my mom. I started out writing for a very small audience, but my readership has expanded significantly since then. Last month (January 2016), I had 460,049 pageviews (total number of pages viewed on my domain), as reported by Google Analytics. When I first started my blog, my monthly pageviews were 1,396 (July 2012, the third month my blog was live). Clearly, my blog has grown quite a bit over time. (Yay!) But this didn't happen casually or by accident; I have spent literally thousands of hours working to get to where I am today…and I still have a long way to go.
I've spent hours brainstorming, researching, and writing. More time proofreading, re-writing, and tweaking. Still more time uploading photos and creating header images, Pinterest-friendly images, and Facebook/Twitter-friendly images. Then, after publishing each post, I spend time broadcasting my post on social media. Later I spend time responding to comments and emails from my readers. I genuinely love doing all of this, but it is a lot of work!
Going from a hobby to a job
Until last August of 2015, blogging was just my hobby. I published new posts when I had time, which was sometimes multiple times a week and sometimes once a month or even less. Even though I didn't have the time to dedicate to blogging that I wanted, I was still able to make a modest secondary income (which actually allowed me to get my dog, Charley, among other things).
All this led to my husband and I seriously discussing, and then later deciding that I would blog as my full-time job. Though it was a risky decision, I knew that I had a strong, growing readership. I knew that there was a group of women who were like-minded and were looking for honest bloggers who were willing to share their lives through words. I knew that there was money to be made, especially if I was more consistent and dedicated. Mostly, I knew that I came alive when I was writing. And so, after we got married, I didn't get a "real job." Instead, I focused my time and energy on blogging.
This decision was not taken lightly. As you can see, it was made based on facts and information, data and statistics. Some people are confused as to why I'm "not working," but if a job is a paid position of regular employment, I have one. And it's a huge blessing–to watch something I've been building for nearly four years become a lovely community and platform is incredible. The fact that I still have free time to maintain our home and pursue my other interests is fantastic as well (I usually work about 30 hours a week on my blog). And, of course, making a genuine income is both rewarding and necessary. As far as my college education is concerned, I use my Business Marketing degree daily to manage my site, create engaging content, work with advertisers, and broadcast my work.
Making money
Exactly how much money I bring in each month is private, obviously, and it also fluctuates depending on several factors. Suffice to say my income is enough that I am not, at present, considering a part-time or full-time job outside of blogging. Below I have listed my main streams of income, each with a brief explanation:
Sidebar Ads | Individuals or companies can pay for an advertisement in my sidebar. Price is based on the size of the ad and the length of time it's up.
Amazon Affiliate | When I link to a product on Amazon, and a reader clicks through to purchase it, I receive a small commission on that purchase (between 4 and 8.5 percent). The cost does not change for the buyer, but Amazon pays me for the referral.
IZEA | A third party marketplace that connects content creators like me to brands.
Clever Girls | Like IZEA, a third party marketplace that connects content creators like me to brands.
Google Ads | Advertisements in my sidebar that are created by Google. I am paid when a reader clicks through the ad.
Content.Ad | Suggested, sponsored articles at the end of every post. (Under "You May Also Like.") I am paid when a reader clicks through the sponsored article.
BlogHer | A blogging network for women that connects bloggers with brands and pays for sidebar ad space.
Keeping up with all of these different streams of income is time consuming for sure. And taxes are a nightmare! However, this list and my incredible readers are what allow me to pursue this dream, and for that I am overwhelmingly humbled and thankful.
Future plans
It's hard to nail down the future of my blog and where I'll go from here. For now, I'm perfectly content and very fulfilled writing everyday and now podcasting once a week. I also have a not-so-secret project that's launching in March that I've been working on quite a bit. I've also been invited to be a speaker at a Christian college women's retreat next month, which is something I'm really looking forward to.
I'd like to create an ebook or e-course of some kind. I'd love to become a published author…I often dream about walking into a Barnes & Noble and seeing a book I've written on the shelves. I want to have babies and be a mother, my husband and I want to travel.
There are lots of possibilities, but I'm not sure where I'll land. I know that God will continue to direct my steps and that they'll lead to exactly where I'm meant to go. And that excites me.
Blogging isn't the end-all-be-all of my life, but it's where I am right now, and I love it. I love writing every day. I love interacting through comments, social media, and emails with lovely women all over the world. I find purpose in encouraging others through my own story and what I've learned. I think it's important to be honest and optimistic, a combination that can be hard to strike at times, but one that's worth fighting for.
So, thank you. For reading my words and uplifting me with your own. You don't see all the ugly that I see, so you can't know how much I appreciate those of you who are kind and thoughtful and gentle. It can feel a bit like being naked in the town square sharing my life as I do in this space–but I wouldn't change it. Thank you for your support!