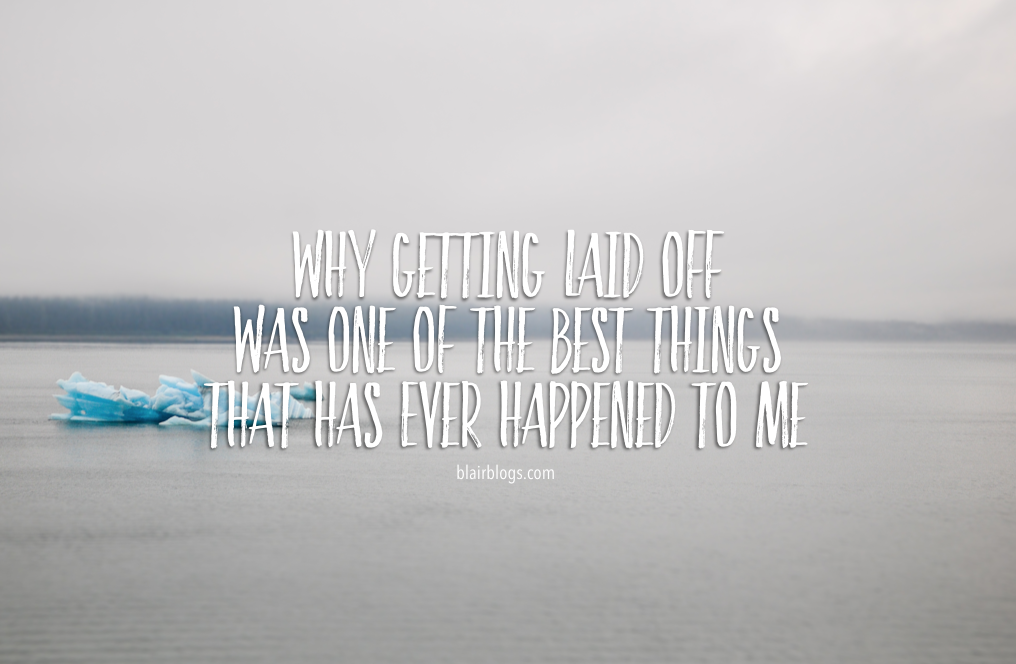 A few years ago, on the fourth of July in 2013, I moved to Austin, Texas. I had received a job offer in the marketing department at a three-year-old tech startup and was eager to dive into my career. It didn't matter that I was at the dead bottom of the corporate ladder; I was simply elated to "start my real life."
I don't remember much about the first few weeks at my job. I was mentally and physically exhausted and had yet to find a rhythm to my newfound adulthood and accompanying responsibilities. By the end of July/early August, however, I found a routine that worked for me. Outside of work, I joined a church small group and started serving in the Middle School ministry. Because of this, I met some great friends. I thought my life was coming together nicely.
Fast forward to December. December 10th, specifically. It was a Tuesday.
I adopted my puppy, Charley, on the 8th, then celebrated my birthday on the 9th. When I arrived at work on December 10th, I was laid off. Not just me, either. Almost the entire company. Whole teams (including the marketing team) were laid off. (You can read a detailed retelling of my experience getting laid off here.)
I felt devastated. And sad, and confused. I had just moved across the country for this job–like waaay across the country–not even six months prior! What was I supposed to do, pack everything up and move back home? Of course there were other jobs in Austin, but I had just finished a year-long job hunt, so I knew how tough it was to find a job without any experience. There was so much fear of the unknown that clouded my thinking. Worst-case scenarios flew through my mind and I desperately wondered what would come of this mess. It was terrible.
Not even a day later, however, God gave me the gift of peace. He gave me that remarkable, perfect, consistent, and overwhelming peace that I needed but didn't know I'd receive. With confidence that this was supposed to happen, I stopped feeling sorry for myself. I called my Austin friends and asked for their prayers.
Ten days later I accepted another job. Ten. Days. Later. God's promises are really real. His peace means something.
I began working as the Early Childhood Director at the church that I had been attending and had fallen in love with. I worked there for a year and a half before leaving to marry Riley, move, and begin blogging full-time. That job was wonderful. Hard, but wonderful. I miss a lot about that short-lived position every day.
I had a friend tell me that her brother had been laid off shortly after starting his first job, too, and that it had been the best thing for him. Even as she was speaking those words, I remember praying let that be true for me, too. And it surely has been.
Because I was laid off, I got off of the corporate, often lifelong hamster wheel.
Because I was laid off, I had the opportunity to learn a new set of skills in ministry that I never would have learned in the tech industry.
Because I was laid off, my work schedule changed from the traditional Monday-Friday to the I-work-at-a-church Sunday-Thursday, which meant that I could travel on Friday mornings to visit Riley when we were dating.
Because I was laid off, I was able to realize with complete clarity that a political, corporate, super-high-demand, intense work-more-than-you-play environment was actually the antithesis of what I wanted out of life.
Because I was laid off, I have learned the soul-stretching act of letting go and embracing what's next.
Because I was laid off, I developed incredibly deep friendships that I wouldn't have been able to cultivate otherwise.
Because I was laid off, I was brave enough to end my then-long-term relationship with a boy who I knew I couldn't marry.
And most importantly, because I was laid off, I was profoundly reminded of God's faithfulness and perfect plan for my life.
I thank God fervently and often for the blessing of being laid off on that confusing and difficult December morning. I can live in freedom from the chains of ladder-climbing and more money, more responsibilities, more everything. That day, however shocking, was like a reset button for my entire life being pushed. It allowed me to truly reevaluate my goals and dreams and step away from societal expectations.
So, friend, if you're reading this and you've been laid off–or, if you're reading this fearful of being laid off–fear not! Take heart. Profound beauty pours out of ugly ashes everyday.