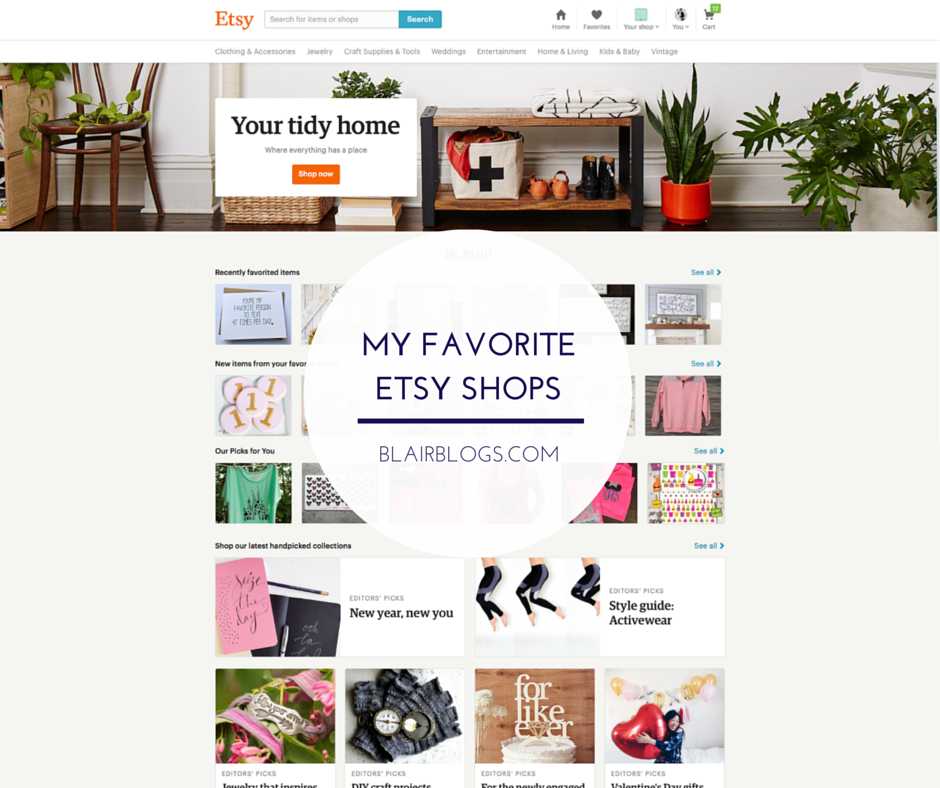 Are you Etsy obsessed? I am. (If you don't know, Etsy is a peer-to-peer e-commerce site with a focus on handmade goods!) Etsy is the first place I go when I'm purchasing a gift, looking for home décor, or searching for an interesting piece of jewelry or a unique outfit. I even used to have an Etsy shop selling custom infographics! I closed it when I began blogging full-time so that I could streamline my workload, but I loved being a "maker."
I love shopping on Etsy not only because I receive high-quality, unique, handmade items, but also because I know that I am supporting husband and wife teams, stay-at-home-moms, and college students directly. Etsy only takes a small cut of profits, so I feel good knowing that the hardworking craftsmen and women are being paid fairly for their work.
Today, I'm going to share my favorite Etsy shops as of late. (They change with the seasons…I'm obsessed, I tell you!) Oh, and this post isn't sponsored by Etsy or any of the shops below.
This shop sells gorgeous handcrafted, hand-calligraphed signs. I cannot wait for us to buy a home so that I can purchase one of these and hang it over our fireplace. They are so lovely. Two of my favorites are this sign and this one.
Emily sells quirky greeting cards, stationary, and other gifts that, in her words, "celebrate the human condition." I especially love this adorably honest Valentine's Day card.
Parris Chic Boutique sells beautiful home décor, including prints, pillows, and candles, in addition to adorable tote bags, aprons, mugs, and tableware. My current favorite shop item is this pillow!
This shop sells gorgeous printable wall art, which is perfect if you're impatient and/or don't love paying for shipping (hi). I especially love this Maryland print and this Texas print!
I love the cute, meaningful, graphic tees that this shop sells! (I have this one—here's a photo of me wearing it!) On my shopping list? This one for our Disney trip in May!
This shop sells incredibly detailed custom cookies. They are so, so amazing! It's too hard to pick a favorite, each one makes my jaw drop!
Small Glow sells adorable goods with inspiring and motivating messages on them. I especially love this Alice in Wonderland inspired mug and this print, which is basically my prayer each morning!
I love All Washed Up Jewelry. In fact, I love it so much that Riley gave me this necklace for my birthday! I've been eyeing a few pieces to add to my collection…
Sarah owns this shop and sells gorgeous hand-lettered items, like mugs, prints, and chalkboards. I especially love this print of Psalm 147 and this top knots and coffee mug.
Samantha creates lovely art prints. I have this world map of hers hanging in my living room! I've been eyeing this set of crab prints (as a nod to my Maryland roots) for a couple of years…I think they'd be adorable framed and hanging in a calming blue/grey bathroom!
There are so many incredible makers on Etsy that this post would be 10,000 words if I really shared all of my favorites! But the shops I've listed above are some of my favorites for now!
// Do you shop on Etsy? What's your favorite shop?
use the image below for Pinterest