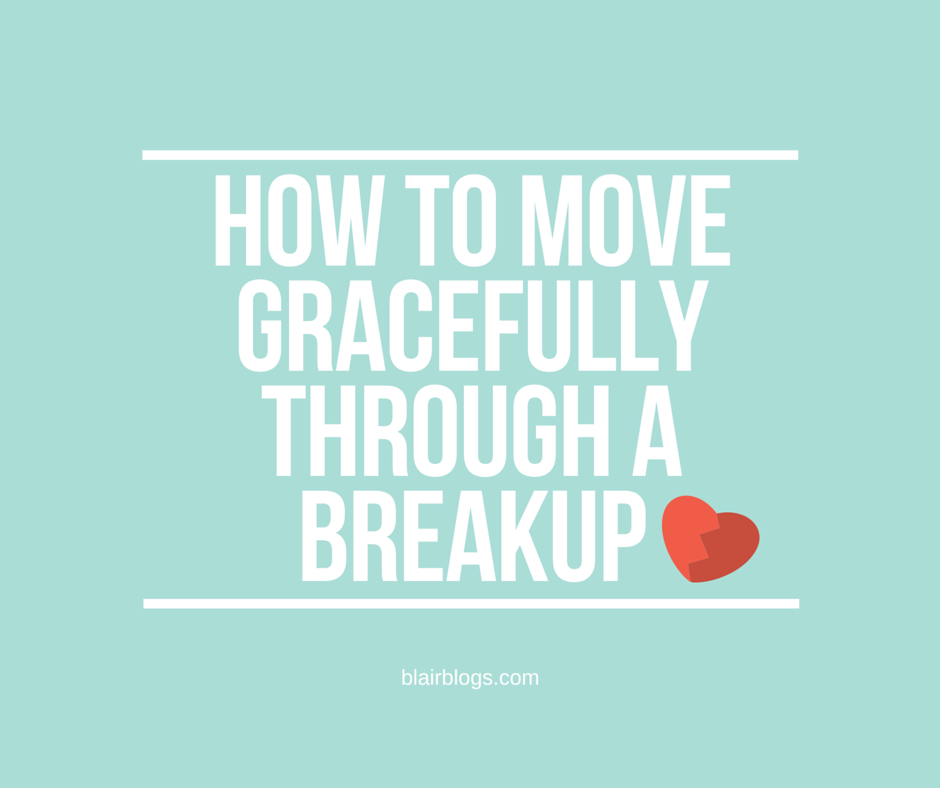 Breakups suck. I never type that word here, but today I am. Because breakups really, really suck.
They're awkward and uncomfortable and sad and stressful and painful and hard and every other terrible thing. And it really doesn't matter whether you're the one ending things or he is, it stings either way. Before I met Riley, I had dated three boys–two whom I broke up with and one who broke up with me. Even though all three relationships needed to end, each breakup was still hard.
The first boy I dated was in high school after I had just turned 16. I was young and immature and when I realized that I didn't want to date him, I broke up with him after school one day. He was sad and I didn't know how to respond, so I just walked away. We had been great friends for years, and I still wish I had been kinder that afternoon. But I didn't know how to do something I'd never done, so I just left. I was relieved to end that relationship, but I was sad that I lost a lot of friends over it. (You know how high school is…)
Then, in college, I dated a boy who was older than me and told me he'd marry me one day. I believed him. So I was shocked and sad and confused when he asked me out on a date, then came to pick me up and broke up with me. I was all dressed up and he just told me it was over and left. There was never an explanation or a reason, it was just suddenly over. This breakup was so difficult because it was out of left field! Now, looking back, I'm very thankful that this relationship ended when it did. But it stung then.
Finally, I dated a boy for a little over two years in college and through graduation. A lot was good, but a lot was bad. Too much was bad. I didn't respect him the way that I needed to, I didn't want to marry him, I couldn't imagine him fathering my children. At the end of the day, we were incompatible in many areas. Things that didn't matter in college began to matter a lot in "the real world." Though this was my longest and most serious relationship, it was by far the smoothest breakup, if there even is such a thing. I like to think that I learned from the previous two (which were atrocious), and addressed this one differently. Here are some ways to move through a breakup gracefully (or, some ways to try to make a breakup suck less).
// Let go of the need to control
The most important piece of wisdom that I can impart to you is this: you can only control your own actions, thoughts, feelings, words, and reactions. Your ex-boyfriend may text you constantly begging for you to come back or he may write an ugly Facebook post about you now that you're through. You have no control over this. Your ex-boyfriend may write you long letters and emails that make you feel guilty. You have no control over this. Your ex-boyfriend may badmouth you to all of his friends and spread rumors about you. You have no control over this. Your ex-boyfriend may lie about the breakup or bend the truth so that he looks better. You have no control over this.
You can't control what someone else does or says. Period.
You need to find a place within yourself where you are secure, and you need to anchor your soul there for a while. Remind yourself: I am who God says I am. I can only control what I say. I can only control what I do. I can never control what other people think. Then, let it go.
This is hard! You want your ex-boyfriend's friends, family, and parents to still think highly of you. Of course you do! You want social media to think you're lovely and polished. Of course you do! But this will suffocate you. Let it go.
// Don't communicate
I know that there are people who are in the "exes can be friends" camp, but I am not one of them. I am firmly, squarely planted in the opposing camp. It is my full belief that you cannot be friends with your ex. It's not healthy. It's not helpful. It's not wise. Someone's feelings will reignite. Or the anger and bitterness from the breakup will bubble up again. One of you will begin to date someone new and the other will feel jealous and sad. There will always be a little awkwardness, or a little attraction, or a little confusion. One of you will start to play the "what if?" game. Again, trying to befriend your ex is unhealthy, unhelpful, and foolish. (There may be instances where this isn't true, but I've yet to encounter one.)
I consider this an act of self care: do not communicate with your ex-boyfriend.
If you're the one who'll be doing the breaking up, then you should say something like, "I hope everything goes well for you. I know that I won't be able to communicate with you after this conversation. As much as that breaks my heart, I have to focus on my healing." (I said something very similar when I broke up with boyfriend #3 and it proved to be very helpful as there was never an expectation of communication.) If your breakup has already happened, I would recommend saying something similar now. If you ended on intense terms (like yelling and slamming doors), a peaceful, brief, adult conversation would be a good way to more kindly end things and let your ex-boyfriend know that you won't be able to stay in touch.
Your heart needs to heal. You need to feel the sting of being alone. Of being sad. Of being heartbroken. It hurts, but you have to feel that pain so that you can move through it.  If you medicate that sting by texting your ex-boyfriend or staying in touch, you will never heal. You will pull open your wound again and again, and your mind will run through those "what if?" scenarios I talked about before.
You have to be a little ruthless here. You have to see no communication as an act of self care, as a way to promote healing and peace. For me, this meant unfollowing/de-friending on all social media sites and deleting an ex-boyfriend's phone number. In time, you may also want to remove photos (especially romantic ones) from social media. (Deleting photos is something that was particularly hard for me, but necessary.)
// Don't broadcast
One of the most foolish things I see people do after a breakup is broadcast it online. Don't do this. Broadcasting a breakup is making a very private, emotional matter a very public, sterile one. You may want to change your relationship status on Facebook, yes, but you can do this and hide it from your timeline. Your closest friends and family will know (presumably because you'll tell them), but do all of those random high school classmates and friends from sixth grade summer camp really need to?
With my last breakup, I did change my relationship status on Facebook shortly after I ended things, mostly because this act helped me to accept the breakup. Then, I hid it from my timeline, logged offline and focused on healing. I only told a few close friends and my family. For about a month I just focused on closing that chapter of my life so that I could start a new one. My extended family and extended friend circles didn't hear about our breakup for weeks. In this way, I could keep private that which is private. (Many people suddenly become your "close" friends after a breakup–they want to know all the details. This is curiosity, not support. Know the difference.)
I realize that not everyone is as private as I am. If you're someone who prefers larger rings of support as you move through hard times, I fully respect that. Still, I urge you to choose carefully who you disclose what to. Those first weeks after a breakup are tender and sad, and you need support, not curiosity.
// Practice self care
I've written an entire post about practicing the lost art of self care, which you can read here. There's no one-size-fits-all for self care, but it's worth the time to find your size. When you're working through the emotional ramifications of a breakup (not to mention the lifestyle changes), you need to take care of yourself, mind, body, and soul.
You may need to go see a counselor. (Read about my counseling journey here.) You may need to drive home from college and spend the weekend with your family. You may need to spend time journaling. You may need to say "no" to a commitment so that you can take time to heal. You may need to delete your Facebook for some time. You may need to stop watching TV/movies shows about love and romance. You may need to ask your girlfriends if you can schedule frequent lunch/dinner dates and get togethers while you're processing the pain.
You need to eat. You need to sleep. You need to move your body. You need to go outside. If these things are hard for you when you're emotionally unstable, you should ask someone to help hold you accountable. (When I'm very stressed, I forget to eat. This is unhealthy. So, whenever I'm stressed, I ask a friend or Riley to text me during the day to ask if I'd had a meal and badger me until I have.) Be responsible for your own self care. This is important.
// Let Jesus hold you
The wake of a breakup leaves a lot of soft spots in your soul for lies to seep in. I'm not pretty enough. I'm not smart enough. I wasn't special enough. I'm not worth anything. I'll never meet anyone. I'll never find love. I'm going to die alone. No one cares about me. Did you read what I wrote? THESE ARE LIES.
You need to let Jesus hold you. He speaks truth, and He says No, you're wrong. You're beautiful. You're intelligent. You're special. You're worth everything to me. I have a plan for your life. I care deeply about you. If you ever imagine Jesus' disposition towards you as anything but love, you're not imagining the right God. Your past? It doesn't matter. Your bad decisions? They don't matter. There's always, always, always enough grace to cover your mess. Don't think of Him as mean-hearted or annoyed with you–He's not. Imagine instead that your head is resting in his lap, His hands gently stroking your hair. Imagine him looking down at you and saying, Tell me all about your life. I love you.
Stand in the shower and talk to God. Lay in bed at night and cry out to Him. Take a walk and talk to Him (out loud!). Tell Him why you're sad, why you're hurting, what you need. Let Him comfort you and overwhelm you with His peace.
I have experienced firsthand the gift of God's peace. The night of that third breakup, I prayed for overwhelming peace and comfort. I couldn't believe it when I received it. I didn't cry for weeks. I wasn't an emotional mess. I wasn't depressed. I was…okay. I felt alive. I was excited for the next chapter because I knew it was going to be beautiful. I was at peace. (I don't know if I've ever known a deeper peace in my life than that period of time. Sometimes it takes a fallout to feel God's presence fully. That wrap-me-up peace was unbelievable and pure and perfect.)
So, let Jesus hold you. Read your Bible (start with Psalm 139). Read Captivating. Or One Thousand Gifts or Crazy Love or Unshockable Love or The Circle Maker or Boundaries. Get in a small group at church. Ask your friends to pray for you. Journal your prayers. Listen to uplifting music, like Hillsong Worship. Plan time to let our loving Jesus hold you. It's okay if you crumble apart–He can mend you too.
// Refresh your environment
Unless there's a lot of anger and rage associated with your breakup, it's unlikely that you'll want to take this step right away. In time, however, as you mourn and then heal and move out of the pain and into a positive space, where you're able to see the potential of your future, you'll want to refresh your environment. You'll need to do the hard work of going through the photos and the letters and the gifts. You'll need to donate the t-shirts and sweatshirts and jewelry. These things hold memories, so they're hard to get rid of, I know. That's why you shouldn't do this when you're weepy and distraught. Refresh your environment when you're in a healthy emotional state.
Today, a part of your environment is your online world. You should think about deleting photos on Facebook or Instagram, de-friending your ex-boyfriend, unfollowing him on Twitter, etc. When I write it out like that it sounds so harsh and cold. I don't mean it to be. And if you're able to see romantic photos of you and your ex-boyfriend together without feeling anything or if you're able to view his social media profiles without upsetting yourself, then you're not obligated to do this piece. For me, in the past, those things were a lot like a slap in the face. So, for me, they had to go too.
This part is hard because it feels really final, but–and I intend this gently–breakups are final. Instead of harping on the ending, begin to fixate on your new beginning. ("To make an end is to make a new beginning." -T.S. Elliot)
// Send love and light
I've never read Eat Pray Love, but I watched the movie several years ago. Though the imagery and cultures the main character encounters are beautiful, I wasn't a fan of the up-and-leave-your-husband-to-"find"-yourself storyline or the new age spiritual undertones. All that said, there was one line in the movie that has stuck with me, when Julia Roberts' character tells a new friend that she misses her husband, and he says, "So miss him. Send him some love and light every time you think about him, then drop it."
Again, I don't agree at all with this kind of casual attitude with regards to marriage. But this makes a lot of sense to me in the context of a dating relationship. At the time that I watched Eat Pray Love, I was still moving through the pain of being unexpectedly broken up with with boyfriend #2. I remember thinking that if I could get to a place in my heart where I could send love and light to my ex-boyfriend (in less new age terminology: if I could get to a place where I genuinely wished him a full, happy life), I would know that my heart was healed from that hurt. And months went by and there was no sending him any love or light. I sent some bitterness, some resentment, some anger, some frustration. No love or light. But then, I went to camp. And I found healing and when things reminded me of this ex-boyfriend, I truly was able to send love and light instead of ugly things.
So, work towards this. It's usually not fast. That's okay. Work towards a day when you can think of your ex-boyfriend and send him love and light. Because, as many have said, holding onto anger and unforgiveness is like swallowing poison and expecting the other person to die.
—
Moving through a breakup is messy and hard. I know, I've been there. If you're walking through a breakup right now, and it hurts, I stand with you. You'll get through this, girl. And God has a gorgeous plan for your life. So, set boundaries, take care of yourself, and lean on Him. You're going to make it.
use the images below for Pinterest