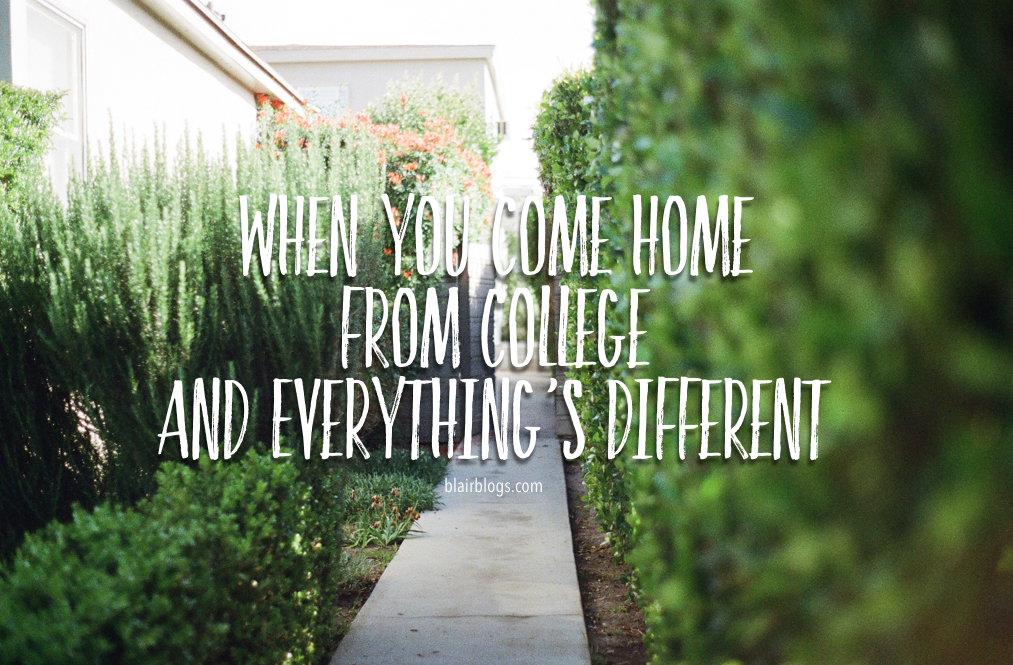 Before I left for college, the longest that I had been away from home was for two weeks of summer camp. Being at camp wasn't much like being away from home, though, because my two siblings and childhood best friend were always with me. While we were gone, our parents got a break from the daily responsibility of raising three children, we had fun canoeing, rock climbing, and toasting marshmallows, and at the end of our session, we were all reunited and fell back into the normal rhythm of family life.
So, when I went away for college, and came back for that first Christmas Break, I had a surprisingly hard time adjusting. Being the oldest, I was the first to go off to school. And because my university was nearly seven hours away from home, I never came home on the weekends throughout the semester. Heading home for Christmas my freshman year was the first time I was reentering family life in four months. I wept on my first night home.
I cried because everything was so different. My room, though still painted the color I had left it, was barren. All of my clothes and most of my decorations were at school in Carolina Hall, room 229. I guess because my room was so empty, it had become an upstairs storage unit. A spare kitchen chair. An old printer. My sister's off-season clothes. Our house was different too. It had new furnishings, new things hanging on the walls. Even small things, like new glassware or a new doormat, felt strange and unknown. The house that had been home was now my childhood home, and that was a bizarre and unforeseen shift.
My town had changed, too. I grew up outside of Baltimore, Maryland, which is affectionately called "Smalltimore" because everyone knows everyone and generations of families grow up there, get married there, have babies there, repeat. In fact, my parents were both born and raised in Baltimore, got married in Baltimore, bought a house as newlyweds in Baltimore (the same house they live in now!), and raised three children in Baltimore. Aside from my dad going away for college, the two of them have lived within about a five mile radius of where they were born all their lives! I guess I thought it would feel the same going home, you know, because it is "Smalltimore," after all.
Though it was largely the same people and places, every small change, every new thing–they all felt enormous. I had, for 18 years, known when a restaurant was opening or closing, known who was living next door to us, known that our friends had gotten a dog. I knew what was going on around me simply because it was what was going on around me! But when I moved away for school, well, I didn't care as much. I had a new day-to-day, and my reality was no longer rooted where it always had been.
But hearing chatter about the new amazing café around the corner, or the grocery store remodel, or the construction two blocks over? It really stung. And that sting took me by surprise. Why did I care? I'd only be home for a few weeks and then I'd be back at school for another three and half years. And I never planned on moving back home, so I knew that my new home would be somewhere else, too. But I cared because, as I've said before, no one, no one, wants to be on the outside looking in.
I had moved on, yes, but everything at home had moved on too.
I remember feeling robbed. It had only been a few months! I wanted to come home to what I knew–what I knew and what I was comfortable with. Not all this weird, strange, new stuff.
After Christmas Break was over, I thought I had ripped the Band-Aid off. I thought the pain and sting would be gone. I thought the anger that had welled up, the weepy tears–I thought I was done with them too. Then I came home for Easter. And it was the same thing. I wept on my first night home then, too. And when I moved home for summer, it took weeks before I felt settled, and I remember that I cried often, usually in the shower, hoping no one would know. Because what was I so upset about anyway?
By my sophomore year, I had learned how to prepare myself mentally for returning home so that these emotions wouldn't hit me quite as hard. As I moved into my junior year, and then my senior year, I began to accept the moving on, though there were still moments of stinging pain.
I know that college is a place to learn information and skills that will help solve problems and better society. And I went to a great school and I learned a lot. But also? College is a period of time where I felt the sting of moving on, and learned through experience how to balance that aching pain with the joy and freedom of adulthood.
So, if you're reading this, and you're home for the first time in a while–whether from college or another city or wherever–I want you to know that you're not alone if you feel a pit in your stomach and you're fighting back tears. It's okay if you sit on the shower floor and cry. When you feel angry because things have changed and no one asked you first, that's okay. If anxiety or fear washes over you, let it. You need to feel the hard, heavy pain so that, in time, you can accept with joy the journey you're on now.
Now that college is years behind me, I can safely say that I find deep joy in going home. Sometimes, while I'm home, there will be triggers that remind me how far removed I am from my old life, my childhood, and sometimes, they'll sting like before. But other times? They'll bring me to a deep sense of gratitude for this path I'm walking.
Here's to accepting the reality that homecoming isn't always easy but there is joy in the journey, too. There's always joy, too.
A verse that really lifted my spirit when I was working through this is "Jesus Christ is the same yesterday and today and forever," Hebrews 13:8.