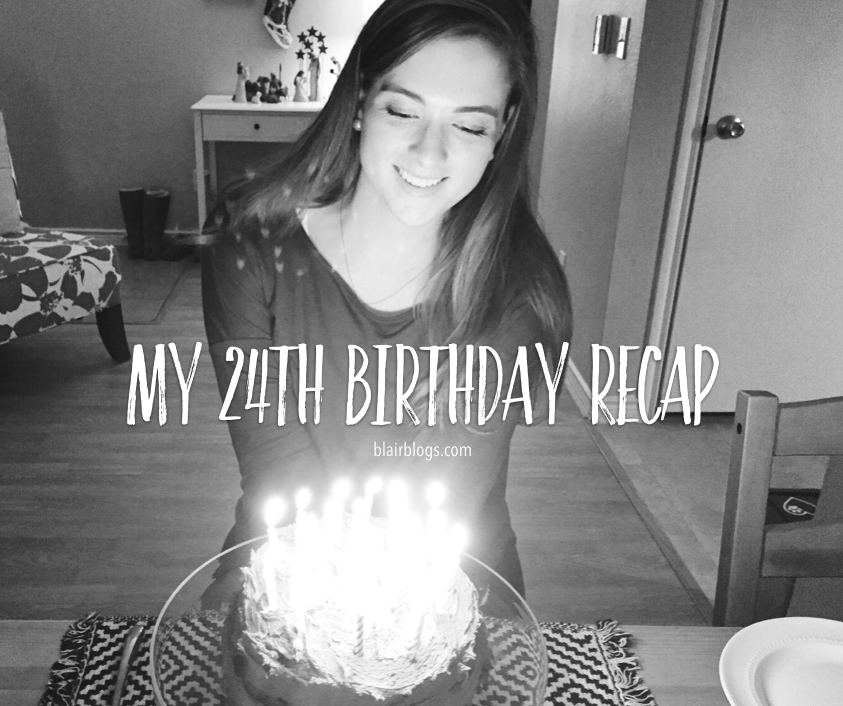 Last Wednesday was my 24th birthday! And because I love to document life's moments here on my blog, as a sort-of scrapbook, I'm going to share how we celebrated!
On Wednesday morning, we set our alarms an hour earlier than we usually get up. We woke up, still sleepy, and got dressed. I walked outside and gasped. There was a gorgeous sunrise painted across the big Texas sky! The colors dancing across the horizon were the most beautiful birthday gift. After admiring the early morning light (which we never see because we hate waking up), we got in the car and headed out for breakfast.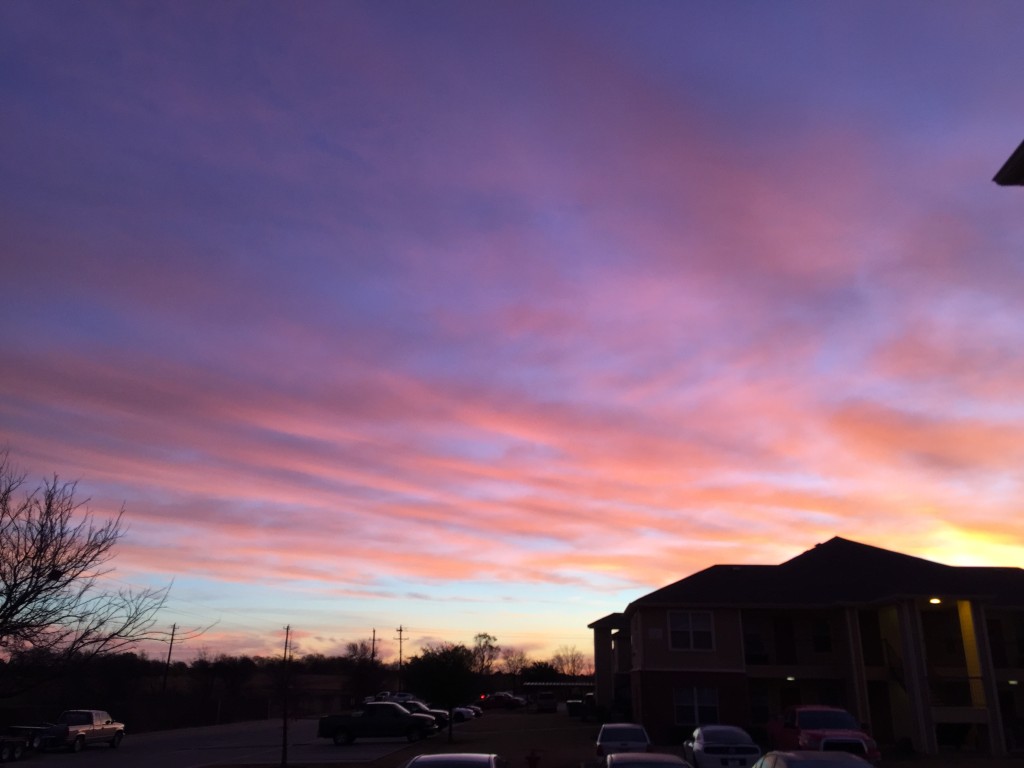 We went to a delicious local spot, called the Old West Cafe. Every time I eat there, I feel like I've walked on to a movie set. It is like every quintessential small town Texas element all rolled into one little restaurant. The waitresses are sweet and southern, with rhinestoned jean pockets, long painted fingernails, and big hair. Our waitress kept commenting on what a sweet couple we were, "Y'all are just so cute!" The restaurant is fully decorated with sarcastic signs, like, "I married him for his money…and I'll stay with him until he gets some!" or "Wash your hands and say your prayers because germs and Jesus are everywhere!" As with most restaurants like this, the food is absolutely delicious. No frills, nothing fancy, just great food. Riley got a western twist on eggs benedict, and I got chocolate chip pancakes, eggs, and bacon. We were both delightfully full and satisfied when we left.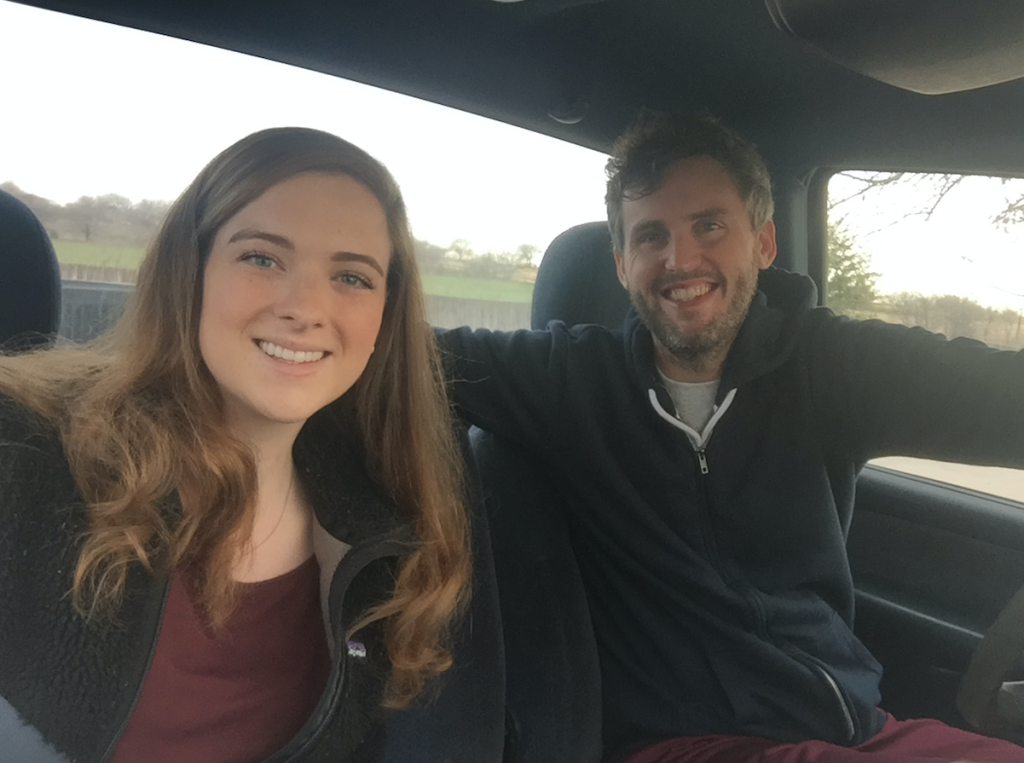 Once we got home, we still had a few minutes before Riley had to leave for work. Clearly, I insisted on documenting my first married birthday by whipping out our selfie stick and taking a couple of photos. The first is above, in the truck, and the second, below, in front of the fields outside.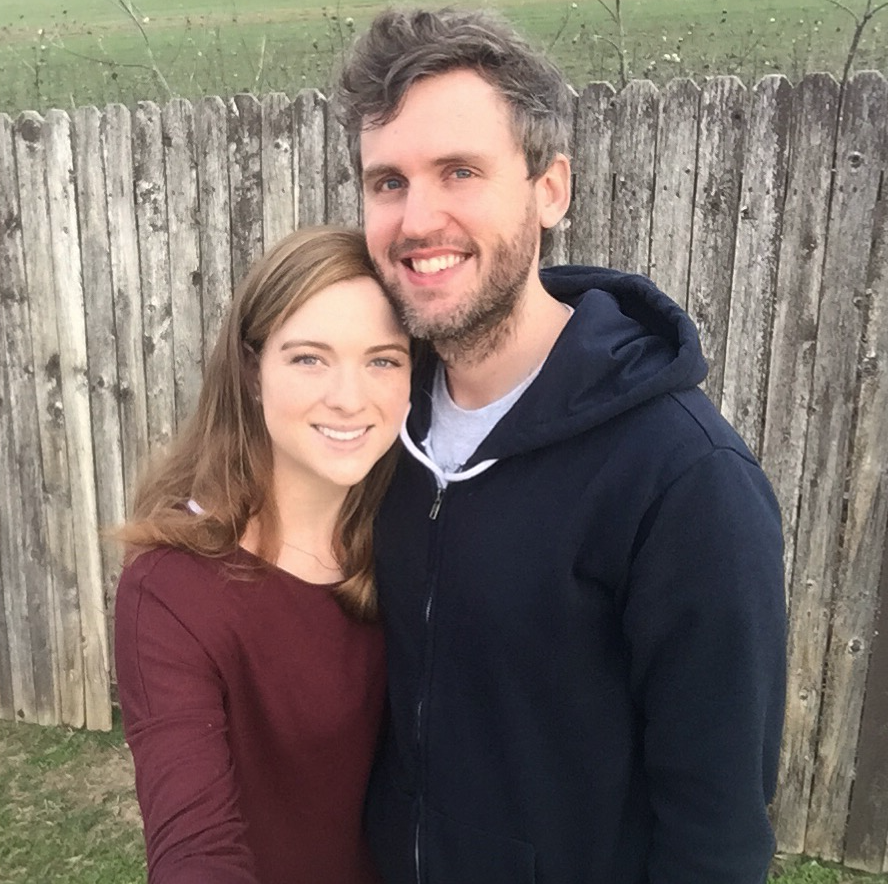 After Riley left for work, I had the day to myself. I had initially planned on going shopping, but I was feeling under the weather, so I decided to stay home and relax instead. I brewed some hot tea, watched movies, and talked on the phone with friends and family who called. Around lunchtime, my throat was really sore, and I was getting hungry, so I drove to the Sonic around the corner for a slush and a cheeseburger. We rarely eat fast food, but gosh, that meal tasted great!
On the way out of our apartment complex, I stopped by the mail center. I had scheduled a Stitch Fix for my birthday, so I picked that up, as well as a card from my mom. She had called me a few days before my birthday about a birthday gift idea for a 20-something girl who works at her office, so I suggested Birch Box, because I've always wanted a subscription myself. Imagine my joy and surprise when I opened up her card and discovered that I had received a six month subscription! I sent her this photo below! What a trickster! Oh, and I only ended up keeping a pair of jeans from my Stitch Fix–I liked a couple of the other pieces, but I either already had something similar, or the fit wasn't right. (This is not sponsored–both are referral links, though.)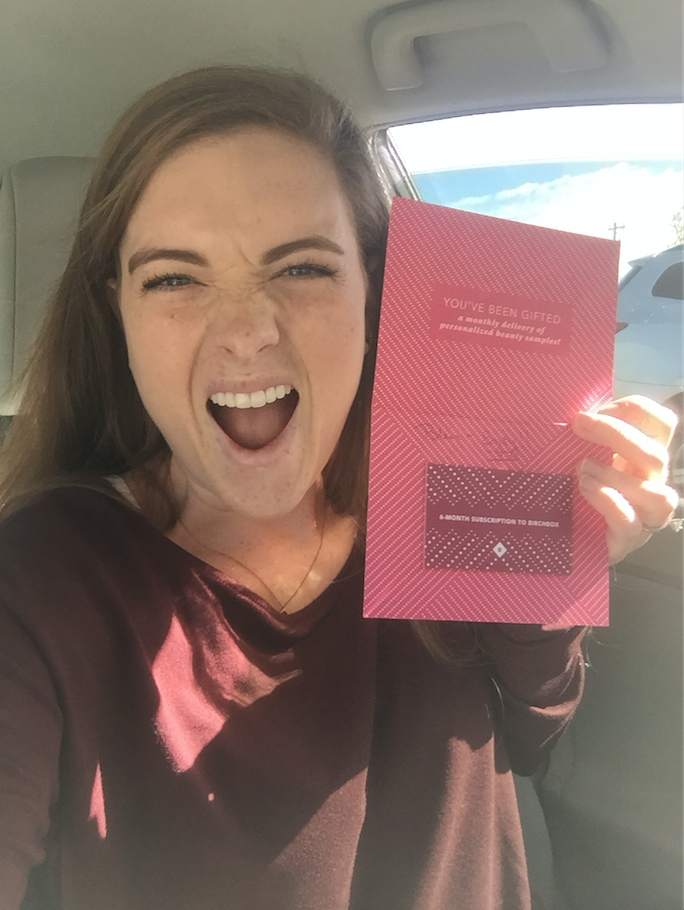 After lunch, I baked my birthday cake. Though Riley had offered to order a bakery cake or bake one himself, I insisted on making my own. I had seen a delicious recipe online and was dying to try it–old-fashioned yellow butter cake (I used this recipe) with chocolate buttercream frosting. Yes, it was every bit as delicious as it sounds!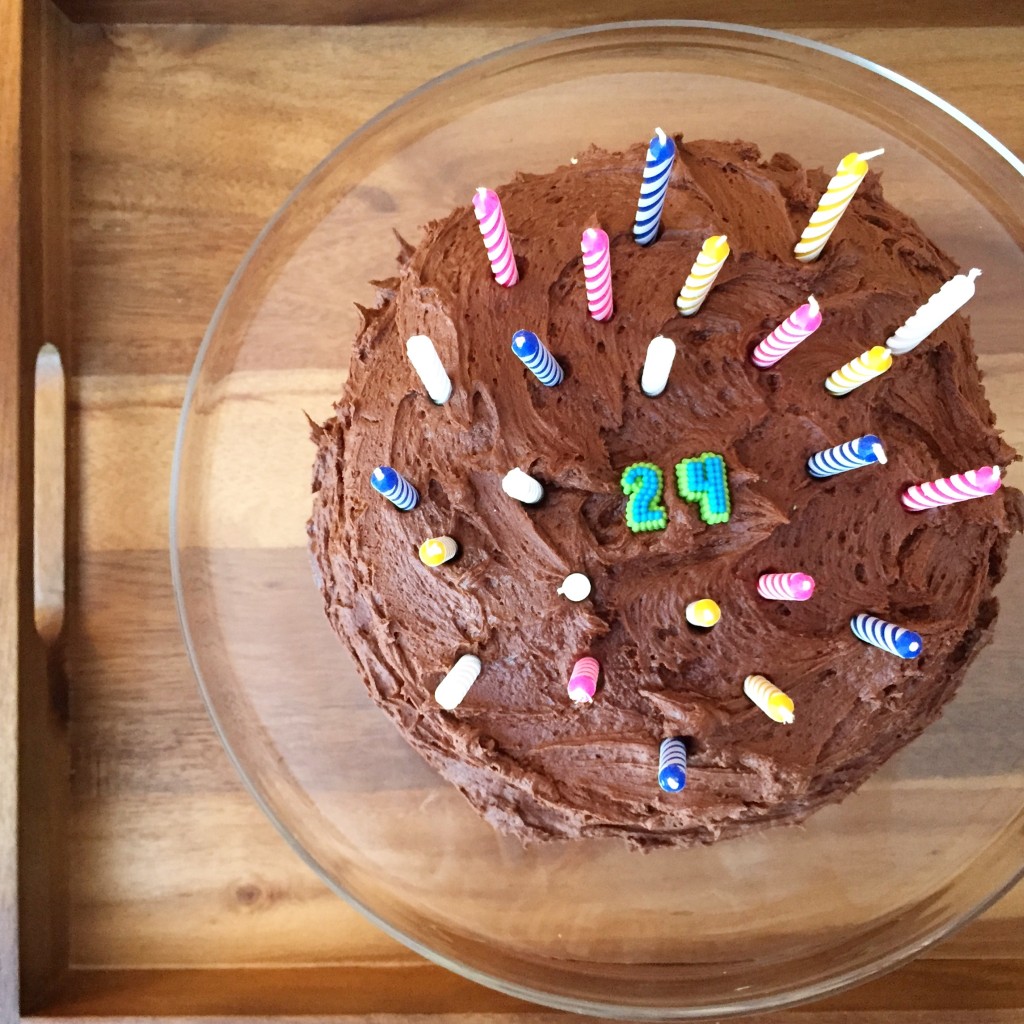 Because my birthday fell on a Wednesday this year, we decided to stay in and go out to celebrate on Friday (more on that later). I love to cook, so I decided to make my own birthday dinner. I know that's "against the rules," but I don't tend to live life "by the rules" anyway! I decided to make Penne Rustica (have you ever had it at Macaroni Grill?) and rosemary sea salt bread. It was so, so yummy. I'm really glad that I decided not to go out because my sick body was tired and worn by dinnertime–honestly, leaving the house wouldn't have been much fun.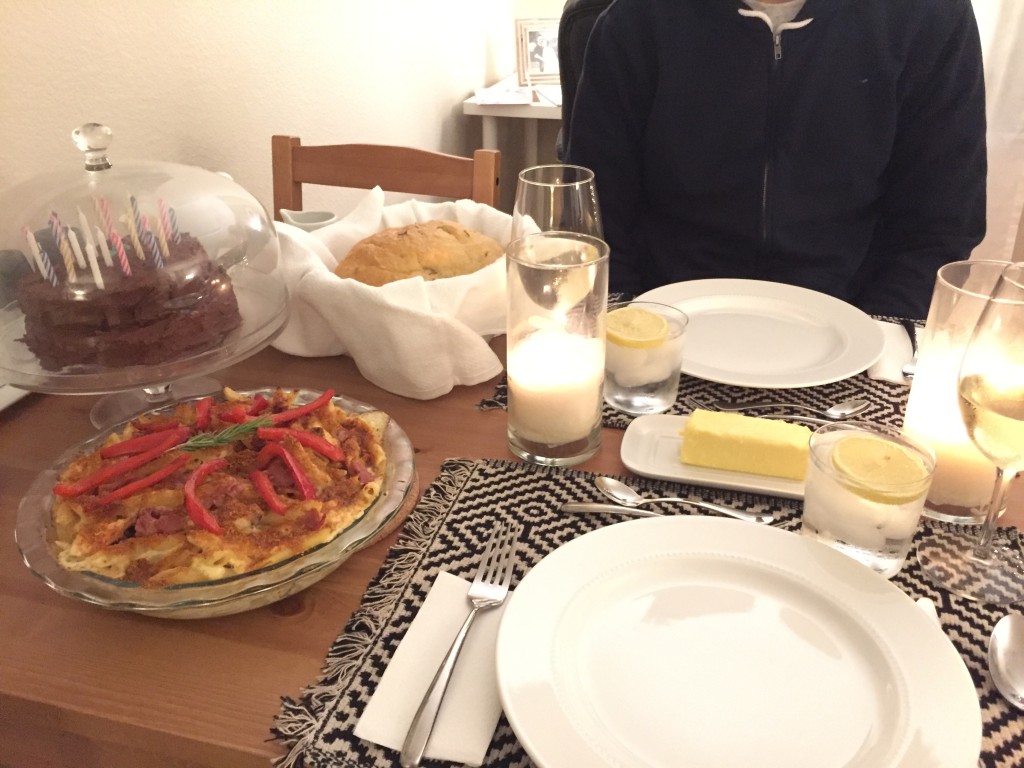 Penne Rustica is grilled chicken, penne pasta, and a robust cream sauce, mixed, topped with a parmesan/paprika mix, prosciutto, and red peppers–and then baked in a really hot oven so that everything gets deliciously toasty. It's so yummy I can't stand it. (I used this recipe!)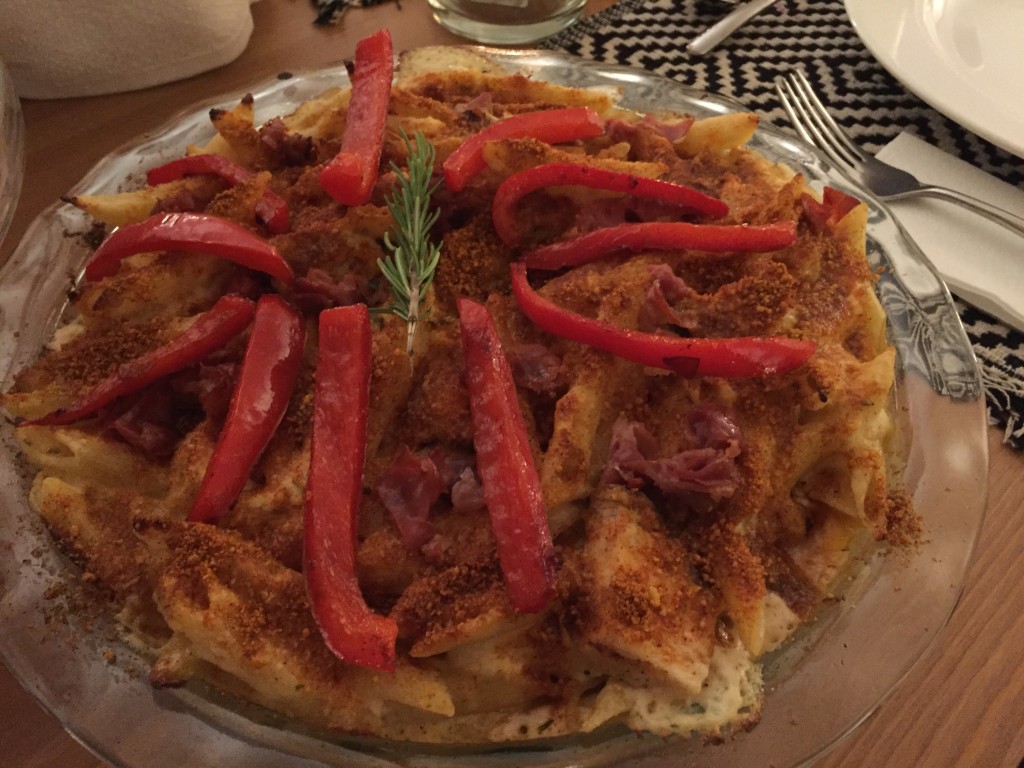 I made the dough for this rosemary bread in my bread maker, and then let it rise, before baking it and topping it with butter and sea salt. There is nothing, nothing, nothing like homemade bread. The smell is so heavenly. (I used this recipe!)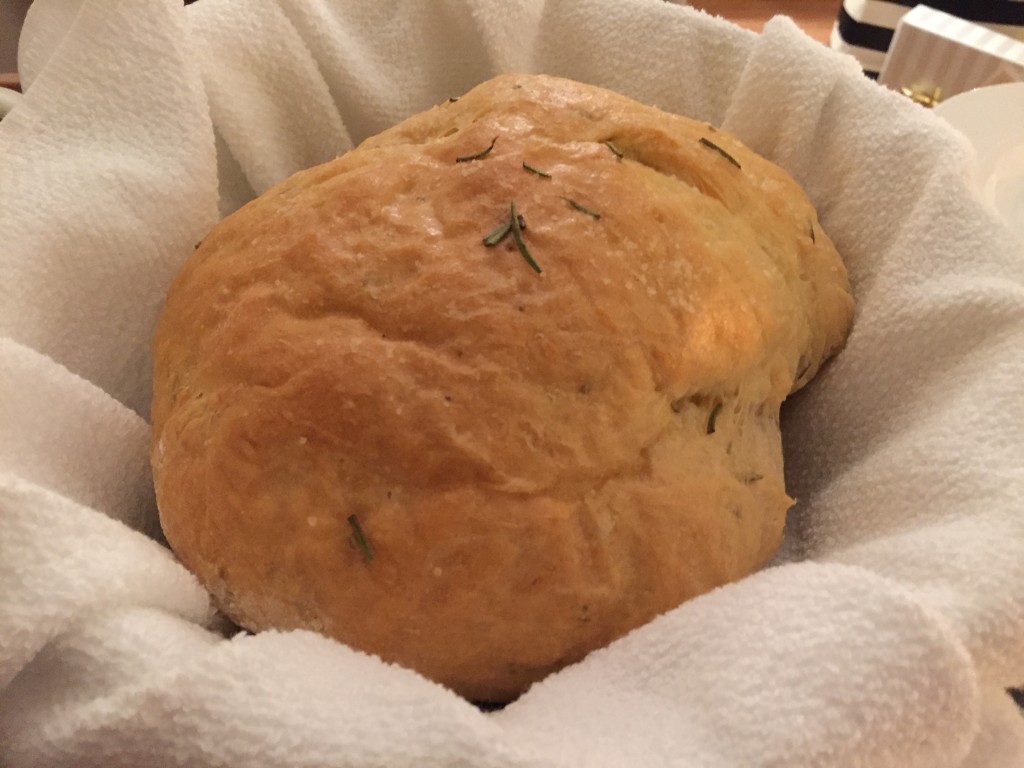 It probably would've been the adult thing to do to serve a salad (or at least something green) with this meal, but it was my birthday and I didn't want to. I just wanted pasta and bread and cake, so that's what we ate. And let me tell you–neither of us were wishing for a salad! 😉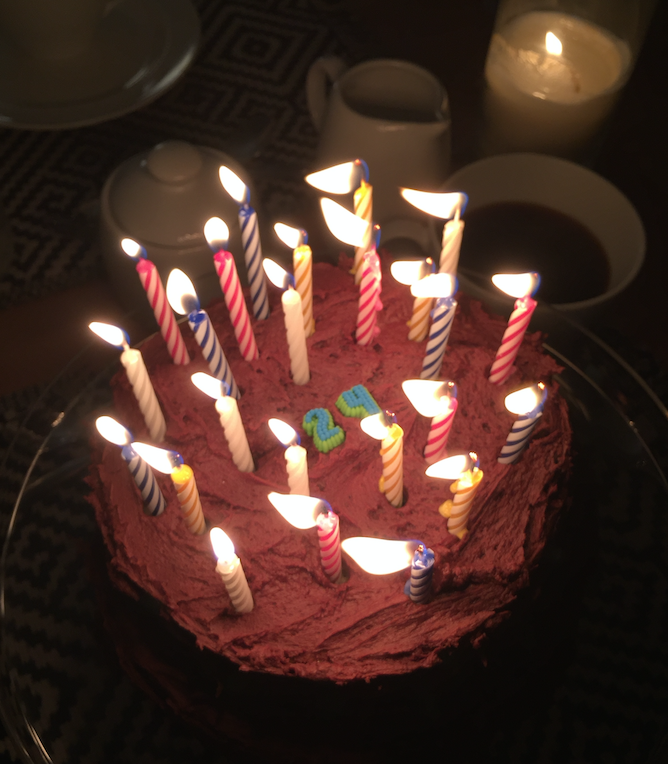 After dinner, of course, I blew out my birthday cake candles. Riley sang Happy Birthday to me, marking the only time in my life when I didn't feel completely embarrassed and on-the-spot. It was just us, and Charley, in our little home. It was lovely. As we ate cake, I opened up gifts from Riley, his sister, mom, and aunt. They are so kind and generous!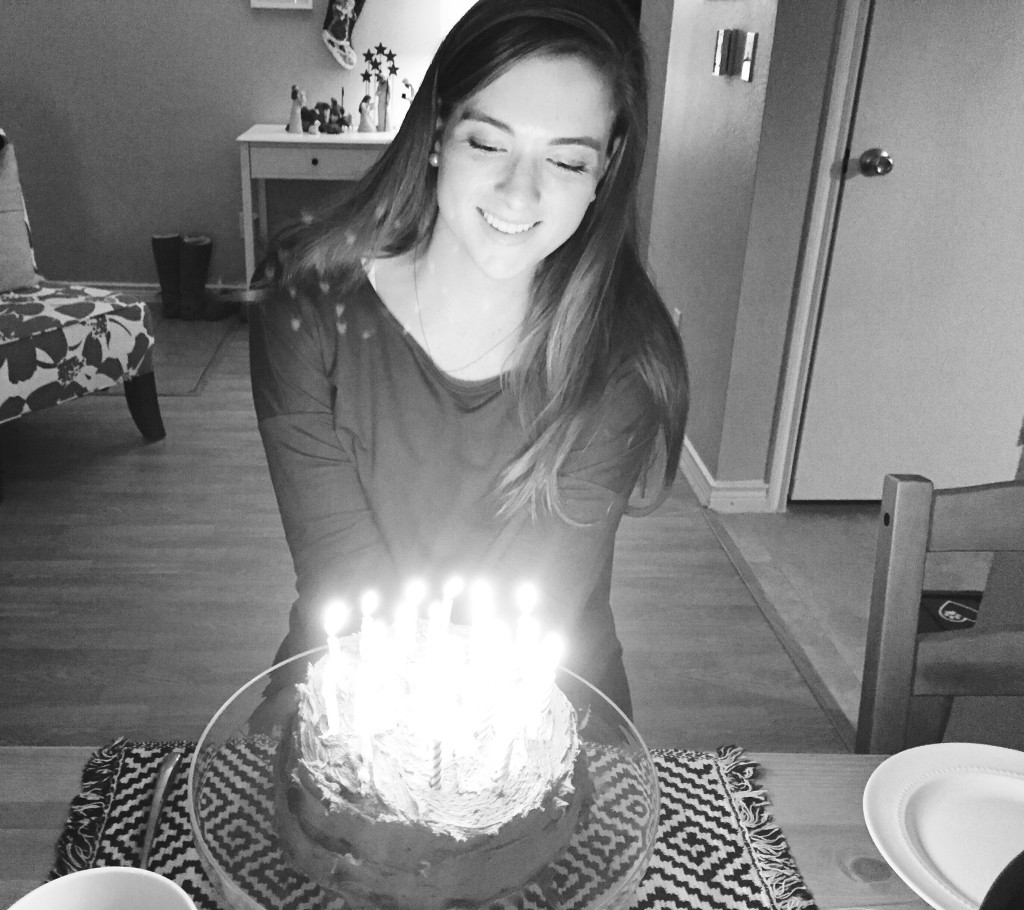 After dinner that night, we sat on the couch, our Christmas tree glowing, candles flickering, music playing, and laughed together. We didn't turn on the TV or do anything, really. Just enjoying each other's company was wonderful. I told Riley that this was my favorite birthday ever–and it really was. It wasn't built up on expectations–it was just me and my husband, celebrating life together. I truly loved its simplicity.
A couple of days later, on Friday, was when we had "real" birthday plans. Initially, we had reservations at a high-end, fancy steakhouse in downtown Dallas. But on Thursday, the day before we would have gone, I cancelled our reservation. I still wasn't feeling great at that point, and my appetite was iffy at best, so honestly, the last place I wanted to be was a pretentious and expensive steakhouse. I didn't want to spend lots of money on a dinner that I couldn't really taste or enjoy, and I wanted to be somewhere where I felt super comfortable and low-key. So, we went where any kind-of-sick-but-still-wants-a-birthday-dinner-out girl would go: Outback! Hah, from a five star steakhouse downtown to a chain restaurant off the highway…we dialed it waaay back! But I'm so glad we did, because I was actually able to enjoy my dinner comfortably. We'll go eat at that fancy restaurant another time when I feel more up to it.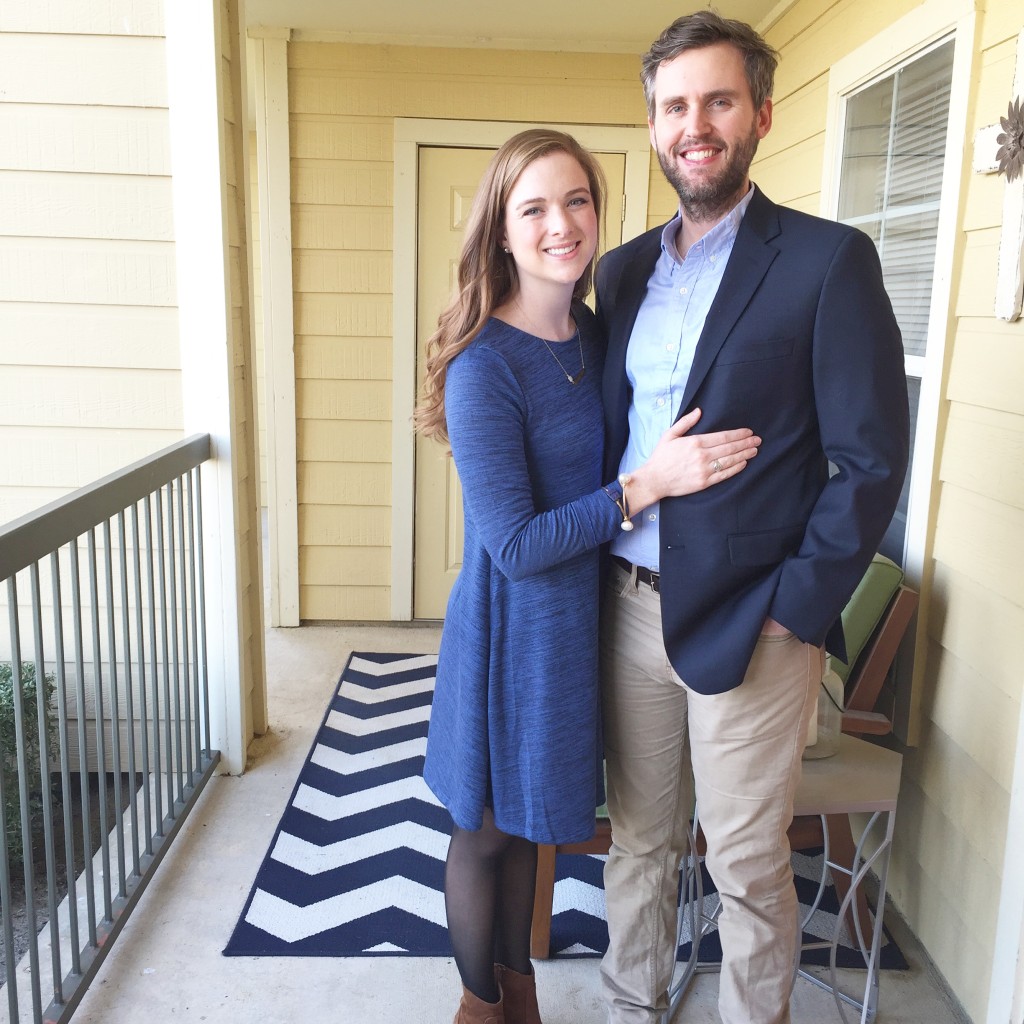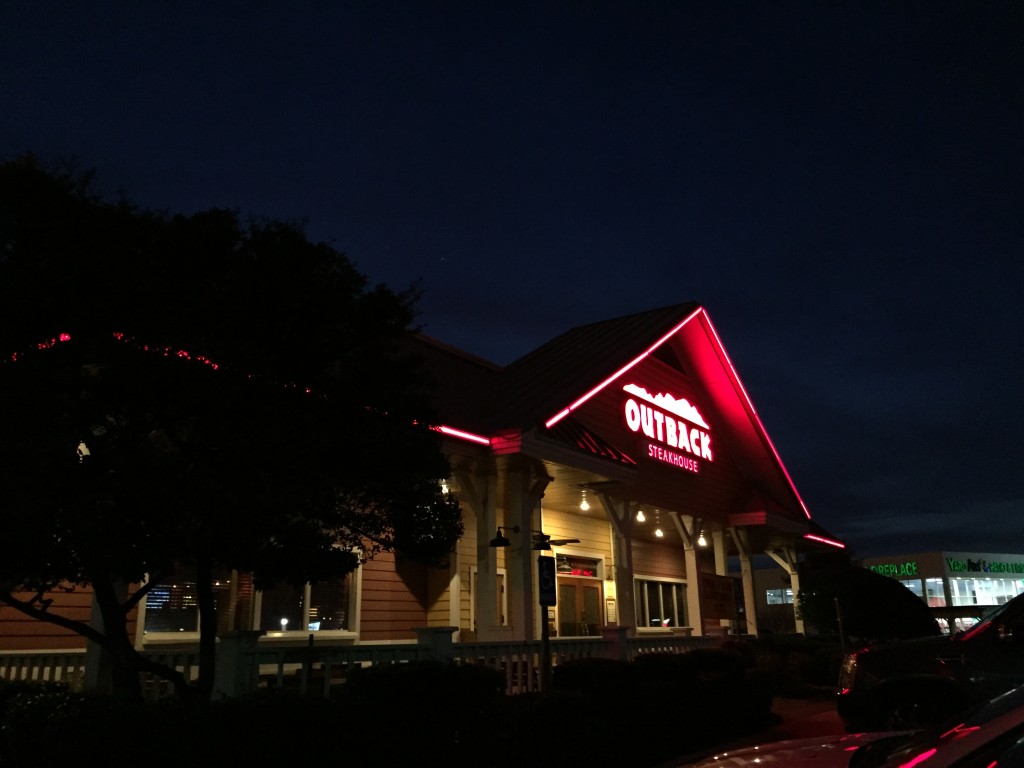 After dinner was the birthday present that I was most excited for: we went to see Elf the Musical! Months ago, towards the end of the summer, I had seen that Elf was coming to Dallas. I immediately texted Riley to tell him that we just have to go for my birthday! (I love Christmas, Elf, and musicals. So yeah, we had to!) He was excited too, so we booked a pair of tickets, printed them out, and hung them on our fridge. Every day we'd see them and talk about how excited we were! We had been looking forward to Friday night for months!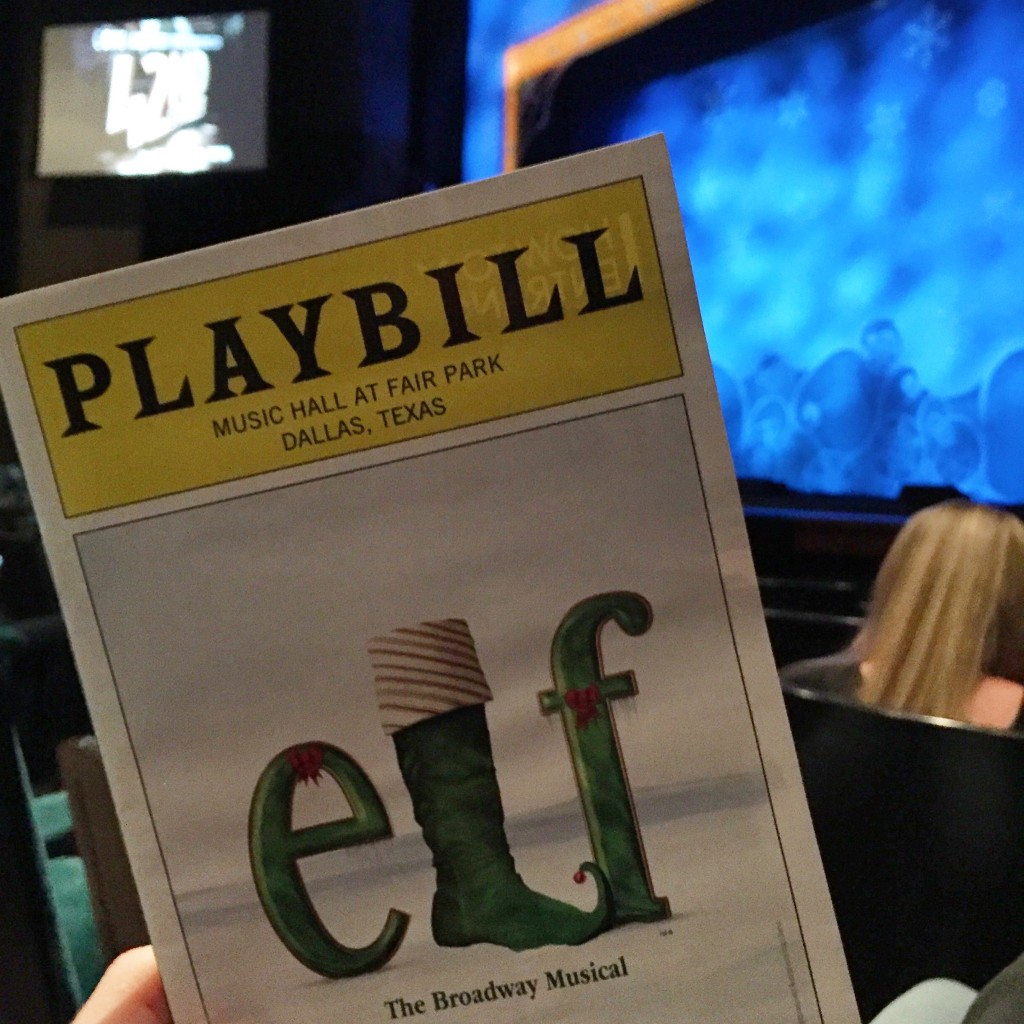 And we had so much fun! Elf was hilarious–and just enough different from the movie (with the songs, more adult humor, etc.) to make it super interesting! It was the perfect birthday celebration–full of cherished memories!
// I loved this birthday! What's your favorite way to celebrate your birthday?