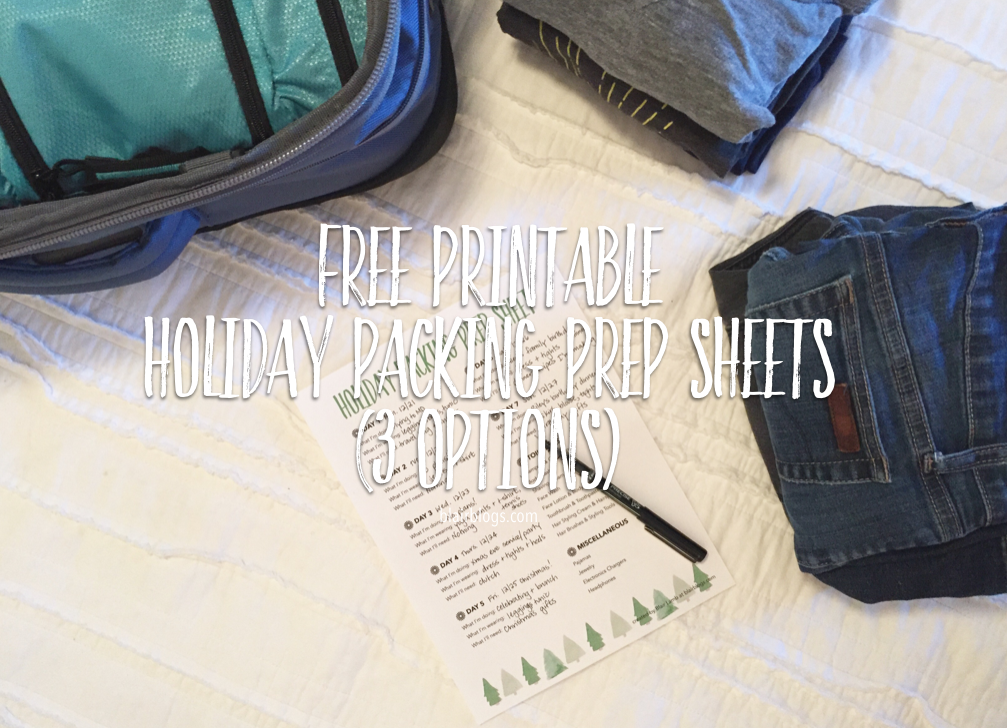 Remember how I accidentally wrote an entire packing post in the middle of my Christmas Travel Prep post on Wednesday? Well, I suspect it's because I'm really passionate about smart packing. I first discovered this passion when I studied abroad in Spain and only brought one suitcase for five months overseas. I quickly learned how important it was to pack thoughtfully because there was quite literally no room for error!
Since then (which was about five years ago), I have made a packing prep list for nearly every trip I've taken. Whether I'm going away for the weekend, heading to the beach for a family vacation, or traveling home for Christmas, I create a list that's specific to the trip I'll be taking. I always use the same format, so it usually only takes me 10 or 15 minutes to create, but having a list to work off of always speeds up the process significantly and really cuts out extraneous "But I miiight need this!" items.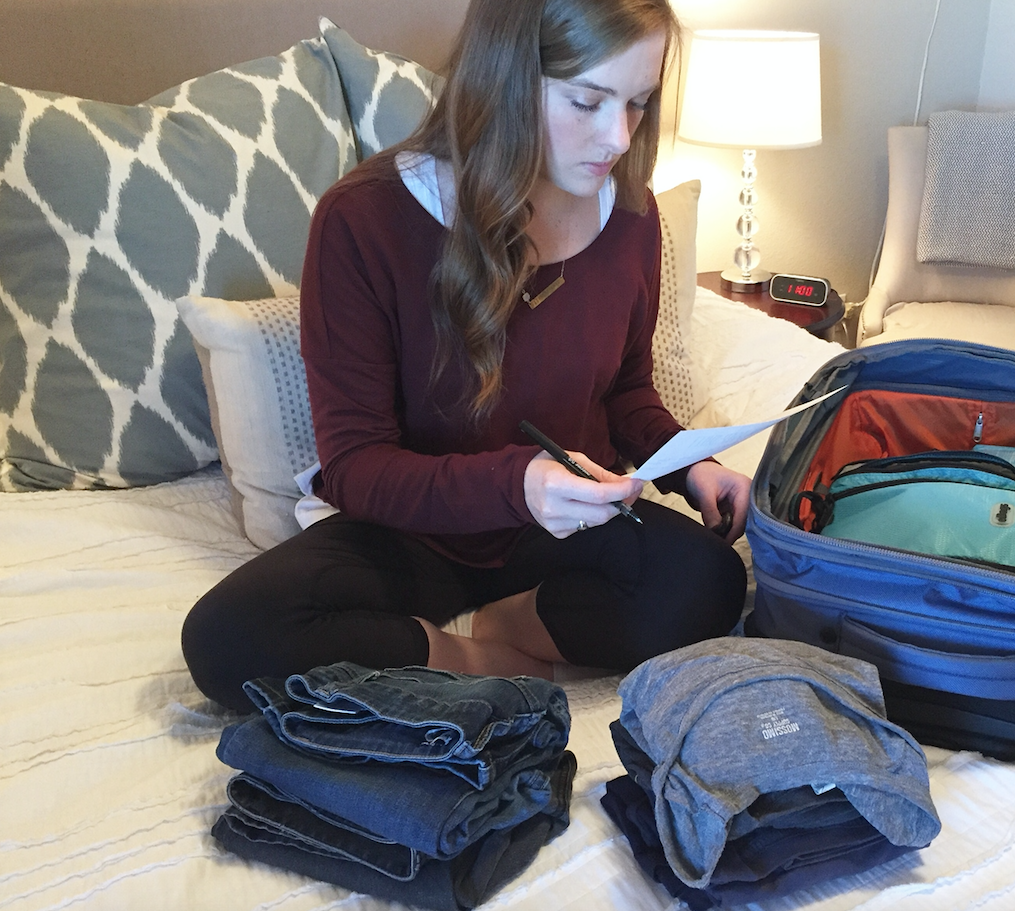 Side note/rant: I'm not super fond of pre-made packing lists (you know, the ones that already say "2 pairs of jeans, 1 pair of PJs, etc.?") because 1) everyone wants/needs different things, 2) the destination's climate dictates most of my choices, and 3) they tend to encourage overpacking by including items that aren't really necessary…like, I don't need a mini sewing kit 99% of the time!
Example demonstrating why packing prep works: When I was a freshman in college, I flew to Orlando for a five day vacation with my family over Fall Break. I packed everything for the whole trip in my small backpack (this one), and I remember my family being shocked! Having such a small piece of "luggage" made the trip so smooth and simple…I just grabbed my backpack and boarded the plane! Once I arrived in Florida, I unpacked everything at the hotel and used the backpack when we visited the Disney parks! I used every single item that I packed and didn't wish I had brought anything else–all because I had prepared a detailed packing list!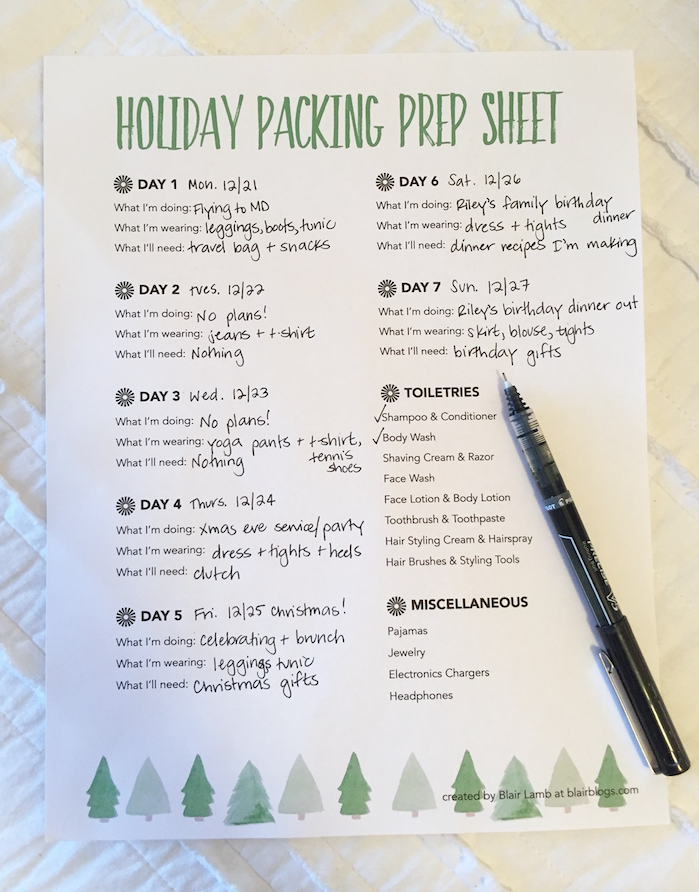 Because this method has worked so well for me, I'm offering three versions of my Holiday Packing Prep Sheets for you to print, plan, and pack! Below, I'll show you a photo of each option, provide a brief explanation, and then link to the download page. Here we go! (You can see how I used Option #1 to plan my Christmas trip home above!)
Option 1 | 7 Day Trip + Toiletry/Miscellaneous Suggestions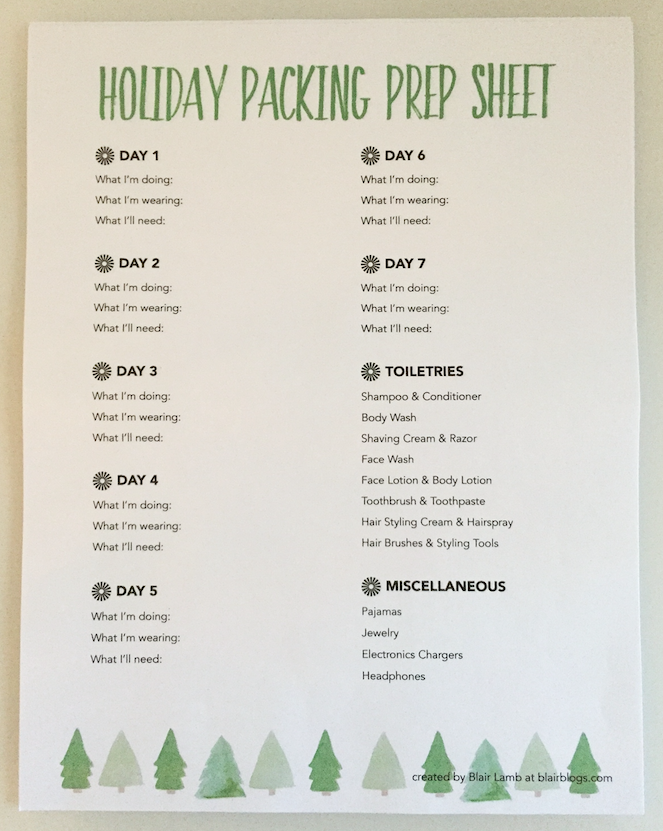 This option is a packing prep sheet for a seven day trip with toiletry and miscellaneous packing suggestions. If you're an over-packer (and your trip is seven days or shorter), this may be the right option for you. With this sheet, you can plan your daily outfits, accessories, must-haves, and pre-listed toiletries/miscellaneous items, and then zip your suitcase without overpacking it! D O W N L O A D   H E R E
Option 2 | 7 Day Trip Without Toiletry/Miscellaneous Suggestions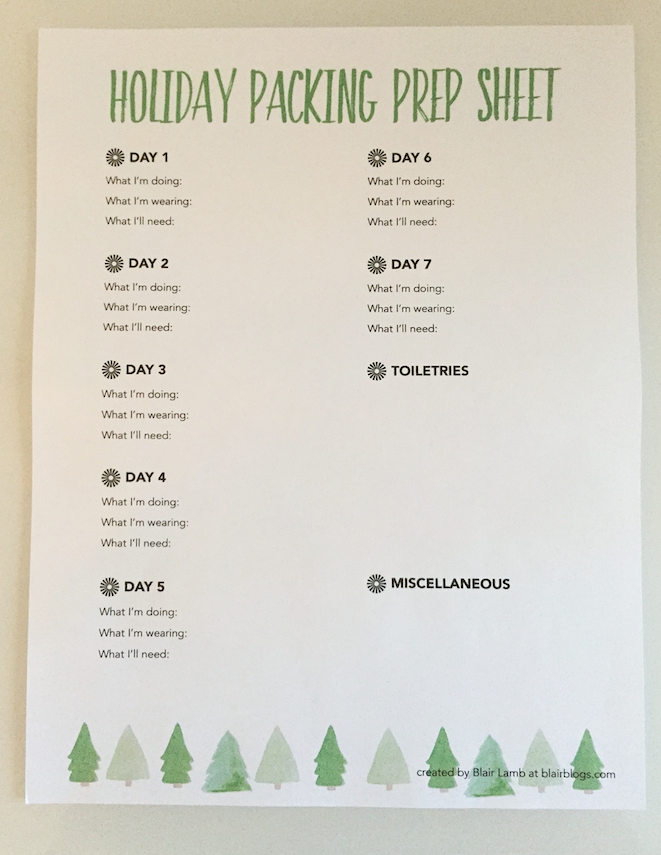 This option is exactly the same as #1, except that the toiletry and miscellaneous sections are blank for you to fill in yourself! If you're going on a trip for seven days or less, and you'd prefer to create your own toiletry/miscellaneous list, this may be the right option for you! D O W N L O A D  H E R E
Option 3 | 10 Day Trip With Separate Toiletry/Miscellaneous Page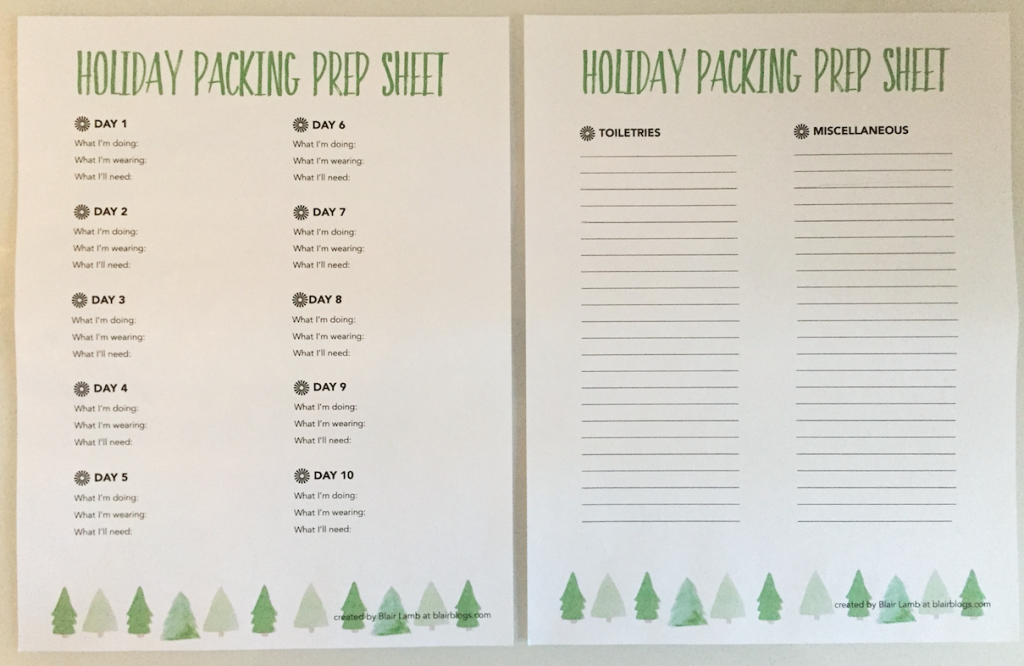 This option is for longer trips and/or people who tend to pack a lot. The first page has 10 days of what I'm doing/what I'm wearing/what I'll need as well as a separate full page for toiletries and miscellaneous items. This list works well for long trips, of course, but it's also perfect for people who have babies or small children and have to bring a lot of items along! (It's also perfect for the I'm-an-over-packer-but-I-love-it person!) D O W N L O A D   H E R E
There you go…print away! Enjoy and happy prepping and packing! 🙂
use this image for pinterest