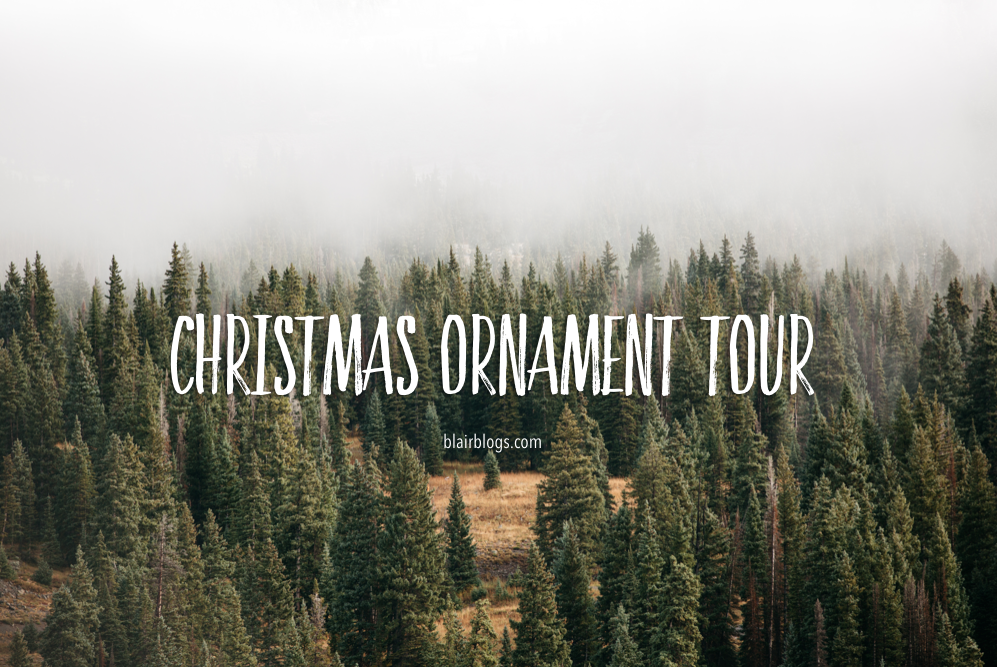 We put up our Christmas tree a week before Thanksgiving and have enjoyed it for everything it's worth since then. It's the last to be switched off at night and the very first light I turn on in the morning. While we're eating dinner, while we're watching a movie, even when I'm just unloading groceries, the glow of our tree fills my heart with such warmth and joy. I'm a December lover and Christmas tree junkie all the way!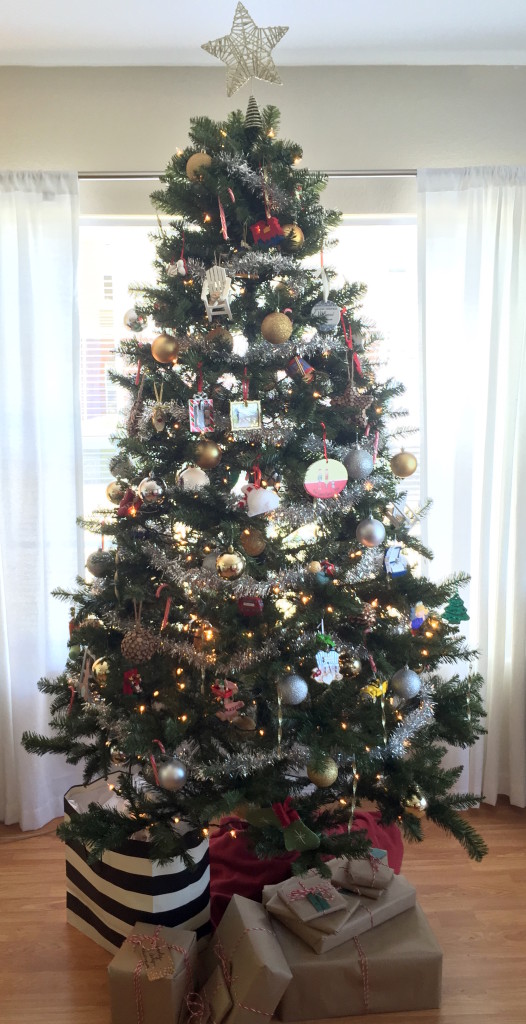 Whenever I visit someone's home around Christmastime, I make a beeline for their family tree and spend time looking at all of their ornaments. You can tell so much about a person by the ornaments on their tree! I love to ask which one's their favorite and hear stories that stem from each dangling memento.
Because of all this, today I'm sharing some of our favorite Christmas ornaments and giving you a little background on each one! (The description will be below each photo.)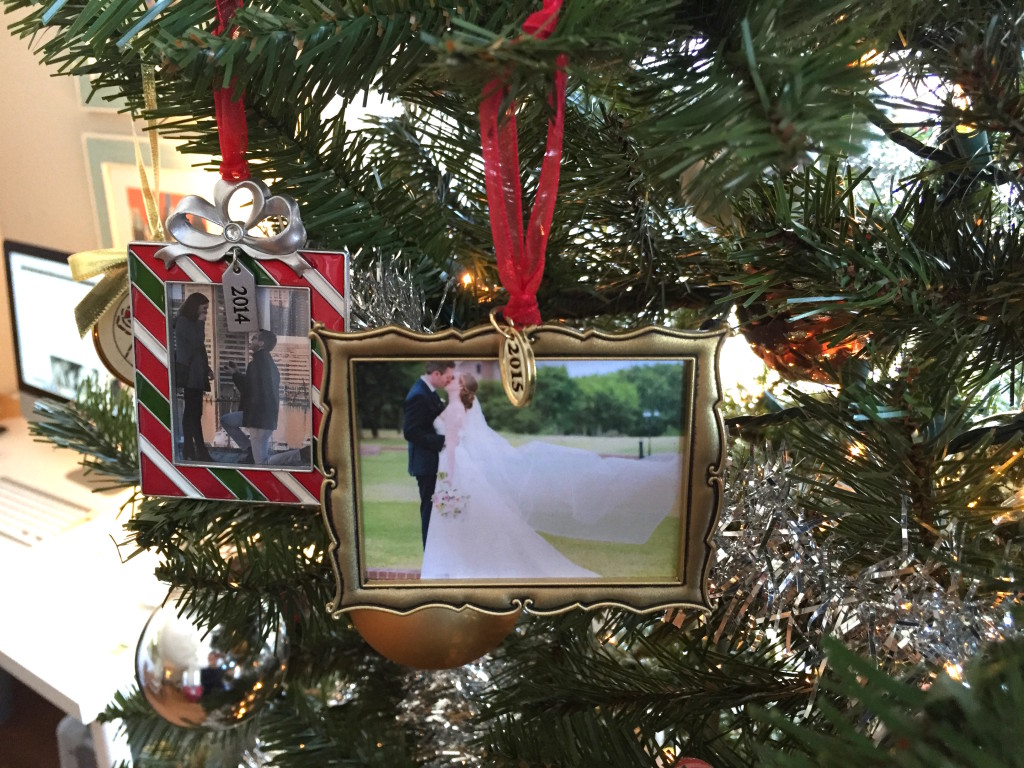 I shared a photo of these two ornaments on Instagram a couple of weeks ago, but they're too special not to share here, too. Last year, we got engaged, and this year, we got married! I can't wait to see our family change as we grow together in the coming years.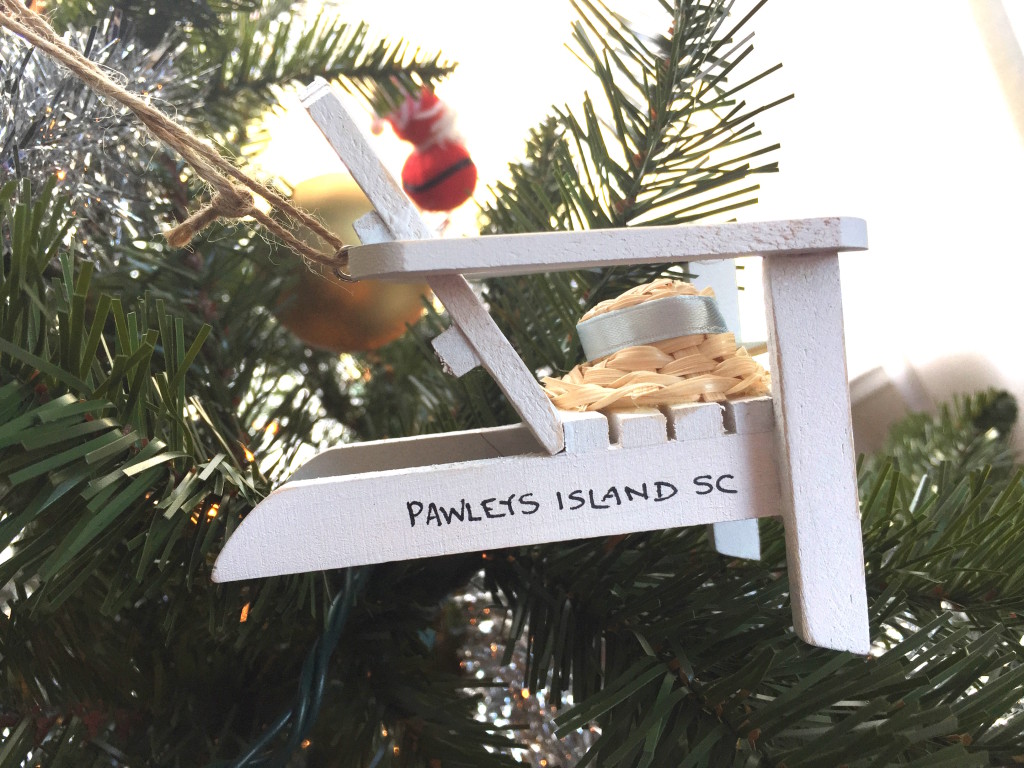 My favorite place in the world is Pawleys Island, South Carolina. It's where my family has vacationed for years and years and I still get giddy each June when I head to the coast! I love this reminder of sunny weather in a gorgeous place…especially as the weather around Christmas gets cooler and cooler and I long for the beach!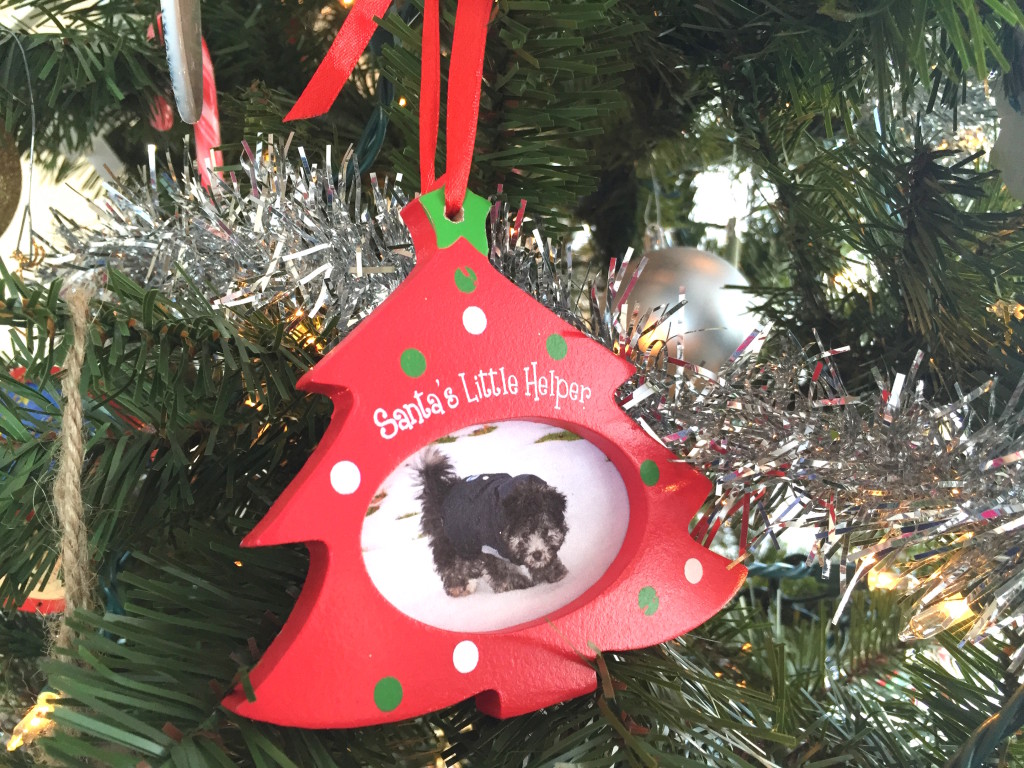 Charley came into my family right around Christmastime, so my sister framed this adorable photo of my little bear a couple of years ago and gave it to me for Christmas! I love this photo of Charley–I miss his tiny puppy days!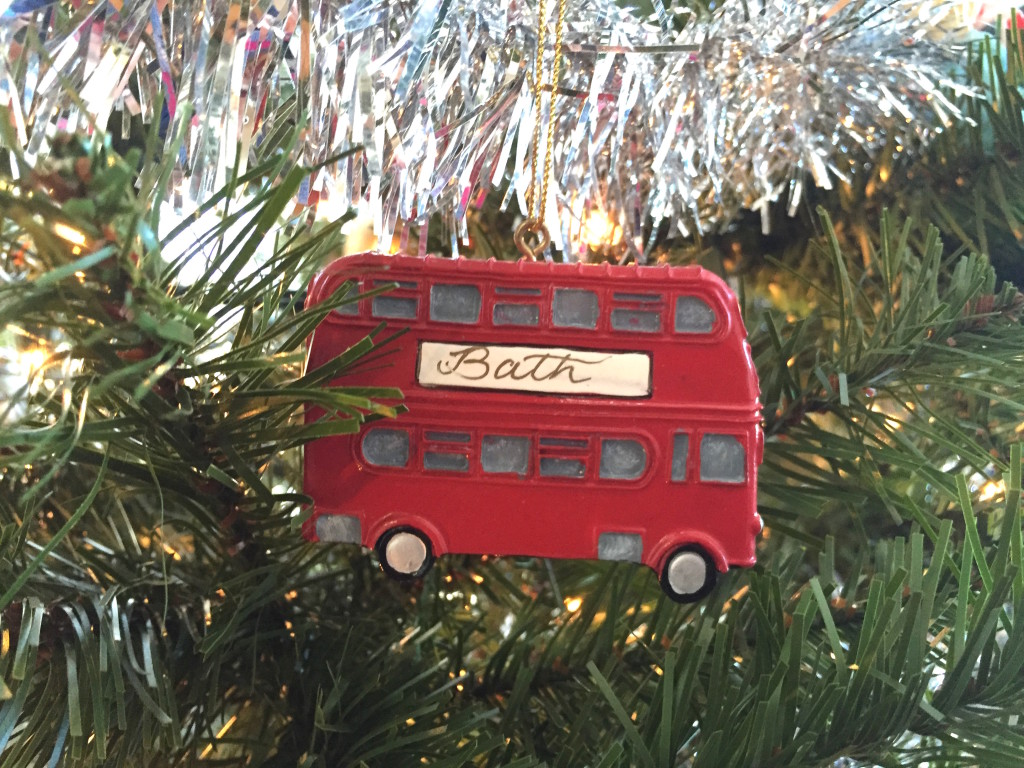 I traveled to London when I was in eighth grade, and it changed my life. I wrote all about that trip in this post –I love this little double decker reminder of my first taste of adventure!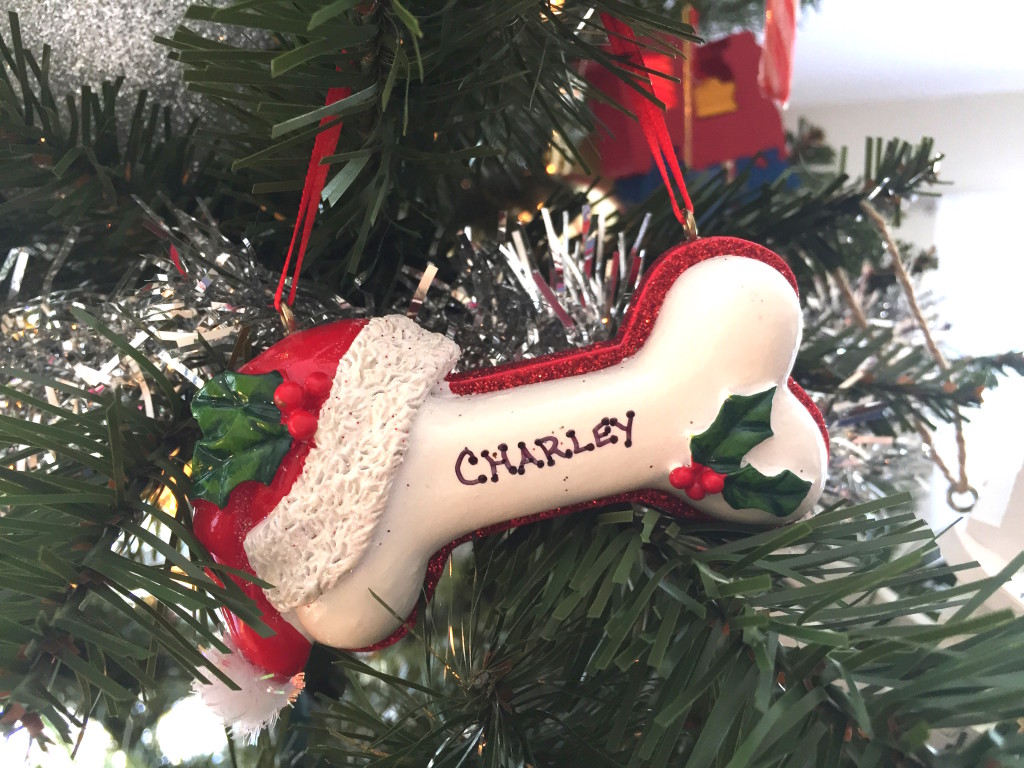 Another Charley ornament! Not much to explain here–just that we adore our little fur baby a whole lot! Clearly he needs his own personalized ornament!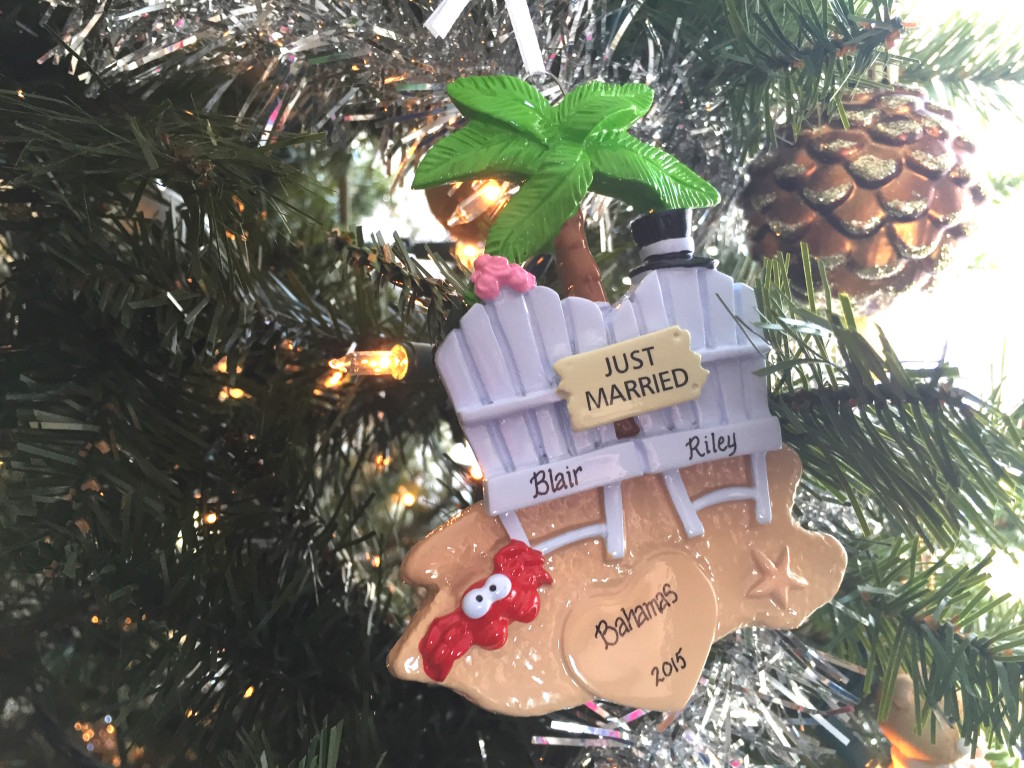 This ornament has a funny backstory. When we were on our honeymoon in the Bahamas, the gift shop at our resort had a couple of Christmas ornaments for sale. Even though it was early August, I had to have one to commemorate our honeymoon. (Again we revisit the Christmas tree junkie situation.) The problem was that I didn't like any of them–and the cheapest one was over $30, so I left empty handed and disappointed. That afternoon (yes, while on our honeymoon), I found this adorable ornament online and ordered it on the spot. When we got back to Texas, it was waiting in our mailbox for us! I love it!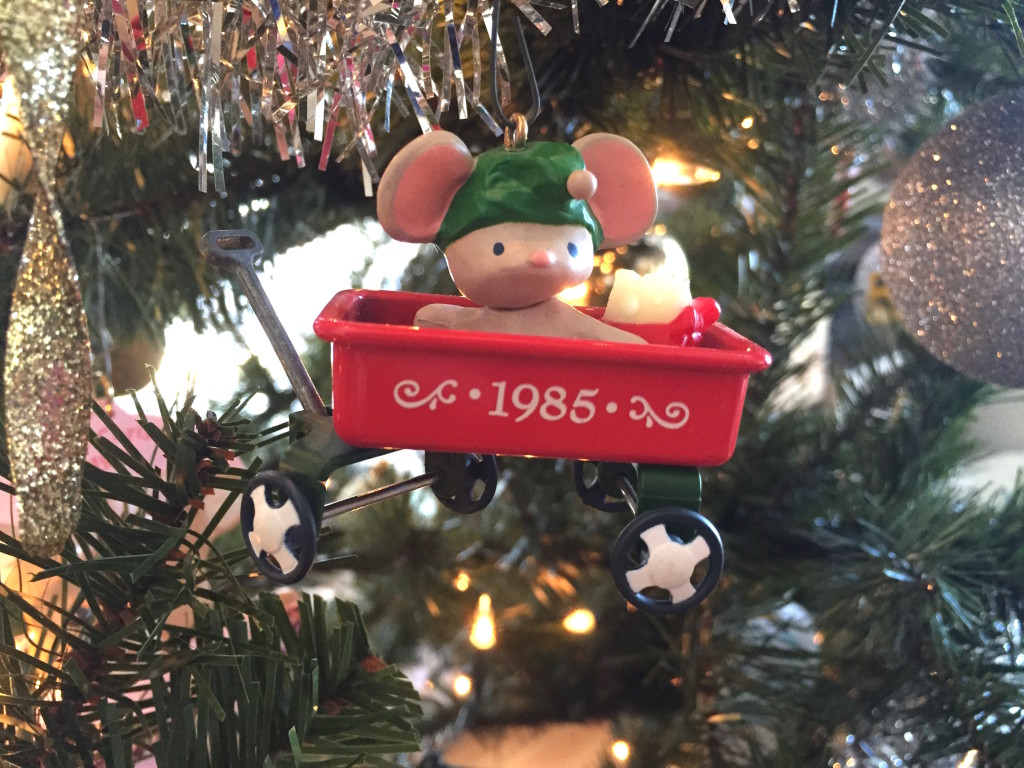 This is Riley's very first Christmas ornament ever–given to him a couple of days before he was even born! So sweet.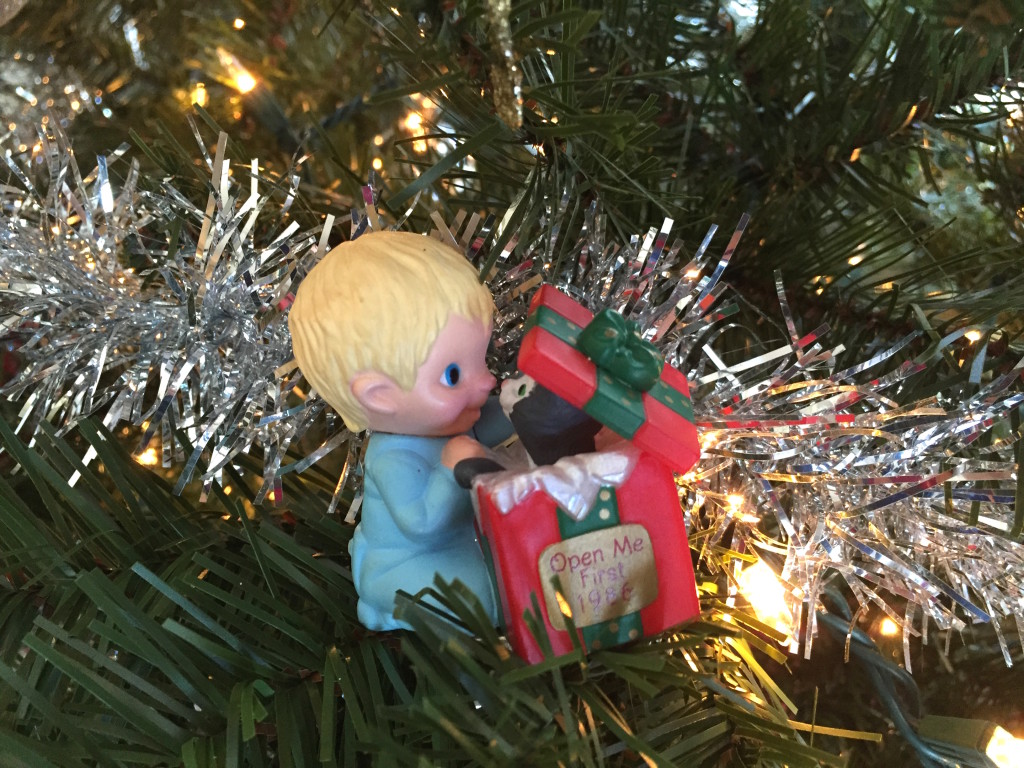 This is another one of Riley's ornaments–in fact, it was from his very first Christmas! He was born in 1985 on December 27th, so his first Christmas wasn't until 1986, the year marked. I adore this ornament because it encompasses my husband's kind heart, especially towards animals. In fact, before we met, he found a tiny stray kitten, adopted her, nursed her back to health, got her spayed, and kept her as his pet. I'm highly allergic to cats, so Minnie has made her home at his mom's house (she loves her), but my heart always melts when we visit and Minnie immediately jumps into Riley's lap to cuddle with her daddy!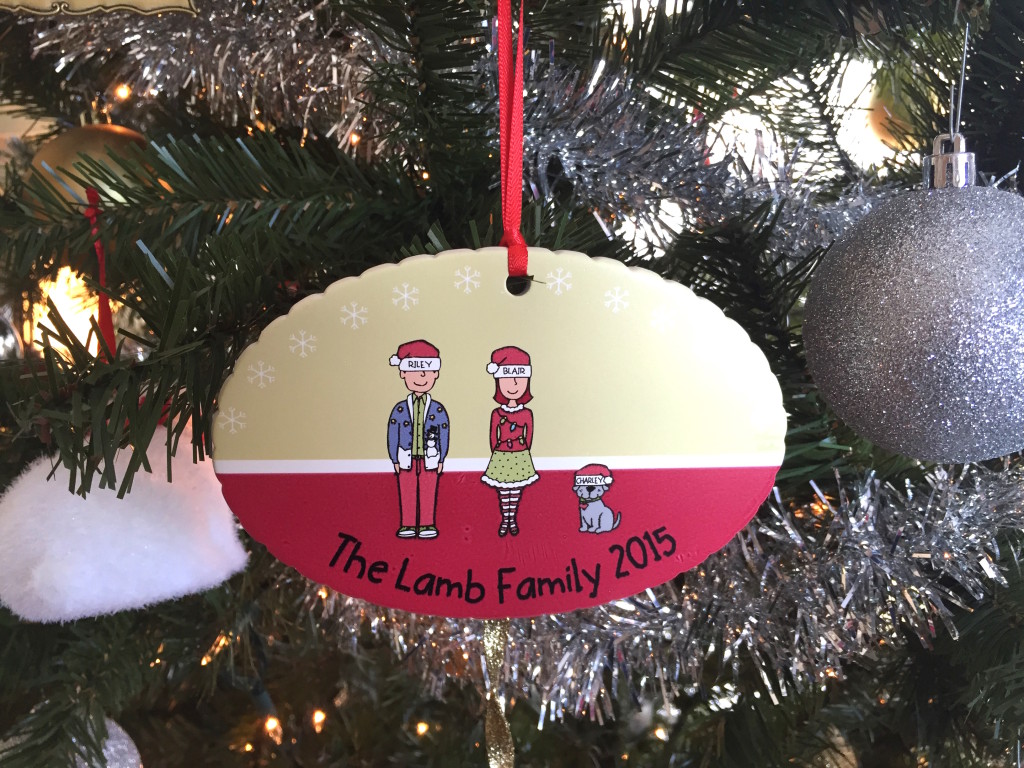 I love this quirky ornament. Riley and I decided to make it a tradition to exchange ornaments each December as a way to commemorate and celebrate our year together, and this was the ornament I gave him this year. So fun!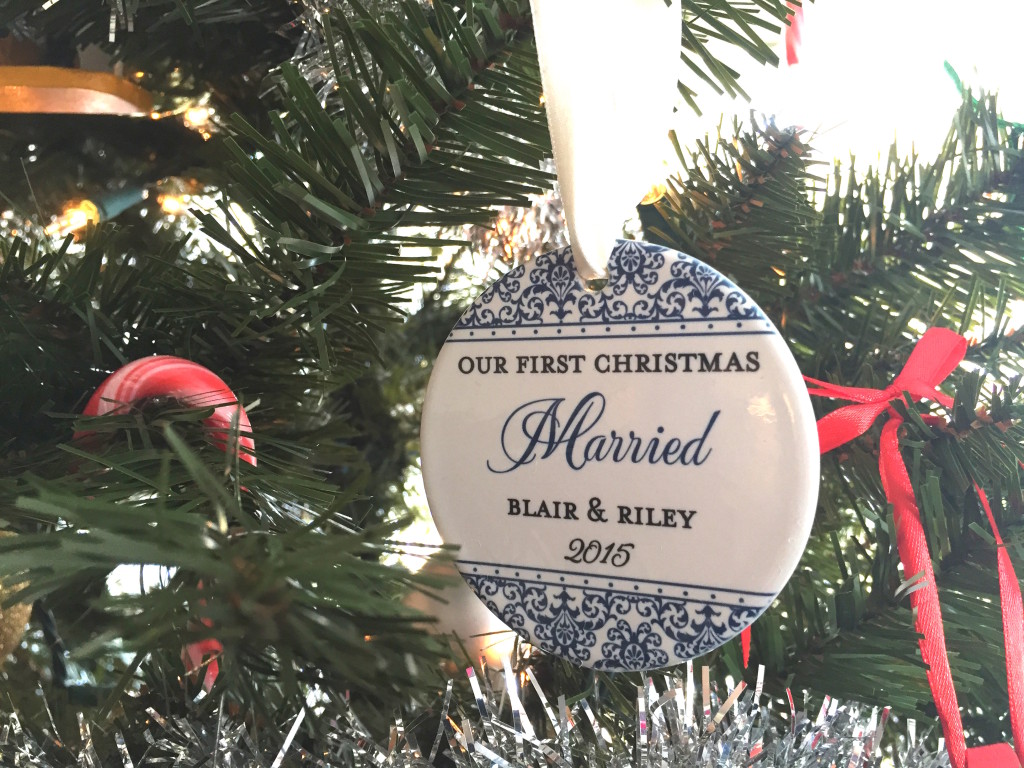 And this is the gorgeous ornament that Riley gave me for our ornament exchange that I just talked about! I love it! 🙂 Our first Christmas married…and many, many more to come.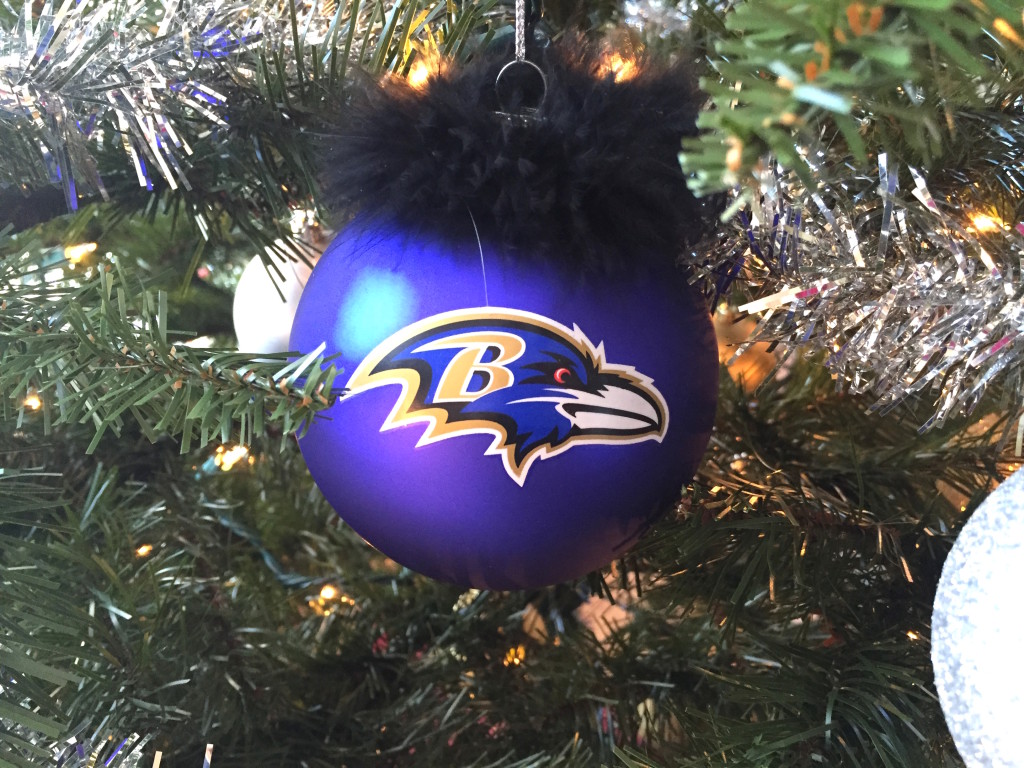 I grew up in Maryland, so the Ravens are my team! I have four Ravens ornaments, but this one is my favorite!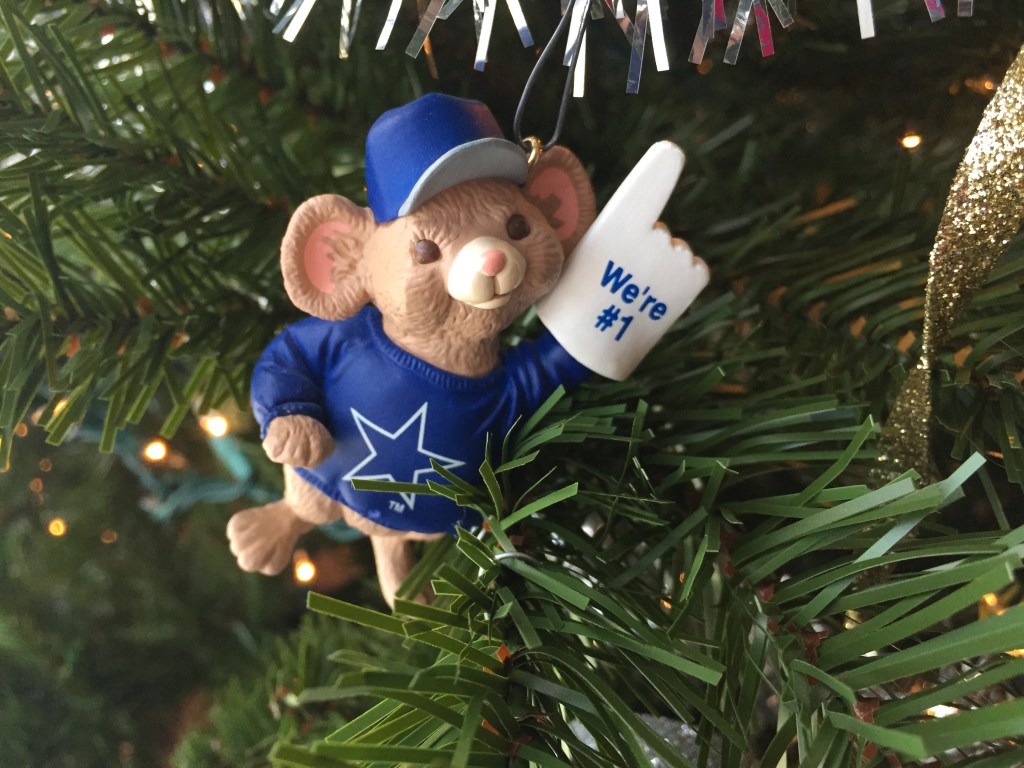 …and Riley grew up outside of Dallas, so the Cowboys are his team! Here's his cute little Cowboys ornament.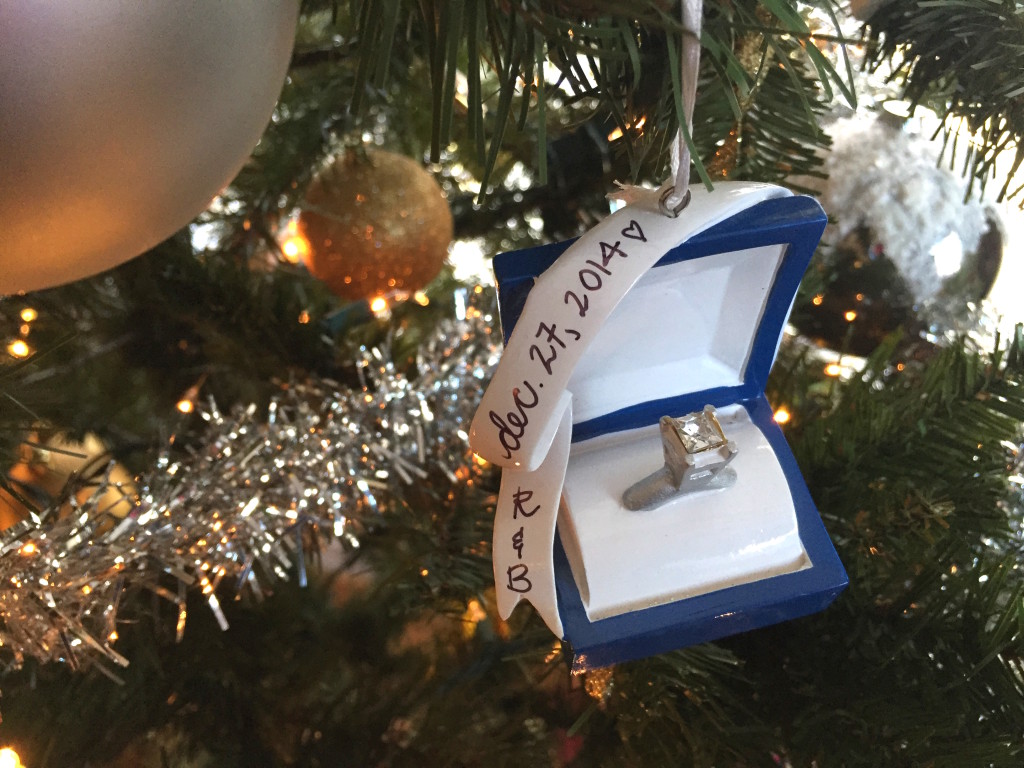 A few days after we got engaged on Riley's birthday last year, we went to downtown Annapolis with my friend and her then-boyfriend (now husband!). We walked around and window shopped, but when I saw an ornament store, I had to go in and see if I could find something to commemorate our Christmastime engagement! Sure enough, I found this gem (on sale, no less)…so I brought it home and personalized it!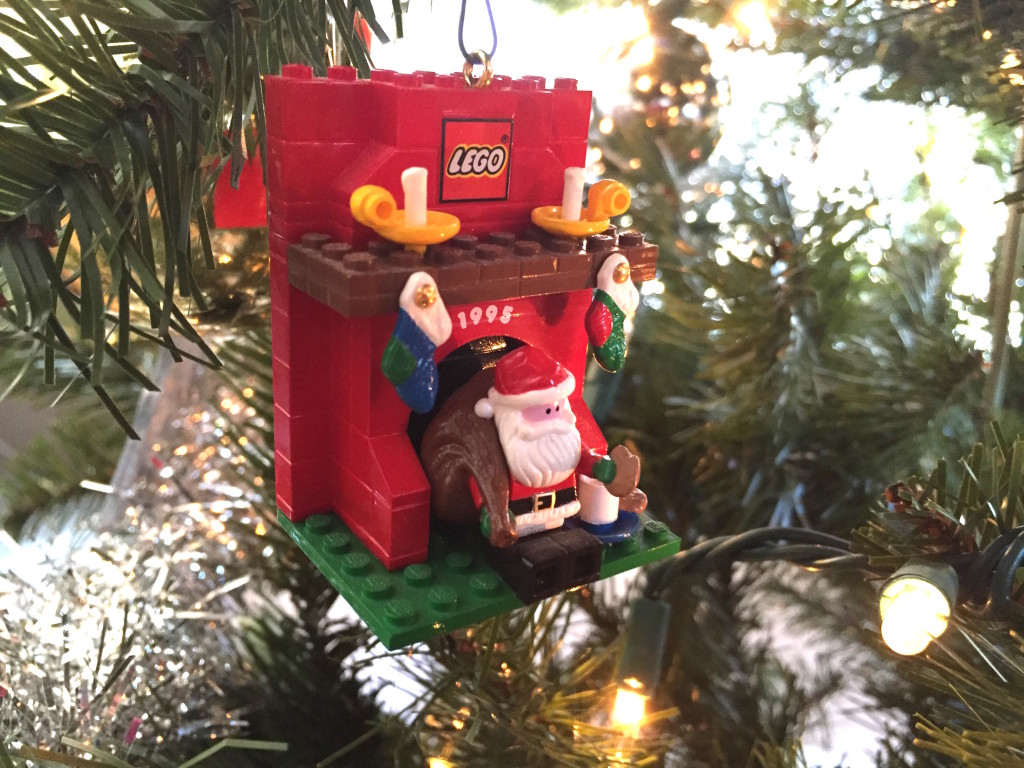 This is one of Riley's childhood ornaments, and it is oh-so cute. What little boy doesn't love LEGOs? It's a legitimate ornament, not his own creation (though I'm sure he would argue that he could've built it! 😉 ).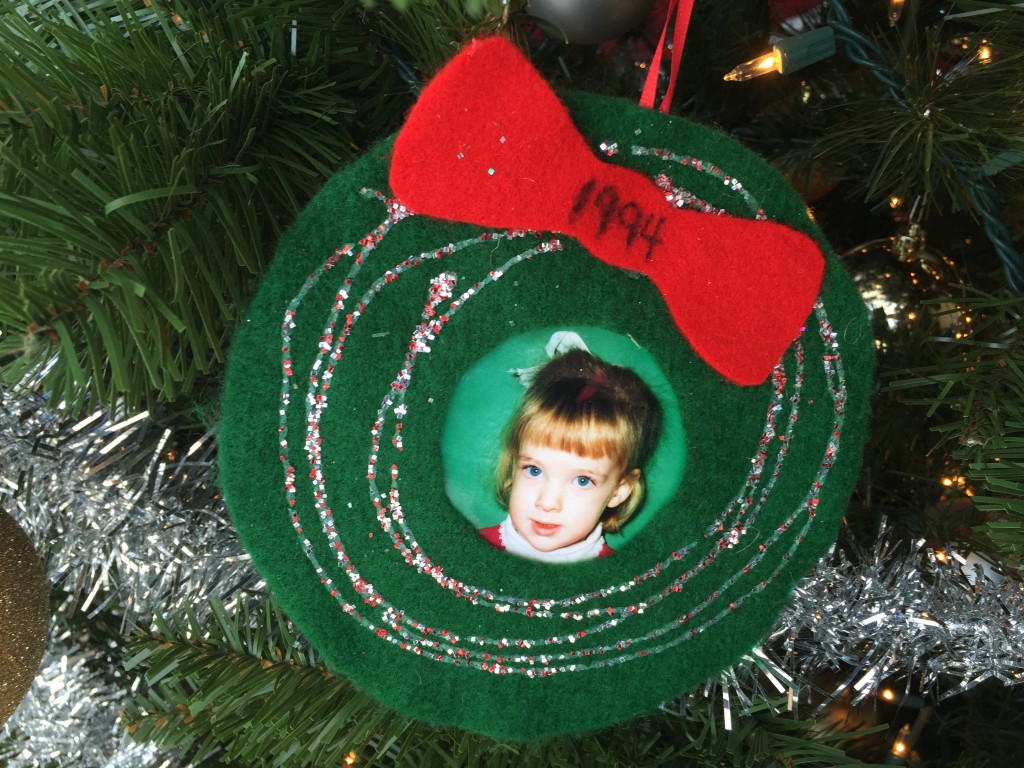 And this is one of my special creations that I made as a little girl! Kid ornaments are so darn cute!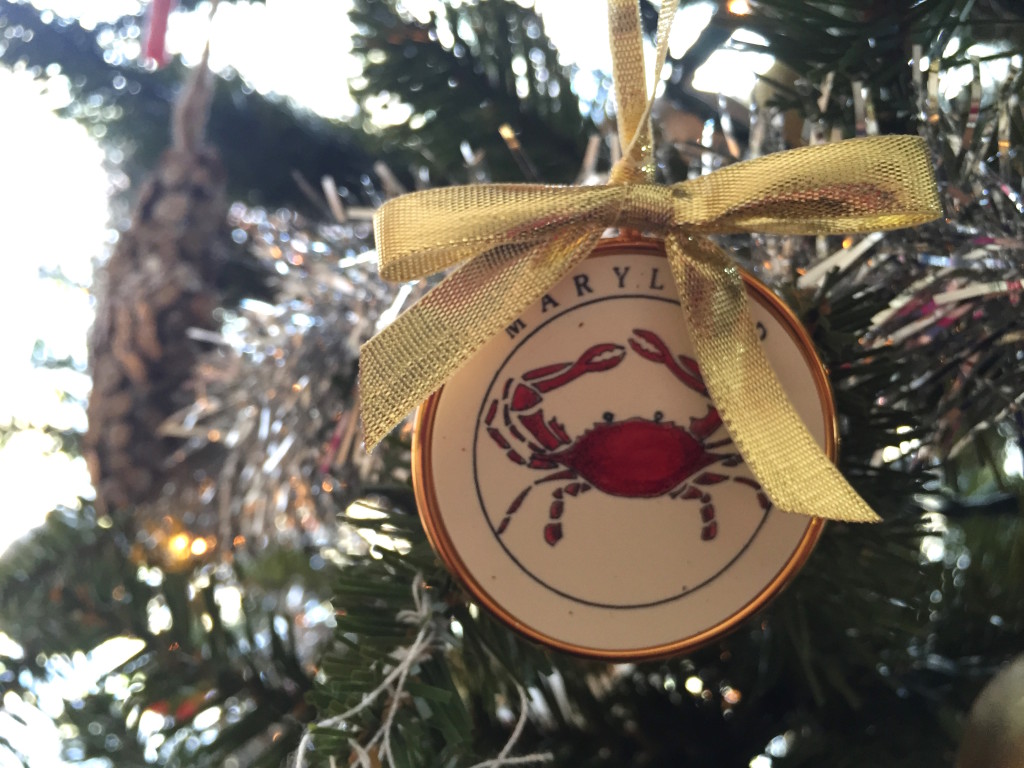 I grew up in Maryland, so this sweet ornament is a festive reminder of my roots! This is one that I remember seeing on my tree as a child, and one that I always really liked. Because of this, I was super excited when my mom passed it down to me last Christmas for my own tree!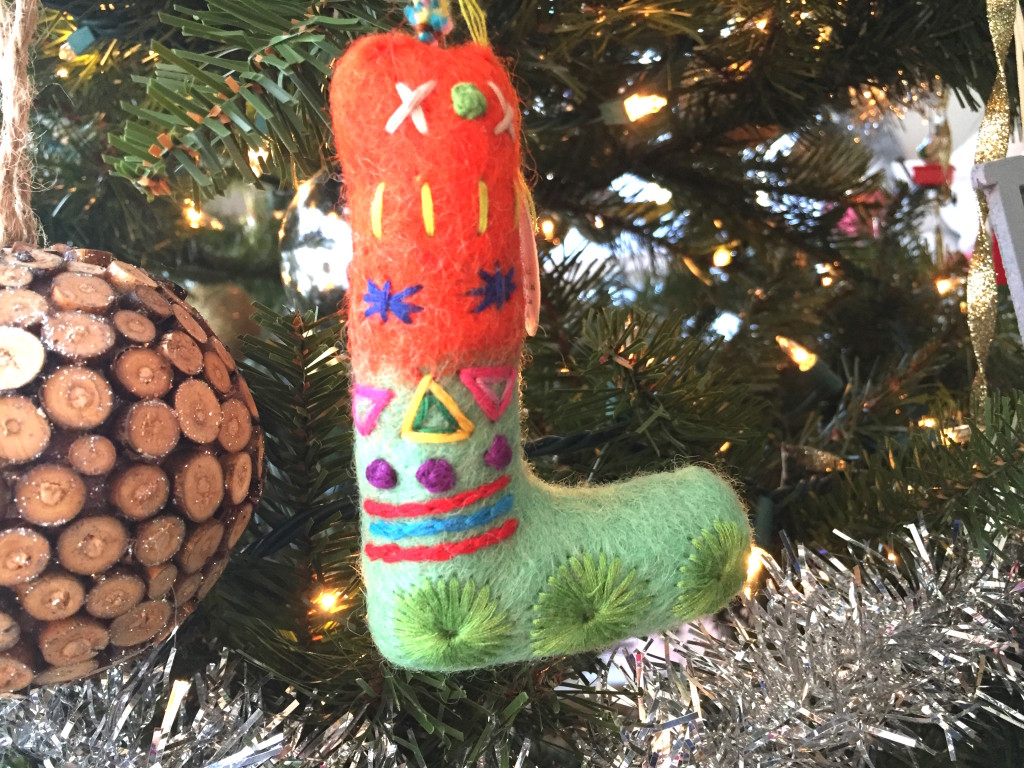 This whimsical "L" was gifted to me on the night we got engaged! It was the very first thing I ever received with the letter of my new last name on it, and I cherish it for that!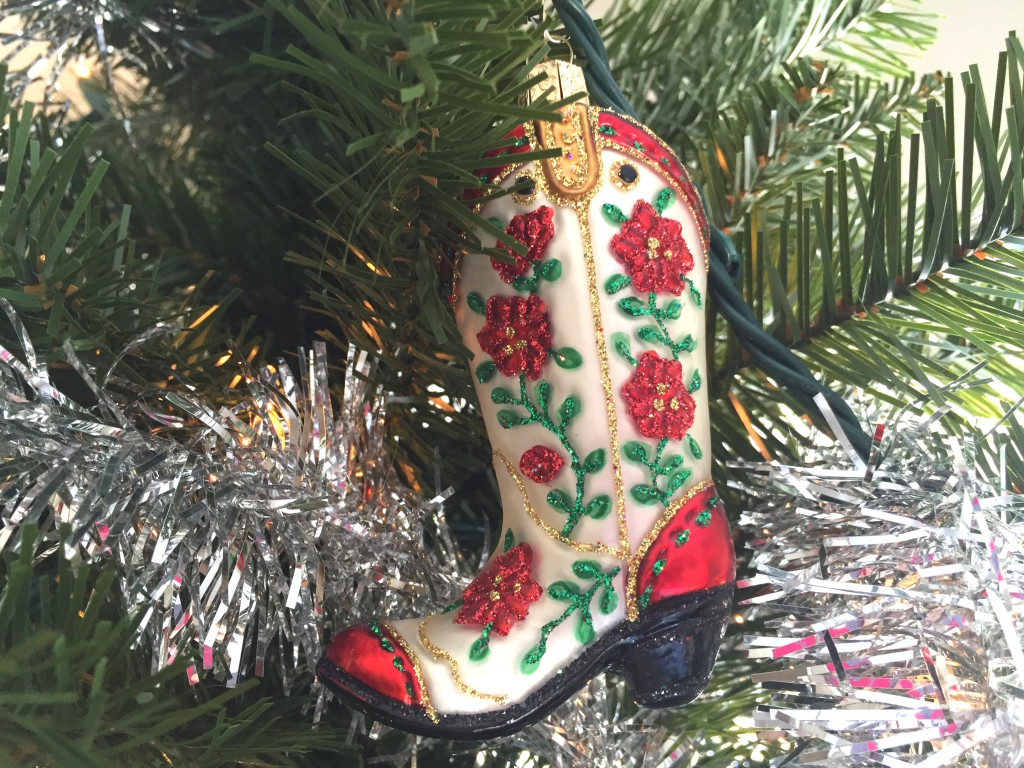 Finally, a cowboy boot, which was a gift from my aunt/godmother! She gave it to me just after I moved to Texas, and I love it. The perfect decoration for a Texas Christmas tree!
There's our ornament tour! I hope you enjoyed it! 🙂
// What's your favorite Christmas ornament? Do any of your ornaments have a back story?