If you want a better picture of how my entire day flows (well, 2/3 of it), read My Morning Routine post first. You can expect My Evening Routine post next. Let's dive right in!
1:00pm | Break For Lunch
I left off on my last post at 12:50pm, when I prepare lunch. I do it at this same time every day for a couple of reasons: 1) because I like to eat at predictable times, and 2) because I like to watch The Middle from 1-2:00pm, when it comes on ABC Family (which is apparently being renamed "Freeform?" What?). I think it's so important to take a true break from work in the middle of the day. Even though I work from home, and most days don't feel like work at all because I'm doing exactly what I want to be doing, I still need a mental break.
I started watching The Middle after we got married when I started working from home and I wanted a light-hearted show to enjoy while I ate lunch, which tended to fall around 1:00pm. With The Middle coming on every day at 1:00pm, it was the perfect choice. It's just a goofy sitcom, but it reminds me of a modern-day Full House, which is a show that I adored as a kid (and still love even now!). So, I watch two episodes every day from 1-2:00pm.
For lunch, I usually eat peanut butter and jelly. I'm not kidding. I LOVE peanut butter and jelly (always have), and it's filling and easy to throw together with a cut up apple, a yogurt, and some chips or pretzels. My old co-workers used to make fun of me for always having "kid lunches," you know with a sandwich, a yogurt, fruit, a drink, and a treat (like a piece of chocolate)? I guess I don't know how else to make a lunch–this is what I've always done! And I like it and it always sounds good to me! 🙂 (Sometimes I do eat dinner leftovers for lunch!)
Though I have a highly flexible schedule and could easily mix up my lunch routine, I am a firm believer in simplifying through repetition. If every day, at 12:50pm, I make PB&J, cut up an apple (or carrots), grab a handful of chips, a yogurt, and a piece of chocolate, and take a La Croix out of the fridge–then sit on the couch with Charley and turn my TV to channel 244, there's no guesswork. No stress. No wasted time. And that's how I feel about that.
2:00pm | Clean Up Lunch & Get Stuff Done
Because lunch is so simple, it takes me all of three minutes to clean up. Then, I usually refresh my cup (which is almost always a Tervis tumbler) with iced tea, water, or sparkling water for the afternoon.
By this point, the blog post that I started in the morning should be nearly finished, if not complete. Because I know that I can wrap up my post later in the afternoon (typically in under 30 minutes), I usually take an hour or two at this time of day to do one thing–like grocery shopping, or cleaning our bathroom, or laundry. Sometimes I'll call a friend who I haven't spoken with and we'll catch up (usually on a headset while I clean). Sometimes, I'll head to the post office to mail a package (one of my most favorite "things!"). There are even times where my thing to do is on the computer, like yesterday, when I ordered our wedding album during this time (heart eyes!). On Mondays, I predictably meal plan for the week ahead, and then go to the grocery store to buy food.
I say "do one thing" even though I usually do more than that because I try not to overload myself with massive to-do lists that are overwhelming and unrealistic. Instead, I identify one thing (or a few, depending on the complexity of the tasks) that I can realistically do during this time that will help to keep our home and lives running smoothly.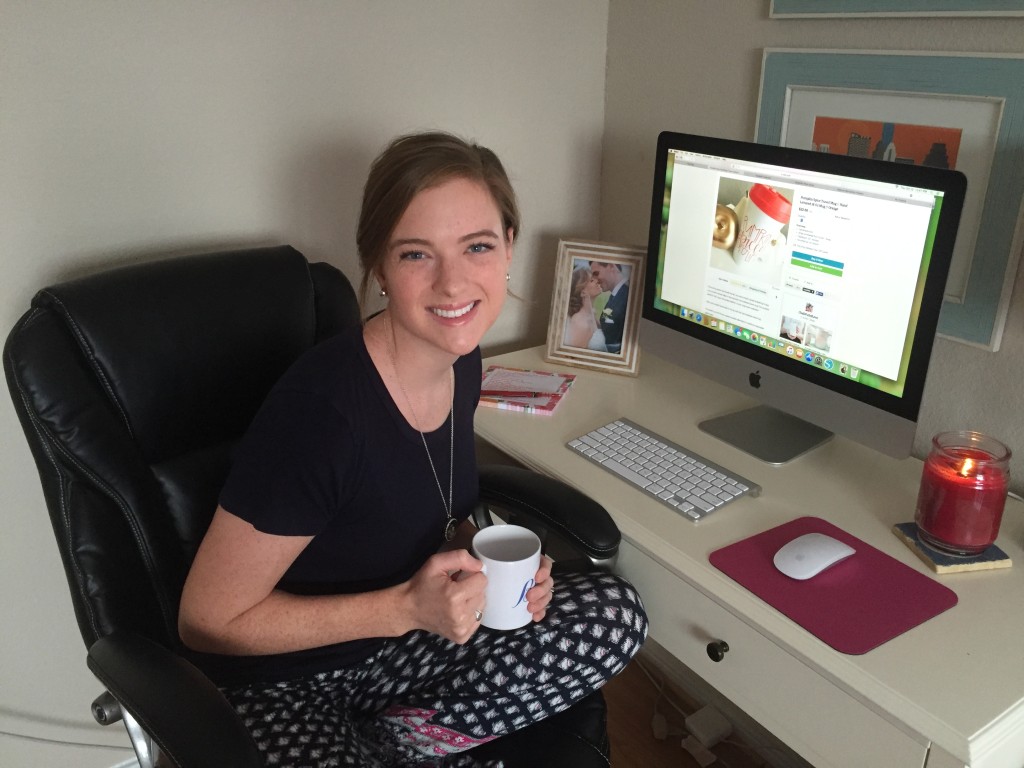 4:00pm | Wrap Up Blog Post & Surf The Web
Around 4:00pm, I get back in my desk chair and finish up my blog post for the day. As I said, this usually takes no more than 30 minutes, unless it's a particularly complex or long post. Once it's finished, I proof it thoroughly and then set it to publish at 8:00am the next day (working on getting posts stacked further out). For a detailed description of my writing process, read this post.
After that's set, I spend about an hour surfing the web, reading blogs, looking up how to code my site, watching YouTube videos on iPhone photo editing, etc. I consider this hour to be my continued education/inspiration time of the day. (If you're an aspiring blogger, you must make time for this!) I frequently look to blogs that are on the next level and take notes on what they're doing, both to learn and to get a feel for where the blogosphere is leaning.

5:00pm | Start Dinner & Cozy Our House Up
Riley gets off work at 5:30pm, which means he's usually home around 6:00 or 6:15pm. (His commute is just 20 minutes, but he frequently runs errands after work or stays late to finish up a few things.) He always calls me when he leaves, so I know when to expect him. The reason why I'm telling you this is because we typically eat between 6:30 and 7:00pm, so it really depends of the meal whether or not I start dinner at 5:00pm or later.
On a typical day, I'll pull out the ingredients at this time, and do simple things like set the table, shred cheese, or chop vegetables. (You know, all the little things that make cooking much faster.) I'f I'm making something time-consuming, like lasagna, or if I'm making something that can simmer for a long time, like soup, I'll start dinner now. Otherwise, like I said, I'll prep, and then do a few things around the house before Riley comes home. (Check out my latest Recipe Roundup post or #BlairBlogsCooks for more on dinner!)
I am obsessed with having a clean, happy space to live and work in, especially since I spend so much time at home these days. I like to create the same peaceful environment I enjoy for my husband when he comes home after a day at work, so I always spend a couple of minutes cozying our house up at this time. I light a few candles, fold the blankets on the couch, stack our mail neatly, put clothes away, pick up Charley's toys, and just generally try to make our home calm and cozy for the evening. (It generally looks like the photo below, except that we've gotten curtains since it was taken!) Sometimes, especially when I know he's having a particularly stressful or tiring week at work, I'll set out a drink and an appetizer (like cheese and crackers, veggies and dip, or chips and salsa) for him, so that he has something to munch on when he gets home while I finish dinner.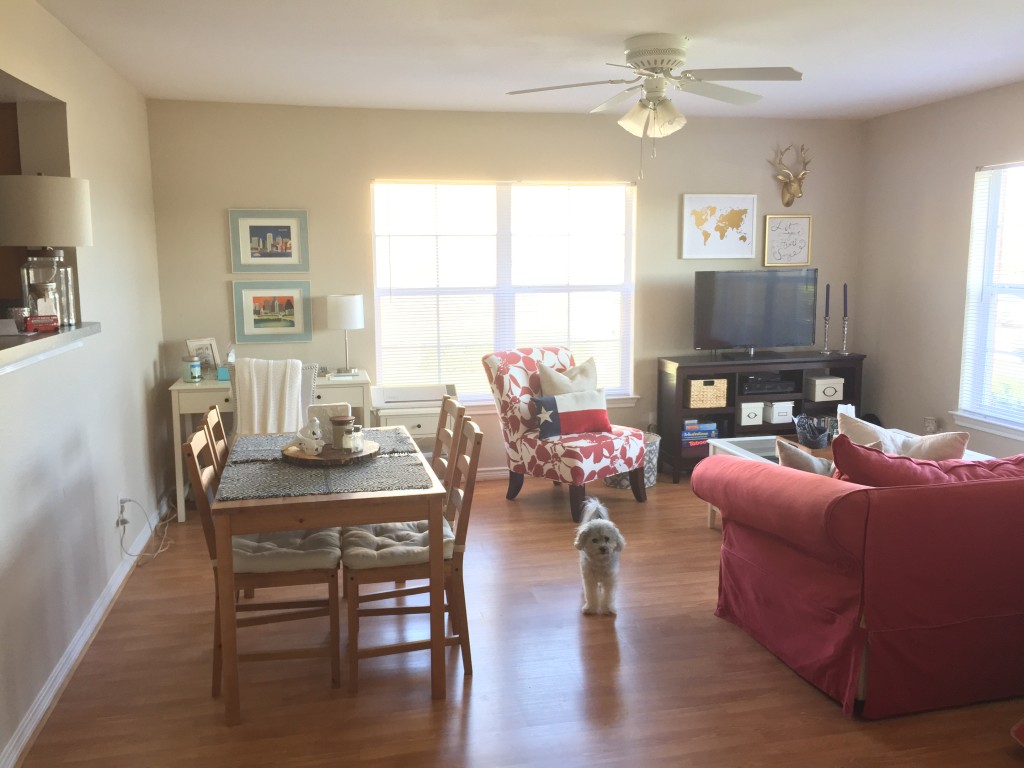 There's my afternoon routine! It's more varied than my morning routine, but still relatively predictable. My favorite part of the day is the evening, when Riley's home and we get to eat dinner and spend time together…that'll all be outlined in my next post!
So, what's your afternoon look like? 🙂