Do you love trying all kinds of different beauty products? I really, really do. I definitely have a few old favorites, but only just a few. I think it's really fun to try new products and see what I think! Here's my current beauty product lineup…definitely let me know if there's something I should try! I will link all products to Amazon as that is where I buy 90% of these items.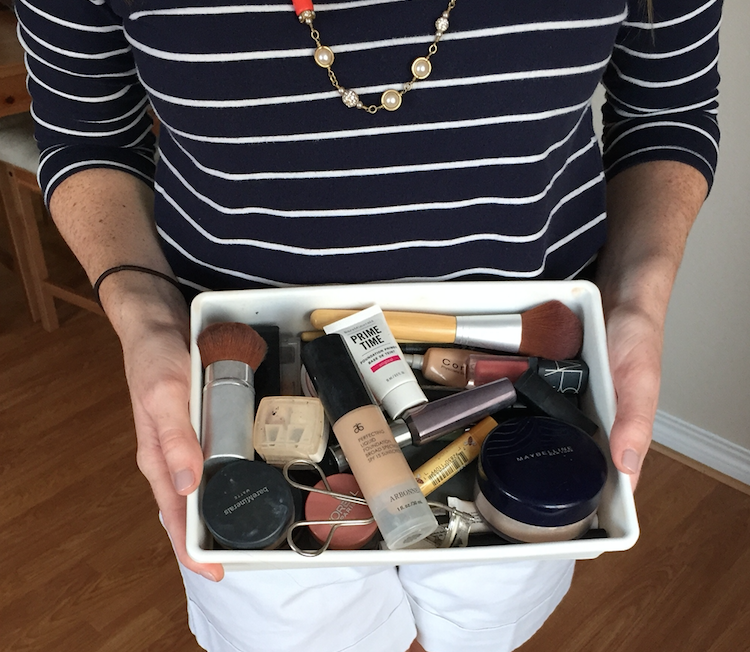 Face Washing Products
Clear skin has been a long, dedicated journey (read more about that here and here), but I'm finally to a point where my face is completely clear nearly all the time! #canigetanamen Here are the products (listed in the order that I use them) that have helped me get rid of that extremely obnoxious adult acne.
Neutrogena Cleansing Oil-Free Eye Makeup Remover–It's no wonder that this sits on the countertops of so many women. It works! It quickly dissolves my eye makeup. I put it on a cotton round and gently hold it over each eye before swiping the makeup off.
Burt's Bees Sensitive Skin Facial Wipes–I use these to remove my makeup before I wash my face at night. I switched to them after using Simple Face Wipes for months, and full disclosure, I don't like the Burt's Bees as much and will go back to Simple after this pack runs out! Burt's Bees wipes are great for sensitive skin though, and they don't irritate my face.
Acnefree Oil-Free Cleanser–This product definitely falls into the old favorite category. I've been using it for almost three years and I absolutely love it in every way. It is so effective, inexpensive, easy to find, and not too drying. I massage this cleanser into my skin using  this Vitagoods facial microdermabrasion brush (which I love!).
Neutrogena Acne Stress Control Toner–I like this toner for the way it clears up my blackheads and keeps my skin smooth and bump-free, but it is really, really strong and has an intense alcohol scent. I plan on trying Thayers Alcohol-free Rose Petal Witch Hazel Toner next, per the recommendation of several beauty bloggers I follow.
OZ Naturals Hyaluronic Acid Serum–I bought this serum to combat the way-way-way too premature forehead wrinkle I've been noticing. (I fully blame it on my constant facial expressions, #canthelpit.) This serum has made my skin really glowy and smooth, but that darn wrinkle is still galavanting right across my face. Anyone know of a great anti-wrinkle cream or serum?
Onexton–This is a prescription-only acne cream that I got from my dermatologist. I started on Ziana, which cleared my face beautifully, but made my skin very oily. I switched to Onexton, and now I have clear, balanced skin! I really like this cream. I only use it along my jawline and chin, on my nose, and on my forehead…and just a thin layer!
Cerave PM Facial Moisturizer–Though this product is meant for nighttime use in particular, I use it in the morning as well. (It does have an AM counterpart, but I hate it because it smells and feels like sunscreen–yuck!) This is definitely an old favorite. It is intensely moisturizing without being oily or heavy and is very well absorbed by my skin. Plus, it's non-comedogenic and was recommended to me by my dermatologist, so it's great if you're trying to achieve clear skin.
Shower Products
Recently, I have started a love affair with hot, hot showers. I mean, I've always enjoyed feeling clean, but with my busy schedule of yesteryear, my showers were extremely utilitarian and brief. Not super relaxing or particularly special. Now that I work from home, I have the time to take a nice long (usually 15 minute) shower every other day. And since I'm not pressed for time, I can actually relax under the stream of hot water instead of running through my to-do list over and over. Here are the products that I'm currently using…in the order that I use them!
Bamboo Shampoo and Conditioner–After getting a pre-wedding keratin treatment done on my hair, I asked my stylist for a good shampoo and conditioner recommendation that would help maintain the treatment as long as possible. Without hesitation, she recommended Bamboo, and I've been hooked ever since. It smells awesome, but more importantly, my hair has never felt so smooth and manageable. I love it! I will buy this set again and again.
Fekkai Prx Reparatives Mask–This is a deep conditioning mask that I use about once a week, and it is easily the best smelling product I have ever come across. It smells like delicious vanilla and I never use it without Riley commenting on how great my hair smells! Beyond the incredible scent, it's very effective. It keeps my fine-but-lots-of-it unruly hair in check and helps repair the damage from blow drying and using my flat iron and curling iron.
Dove Body Wash–Definitely a old favorite, Dove body wash has been gracing my shower shelves for over four years. I love it because it doesn't dry out my super dry skin and all of the different scents smell great. For a products-jumper like me, getting a different scent every time I buy a bottle but knowing that the product and quality are the same is ideal. My go-to scent is the cucumber, but I like the citrus and floral scents, especially in the summertime. (This stuff is so moisturizing that I use it to shave my legs and armpits…no shaving cream necessary!)
Aveeno Skin Relief 24 Hour Moisturizing Lotion–After I'm finished showering I quickly dry off, throw my hair up in a Turbie Twist (details below), and then apply this lotion over my entire body. My skin is so, so extremely dry that I have to do this all year long! I hate the feeling of lotion on my skin, so I always apply it right out of the shower; I find that this helps with quick absorption and I never feel sticky. This lotion in particular is awesome because it really does keep my skin soft and moisturized for days at a time. (I especially love it because it's gotten rid of those pesky bumps on my upper arms!)
Makeup
BareMinerals Prime Time Primer–This is a great, lightweight primer that I absolutely love. I use it both on days when I use liquid foundation and on days when I use powder foundation. It makes my skin feel perfectly smooth and flawless, and my makeup lasts much longer when I use it!
Physicians Formula Conceal RX–I love this concealer because it is thick but also blendable. It truly conceals whatever needs concealing without looking stark or chalky. I've used this for a few years and will continue to buy it!
Powder Foundation Days
A girl's gotta have options, right? That's why I have a set of powder foundation/bronzer/blush and a set of liquid ones. I use whichever set I'm feeling that day! Lately, I've been all about the liquid for a fresh, dewy, glowy look!
BareMinerals Matte Foundation–An old favorite, I have had a package of this powder in "Fairly Light" in my makeup drawer for years. Many of you have probably used (and loved) BareMinerals, and I am no exception. It gives an even (though not full) coverage that looks and feels light and natural.
BareMinerals All Over Face Color–This is a subtle bronzer that lives up to the shade color I have it in, "Warmth." After a light dusting of this on all the places my face would naturally get sun (my forehead, cheeks, and nose), my face looks warmer and healthier…like I've been outside getting my vitamin D!
Physicians Formula Powder Palette Blush–I have used this blush in "Blushing Rose" for years. I love the way its color mimics my naturally rosy cheeks–it's not too brown or orange for this freckled girl!
Liquid Foundation Days
As I said, I switch between powder and liquid foundation based on my mood. (Also based on my skin–if it's feeling dry, I usually go for liquid!) The following two products are my liquid go-tos.
Arbonne Perfecting Liquid Foundation–I bought this product despite its price based on Kate's recommendation from The Small Things Blog. She and I have a similar fair skin tone with pink undertones, so when she started raving about this foundation in "Soft Blush," I was eager to try it. It is without a doubt the best foundation that I have ever used, liquid or otherwise. It gives a beautiful full, even coverage without looking caked-on. My skin never looks better than when I use this foundation. I love love love it and will continue to buy it. (As far as the steep off-putting price, the formula is highly pigmented, so I only have to use a tiny amount each time, meaning it lasts for months.)
L'Oreal Paris Magic Smooth Souffle Blush–I have this in "Cherubic Rose," and I love it. It's soft (both visually and literally), it's buildable, blendable, and it lasts all day. There is definitely a learning curve to applying it because it has such a unique souffle-like texture, but once you figure out the best way to apply it for you, you'll fall in love. (I use my ring finger and pounce a bit of the blush on the apples of my cheeks and then use my pointer and middle fingers to blend it around and upwards.)
Eye Makeup
Smashbox Limitless Eye Liner–I use the darkest black, "Onyx," and apply a thin line on both my upper and lower lashes lines before I smudge/blend it for a slightly softer look. (Some days, when I'm wearing minimal makeup and am going for a natural look, I just apply it to my upper lash line.) I've used this for almost six years and love it because it lasts all day and looks really soft and pretty!
Almay Intense I-Color Bold Nudes For Blue Eyes–This is a super blendable, super easy-to-apply, super pretty eye palette. (The shadow is literally shaped like your eyelid with the different colors in the correct places–doesn't get simpler than that!) I love it and have used it for years. This particular palette was created for blue eyes specifically, but Almay also has one for green eyes, brown eyes, and hazel eyes. Once this palette runs out, I can't wait to try Urban Decay's Naked 2 eyeshadow palette–so, so pretty!
Benefit Cosmetics They're Real! Mascara–I bought this mascara after about 403 people recommended it. It definitely works well, but it's not my favorite mascara for a couple of reasons. First of all, I have to use makeup remover to get it off. No amount of soap and water removes it. Secondly, it doesn't go on super smoothly, so when I layer it, there are always clumps that I have to pick off. I fell in love with Eyeko Black Magic Mascara last year, but I can't find it on Amazon anymore, which is where I originally purchased it from. I'll keep looking!
Benefit Cosmetics Eye Bright Pencil–I absolutely adore this highlighter stick. It's a milky creamy whitish pink color, and it is perfect for the inner and outer corners of my eyes and my lower eyelid line. No matter how tired I am, this little stick rescues my eyes from looking tired and droopy! This is perfect for fair-skinned girls like me! In fact, it's the stick that Carmindee always uses on light-skinned, light-haired girls on What Not To Wear to make their eyes pop.
Maybelline Brow Drama–Eyebrows are all the rage these days! To keep mine "on fleek," I use this sculpting brow gel in "Soft Brown." It has a mascara-like brush for application, making it fast and easy to glide it on. I love it because it lasts all day and never smears or flakes off!
Setting Powder
Maybelline Shine Free Oil Control Loose Powder–I used to spend big bucks on BareMineral's Mineral Veil, but I always felt like a fool for spending $20 on what is basically glorified corn starch. I set out to find a cheaper setting powder and found this Maybelline version, which is much larger and much, much cheaper (less than $4), but just as effective. (Maybe even more effective since I feel like I can use the proper instead of feeling like I'm throwing my money away!)
Lips
Burt's Bees Natural Beeswax Lip Balm–I have always put chapstick under my lip gloss, mostly because my lips are so, so dry! They drink up the moisture so that my lip gloss actually stays looking fresh instead of sinking into my desert-like lips and getting weird and crusty. I love Burt's Bees because it's minty and fresh!
NARS Lip Gloss–Though the name of my favorite shade ("Orgasm"), is uhh–a little edgy, this is the perfect, perfect gloss. I love the color and frequently get compliments on it. It looks pretty and natural but it's also clear that I've put something on my lips when I wear it! You know what they say…mascara and lipstick, they make or break your look! (Do they say that? Or is that just me? "Mascara and lipstick, they make or break your look." -Blair Blogs) 😉
Perfume
Flowerbomb by Viktor & Rolf for Women–This is my oldest and most favorite favorite. I LOVE Flowerbomb. I love the way it smells, I love the way it makes me feel, I love they way that this scent has been with me for over ten years. I wore it when I graduated college, got engaged, and got married. I adore it! It's my signature scent for life.
Hair Styling
Hair is everything, isn't it? You can have the most perfectly made-up face, but if your hair is a hot mess, you'll look unfinished! I have had a love-hate relationship with my hair forever, but in the past year, I've decided to just love it. Here's what I use to make loving it easier!
Turbie Twist–When I get out of the shower, I squeeze the excess water out of my hair and then twist it up in my Turbie Twist. I keep it fastened up while I get dressed, make and eat breakfast, and do my makeup. Doing this has cut at least 10-15 minutes out of my drying and styling time because my hair is the perfect combination of wet and dry by the time I go to blow dry it. (It has the same amount of moisture as when I used to spray water on my dry hair to dampen it for styling as a kid…just wet enough for it to respond to the blow dryer, but dry enough that blow drying is fast!)
It's a 10 Miracle Leave-In Product–I love It's a 10! I spray it into my hands, and then apply a thin layer to the hair around my face (it's super curly), and my ends (they get very dry). It smells delicious and makes my hair so much more manageable!
Flat Iron Express–I usually stay away from big brand hair care products as I have found them to be largely ineffective (#hairsnob), but I picked up a bottle of Flat Iron Express at Target a couple of months ago and absolutely fell in love. I only apply it from the middle of my hair through the ends (I don't like my roots to have product on them), but it really does what it says. It keeps my hair silky and manageable, and helps my hair stay straight when I flat iron it and curled when I curl it! (Such a rebel using Flat Iron Express with a curling iron! 😉 ) Its price makes it even more appealing!
Below are a couple of photos of what my hair and makeup look like once I've done them! 🙂 (They're just iPhone pics, nothing fancy…but they're REAL!)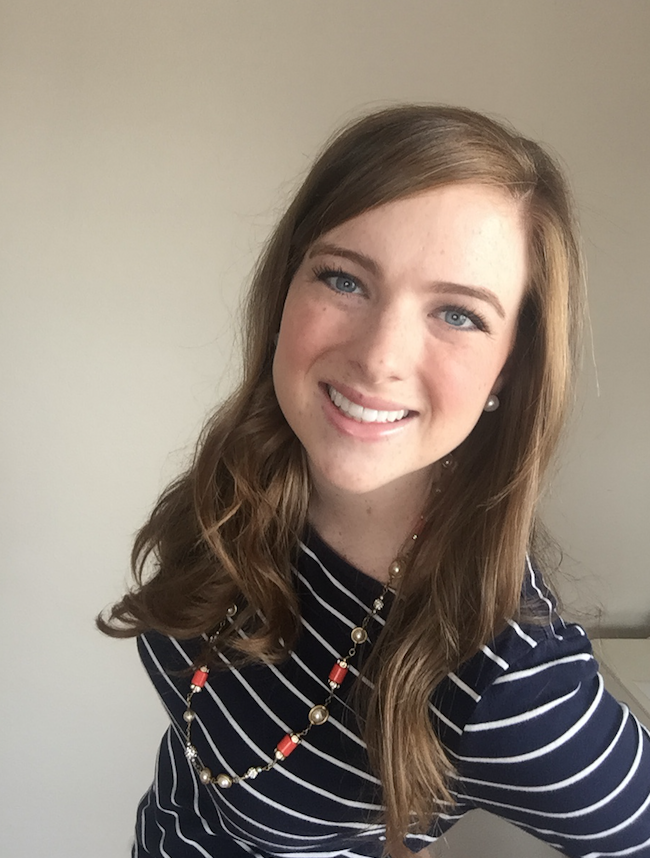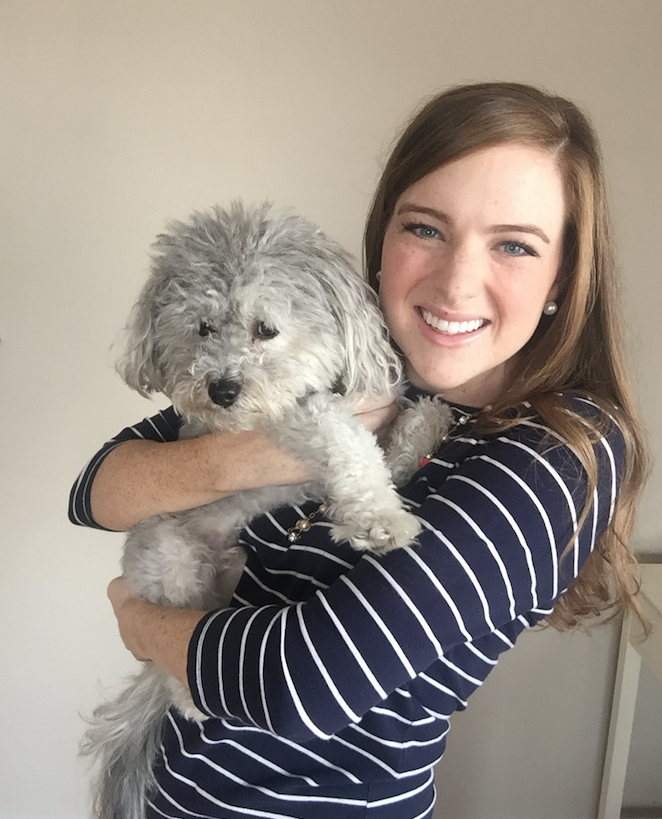 …clearly Charley Bear had to make an appearance! His "look" is just slightly less complicated than mine. 😉 Thanks for reading, friends! Are there any products that I have to try? Let me know!