Today it's all about me and Riley! *diva dancing emoji* Let's talk bride and groom wedding day looks! It took me over five hours to compile all of these photos and write about each detail, but it is something that I'm so glad to document! I'm sure it will be fun to look back on this in the years to come.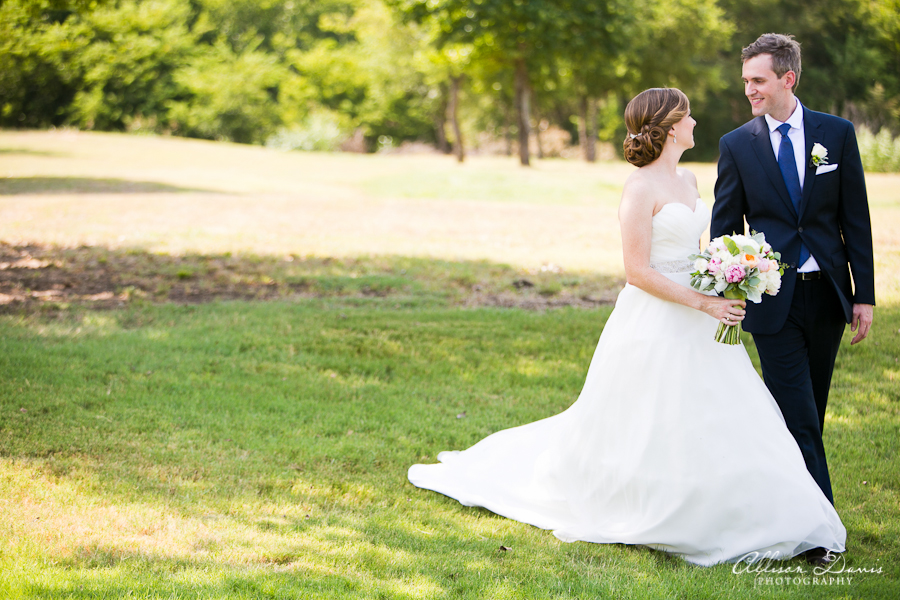 My Bridal Look
Pulling together my wedding day look was one of my favorite parts of planning our big day. It's what little girls dream about for a reason! It's feminine and beautiful and I really did feel like a princess.
My Dress
My dress wasn't what I thought I wanted at all! I thought I wanted lace with sleeves or straps of some kind (there are roughly 43 pinned on my wedding Pinterest board here), but every lace dress I tried on was just wrong! They just felt really country to me, and even though I love barn/country weddings, we weren't having one. So instead of using Pinterest as an inspiration for my dress, I decided to use my loves as the inspiration. I love clean, I love simple, I love light, I love classic. I told my dress consultant that I wanted to try on something that was exactly those things: clean, simple, light, and classic. She brought out this beautiful dress, we added a belt, and I immediately knew it was the one.
Here are a couple of semi-awkward-but-very-excited photos after I decided on my dress! (Which was a very special occasion for many reasons, one being that I was with my mom, Riley's mom, and one of his sisters! Such a wonderful memory.) My dress, by the way, is a classic a-line with a sweetheart neckline, a ruched bodice, and a true circle (not pleated) satin skirt with an organza overlay and a chapel train.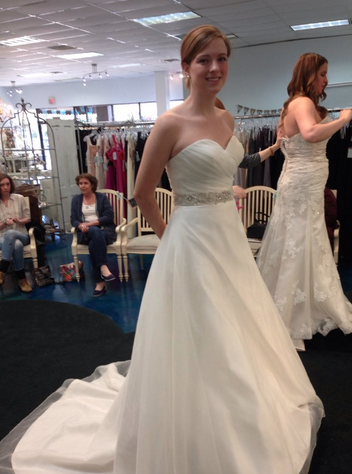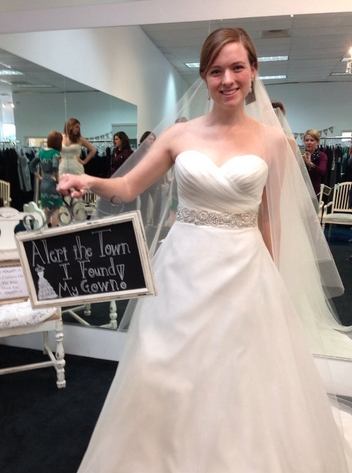 Sigh…I just absolutely love my wedding gown. It felt so perfect for our summer wedding, it had that classic wedding dress look I fell in love with, a little bling in the belt, and it just flowed and moved beautifully. Here are some photos of me in my most favorite dress of all time!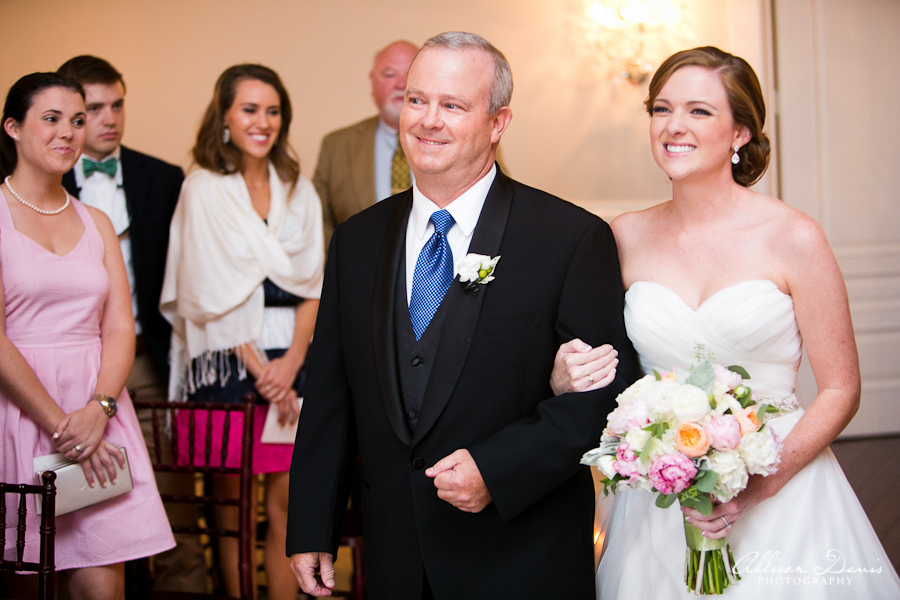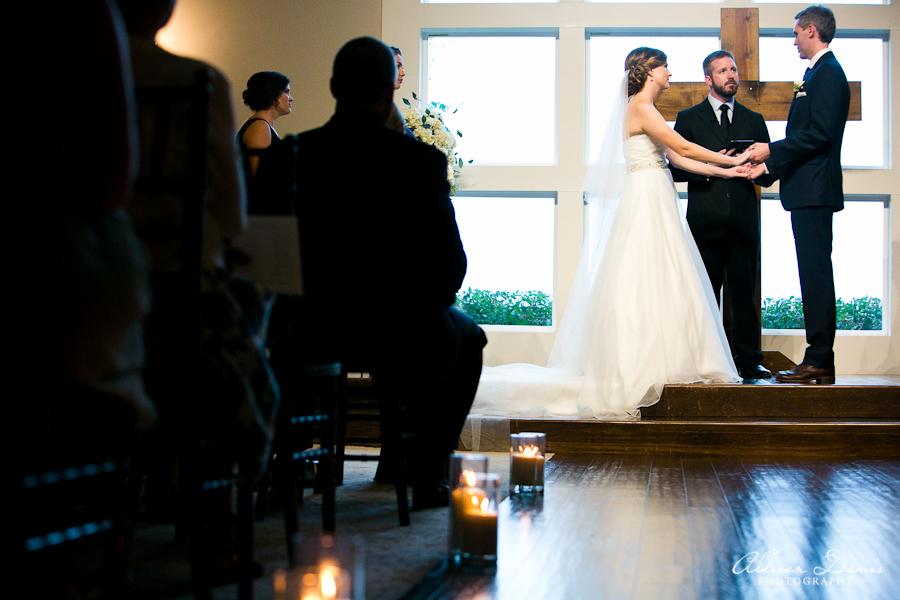 On the inside of my dress, I had a satin patch made with my new monogram and our wedding date in a light blue thread…it was my something blue! I ordered it from MondeDesign's Etsy shop. I love the personalized touch it gave my gown.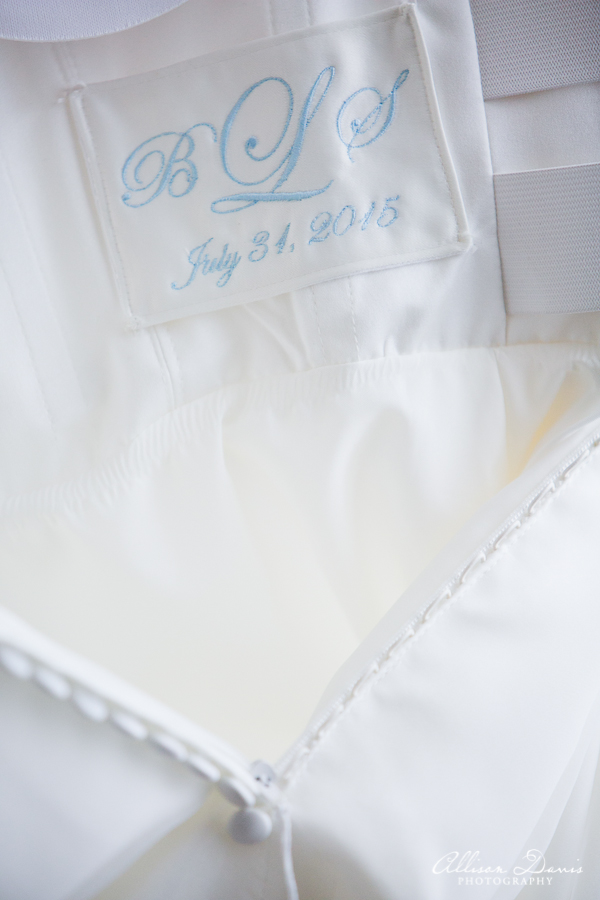 The belt on my dress was one that I picked out and had sewn in. I could have just tied it in the back but I didn't want a bow or a knot–again, I wanted it to look clean and simple. Here's a close-up of the belt I chose (after trying on several) in the bridal salon (it was not $10; belts are SO expensive! But really worth it for the waist definition and bling!).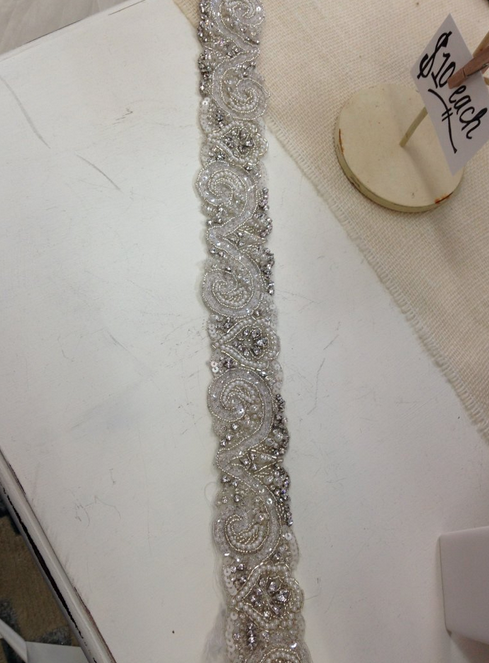 The back of my dress had quite a few buttons over the zipper, which I loved. Such a classic wedding dress detail! My mom spent a few minutes helping me fasten them. (I know, I know, you're supposed to use a crochet hook. I forgot one!!)
I decided to do a first look with both my bridesmaids and Riley. This meant that all of my bridemaids left the room while I got into my dress and put on my earrings and shoes. I wanted those few moments of getting dressed to be with just my mom. I'm so thankful for that ten minute period of time because it was silent and calm, and it allowed me to soak in the moment in a big way.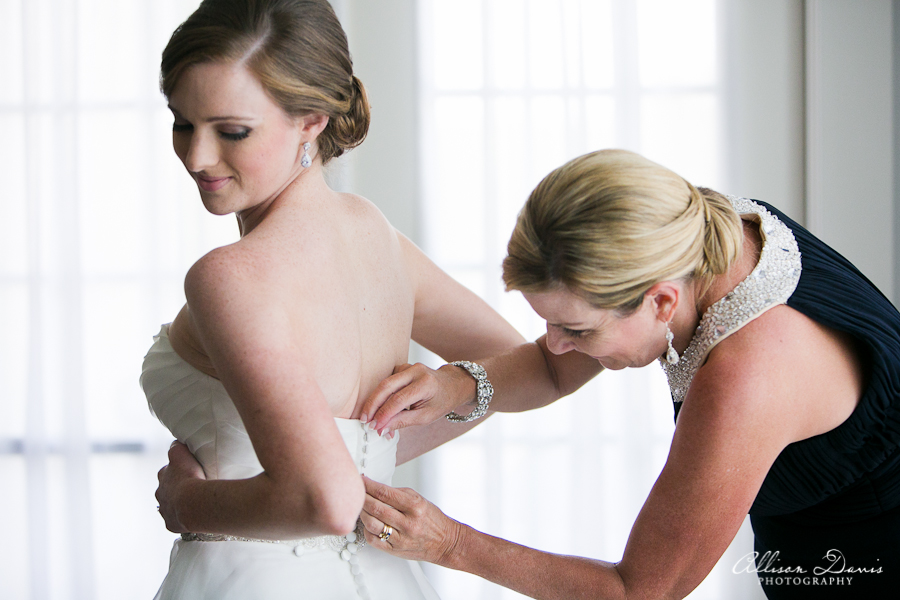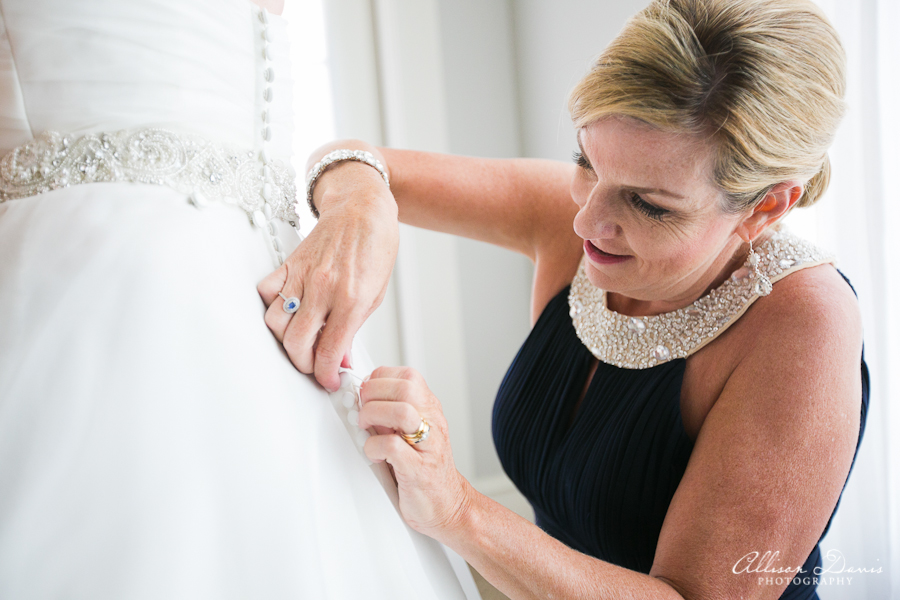 My Earrings
The only jewelry I wore was my engagement ring (obviously), a pearl ring that my dad gave to my mom when they were dating on my right hand (my something old), and my earrings. I didn't want a necklace or any bracelets–I wanted my dress to shine in its beautiful simplicity.
My earrings were ordered here from Poetry Jewelry's shop on Etsy. I loved them so much! Classy, but blingy! Here's the best shot I have of me wearing them. I laughed all day on my wedding day! It was just so much fun! 🙂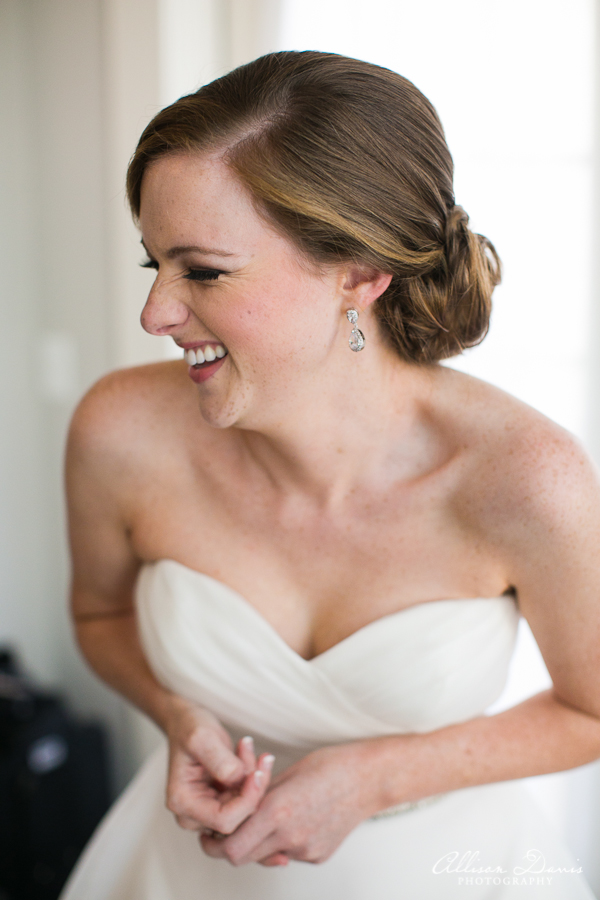 My mom helped me put them on after my dress was all buttoned up. Below are two photos of the exact moment that it "hit me;" this is when I really, truly felt like a bride. What a special moment to share with my mama.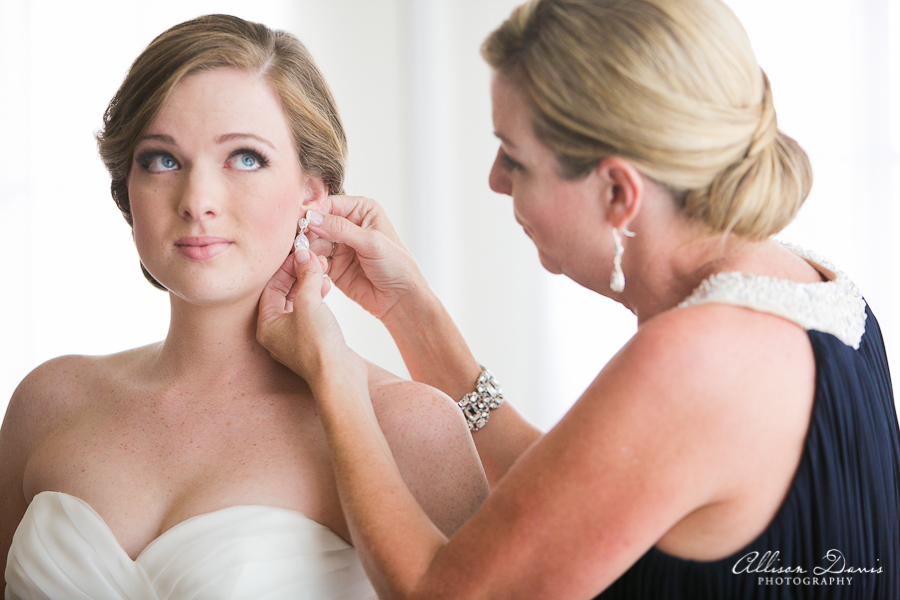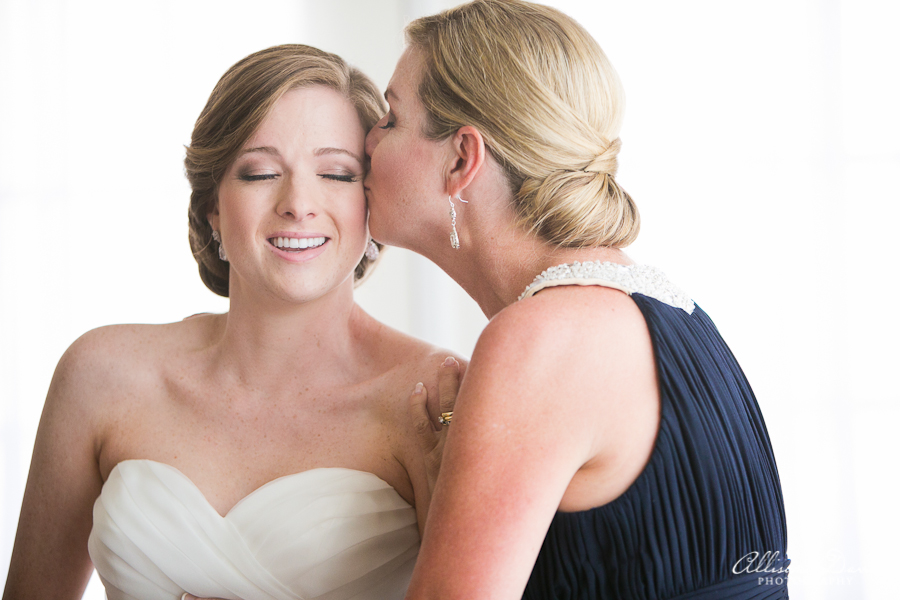 My Shoes
I got married on the last day of July. That (in my mind, at least) meant my shoes had to allow my feet to breathe because otherwise my insanely sensitive feet would be covered in blisters for the entire day of our wedding and our entire honeymoon. (Even my foot skin is so so sensitive, it's actually really annoying!)
I also didn't want to wear heels. I'm already happily 5'6″/5'7″ (depending on the time of day, I have scoliosis! 😛 ), and I don't wish I were taller or like wearing heels for the height factor. (I do love wearing heels for the cute factor, though!) My dress was full length so no one would see my shoes, so I chose a pair of pretty bridal-looking sandals with a tiny one inch wedge heel. They were SO comfortable, cute, and perfect for my summer wedding. I got them at DSW for about $45.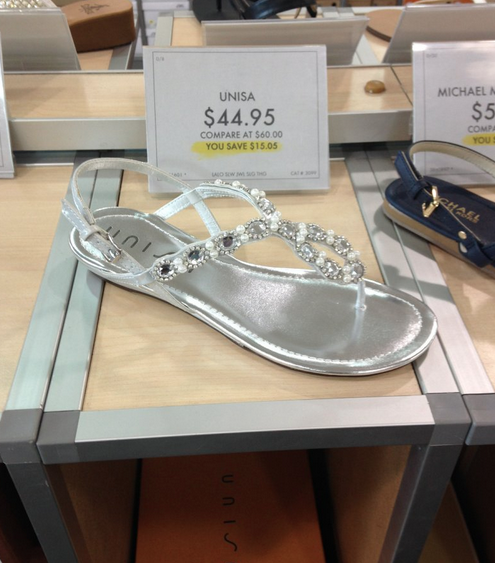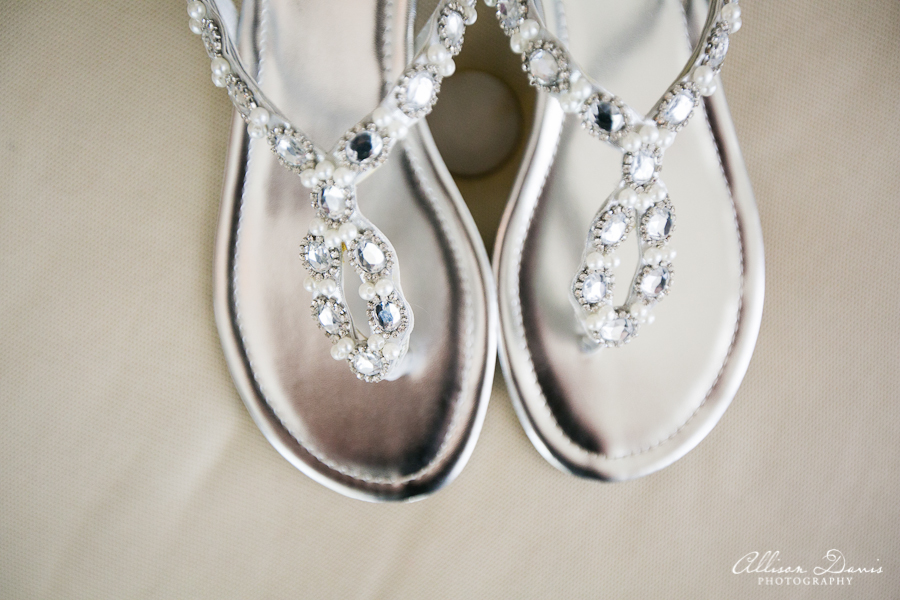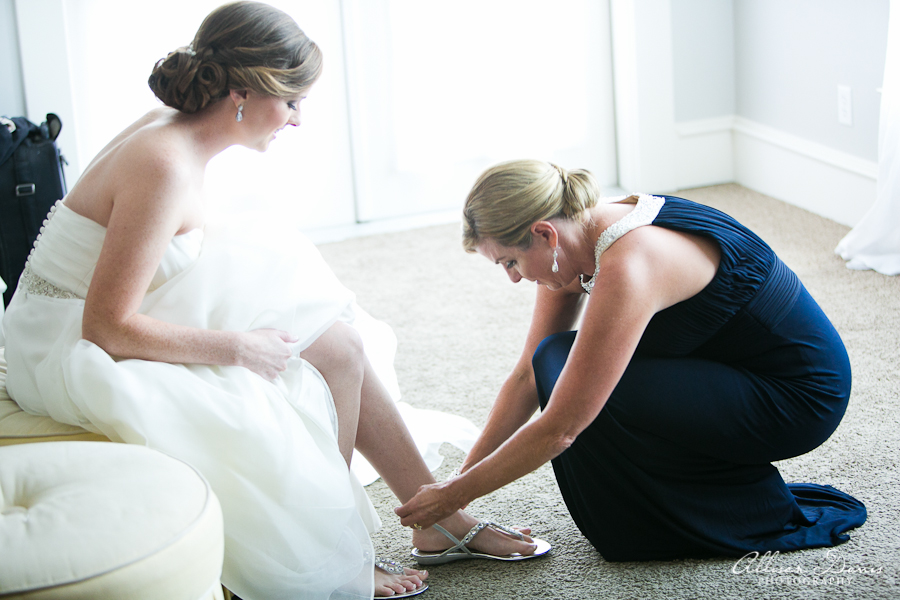 This is the only photo (below) of the day where you can actually see my shoes! I kind of love it because they're just so me…and they were perfect for the weather, season, and my dress!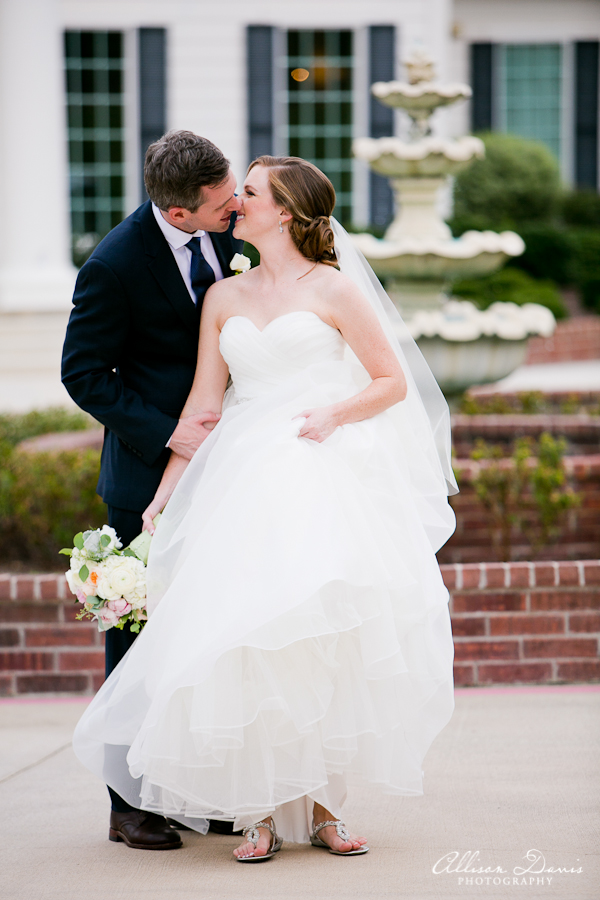 My Hair and Makeup
As I said in my bridesmaids post, my hair and makeup were done by the fabulous Angie Williams. I found her online and was instantly impressed with both her work and the hundreds of five star reviews she had on multiple sites! For my hair inspiration, I looked through her site and printed out a few photos of brides she's done in the past. When I did my trial run (photos below), she adapted the look I wanted to my face shape and hair type/length. I was obsessed with my hair! I gave her creative freedom with my makeup. I only asked that it was classic and soft (no weird metallics or colors). Here are photos from my hair and makeup trial back in March…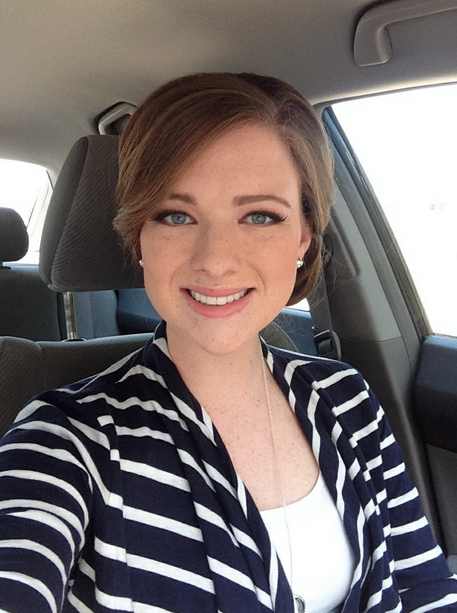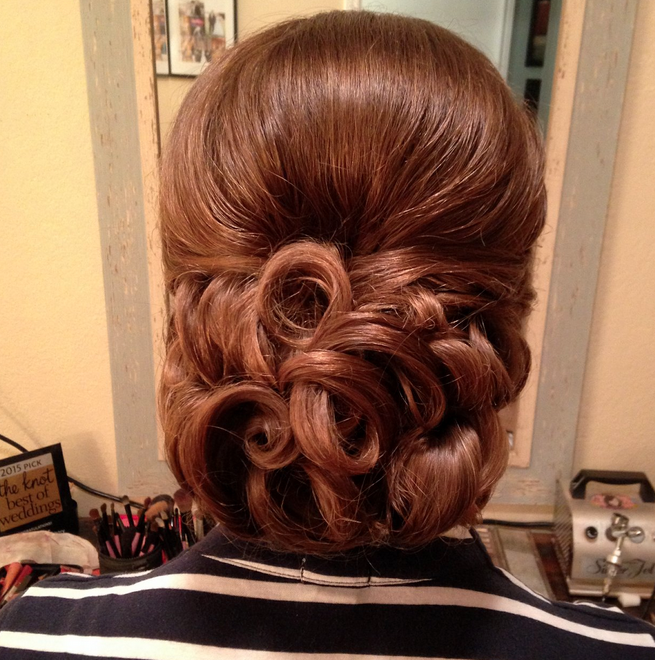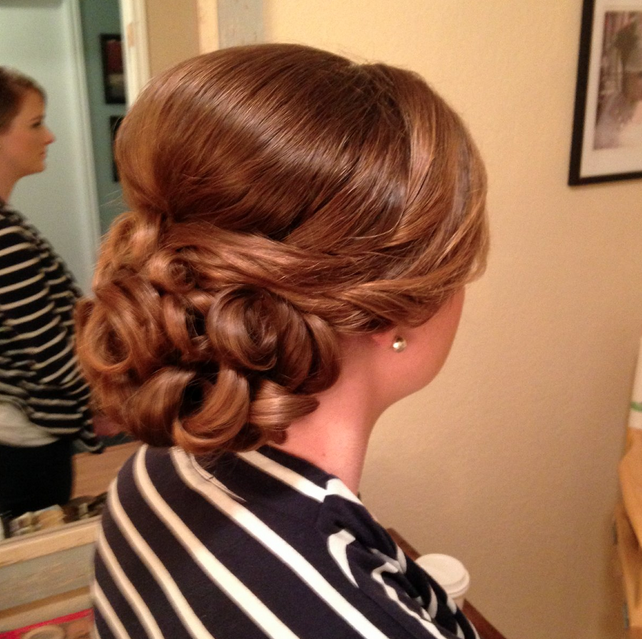 On my wedding day, I added a pearl and rhinestone hair comb for some interest along with a swoon-worthy cathedral length veil (with a blusher). I ordered my veil from J. Crew's wedding line here, it's made by a company called Twigs and Honey (it was 40% off when I ordered it!). I've dreamed of wearing a dramatic cathedral length veil forever; I'm so glad I did! It was so romantic and lovely. You can see the length of the veil here…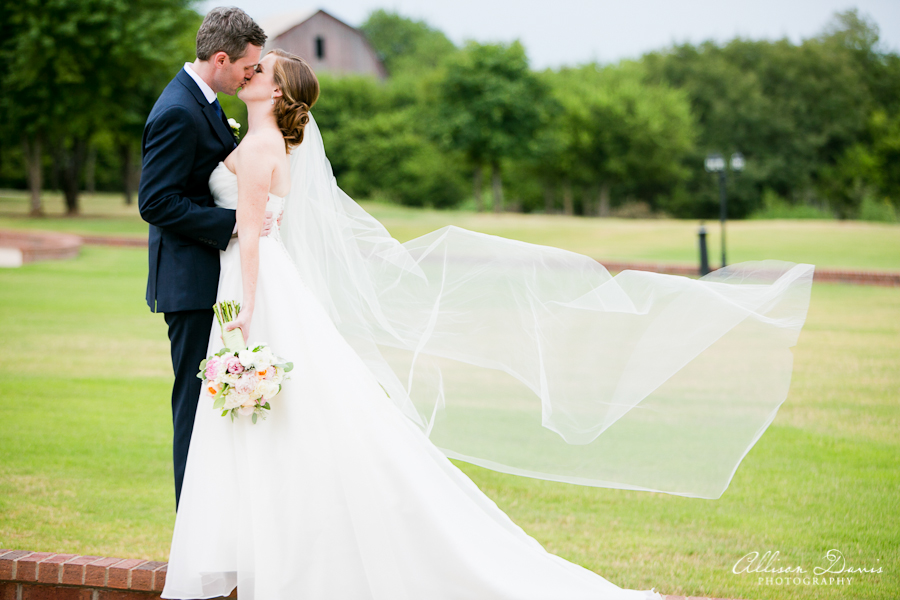 And the volume that the blusher gave here… (In case you don't know, the blusher is the shorter piece that is traditionally pulled over your face.)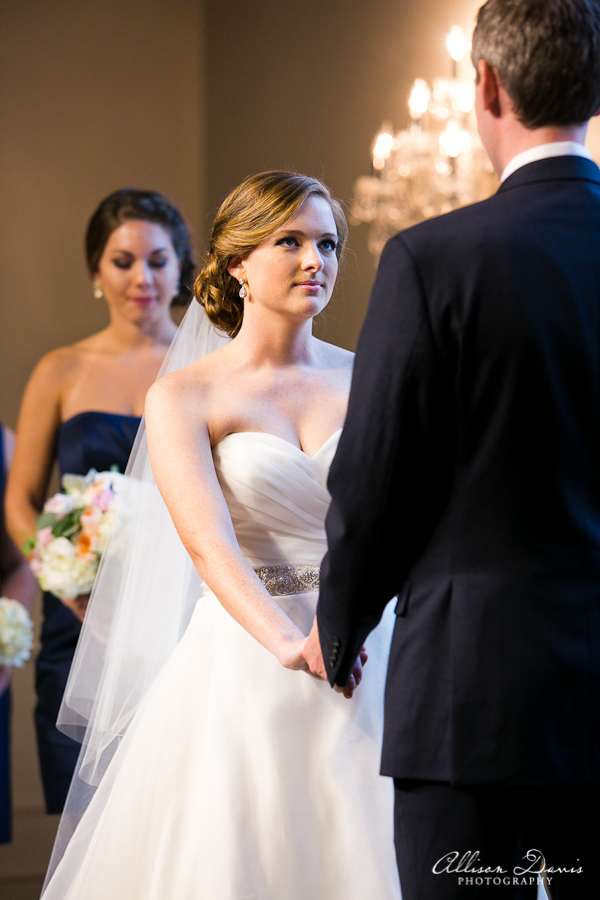 My hair and makeup stayed fresh and great all day/evening. I can't recommend my girl Angie enough–if you're in the DFW area and you're getting married, HIRE HER! 🙂
My Bouquet
I used this photo for inspiration but told our florist that I wanted it to be a little tighter/cleaner, but still very soft and summery. It turned out so pretty!! (I had the florist wrap the bouquet in lime ribbon so it would blend in seamlessly.)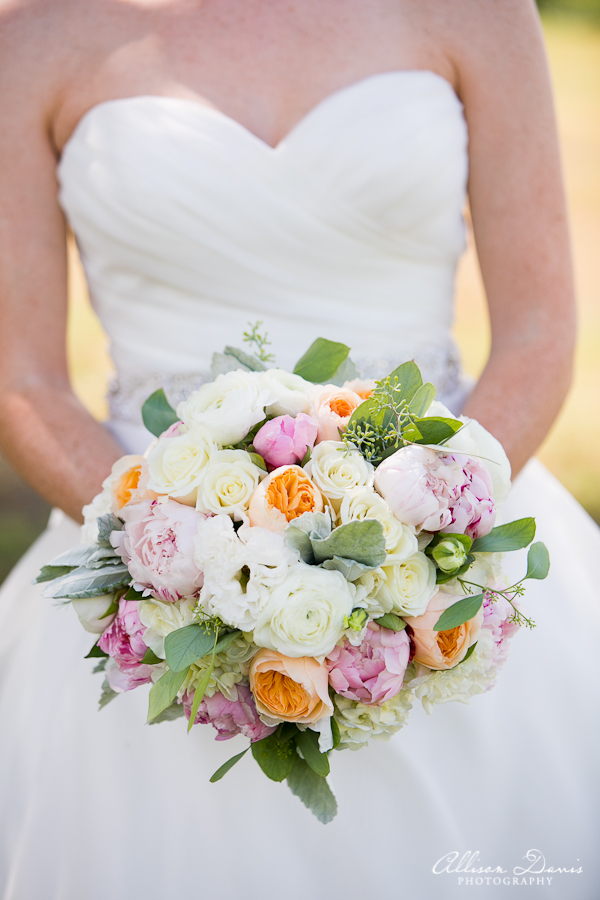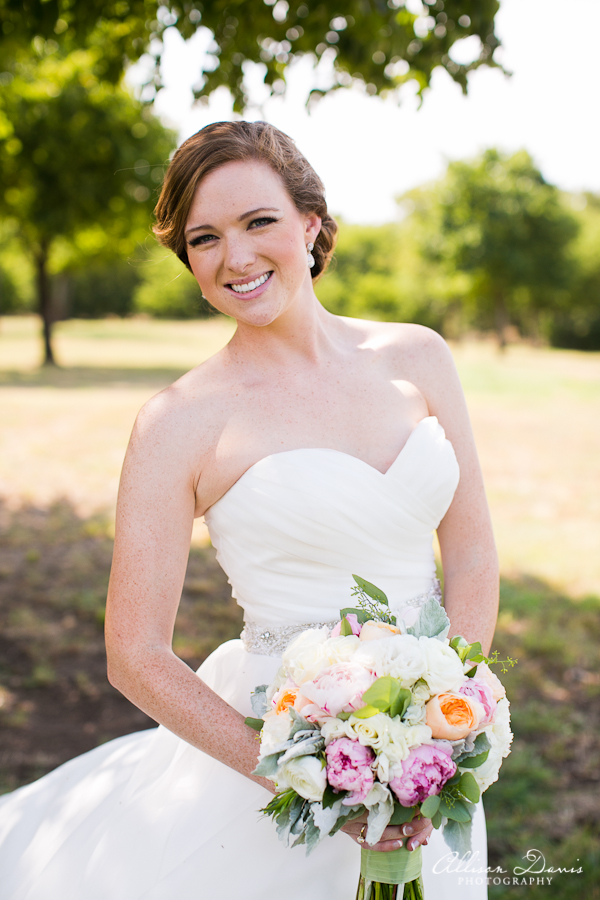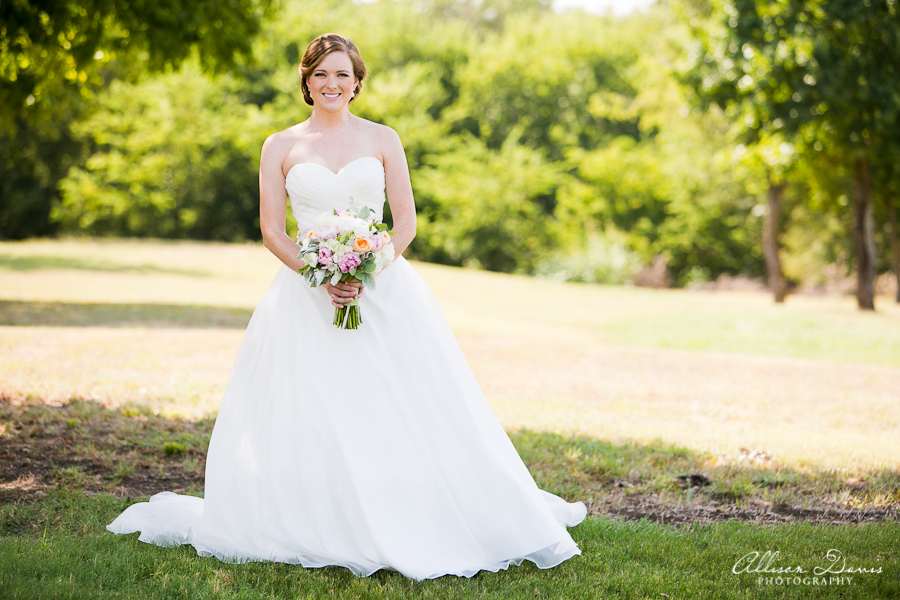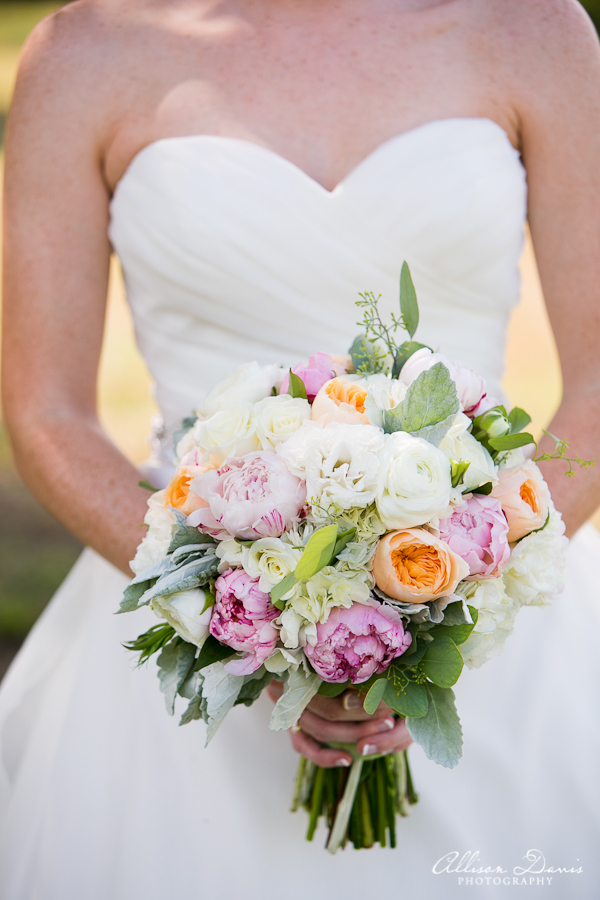 Why can't bouquets be daily accessories?! 😉 Flowers are just so gorgeous…they make everything feel so fresh and alive!
Riley's Groom Look
Alright, enough glamour shots of me, time to talk about Riley! He looked SO handsome and sharp on our wedding day. We bought a navy suit from Men's Warehouse and had it altered for him. It looked awesome!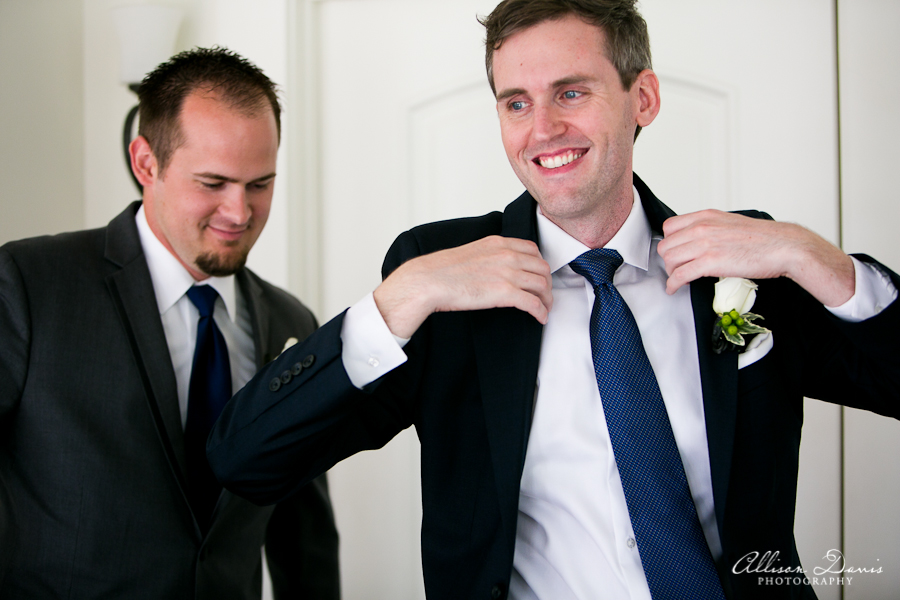 He wore a royal(ish) blue and navy patterned tie, a clean white button down, and a white pocket square. His boutonniere was a white rose with green hypernicum berries.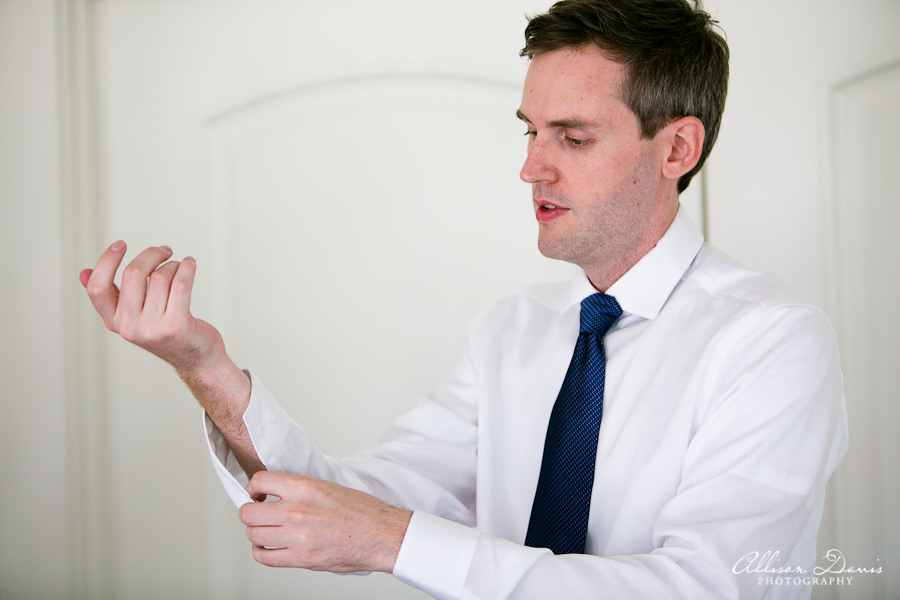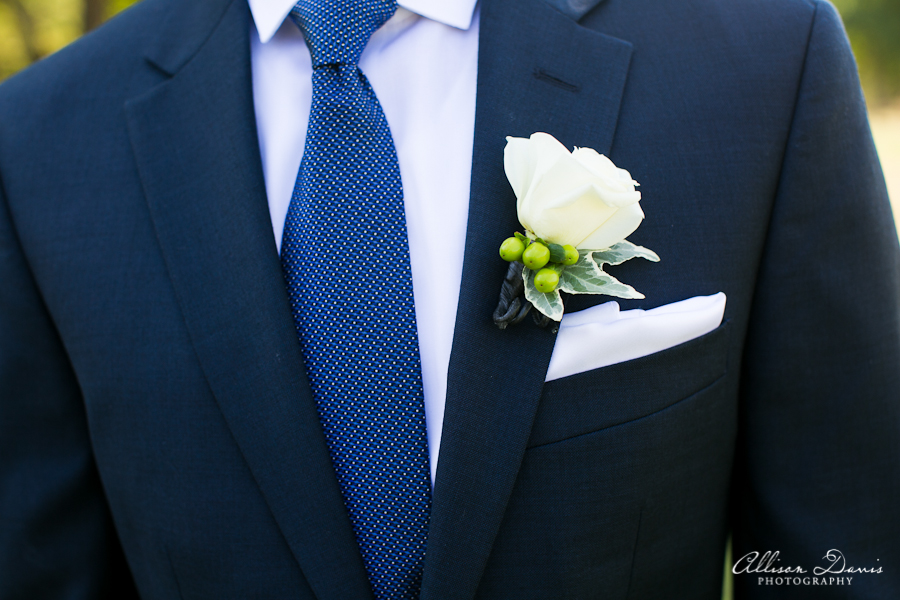 He has the kindest eyes, doesn't he? He always talks about how his nephew Simon has the kindest eyes (he was our ring bearer!), but I think he does too. They're so sincere! Beautiful, kind blue eyes! I hope we have a baby boy who looks just like him!!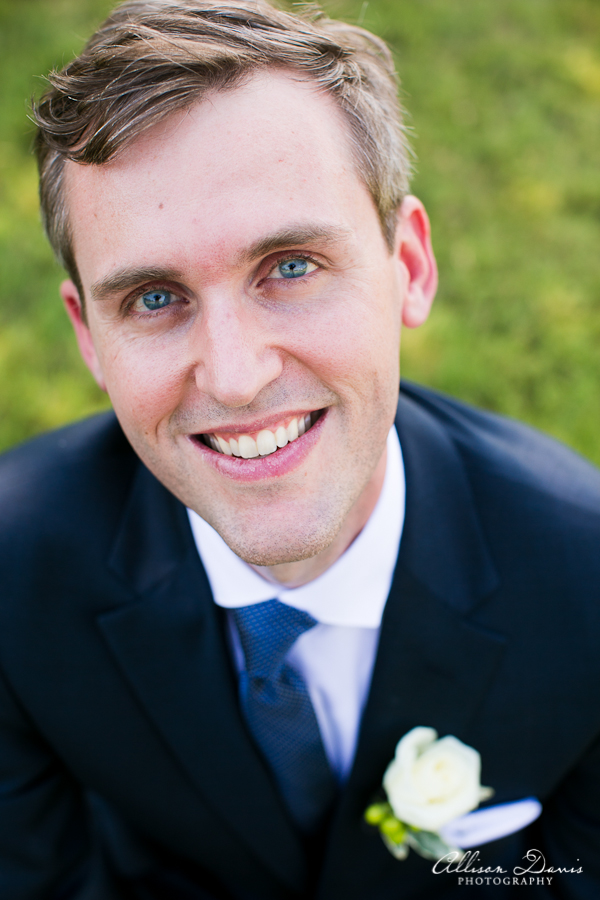 This is my Riley! Always trying to strike a pose. (Our entire engagement shoot, all he kept saying was "I feel like Kanye." Hilarious!)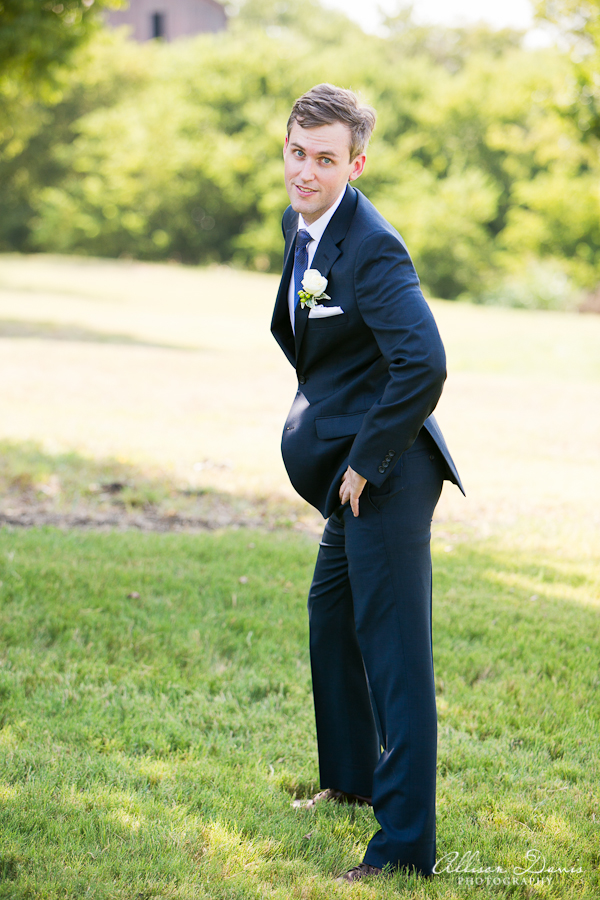 As I mentioned in my groomsmen post, Riley didn't match his groomsmen. He wore navy while they wore grey. That way, you can actually tell who the groom is in group shots!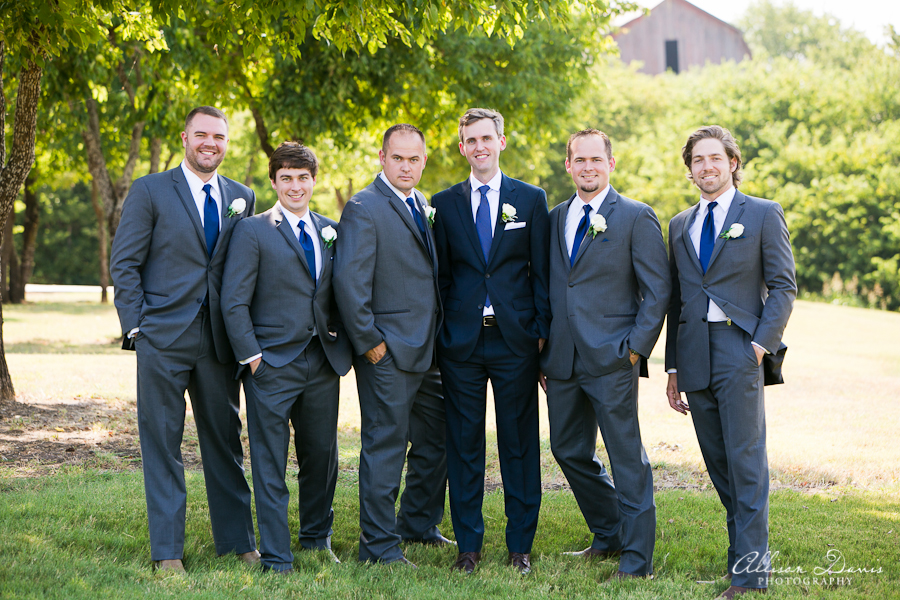 It's laughable how much more simple Riley's look was than mine. The price privilege of being a woman! Some days (#everyday), I wish we could live our lives in our wedding attire. It was the best.