Our wedding would not have been the same without our amazing bridesmaids and groomsmen. It was so special to have our best friends with us on such an important (and fun!) day! Though this post is clearly titled "Bridesmaids and Groomsmen," please note that I will almost exclusively be talking about the bridesmaids. I am not Riley (huge surprise, right?), and it wouldn't make sense for me to act like I am and talk about choosing groomsmen, asking them, etc.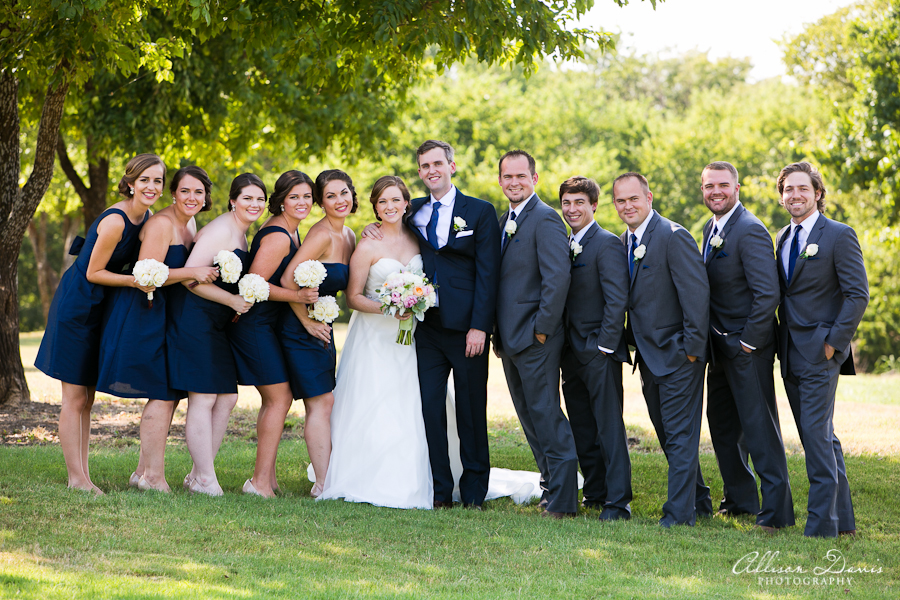 Choosing Who To Ask
I knew before we even got engaged that I didn't want a large wedding party (you may think 5/6 is large…clearly you haven't met my HUGE family!). First of all, I know the mind-boggling logistics that come with wedding parties of any size, especially since a large number of my close friends live on the East Coast. Secondly, I wanted my bridesmaids to be my actual people. What I mean by that is I wanted the girls who I actually call when I need prayer, who I actually call when I'm heartbroken, who I actually call when I'm celebrating, to be the girls with me on my wedding day. I once read something along the lines of, "Your bridesmaids should be the women in your life who will always point you back to Jesus and back to your husband. They should be the women who will fight for your marriage when you're too weak to fight for it yourself. They should be the women who fight for your faith when you doubt." Yes! That resonated with me completely.
So, I invited my Jesus-loving, marriage-loving, best friends, Angela, Allie, Taylor, Madelyn, Olivia, and Jess, who lives in Rome, Italy, and wasn't able to take off work and fly in for the wedding. She was a bridesmaid in spirit!
Angela is my "Big Sister" in Sigma Kappa, my college sorority, and best friend–she was my maid of honor. I'll be her matron of honor (#oldlady) in a couple of weeks!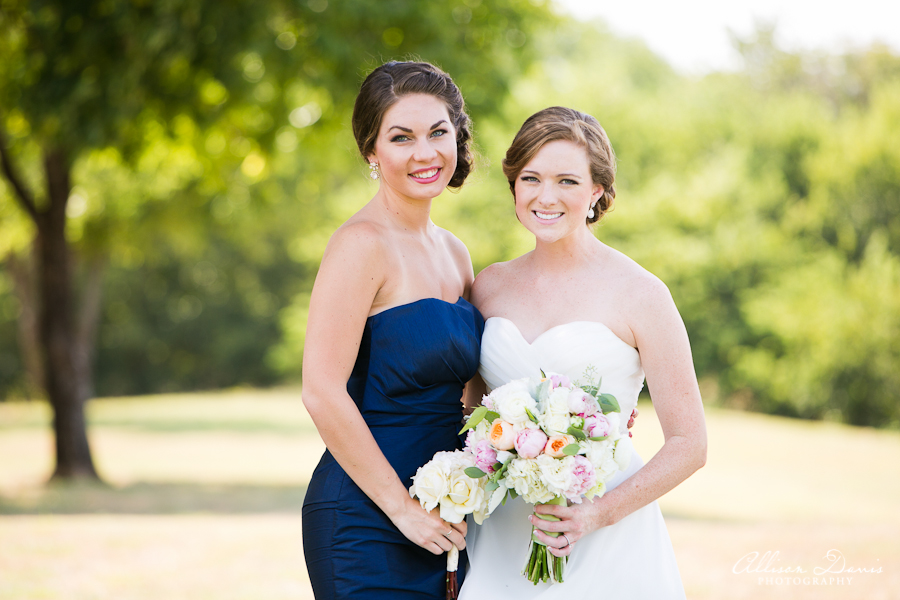 Allie is my real life blood little sister, just two and a half years younger than I am. She is hilarious and keeps us all in stitches…and loves Riley–I know she'll always remind me to fight for our marriage! Do you think we look alike? Some people can't believe we're related and others literally cannot tell us apart!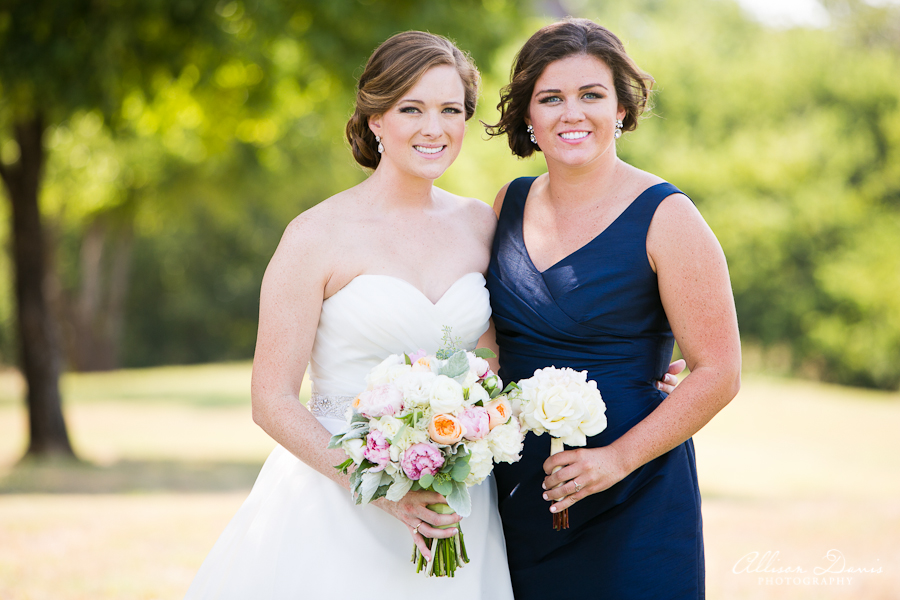 Taylor is a dear friend from college who I basically lived with for all four years (we weren't official roommates our freshmen year, but we may as well have been)…I was in her wedding back in May!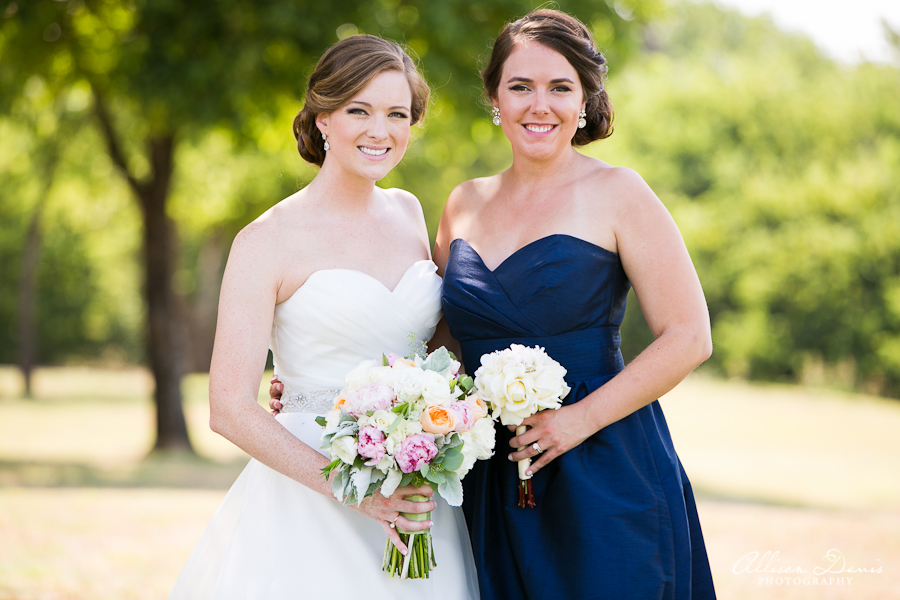 Madelyn is another college friend, she is the funniest girl I know, and we lived together for two years at Elon. I call her "my little Maddog" and I just love her!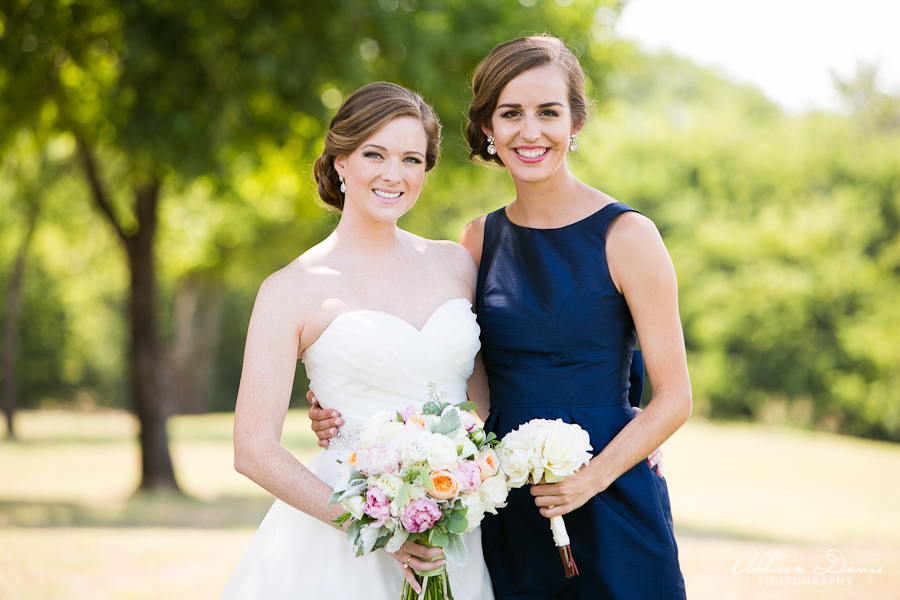 Olivia is a sweet childhood (and now adulthood!) friend I've known since we were six years old in first grade! I'll be in her wedding next May!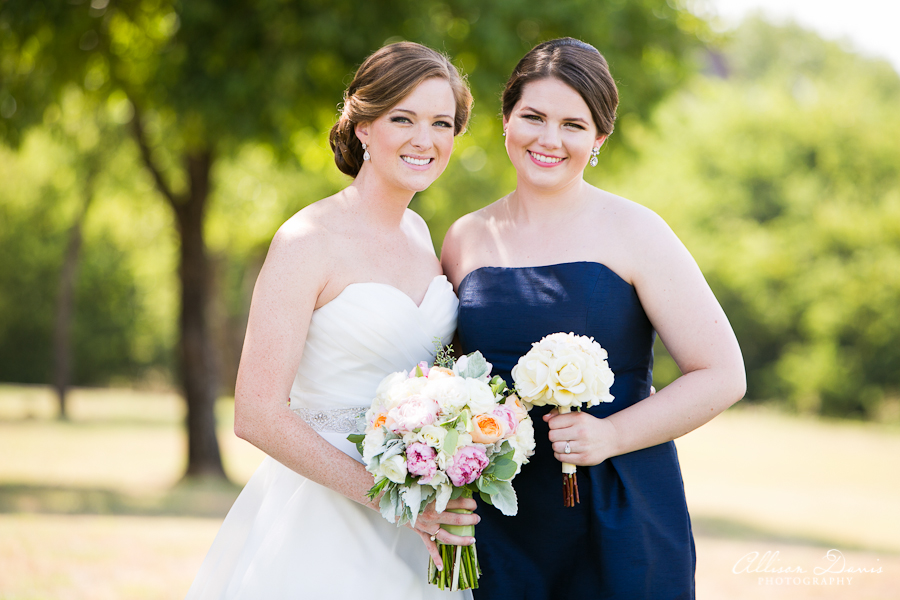 And Jess was my best friend in high school, who was like a sister to me during some really hard years. She went to college in Rome and has remained there ever since! She is thriving and I am dying to go visit her again. We both wish she could have been here for our wedding!
These girls are my closest closest people, making them really easy choices for bridesmaids. (Riley didn't have a hard time asking groomsmen either…he asked his two childhood best friends and three college roommates/best friends!)
How I Asked
I just scrolled all the way back to January, when I asked my girls, and I cannot believe it–I didn't take any photos of the cards I sent them! Darn! Luckily, I ordered them online. Here's what they looked like: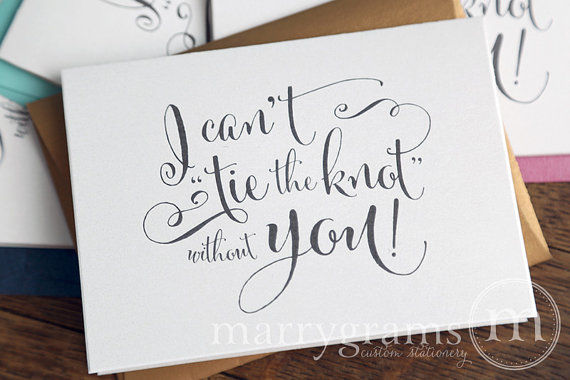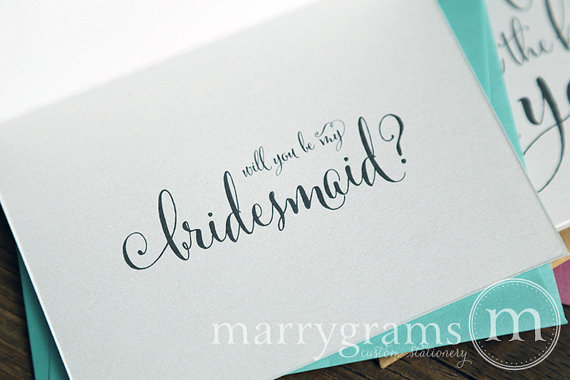 I ordered them from Marrygrams on Etsy and chose the pink envelope. I wrote each girl a short note and also ordered a fabric swatch in the color and material of their dresses (Alfred Sung Midnight Dupioni), which I included in the envelope. On the back of the fabric swatch (it was anchored to a piece of thick white cardstock), I stuck a print-out label with instructions for ordering their dress. Because my engagement was short and sweet, I knew they'd need to order their dresses quickly to get them in time! (Everything wedding attire takes forever!) I wanted mismatched styles, but the same length, fabric, and color, so I used Weddington Way–this is the exact link I sent my girls to pick their dress and order it! (They could also order it in a local bridal boutique, which some did.)
Bridesmaid Attire
Before the big day, I asked my girls to simply bring black leggings and a white shirt to get ready in. I then surprised them with monogrammed oversized button downs on the morning of our wedding. We wore them to get ready and then were able to unbutton them without messing up our hair or makeup when it was time to get dressed! So cute and preppy and fun! Loved it! (I had one made one for my mama too!)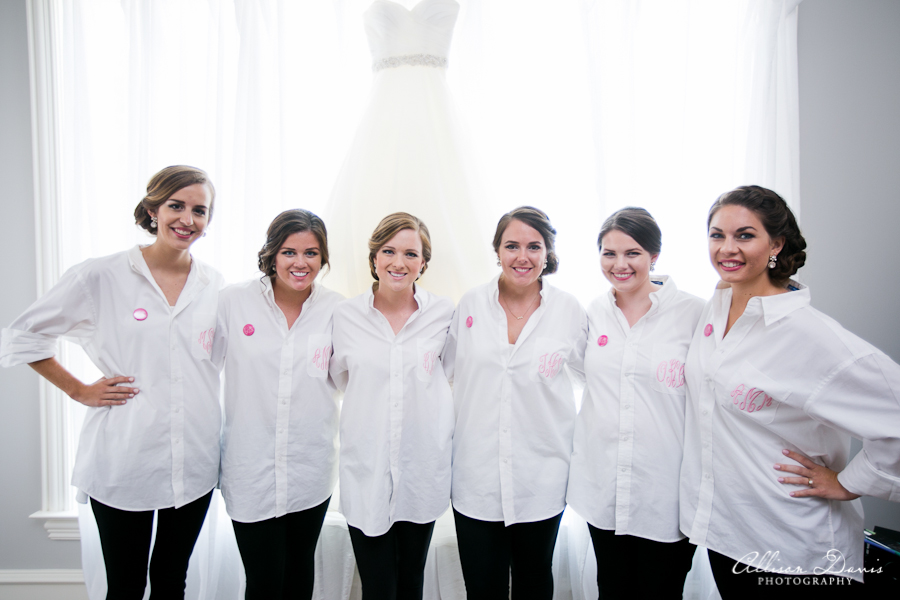 I pretty much explained everything you'd need to know about their dresses above under "How I Asked!" I sent the girls this link, they picked a style (they all picked different ones–so cool!), ordered it, and got it altered if need be. I asked them to wear nude shoes, and gave them earrings as one of their gifts on my wedding day! I LOVE the color navy and find it so flattering on any body type or skin tone, so I've known for years that my bridemaids would wear navy. They looked stunning.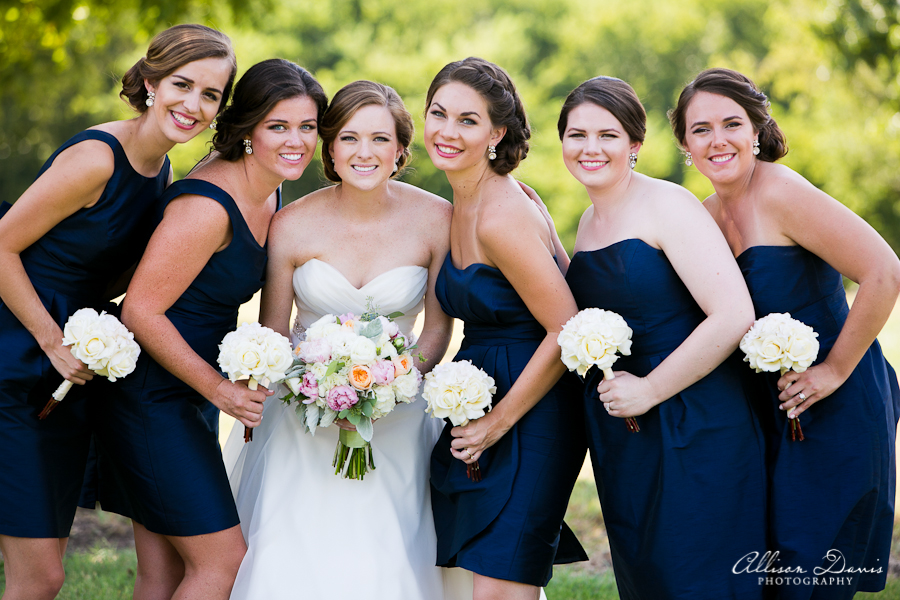 For hair and makeup, I hired Angie Williams. She did all of us (and my mom!) the morning of my wedding. She's incredible. Everyone looked so stunning. I told the girls they could do whatever they wanted with their hair, but that an updo may be best for the heat (we got married in late July!). They all picked out an updo on Pinterest and it looked awesome! I loved the eclectic but cohesive dresses and hair.
Groomsmen Attire
I knew I wanted grey suits for the guys, with Riley in navy. I don't like when the groom and his groomsmen wear the same thing because I think the groom ends up blending in too much! We went to Men's Warehouse and picked out a simple grey suit with a navy tie for the guys. They looked great and you can actually tell in photos that Riley is the groom. Woo hoo!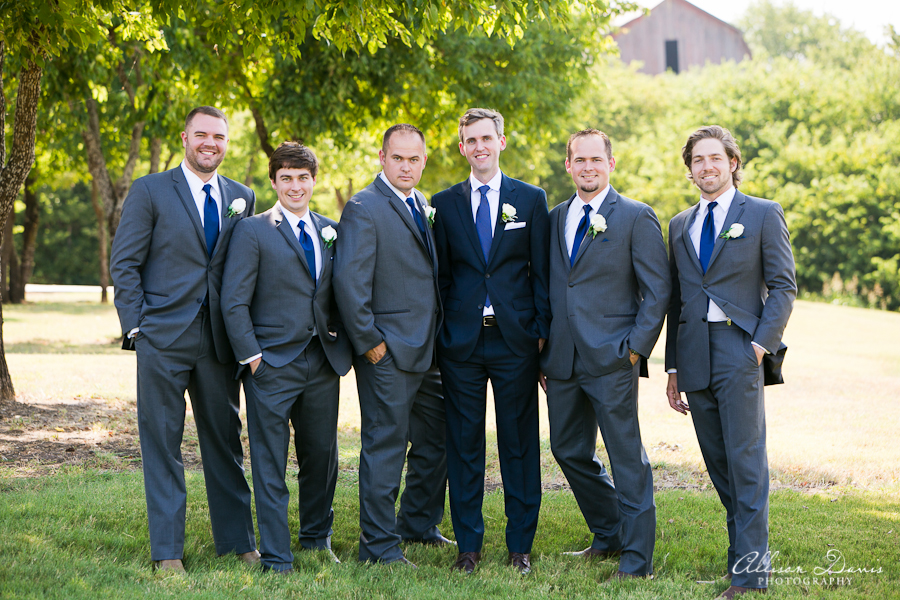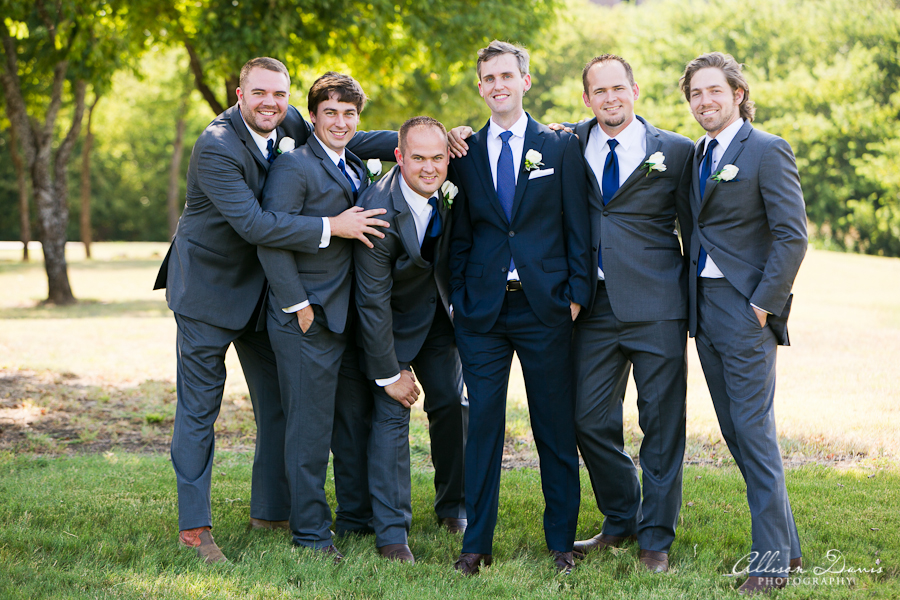 Special Moments With My Girls
My wedding day was full of some of my favorite moments in all of my life. I loved loved loved getting ready with my bridesmaids in the morning. We got dressed, went to Starbucks, and headed to the venue, where there was an awesome bridal suite we spent the day in. We laughed and laughed, ate, danced, got our hair and makeup done, cried, prayed…it was so so sweet. I just loved those moments.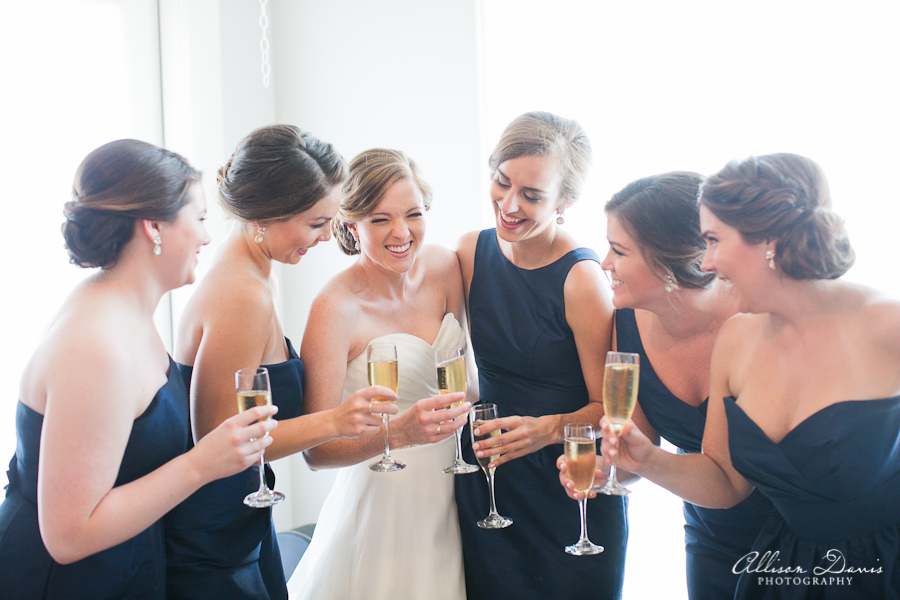 I didn't take a photo of this either, but I gave each girl a hot pink gift bag with a monogrammed makeup bag, a personalized Tervis tumbler, and the J. Crew earrings they each ended up wearing for the wedding! It was so much fun to shower these special girls with love and gifts for flying across the country to be with me on my most special day.
Right before I walked down the aisle, each girl prayed over me. What a moment. I tried not to weep…held it together the best I could…but you don't know friendship until you've had your best friends stand over you and pray for your marriage, heart, and faith. So, so unbelievably special. I will cherish that prayer for the rest of my life.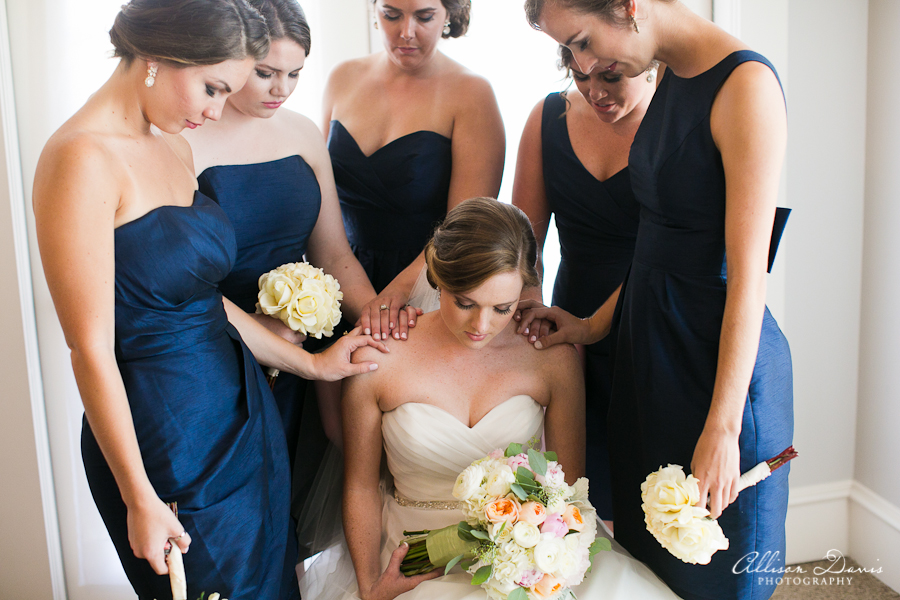 To my bridemaids, I love you, I love you, I love you SO much! Thank you for making my day the priceless culmination of memories that it was.
All photos are by the beautiful Allison Davis of Allison Davis Photography.