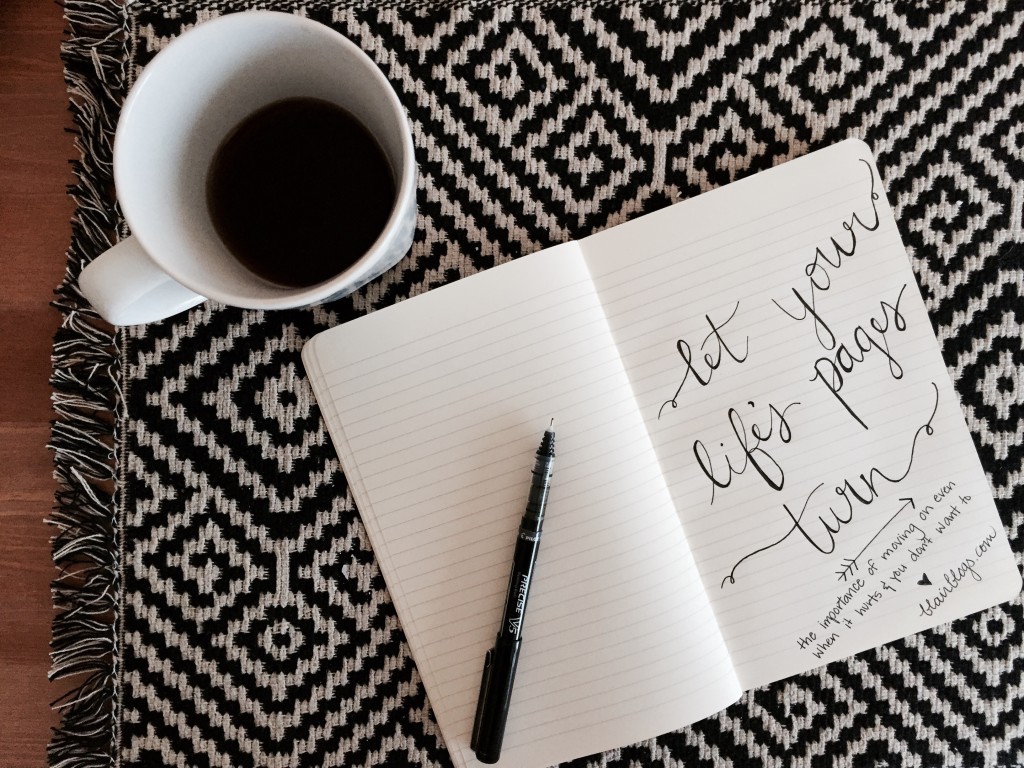 We arrived home from our amazing honeymoon on Sunday night, and after Riley left for work on Monday morning, I spent the day unpacking our suitcases and various wedding items (decorations, leftover programs, etc). I moved through our small home quickly, sorting our belongings and putting away what I could, throwing much of our packed clothing in the washing machine, cleaning up toiletries that had leaked on the flight. Around lunchtime, I looked to the couch in our living room and sighed.
My wedding dress–my most favorite thing I've ever worn–was draped across it. I hadn't taken the time to hang it up before leaving for our honeymoon, so there it lay. The influx of emotions that overcame me as I looked at it, beautifully white against our faded, red couch surprised me. I was sad, but not a light-hearted kind of sad, like when a friend cancels on you for dinner, but a real sadness, more like a feeling of mourning.
It was in that exact moment that I knew I had to turn to my life's next chapter; I was now a wife. A real life wife, not a honeymoon wife (and there's a difference). I was no longer a child, no longer a student, no longer a single girl, no longer dating, no longer engaged, no longer a bride, no longer a honeymooner–now, I am a wife.
I approached my white dress, and gently picked it up. I found the baby blue garment bag it had come in, carefully hung it on a hanger, pushed the hanger through the slit at the top of the garment bag, and zipped my most favorite dress away. With tears welling in my eyes (but not allowing them to trickle down my cheeks), I walked into my now-shared closet, and hung the blue bag, heavy not only with layers of tulle, but also layers of anticipation, excitement, and little-girl wedding day fantasies.
Sitting on the edge of my bed, I felt the weight of mourning lift little by little. I mentally allowed my life's page to turn, no longer resisting the new chapter, but instead imagining the memories that would fill these pages to come–cooking dinner together in our kitchen, walking our dog, discussing our life together, laughing as we wake up in our bed–being a newlywed wife to my newlywed husband.
And, oh! To think of the chapters that will follow this one–moving and houses and babies and trips and adventure. And when those chapters come, there will be a twinge of pain then too, perhaps even a moment of involuntary grief. But that too will lift, it too will come and go, and the next chapter will be beautiful in its own right. (Something I learned a few years ago.)
At peace with my new chapter as a real life wife, I finished straightening up our tiny home and continued on with my day, at peace and thankful for both difficult endings and fresh beginnings. Last night, Riley and I took a trip to Target to purchase a few things. That trip is what prompted this blog post.
You see, we live just north of Denton, where there are two large universities (Texas Woman's University and University of North Texas–Riley's alma mater). It can be rightly assumed that both Target and Bed Bath & Beyond are absolutely packed with college kids at this time of year, excitedly picking out dorm room furniture and re-stocking their pantries after summers at home. It was thus unsurprising when we walked into Target to find a few mother-daughter or mother-son pairs walking through the aisles checking items off their lists.
But what struck me was a group of four girls, I would guess rising juniors, who were choosing items for their apartment together. I lived with four girls in an apartment for three years of college–different combinations of ladies, each group hilariously fun and truly the backbone of all of my favorite Elon memories. These four girls were loud and laughing, poking fun at one another, debating which shower caddy to buy at length, arguing about which Ben & Jerry's ice cream flavor is best, gossiping about boys and summer crushes, and grabbing a few school supplies as they shopped.
Since it was after 9pm, there weren't many shoppers, so I could hear this foursome nearly anywhere I was browsing (we also seemed to be moving through the store at a similar speed). And each time I would look at them, I'd think, that was me. Such a small amount of time has passed since that was my life. I looked at their sorority t-shirts and Nike shorts and flip-flops and thought, I've lived that chapter. I loved that chapter. Those pages they're living through, flipping through right now? I was there, too.
And a wave of nostalgia washed through me, but I wasn't sad. Thankful. Warm. Whole. But not sad. I have lived those pages, that chapter of life, and I cherished it deeply, and (and, not but) now I've moved to another chapter, with vibrant and real memories of my college years to remember those pages by.
I think how important it is to allow life's pages to turn. It's when we grip that page, you know, the one where the writing stops at the top, where the rest of the page is blank, where the next one starts with a large number in bold, the beginning of a new chapter? It's when we refuse to let that page fall to the left and open our hearts up to the next set of memories to be created on the pages that will follow on the right that we live in fear, sadness, and mourning what was or what has been or what could be. It's when we hold on so tightly to that last page in the chapter that it tears clear down the center, scarring the past and marring the future.
Sometimes it's a painful turn of the page (I've experienced that a lot lately–of moving from Austin, of saying goodbye to singleness, of putting away my white gown), but that's when it's even more important to take a deep breath and actually turn it.
The best news? God's with you the moment when you turn the page. He was with you for the chapters up until now, and He'll surely be with you as you forge new ones. He wrote your book, and it'll be a great adventure. Here's to turning the page.