This weekend, I drove to Denton (where Riley and I will marry) for a wedding planning weekend! Along with our moms, we visited our wedding venue and met with our coordinator, trudged through boring important details, and shopped for my wedding dress! (Riley wasn't invited to that part, though! 😉 )
My mom travels a lot for work, flying all over the country for field rides and meetings. She happened to be in Dallas (30 miles south of Denton) this past week, so we figured that this was the perfect opportunity for her to stay in town for the weekend and work on wedding-related tasks together.
Thursday
First, on Thursday morning, when I arrived, Riley and I drove to our venue (read this post for a tour) so that I could finally see it! Believe it or not, that was my first time seeing it in person! Riley toured it on his own since I wasn't able to make it up to Denton and loved it, and we wanted to book it before someone else snatched our date, so we went ahead and put down a deposit a few weeks ago. Thankfully, I implicitly trust his judgement, so I knew I would love it. And I did. It is absolutely gorgeous and I am thrilled that I have the privilege of saying "I do" in such a beautiful place!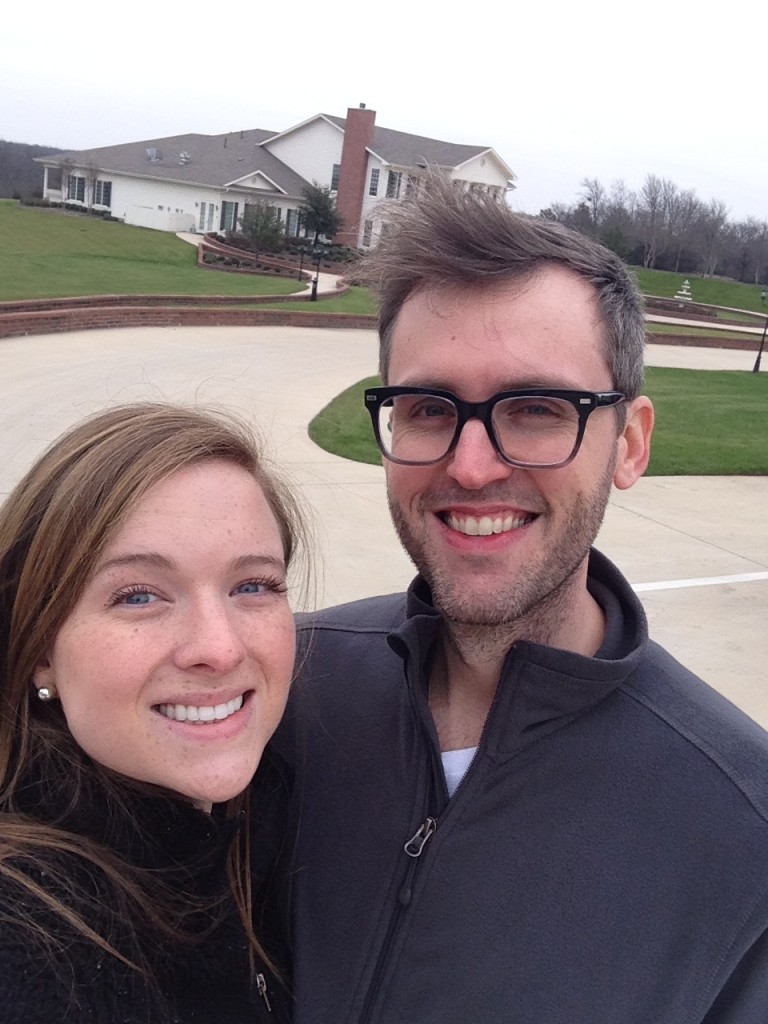 On Thursday evening, Riley and I met up with my mom and the three of us went out to dinner together. My mom hadn't been feeling well (cold, congestion, coughing, sore throat–the usual at this time of year), so we went to Corner Bakery and chatted over soup and hot tea. After dinner, we stopped by CVS so that she could stock up on medicine, where Riley made the decision to buy all of his kitchen spices from now on since the prices are so much better than grocery stores…I'm not so sure I'm on board. #yougetwhatyoupayfor 😉
Friday: Details, Details, Details!
Waking up on Friday, I was eagerly anticipating meeting with our wedding coordinator and walking through the venue a second time. For about two hours, we (Riley, me, my mom, and his mom) discussed the order of procession, what our menu will look like, the décor, where people will be seated, who is going to greet guests, etc, etc. Lots and lots of details that needed to be ironed out, but by the end, I was literally dizzy!
After our meeting, the four of us went to Panera for a light and quick lunch (much to Riley's chagrin–he was pushing for burgers, BBQ, or pizza) before us three ladies drove to my very first dress appointment. I was so, so excited, but I also had butterflies in my stomach. I had an idea of what I liked, but had no concept of what it would feel like to try on white gowns for the first time. My consultant was wonderful and extremely helpful (and patient!), and helped me trudge through all kinds of dresses, as I tried to decide what I liked and what I didn't.
I was somewhat surprised by what I liked and didn't like (many of my married friends have told me that this is normal), but in the end nothing was my dress. There were two front-runners, but one had some detailing that was a little too much for my taste and the other had a beaded bodice that was beautiful but really irritated my arms. I don't want to be uncomfortable all day on my big day, so I said no to both. (I wasn't discouraged, though, because I knew that I had two more appointments the following day!)
Saturday: I Said "Yes!"
I woke up on Saturday slightly anxious because I knew that I needed to find my dress that day. Our wedding is less than six months away at this point, and some gowns take that long just to arrive (not including alterations!), so I was very aware that it was go-time. This time, Riley's sister joined me, my mom, and his mom as well.
Walking into our first appointment, I was impressed with the salon. It wasn't huge, but there was a large selection of dresses and it was obvious immediately that the shop was run like a well-oiled machine. I met my bridal consultant, Lauren, and shared my vision with her. She was able to quickly pull some gorgeous dresses and helped me get into each one.
Some were too country looking, others were too heavy for a summer wedding, some were too edgy or bohemian…and then I tried one on that was beautiful, and classic, and elegant. I tried on a few more no-thank-yous before putting that dress back on, getting "jacked up" (adding a veil, earrings, etc.), and saying "yes!" to the dress. Oh, how I wish I could share a photo with y'all! Promise to share lots after our wedding.
I ordered the dress on the spot, called the salon where my second appointment was to be held and cancelled it, and drove to meet Riley for lunch back in Denton. I was dying to show him pictures (we tell each other everything!), but refrained. He'll have to wait until late July for that! 😉
Saturday night, I had the chance to meet a couple of Riley's college friends over dinner and drinks. We had a great time laughing and I loved to hear stories about their college experience since I didn't even know Ri at the time!
After dinner, I headed to the hotel room that I was sharing with my mom and climbed into bed. I felt a twinge of anxiety come over me, but attributed it to the whirlwind day I had just experienced, and tried to fall asleep. After hours of tossing and turning, I woke up on Sunday morning in a complete panic.
Sunday: This. Is. Actually. Happening!
My heart was racing, my chest was tight, and I could not, for the life of me, get a full breath. I started to flip through my mental rolodex, trying to figure out what was causing such anxiety. I realized that the dress had done me in.
Up until this point in planning, everything had been pretty un-emotional. (That is, except getting engaged!) But the dress?! That's something that I had been thinking about for years. I have journals with sketches of my future wedding dress, hundreds of pins as inspiration, and a lot of excitement about choosing the dress in general. It felt so strange that it was all over! And so quickly, too.
I still have to settle on my veil and accessories, of course, but the most important part of my wedding day look? It's done!
Because of that, everything felt so, so real. I've heard from married friends that the fact that you're actually getting married will hit everyone at a different time, and for me, it was the day after I picked my wedding gown. It feels like life is swirling right now at a hundred miles an hour–Riley and I have big decisions to make between now and our wedding date, which is quickly approaching, and as always, there is a heavy fear of the unknown for me.
Unloading all of these heavy, anxiety-riddled emotions onto Riley on Sunday afternoon, he took my hands and prayed for me. (Do you see why I want to marry this man?) Fear and faith can't coexist, so the fear has to go. I chatted with my best friend Ang (who will be my Maid of Honor!) on the drive back to Austin that night, and she reassured me over and over…God has a plan. He is bigger than you. Trust Him, trust Him, trust Him. Wise words from two of the most important people in my life. (If you would, will you pray against this crippling anxiety? Pray that peace would overcome fear?)
—
Walking away from this weekend, I feel so blessed and so very excited for our big day! I wish it would come sooner, but I know that the next five-ish months will fly by. I'm working on taking each day at a time, letting go of perfection, and learning to breathe so that I can truly enjoy this short season of engagement.
(This feels more like a journal entry than a blog post, but hey! It's something, right?) 🙂