Yesterday, I shared the road leading up to my engagement to Riley in the post, The Road To Engagement: How We Met & Fell In Love–definitely read that post first if you'd like a little more context walking reading into this one!
As I explained in the aforementioned post, Riley and I discussed marriage frequently and easily throughout our courtship. For me, the idea went from "I think I could marry him," to "I think I will marry him," to "I can only imagine marrying him," to "I know he is God's choice for me." We talked about getting engaged quite a bit, but I never pressured him or gave him a timeline (although he offered up that he'd like to be engaged by Christmas!). I figured God had written a beautiful story thus far, why not let Him continue it?
Not too far off from Riley's self-imposed Christmas deadline, we were engaged on December 27, 2014…which also happened to be Riley's 29th birthday! This unlikely engagement date was the perfect distraction to keep me out of the know and focused on making his day special.
In the morning
When I awoke on the 27th, my sole focus was to make Riley feel celebrated and loved–it was his birthday, after all! Plus, December birthdays are rough (mine's the 9th) because people seem to just kind of cram Christmas and your birthday together in a way that doesn't usually happen in March or September, for example.
I went into the guest room at my parent's house (where he was staying), and woke Riley up with birthday gifts. He unwrapped them as we laughed and talked and I sang an off-pitch rendition of Happy Birthday (Is that the title of that song? I've never thought about it before!).
After a few minutes of gifts and silliness, I suggested that we go to brunch at my favorite spot in Baltimore, Miss Shirley's. Two words: Monkey Bread. Of course, being a coffee-aholic, it wasn't a hard sell. The two of us got up and moving, dressed, and ready. My mom loaned us her car (we flew into Maryland from Texas), and we were on our way.
On the ride to Miss Shirley's for brunch, Riley mentioned wanting to go to the Inner Harbor for the day after we finished brunch. Luckily it was a mild day outside (it could've been freezing cold–it was, after all, Maryland in December!), so I was excited to walk around the Inner Harbor and show him the city I grew up in.
Brunch at Miss Shirley's
Miss Shirley's is always, always busy. Especially on a Saturday morning, which is the day Riley's birthday fell on last year. I fully expected a wait, but I didn't at all expect to wait for over an hour for a two-top, which we did. Frustrated and hungry, I speculated at why we were waiting for so long and vented. "Do you think they forgot about us?" "That couple was just seated and they came in 30 minutes after us!" "Should I say something?"
Strangely calm for being just as hungry as me, Riley didn't seem to mind the wait. (I now know it's because he had to stall me until sunset, when he planned on popping the question!) After a little over an hour, I checked in with the hostess, who said that our name had completely disappeared off of the list and we'd have the next available table.
Finally seated, we happily ate some unbelievably delicious monkey bread (Ri stuffing his face pictured below), coffee, and tea. Riley ordered a signature sandwich and I got a custom omelet. The food was good, as expected, and the service was good enough. Our next-table neighbor was a little silly and made us smile as she asked the waitress 4,000 questions about simple menu items and then ate each thing she ordered in under a minute.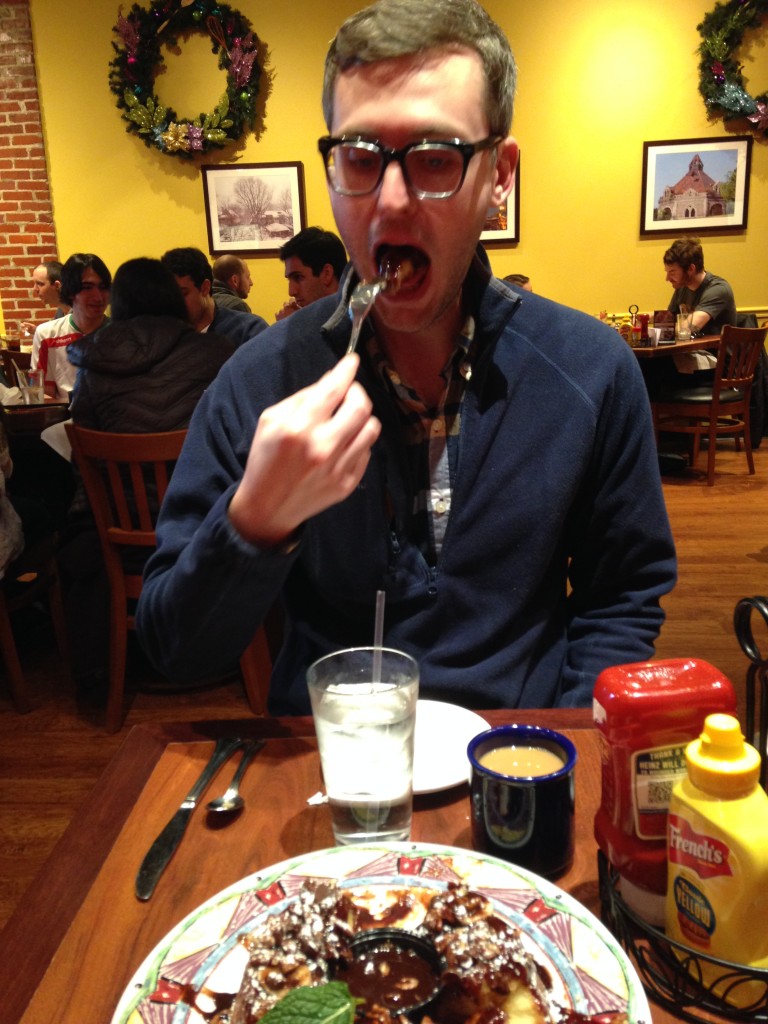 After paying our bill, we decided to find a parking garage downtown so that we could explore the Inner Harbor together for a little while…or, until around 4:30pm, when he planned on proposing! 😉
Walking around downtown
As we walked around downtown, Riley was acting a little strange. It was only 2:00pm or 2:30pm at this point, so he still had a couple of hours of stalling to do, but I, of course, didn't know that. I thought it weird that he was so slowly moving though common stores like Urban Outfitters, looking at every random plaque and statue at the harbor, asking about Baltimore's history, wanting to walk down every pier, and moving through all of this very, very slowly.
I chalked it up to him wanting a relaxing, slow-paced birthday, and simply enjoyed holding his hand and showing him around. There were a few times when I noticed him darting his eyes around the harbor, which made me curious, but again, I deduced that he was just taking in a new city. (In reality, he was trying to find Federal Hill, where he wanted to propose! He had never been to Baltimore before and didn't know the lay of the land at all!)
After a few hours of meandering around, laughing, talking, and soaking in the warm winter sun, Riley suggested that we walk to the top of Federal Hill. I was wearing booties with heels, so I was a little resistant at first. Because it was his birthday, however, I complied, and we started to walk around the harbor and up the stairs to where we were going to get engaged!
Just before the engagement
After we got to the top of Federal Hill, we decided to walk on the path around the perimeter of the hill. There was a family taking photos of their daughter's Quinceañera, dogs and children running around, and a couple getting engaged right in front of us! This couple was hilarious–the woman had a sweater with pockets on, and a massive bottle of Ginger Ale shoved into one of said sweater pockets. The man had earbuds in his ears (while proposing!) and a flat-billed hat pulled over his eyes. Riley and I laughed and laughed–they were so happy and cute, but also very funny.
After that couple left, we looked out over the hill and admired the view of the harbor from Federal Hill's amazing vantage point. I took a panoramic picture (below), and you can see that as I was taking the photo, Riley was on his phone. I now know that he was texting Allie, my sister, to make sure she was in place to photograph our impending engagement.

Before he actually got down on one knee, Riley gave me a kiss said a few sweet things to me. We kissed and talked for another two or three minutes before the moment actually came. Just before he proposed, Riley hugged me, and started to dart his eyes all over the place…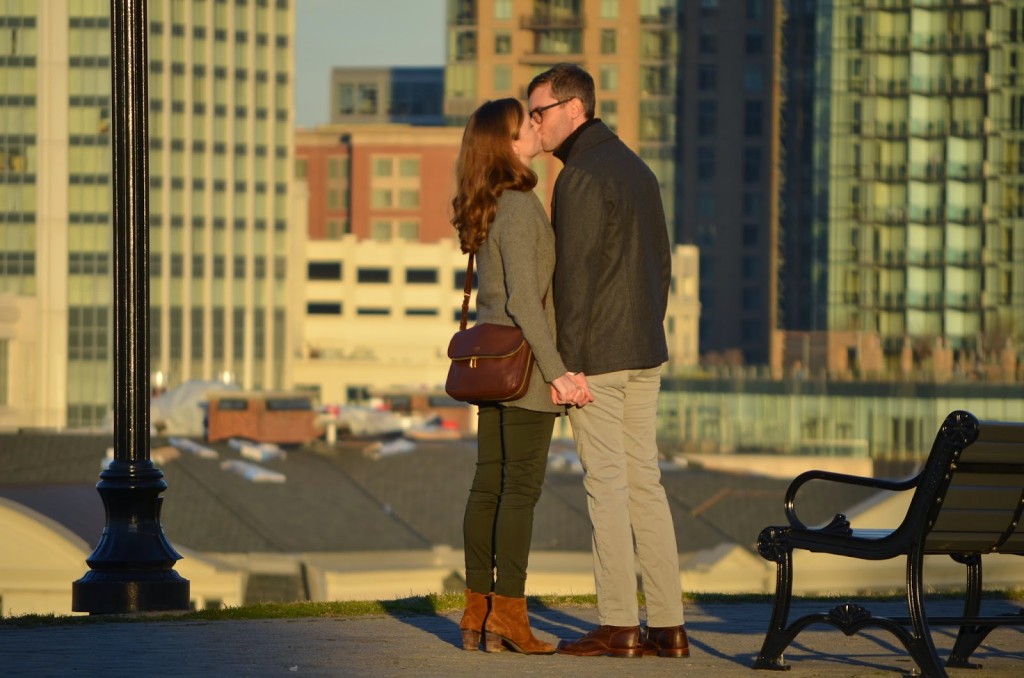 …no sooner did I ask what he was looking at and he was down on one knee, asking me to be his wife!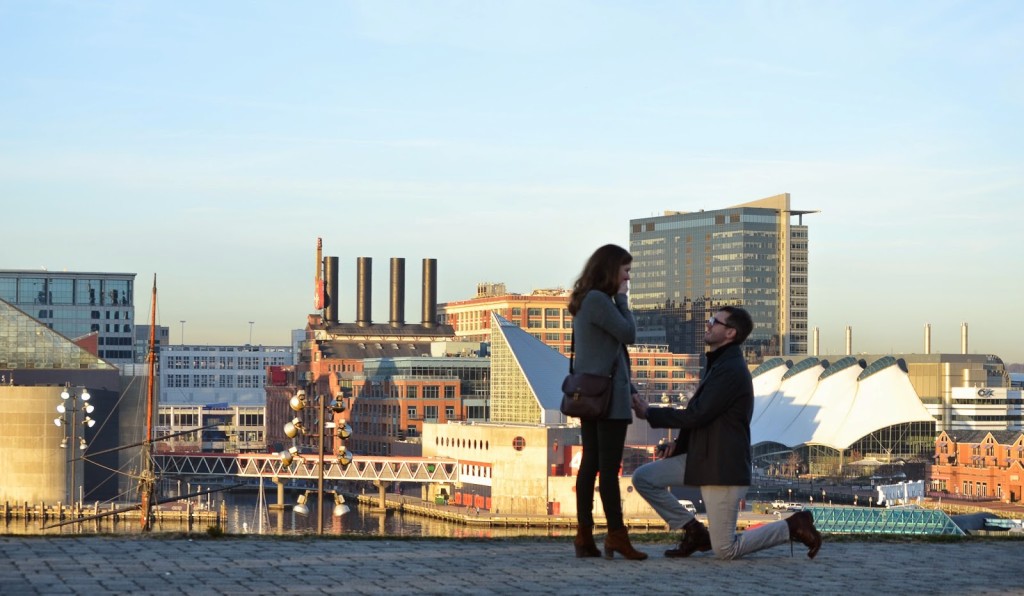 I was so excited when I realized what was going on, but I wasn't a nervous wreck at all. I remember everything about the moment (except the other random people, who apparently applauded as they watched). In the photo below, I grabbed his face, asked "Are you kidding me?," said "Yes!," and then laughing, apologized that I didn't have any Ginger Ale in my pocket! 😉 That sums up our relationship pretty well if you ask me.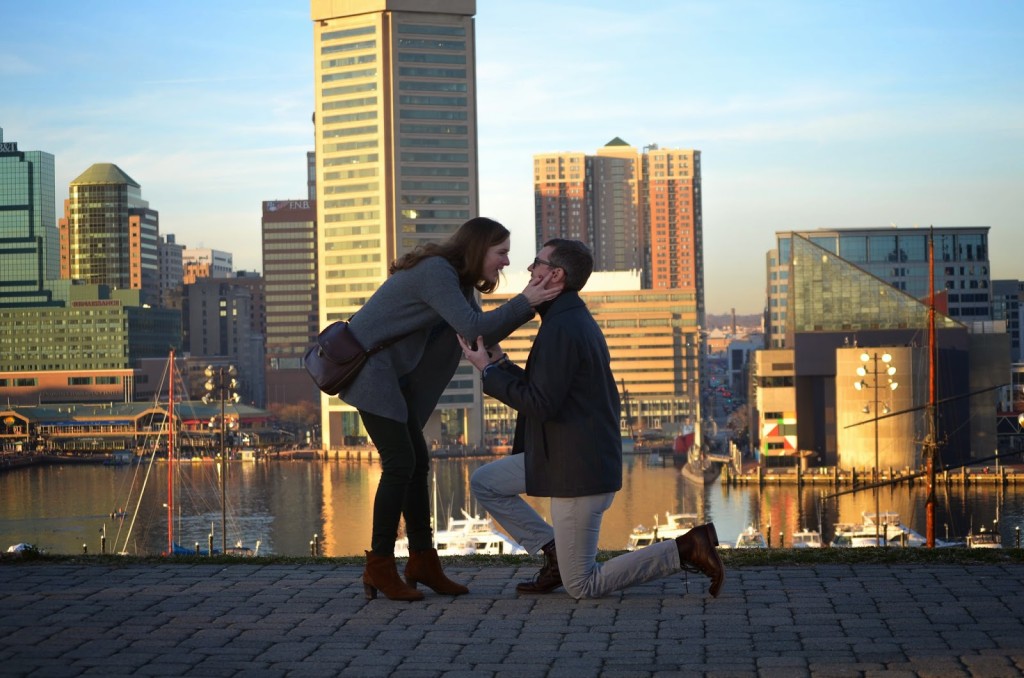 After he put a way-too-gorgeous ring on my finger, Riley stood up, and we hugged and kissed for a moment. It was such a sweet second of time that I remember trying to capture in my memory forever.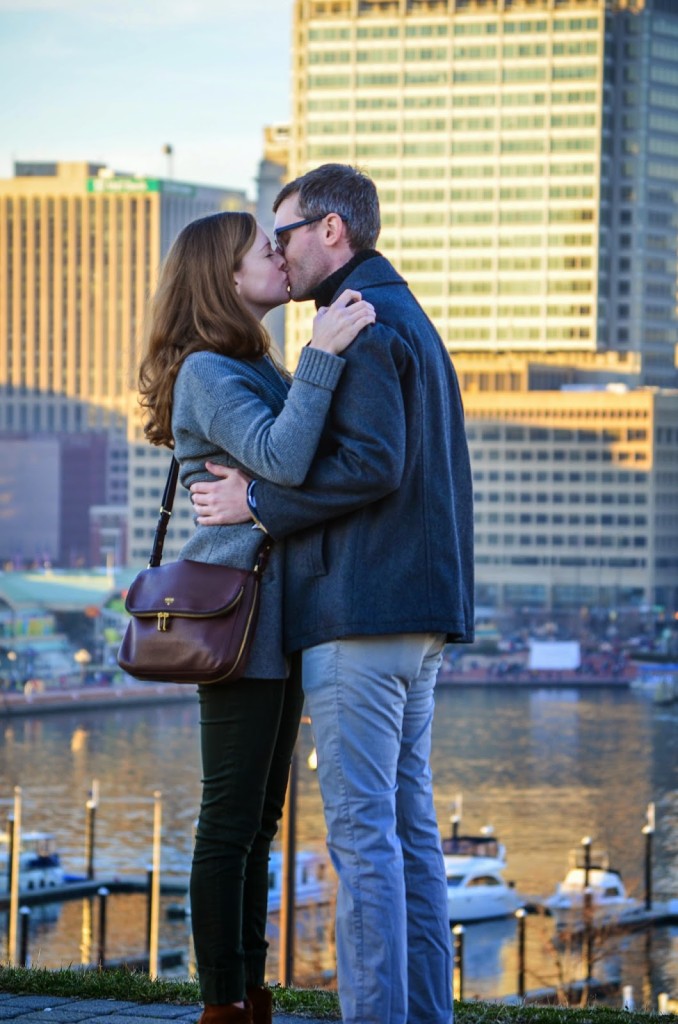 Then, turning my body away from the harbor, Riley pointed out my sister, who had quite literally been somersaulting through the [low, sparse] bushes, trying to hide from me as she snapped photos of this priceless moment! I immediately held up my ring to show her that I was engaged…as if she didn't already know! 😉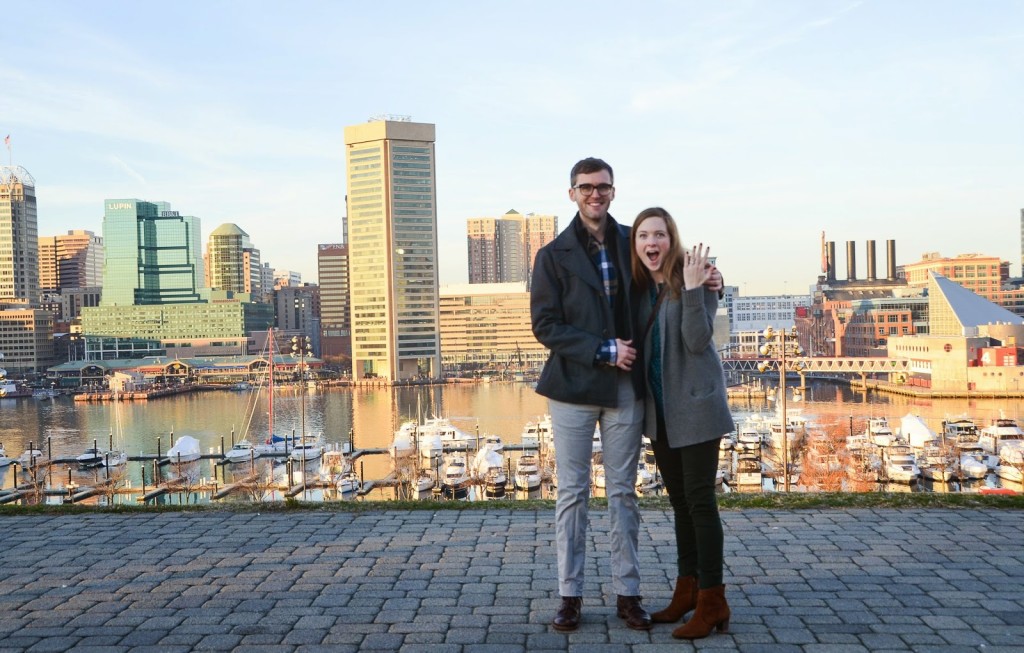 Then, for just a few minutes, Allie took some couple photos of us. I wasn't a very good subject because I couldn't take my eyes or attention off of Riley. My heart was bursting with love for him! (And continues to…) My sister must have been aware of my lack of focus, because she took this adorable and candid feet shot, which we all love.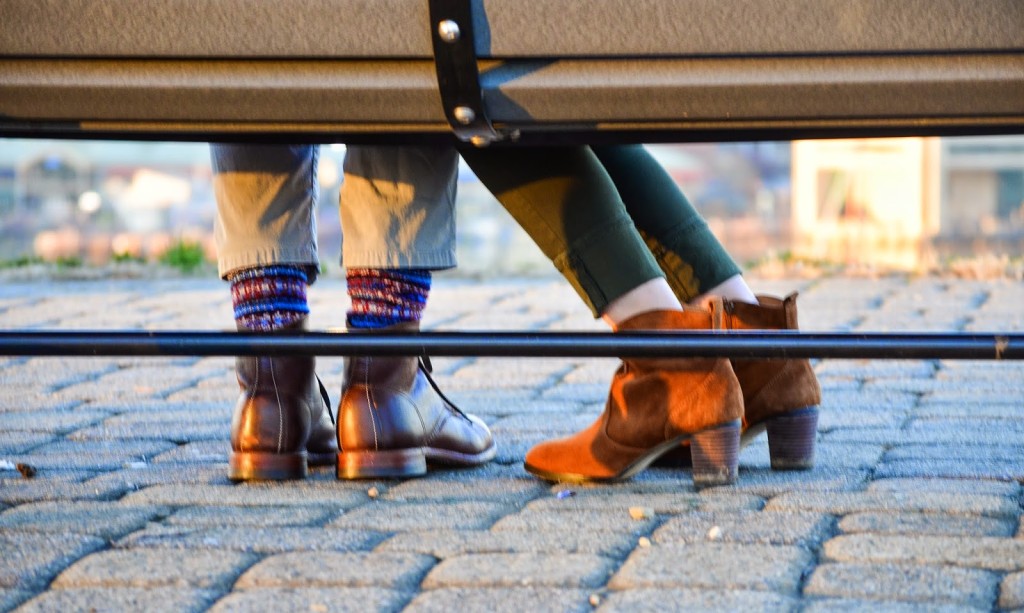 After our engagement
Once we had gotten engaged and taken some photos with Allie (check out more of her work here), Riley told me that he had made dinner reservations at one of my favorite restaurants, Germano's, in Little Italy. I told him that I didn't think I could eat anything, but was excited for a nice dinner together!
The entire ride to dinner (a whopping 10 minutes), all I could do was stare at my ring and cry. I was so, so excited. I started to call my friends, knowing that my family already knew, so we could celebrate in person, but didn't get very far since the drive was so short. I pleaded with Riley to let me stay in the car and call more friends, but he insisted that I get out and go into the restaurant.
Surprise party
We walked into Germano's, a place I've dined many times, and Riley immediately started walking up the stairs to the private room. "Uhh, don't we need to check in with the hostess?" He looked back at me, smiled, and completed his ascension to the upper level.
As I rounded the corner of the stairs, my heart nearly exploded with joy. All of my favorite people were in one room to celebrate with me! I literally covered my face and yelled "ALL MY PEOPLE ARE HERE!," before crying and hugging each of them. What a perfect moment.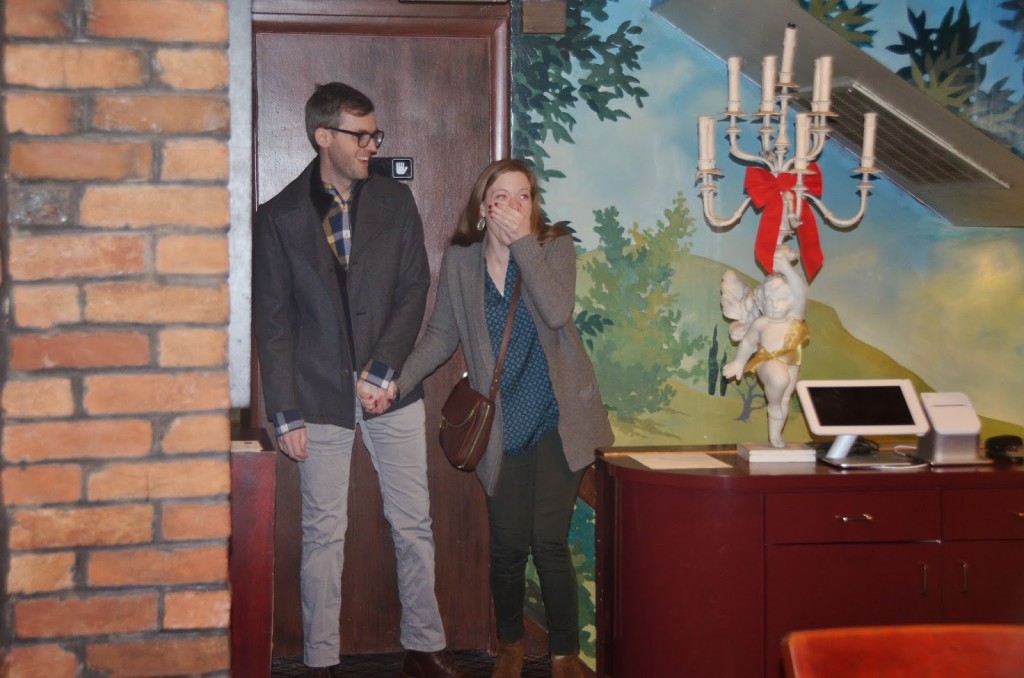 My soul was so overwhelmed with joy that I could barely sit still, let alone eat food. My best friend, Ang, ordered my dinner for me (as she has done many times–I totally trust her taste!), and I picked at it as I sat in complete awe. My sister took the photo below of all of "my people" together.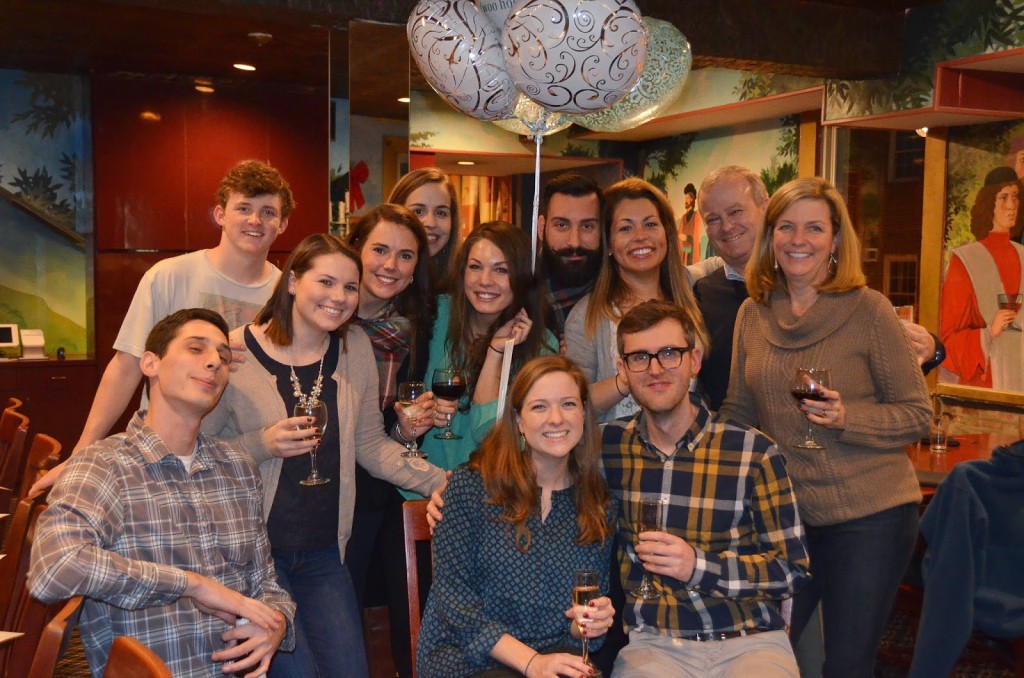 What a wonderful, unforgettable, perfect day. I am overcome by the faithfulness of my God and the love of my friends and family. And I am so excited to become Mrs. Lamb!