As promised in this post, I'm chronicling my attempt to get rid of a bunch of stuff I don't need. Although this post was supposed to be focused on clothes and shoes only, once I got organizing, I couldn't stop, so I went through my jewelry and accessories, too!
When I started the process (which took about three days, five hours total), my closet wasn't  that bad, or so it seemed. There were so many random items I didn't know I had that I didn't wear–I couldn't believe it!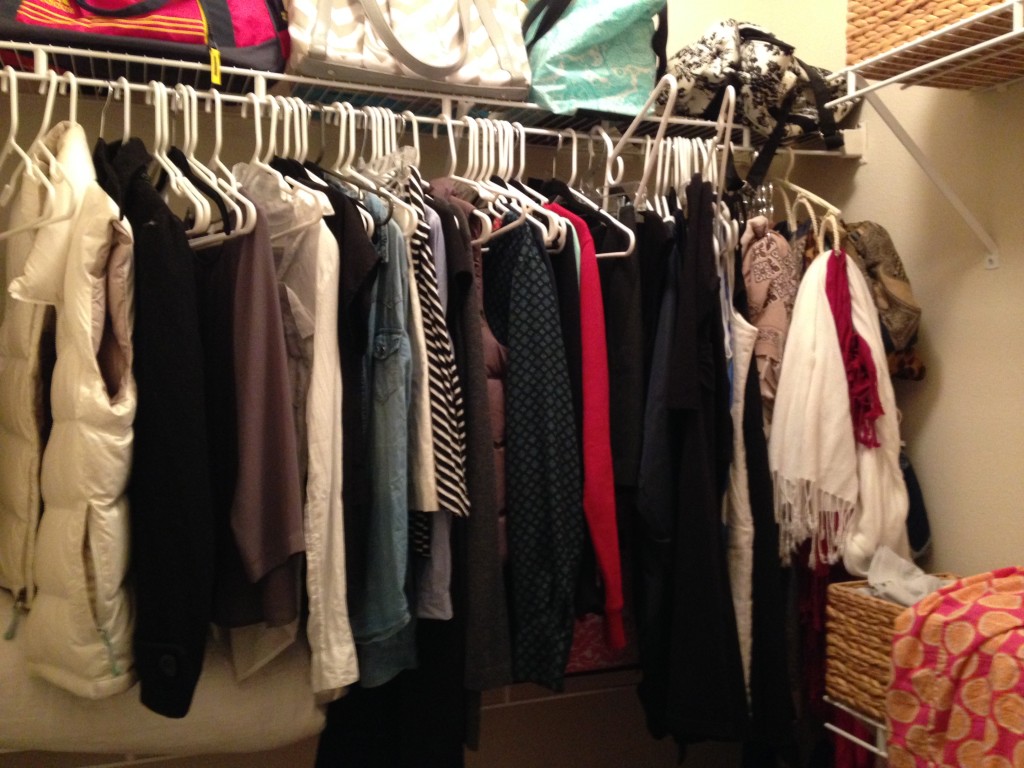 The first thing I did was straighten up my room and make my bed. I needed a clean slate with a lot of space to sort and spread out!
Then, I did a once-over in both my closet and my dresser. I grabbed anything that I knew I didn't want to keep, folded it, and put it in a pile on my bed. This was the easy part–items like an ugly Christmas sweater I wore for a party during my sophomore year of college went right into the pile. Vests and shirts from eight (yes, eight!) years ago piled up as well.
After my first once-over, I had about 20 or 25 items to donate. Then, the real work began. Charley bundled up and we began to really look at each item…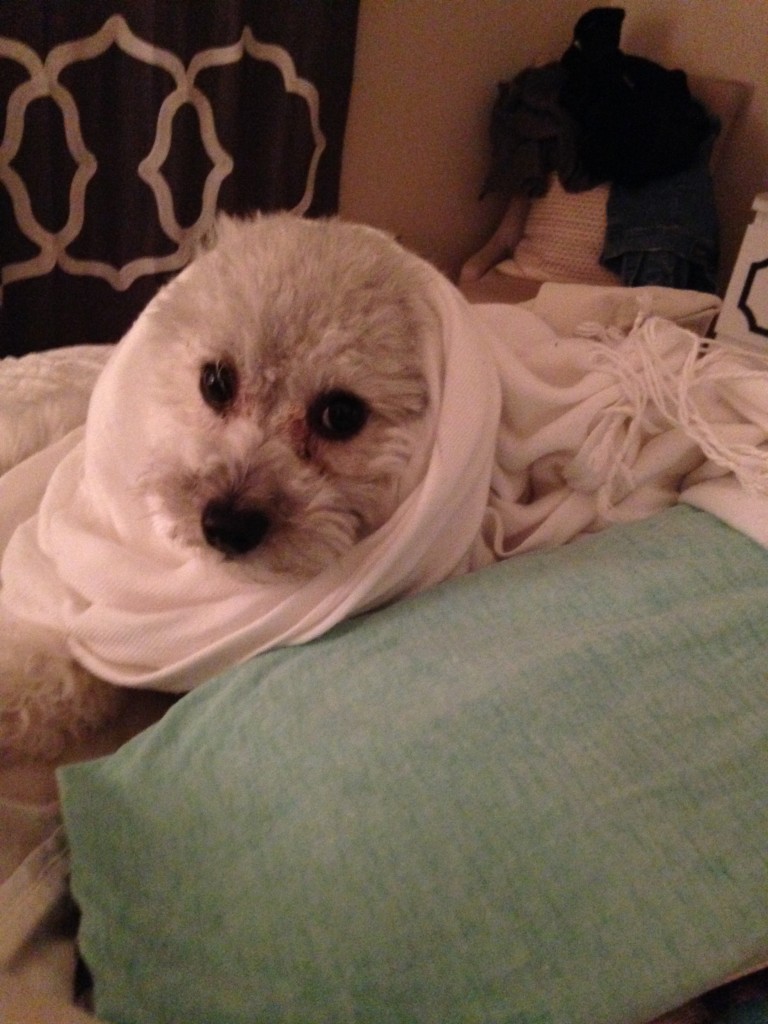 Does it fit? Is it stylish? Do I feel good wearing it? Does it have any unfixable stains or holes in it?
After going through both my closet and dresser a second time, my pile had more than doubled in size.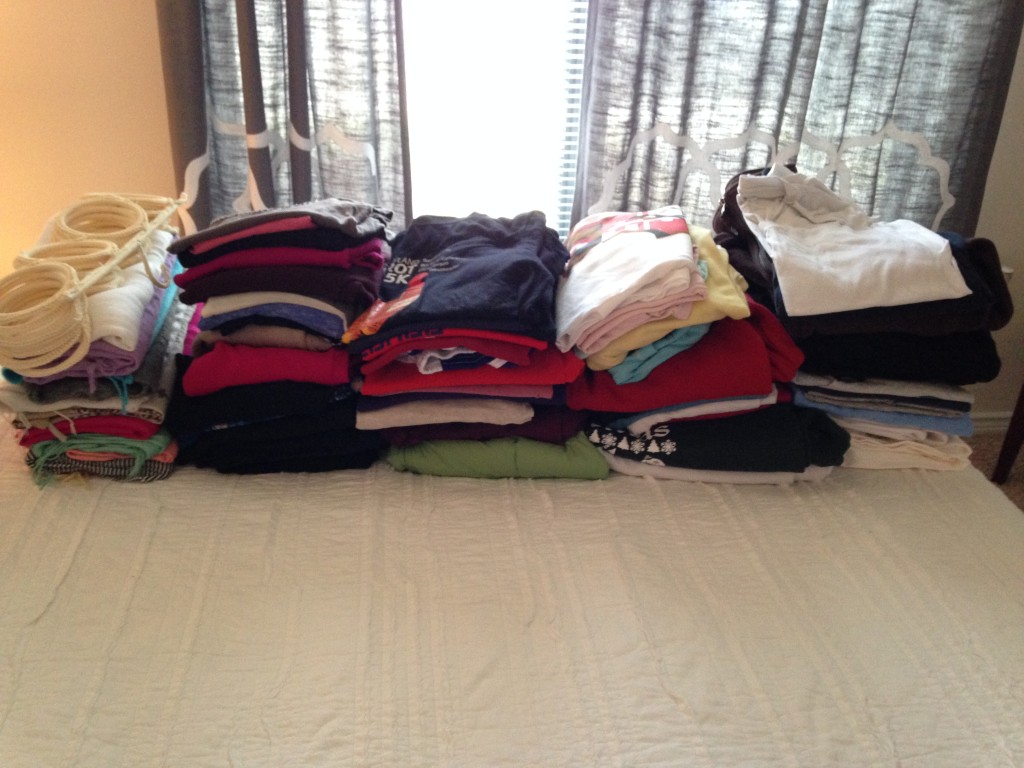 T-shirts from college that were worn out had to go. Out-of-style items had to go. Things that were cute in theory, but didn't make me feel good had to go.
Then, for my shoes. I got rid of just two pairs–one that I wore at my friend Rachel's wedding so that I could dance comfortably (great idea, by the way!), and a pair of slip-on rain booties. I love the rain booties in theory but always feel really unattractive and clunky when I wear them–so, they went to the donate pile!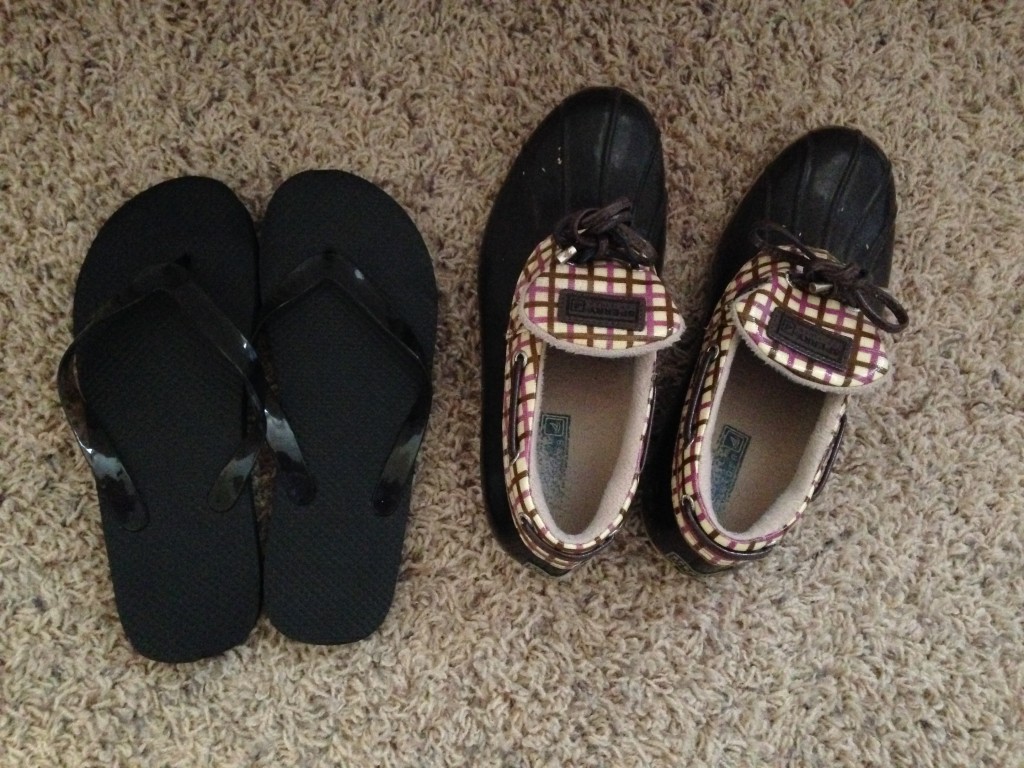 Next I moved onto sorting my bags. I love purses and bags so very much, but I have actually gotten better at only buying high quality, long-lasting bags less frequently instead of oh-my-gosh-that's-so-cute-I-gotta-have-it-now bags all the time. I donated one that I had purchased on a service trip to Honduras, a couple of cheap ones that I picked up in Spain, and an old, ratty beach bag with my almost-outdated monogram.
It was especially hard to get rid of my Honduras bag. I loved it–woven navy with colorful fish all over it. I bought it in a sweet market when I was serving there. Although its sentimental value is high, its functional value is very, very low. It's super "hippy-dippy" here in the US (no offense to any tree huggers out there, love ya! 😉 ), and I simply don't use it. Learning to part with objects that hold sentimental value is a tough but necessary lesson. Things are things. Things are things. Things are things. Things don't hold memories. Getting rid of things doesn't get rid of memories. Things are things.
I continued to apply the same mantra, things are things, as I went through my jewelry. (Sidenote: I didn't take any photos of this part, sorry!) Just like my bags, some of my jewelry, however cheap, held special meaning in my heart. I enjoyed reflecting on each piece's memory before I put it into a Ziploc bag and placed it in the donate pile. I ended up giving away at least 20 pairs of earrings and 10 bracelets. If I don't wear it now, and it's not worth anything, then I got rid of it.
In the end, I am left with a whittled down, clean, organized, clutter-free closet!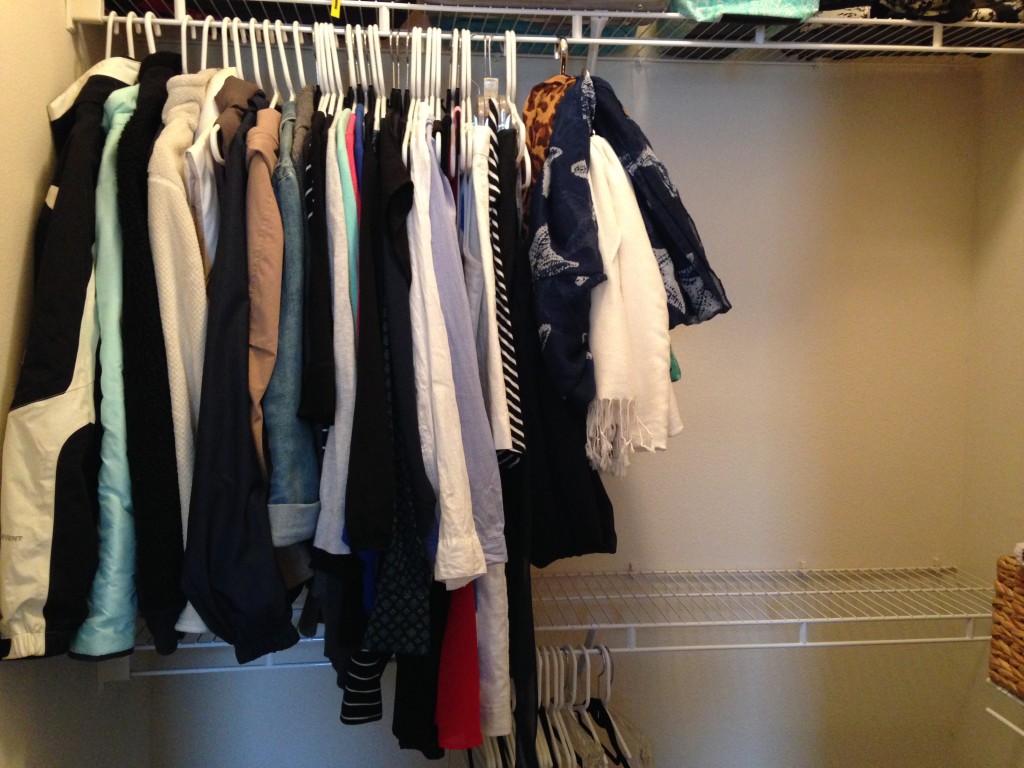 It feels great. Now, for the rest of my stuff! #getridofstuff2015