Wow, that's an aggressive post title. I like it. This post needs a title as big as the task it represents–getting rid of a whole bunch of stuff!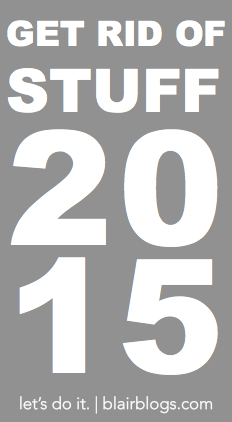 I'm single (for 168 more days 😉 ), I live alone, and I am the furthest from a hoarder that you could ever imagine. Still, there is stuff in every room in my home that I do. not. need. This morning, I went into my closet and saw my collection of scarves. I wear roughly five of them…the other 20, well, they just keep the scarf hanger warm.
Then I looked at my bookshelf. Dozens of books that I'll never read again (volumes that are written for teenagers, for example), and even a year and a half worth of Real Simple magazines. Tell me, WHO rereads magazines?! Not I. Just keeping 18 magazines around…you know, just in case.
I have jewelry that's out of style, perfume that gives me a headache to wear, notepads and notebooks and empty journals that I'll never use (I'm extremely picky about the type of paper I like to write on). There are items in my pantry that are stale or expired or just not yummy (tell me I'm not the only one who occasionally makes an impulse buy at the grocery store and regrets it later! #nosaltfrenchcutcannedgreenedbeans #WHY). I have remnants of Charley's puppyhood that I no longer need, but haven't taken the time to get rid of, like puppy pads or tiny harnesses. The list…sadly, it goes on and on.
I always surprise myself when I think about the extra stuff that I need to donate or trash! I'm so organized and relatively minimalistic, and yet, there's just stuff that I no longer need.
There are a few things that spurred this aggressive GET RID OF STUFF 2015 post. For one, it's going to be Spring soon (It already feels like it here in Texas!), and who doesn't love some good Spring cleaning? Secondly, Riley and I will be moving in together after we get married, obviously. The less random, useless stuff that I can pack up, move out, move in, and unpack, the better. (Also, who wants to start a home together with clutter?)
So here's what I'm going to do. This is me publicly committing to getting rid of stuff that I don't want, need, or like–and donating it or trashing it. This is also me publicly committing to blogging about the process. And because my mind thinks in blog posts, here's how I am going to break up my purging chronicles (not necessarily in this order)…
Get rid of kitchen stuff & pantry items

Get rid of books & paperwork

Get rid of home décor & home goods

Get rid of toiletries, makeup, & products
I'm so excited for this self-imposed challenge. It's an organizer's dream to get rid of a bunch of stuff that I don't need…and this public declaration is the exact push forward to get me going! Anyone want to join me in cleaning out, minimizing, simplifying, and streamlining?