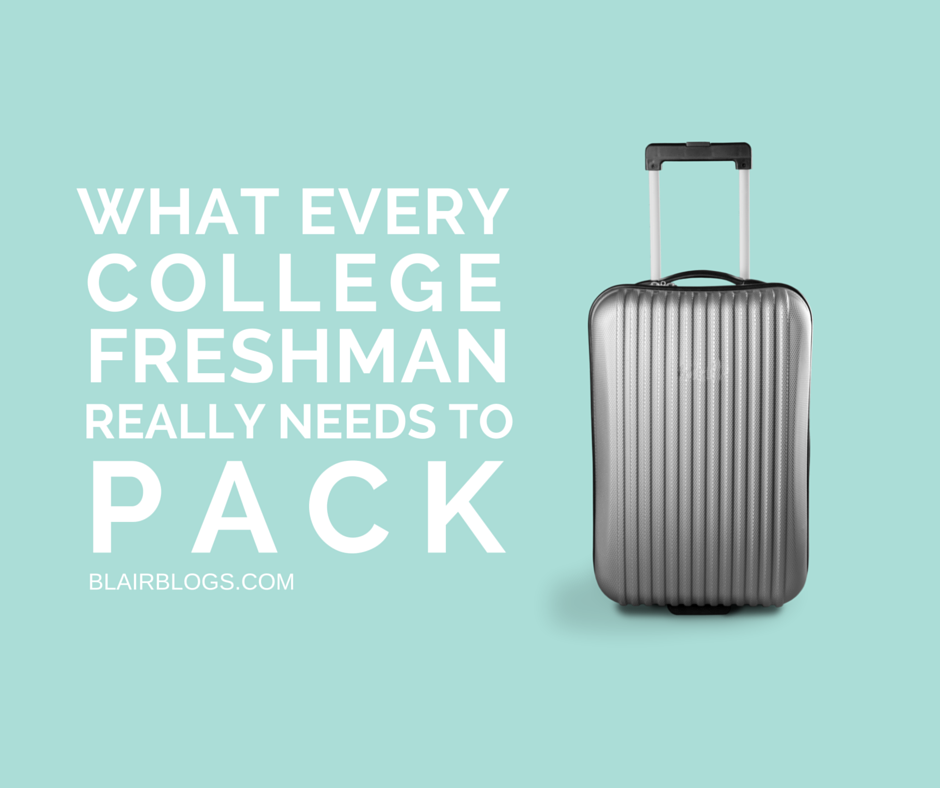 This post is the sequel to What Every College Freshman Really Needs to Know. If you just want to download the packing list, click here to download. As always, any Amazon links I share are affiliate links. This means that the price of the item won't change for you, but I receive a small commission of the sale which helps me keep my content free and my site up and running. Thanks for your support!
Complete College Packing List
For The Bed
Body pillow (you'll want to put this up against the cinderblock wall that your bed will inevitably be up against! so much more comfortable!)
2 pillows for your head (it's nice to have two if you have an out-of-town friend stay for the weekend)
Blanket (I highly recommend a sweatshirt blanket)
2 pairs of sheets, one cotton and the other jersey or flannel (hot/cold weather)
Comforter (typically in Twin XL for dorm rooms)
Decorative pillows if you like them (I do! I do!)
Mattress cover (make sure to get a non-crinkly one–like this)
Your favorite stuffed animal from home (you may want something to cuddle as you get adjusted!)
For The Desk
Mug or cup for pens/pencils

Lamp (trust me–the overheads get old really fast)
Wireless mouse and mousepad if you prefer it
Laptop case (I like the snap-on cases like these, but a fabric sleeve is great, too!)
Calendar
Stapler and extra staples
Three-hole puncher
Tape (scotch, masking, and duct–yes, you'll use them all!)
Printer, ink, and paper (it's much cheaper and faster to use the library's printers, but you will probably use your own printer once in a blue moon! this one is affordable and great)
Comfortable chair if you're picky (with my scoliosis, I am super picky! no wooden dorm chairs for me.)
For Decoration
Rug, as big as you can fit (it will make your room feel 100x more cozy)
Picture frames, canvases, posters, and other wall decor
Over-the-door mirror
Floor lamp (I hate overhead lights, lamps are so warm and homey)
Light bulbs
Tension rod and curtains if you really want to make it homey
Dry erase board and markers for your door (so your friends can leave you notes!); this one is cheap and perfect!
For The Closet
Thin hangers (so you can fit everything!)
2 or 3 baskets or bins for storage of off-season clothing
For You To Eat
4 microwaveable bowls (I recommend this affordable 18-piece set)
4 microwaveable plates
4 forks
4 knives
4 spoons
Your favorite foods (oatmeal, soup, cereal, crackers, fruit–whatever you like!)
2 coffee mugs
2 reusable water bottles
1 travel coffee cup (whether you're a coffee, hot chocolate, or tea drinker–you will love this on chilly Fall mornings!)
Brita pitcher and filters
Electric kettle if you're a big tea drinker
For You to Clean
2 rolls of paper towels

Pack of napkins
2 packs of Lysol or Clorox wipes (you'll go through one on move-in day!)
Windex wipes or spray
Small, lightweight vacuum (or borrow one from a hallmate! Amazon has some great, cheap options here)
Dish soap
Dish scrubber or sponge
2 dish towels
Large trash can (don't get the tiny one like the one in your bedroom at home–opt for a kitchen-sized can! A lidded can is helpful for food smells, too)
Trash bags
For Entertainment
Television (you may not use it much, but it does come in handy every now and then)
DVD player– here are some affordable ones
DVDs
Your favorite few books (don't go overboard–they're a pain to move)
Deck of cards
Board games (it's fun to have a game night with your friends!)
Headphones— I have the Amazon Basics ones in white and love them
For The Bathroom
2 full-sized towels

2 hand towels (if you have a hall bathroom, take a hand towel with you to dry your face when you wash it at night…a lot easier than carrying a bulky full-size towel!)
Shower shoes (cheap plastic flip flops)
Towel wrap or robe (absolute must)
Shampoo
Conditioner
Body wash
Shower pouf or washcloth
Face wash
Body lotion
Face lotion
Razor
Shaving cream if you use it (I don't!)
Toothpaste
Toothbrush
Floss
Mouthwash
For Laundry
For Retreats & Weekend Getaways
Sleeping bag (wish I had brought one my freshman year…it's so easy if you have a friend sleep over, if you go on a retreat, if you go camping, go on vacation with friends, etc…bought one my sophomore year and used it countless times)
Twin-sized air mattress (like the sleeping bag, used it 24/7…this one's cheap at $33)
For Your Happiness
Journal

Bible (or another inspirational book, but I recommend the Bible :))
Letters from family and friends to open throughout your first week
Family photos
With all that said, here's my best advice: do not try to purchase every single item and cram it all in mom's van before your freshman year. Unless you're going to school in the middle of nowhere, save some shopping for orientation weekend. It's simply too overwhelming and difficult to get it all before you leave.
More advice: don't go to the Target, Walmart, or Bed Bath & Beyond directly next to your university. Drive, I tell you–drive! Drive 20 minutes, even a half hour away. Stores further from campus will actually have dorm essentials in stock, it won't be a literal feeding ground, and the lines will be roughly 62 people shorter.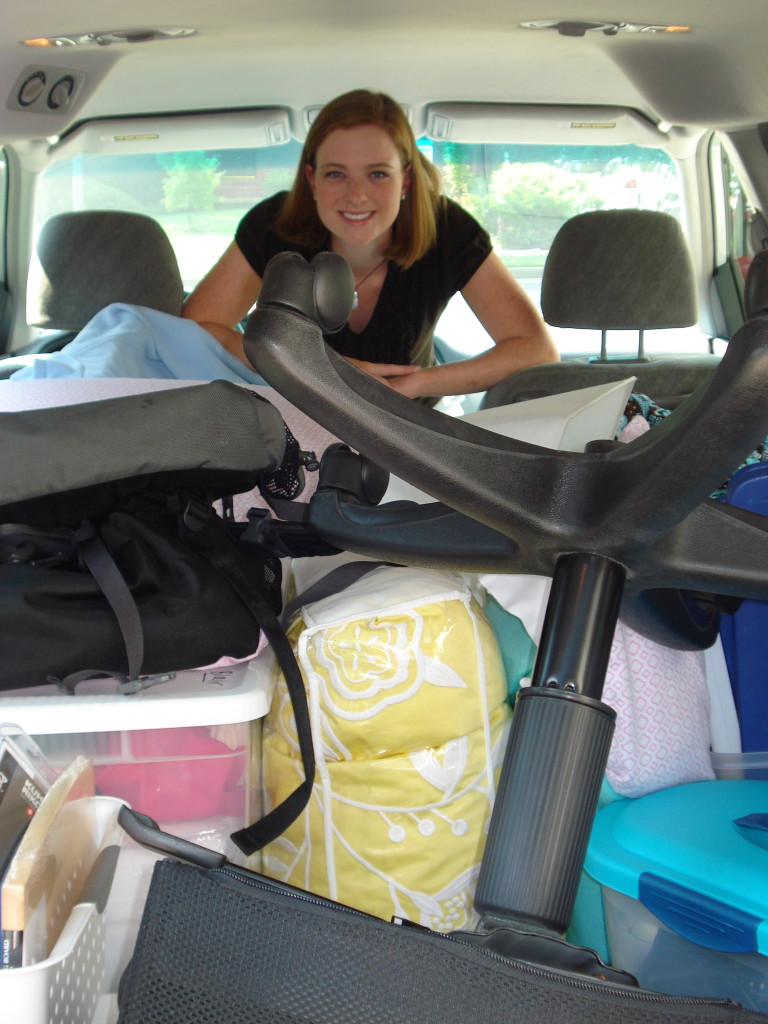 The photo above is from the day over seven years ago when I moved into my dorm freshman year! Such wonderful memories. And just for kicks and giggles, here are two photos (below) of my freshman dorm room!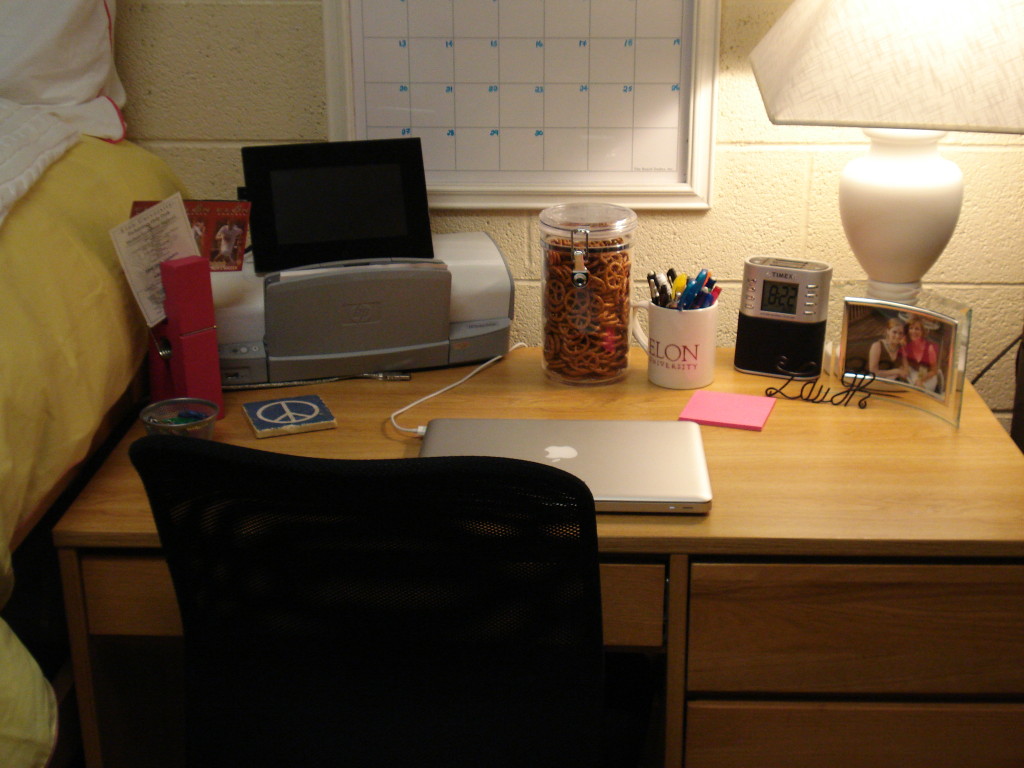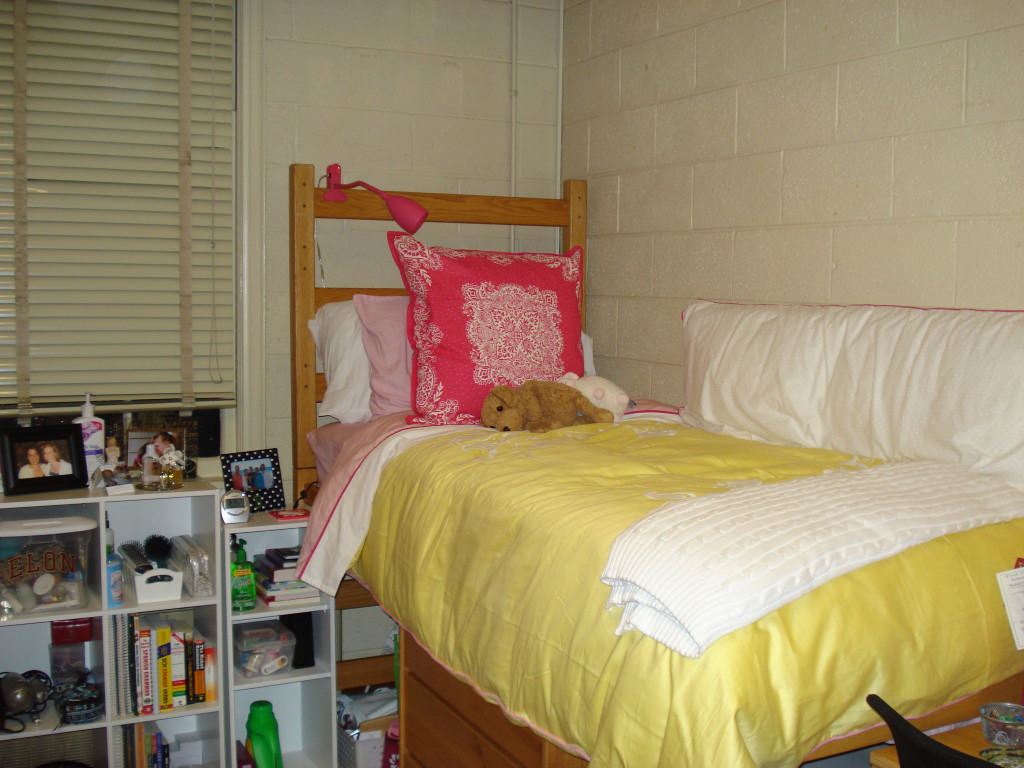 Oh, how I loved that sweet little room! BEST OF LUCK TO YOU!
Want more college tips for freshmen?
Thank you for reading! You can find me online on Facebook, Instagram, Pinterest, and Twitter. If you'd like to be alerted whenever I publish a new post, you can follow me on Bloglovin' or subscribe via email. Check out my fun tees in my Etsy shop and listen to my weekly podcast about simplifying life, Simplify Everything!
Use the images below for Pinterest: