Hi, I'm Blair and I am addicted to Target.
Really, though. Everything about the store sucks me in. The lights, the way it always smells, the various clearance sections…it's an obsession.
Last night, when I realized that I had run out of yogurt, I convinced myself that it was absolutely necessary to drive to Target to buy a bunch of food and beauty products a few cups of yogurt. You laugh, but be honest. When have you ever gone to Target and spent any less that 800% more than you initially intended? Really now. But this post isn't a discussion about the magical wonder of Target. Saving that for another day!
Target has set up a brilliant display that is extremely relevant at this time of year: products to help people achieve their New Year's Resolutions. It's called "Get Your Year in Gear." Most companies have already pulled out cupid and hearts and other Valentine's Day paraphernalia. Target is the first store I've ever seen that plays to people's emotions and goals at this time of year.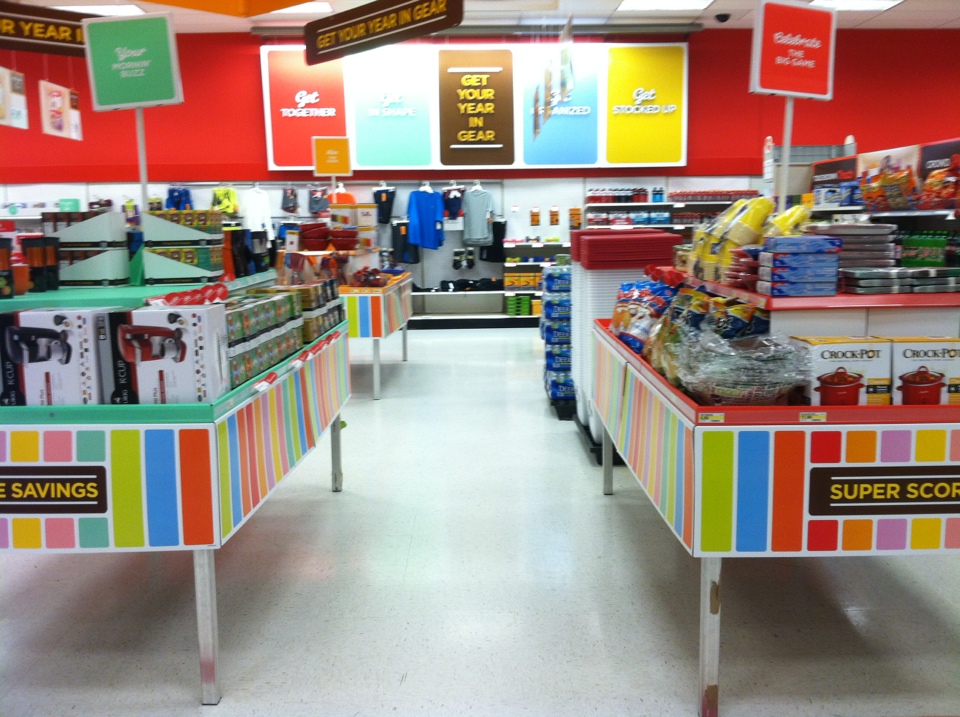 The section above is the "Get Together" section; within it, there are cooking necessities as well as board games. I can totally image a Mom wishing to cook more and/or spend more time with her kids in the New Year. Brilliant, I tell you!
The display is very large– it takes up the entire back corner of the store– and it is split up into four main parts, "Get Together," "Get in Shape," "Get Organized," and "Get Stocked Up." Within each section, the displays are broken down into smaller sections.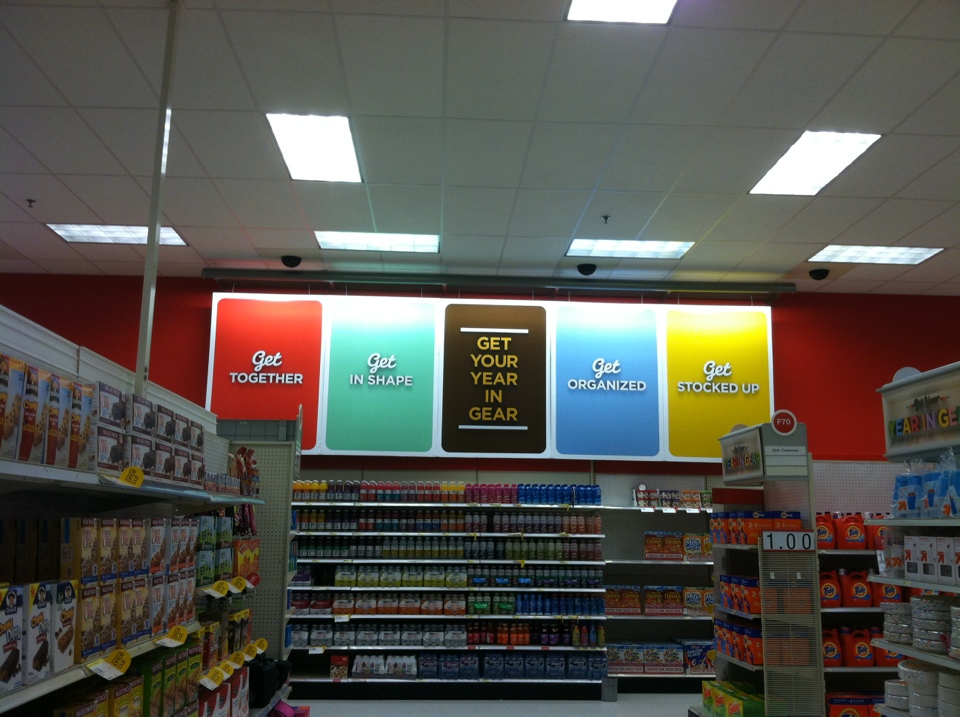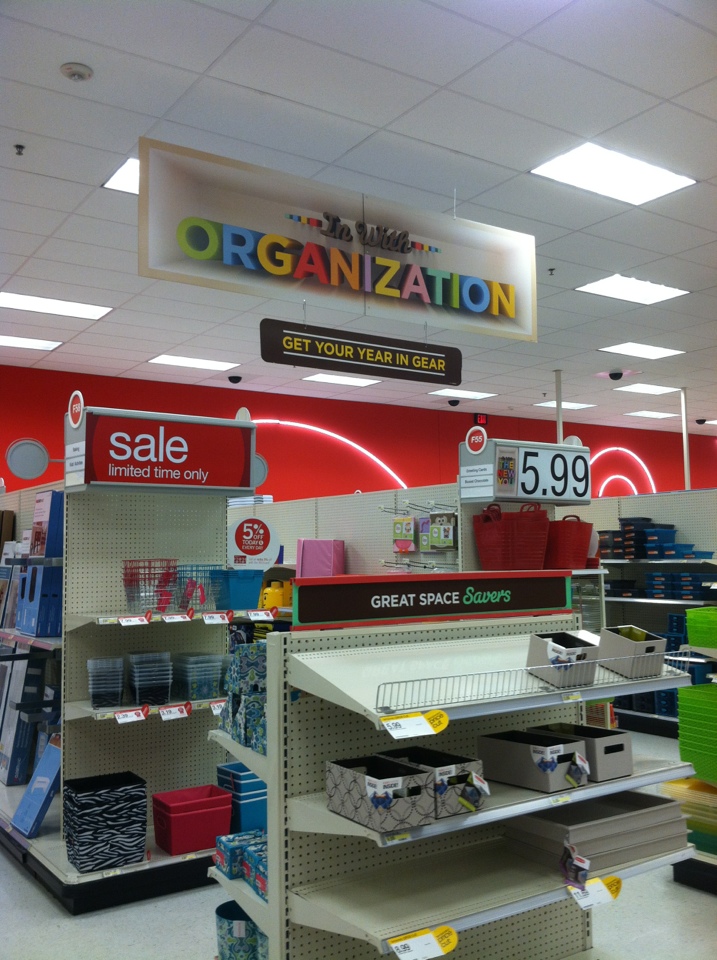 My favorite section? Obviously the "Get Organized" part! (Come on now, what did you think I'd say?) It featured a myriad of wondrous baskets and buckets and tupperware containers, even label makers (drool) and other fantastic organizing essentials.
But the most genius part of the entire "Get Your Year In Gear" display? The "Get in Shape" portion.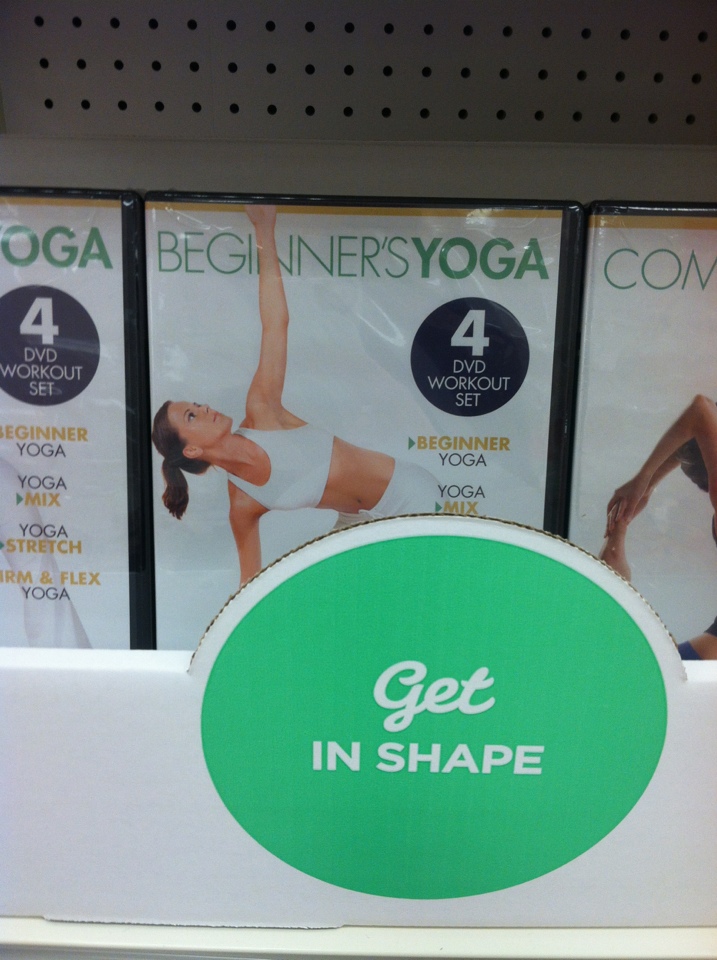 How many people wish to "Get in Shape" or "Lose Weight" in the New Year? Probably more than half! Target really capitalized on this resolution, with a large section of athletic clothing, DVDs, free weights, yoga mats, etc. So smart.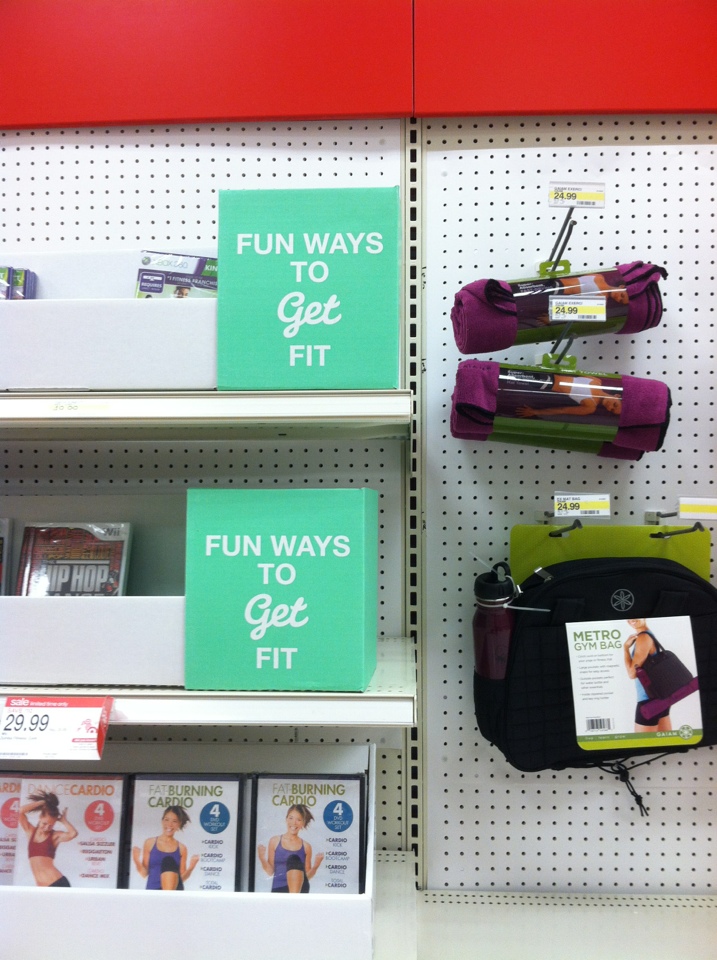 I so wish I could see Target's numbers on the items featured in these four sections! I'd bet that their sales are significantly higher than they'd be if they were located at their usual homes within the store.
Why is this type of set up so effective? Because it's pulls on peoples' consciences. Can't you hear someone's inner dialogue as they walk through the "Get in Shape" portion?
I said I was going to get in shape last year, but I gained weight. I need to get back on track. Look at all these fun exercise DVDs. Maybe I can do it this year. How about the organized section?
All that clutter…I have got to do something about it. Maybe I can finally use the office as an office…and not a storage room? It is my New Year's resolution!
Hat's off, Target. I'm a fan for life.
Have you seen Target's New Year's resolution section? What's your take on it?
Also, check out this awesome product. It allows you to run your wine glasses through the dishwasher!