My skin is super important to me. After all, it's my largest organ, and it's one of the first things that people notice. My pale, freckled skin is as much a part of me as my blue eyes or tinge-of-ginge hair.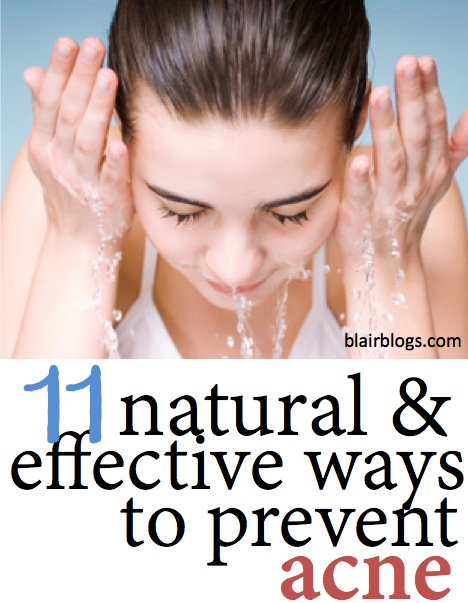 I wrote last week about my skincare routine using the Oil Cleansing Method. (Yes, I wash my face with oil!) Since I've started this routine, my skin has really cleared up, is softer, and simply happier overall! But lately, I've been noticing some bumps in my chin area and on either side of my mouth. No where else! I began thinking, and I realized that I touch my face constantly. Which led me to create this list of natural and easy ways to prevent acne, starting with number one…
1. Stop touching your face! As I just mentioned, I am very guilty of this. My solution? I keep a rubber band around my wrist 24/7. Each time I touch my face, I snap the rubber band against my wrist enough that it hurts a little bit. This is some basic psychology (holler Pavlov!), but it is actually starting to change my behavior!
2. Wash your makeup brushes. Makeup brushes can be breeding grounds for bacteria and also can harbor dirt. Bacteria + dirt = acne-prone skin! Wash your brushes with a gentle cleanser; check out  Natasha's post on how to properly cleanse your makeup brushes! (I also love Dr. Bronner's soap for the job!)
3. Be careful with your hair products! With all the stuff we put in our hair, it's no wonder we get bumps and pimples around our hairlines! (I know I do if I'm not careful!) Hair spray, serums, oils, and gels, aren't meant for our skin (obviously!), so be super careful that you only get your hair products on your hair. After you put in product, wash your hands! I started washing my hands post-product application, and I have seen a definite difference in my skin.
4. Breathe, vent, pray. Do whatever you do to relax. Take a bubble bath or a hot shower, light a candle, watch a movie, go for a run, call a friend! Experts believe that our emotional health can affect our skin; the more relaxed we are, the less acne-prone our skin will be!
5. Wash your pillowcase. When I get busy, I'm guilty of not washing my sheets every other week as I'd like to. However, my pillow case goes in the wash every single week no matter what. (Sometimes more than once a week!) It grosses me out to think about the dirt and oil on my pillowcase that my face lays on every night for eight hours. Yuck! Wash that nastiness.
6. Cut back on carb-heavy and sugar-rich foods. Listen, I love carbs as much as the next girl, but apparently there's some science between what you eat and how your skin looks. When we high carb and high sugar foods, our bodies produce a surge of insulin and an "insulin-like growth factor" called IGF-1. This growth factor (IGF-1) makes our bodies secrete a sebum, which is a greasy substance that attracts acne-causing bacteria. Yuck! Ditch the chips every now and then and grab some carrots instead. Your skin will thank you!
7. Get more Vitamin D. Step outside for 20 minutes or take some natural Vitamin D supplements! Getting enough Vitamin D can help support a healthy immune system and also help to fight infection (including acne!). All it takes is a little bit, and make sure not to get sunburned! (Safe sun is the best sun ;))
8. Wash your face, but don't wash it raw! I'm a firm believer in the Oil Cleansing Method (read more about why I love it and the science behind it here). If you decide to use drug store cleansers, make sure you don't damage your skin in the process. Rubbing your skin with harsh loofahs can actually cause infection to spread, and cause more acne! Cleanse your face gently, and make sure to moisturize!
9. Add tea tree oil to your cleansing routine. Instead of harsh skin-drying chemicals, try dabbing a bit of natural and organic tea tree oil on your zits. One study showed that tea tree oil was actually more effective and had less side effects than its chemical counterparts when treating acne. If your skin is acne-prone, why not mix a bit of tea tree oil with your face wash?
10. Take a Biotin supplement daily. Biotin is a vitamin that can help promote healthy skin, hair, and nails. (Holler at that, right?!) I have been taking a daily Biotin supplement every day for a month or two, and I have definitely noticed a difference. My skin feels healthier (and less dry), my nails are stronger, and my hair seems to be growing a bit faster than usual. You can grab a bottle of Biotin anywhere where vitamins are sold.
11. Drink more H20! I know, I know. We've all heard this. Want to lose weight? Drink more water. Want healthier skin? Drink more water? Want to sprout wings? Drink more water. Well, at least two of the three are true. But our bodies need water! So drink up.
Hope these tips and tricks help you get the beautiful skin you want! (Although I'm sure you're already gorg!) Do you have any skincare remedies that work for you? Comment below and fill me in!
source 1 // source 2 // source 3 // source 4 // source 5
This post has been shared on Holistic Squid's Party Wave Wednesday.