Today, I welcome my very first guest poster on Blair Blogs…drumroll please…welcome Jessica! She's here to help us all plan the best holiday parties this year!
————————————————————————–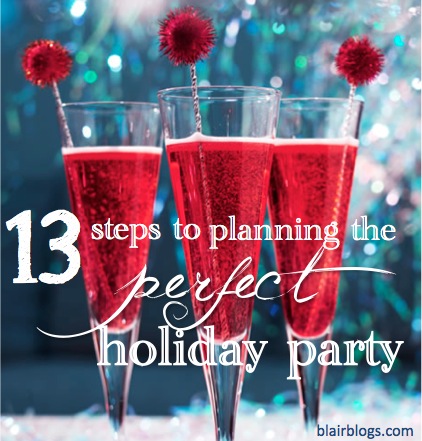 The holiday season is right around the corner, which means it is time for holiday parties to begin! Y'all are likely to be invited to a handful of events, but are you planning to host any this year? If so, you will want to make sure that you have everything planned before the day of your event to ensure that your party runs smoothly. Follow the13 steps listed below, and your party should be as fabulous and blissful as can be!
Step 1: Decide what kind of party you want to have
The party I am planning is a holiday dinner party with family. However, there are endless options when it comes to types of holiday parties you can plan. You can choose to host a holiday cocktail party with friends, a gift exchange, a cookie-decorating event, and more. Each type of party will have its own feel, so it is important to set the tone before starting any further planning.
Step 2: Create your guest list, and send invites about three weeks in advance
For most holiday parties, you will want to give your guests ample time to mark your event on their calendar. With the growing popularity of e-vites, it is simple and inexpensive to send these invites online. However, make note that there is always something a bit more special about sending personalized invites in the mail!
Step 3: Make a detailed budget, and stick to it
Determine how much you are willing to spend hosting your holiday party. Take into consideration the decorations, food, and entertaining costs you will incur. Allotting a certain amount of money to each aspect of your party will help keep you on track while you are shopping.
Step 4: Create a Pinterest board dedicated specifically to your event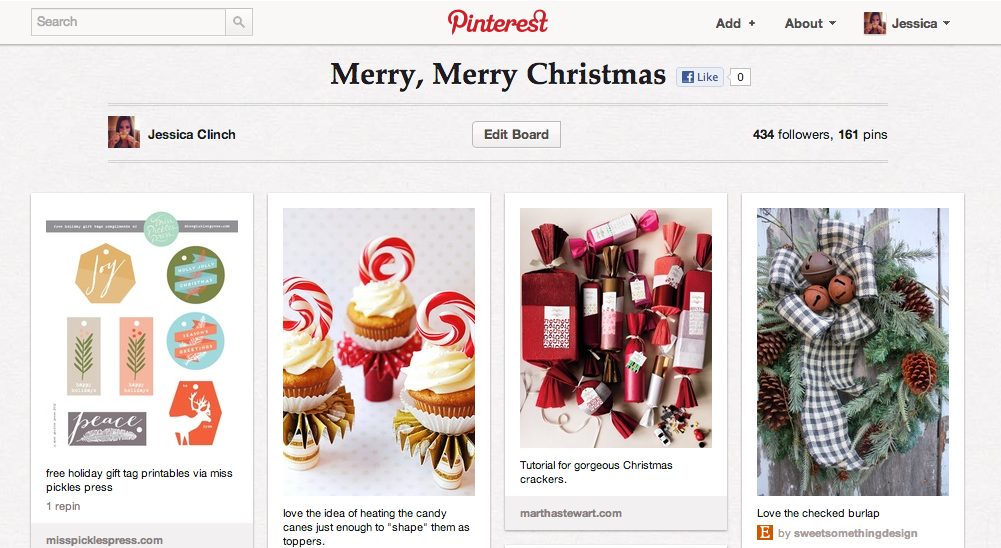 Y'all, I cannot tell you how beneficial Pinterest is in the party planning process. If you have not heard of Pinterest yet, it is a site that allows you to create themed boards and add "pins" to these boards from pictures you find on the web or from other people's Pinterest boards.
In November, I created a board called Merry, Merry Christmas, and started pinning various holiday-related items ranging from tasty appetizers to creative place card ideas. I often pull up the Pinterest app on my iPhone while I'm out shopping for decorations or food if I forget exactly the look I had in mind or ingredients I need. Trust me, this step is a must.
Step 5: Choose a color scheme and "look" for your party
Based off of the inspiration you find on Pinterest and in magazines, choose a color scheme and overall look for your party. Do so before you go shopping. This will prevent you from spending money on items that are to die for, but do not mesh with your look.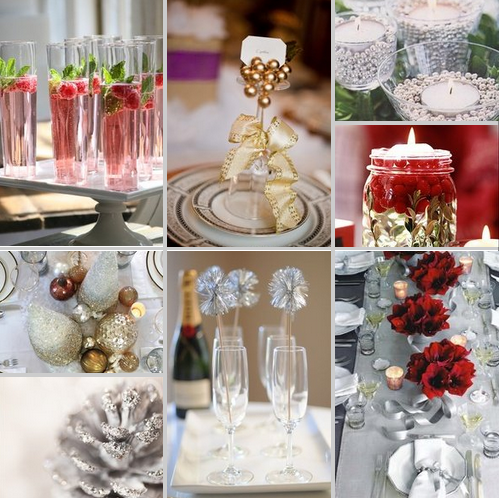 After much consideration, I decided that I wanted my holiday dinner to be based on a silver and gold color scheme with pops of berry and emerald throughout. The "look" I am aiming for is a frosted winter dinner. In order to ensure that this will be an attractive and cohesive look, I created an inspiration board with some of the pictures I found on Pinterest. You can easily create your own inspiration board on Style Me Pretty by registering with the website and following this link to begin the creating process.
Step 6: Find details that are unique to you, your family, your friends, and/or your area
You want to ensure that your party really personifies you and your relationship with your guests. Therefore, try to think of details significant to that group of people, or to the place in which you are celebrating. Incorporating these details can be done by serving classic family recipes or by thinking of place cards that are meaningful to your friends.
When I was brainstorming ideas for place cards at my dinner table, I was talking to my mom about the culture of Winston-Salem. Since most of my family is travelling from out of town, I knew I wanted to represent our area for all of them to see. My mom reminded me of the candlelight service that takes place at the Moravian Love Feast each Christmas. The service carries such sentiment, and I thought it would be a lovely way to begin our dinner.
So, I decided that I am going to get candles that resemble the ones used in the service and tie nicely designed name cards on each candle with ribbon. The candles will not only indicate where my guests will sit, but will also allow my family to recreate the Moravian candlelight service before dinner.
Step 7: Create your menu
Create your menu with each phase of the meal in mind. Appetizers should be simple and require little to no silverware. Your main course should include dishes that satisfy all of the main food groups, and should be generally pleasing to every guest's palate. Dessert should include a mixture of chocolate and fruity flavors, because you know you will have picky friends and family who only eat one or the other!
There are three important things to consider when making your menu. First, you should opt for food that can be prepared ahead of time. This will help cut back on the hours of work you will have to do on the day of the event. Second, plan to accommodate for all. Have alcoholic and non-alcoholic drinks, and make sure you know if one of your guests has a food allergy. If they do, opt for dishes they can safely eat, and point out ones they should avoid. Third, delegate! Think of dishes that your mom or sister-in-law love preparing, and ask them to lend a hand in the cooking process. You do not want to be the only cook in the kitchen!
Step 8: Go shopping!
I suggest printing out your budget and inspiration board to bring with you to keep you on track while shopping. If you find yourself in a rut, reference your Pinterest board if you have a smartphone. It is also useful to bring a shopping buddy with you to bounce ideas off of if you are uncertain of which items you really want to buy.
Places I would suggest shopping include: Michaels, Home Goods, Hobby Lobby, and Target. If you prefer to shop online, I would suggest looking at: Etsy, Shop Sweet Lulu, and Kara's Party Ideas.
Step 9: Make a sketch of your party, and ensure you have an adequate quantity of supplies
I have found that it is helpful to take out a sketchbook (or piece of paper if you do not own a sketchbook) and pencil and literally draw exactly how you want your event to look. This will be beneficial for two main reasons. It will allow you to see if you are missing any items, and it will be a great reference point when you are setting up on the day of your event.
Step 10: Create a fun holiday playlist!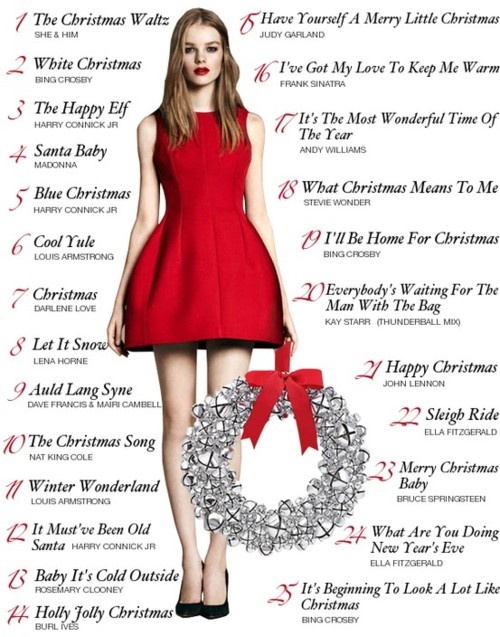 Try to make your own playlist. As nice as Pandora is, you do not want those awkward commercials interrupting a special moment during your holiday party. I am basing my playlist on the songs that I found on this pin shown above. It has all of the classics!
Step 11: Make sure that everything in your house is fully stocked
Ensure that your bathroom has plenty of toilet paper, and that all of your sinks have plenty of soap and fresh towels nearby. Stock up on tissues, as the holidays can elicit a wide range of emotions. Make sure you have plenty of ice for your drinks, and plenty of napkins for your appetizers. Essentially, think of all the things you do as a guest at another person's party, and ensure that you have the necessary items to accompany those activities.
Step 12: Take pictures of your event BEFORE guests arrive
This step may only apply to some of you. For those of you who are as design and detail obsessed as I am, you will want to carefully document all of the hard work you put into preparing this event. Make sure you do this before guests have arrived. Once they do, it is likely that you will be drawn into conversation, and before you know it, little Johnny will have misplaced all of your place cards and Sue will have spilled her wine on your tablecloth. Trust me- pictures before guests.
Step 13: Enjoy your party!
It is your party, and the point of a party is to have fun and celebrate with those you love, right? Right. As much as I just preached about carefully planning the details of your event, try not to let all of these little details bog you down. Something small is bound to go wrong, but all will be okay. The most important thing is that you remember all of the laughs you share with your friends and family.
I hope that y'all take these steps into consideration when planning your holiday parties! Be sure to let me know how your parties turn out in the comment section below. Happy holidays, y'all 🙂
————————————————————————–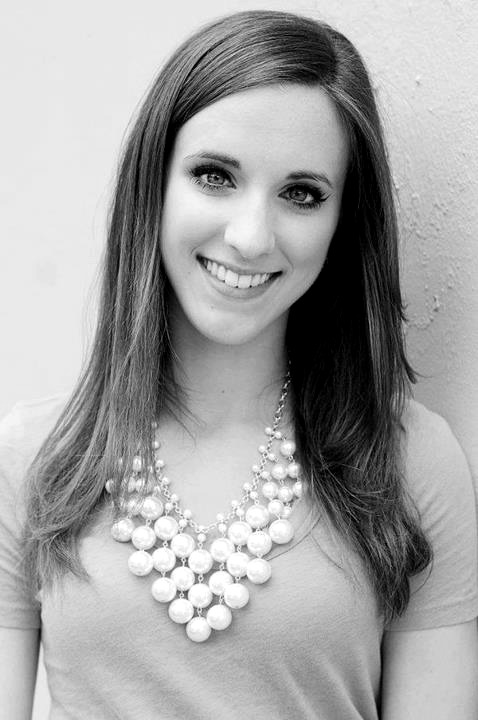 Jessica is a senior Sport and Event Management major at Elon University with a passion for event planning and design, crafting, the southern lifestyle, cooking and baking, good photography, and all things pink and sparkly. Check out her blog here!