Today I excitedly welcome my second guest poster (check out the first guest post by Jessica here)! Dana is a dear friend who I met abroad and have kept in touch with ever since!
————————————————————————–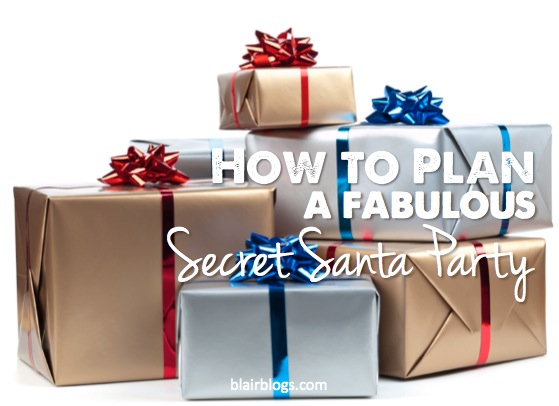 Hello all! My name is Dana and I am honored to be a guest blogger for Blair Blogs. In fact, I met Blair in Seville, Spain last spring while we were both studying abroad there!
Today, I am writing about a very special tradition that I am always very excited for each holiday season: Synchronized Swimming Secret Santa!
So, that's a mouthful, right? A little background: I did synchronized swimming for 11 years, and it has left such an impact on me and who I am today. Click here to see the craziness in action. Over the years, synchronized swimming brought a group of 10 of us closer together, and these girls are some of the best friends I could ever ask for.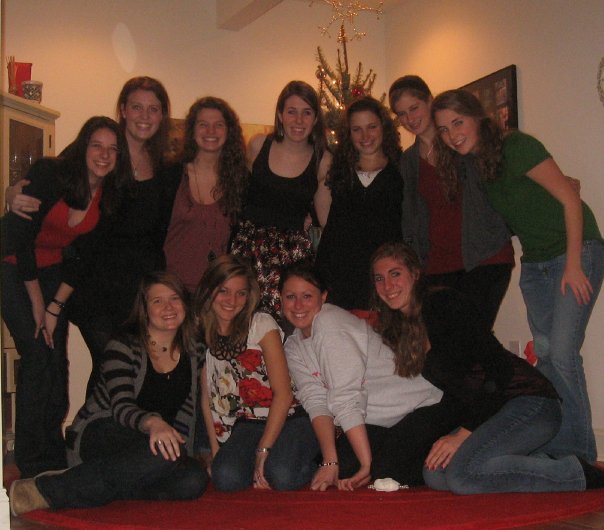 This year, we are getting together for our 6th Annual Stoneleigh Synchronized Swimming Secret Santa (so alliterative!) and we can't wait! Want to start a tradition of your own? Planning on hosting a party? Want to plan a Secret Santa/Snowflake for you and your friends? Read ahead!
How to handle the "secret" aspect?
Our first year, my friend and I drove around to everyone's houses on a Saturday afternoon and had them pick names out of a Santa hat. This worked 6 years ago because no one was off at college yet, but obviously times change and people get busier. So how do you coordinate the draw? Thanks to this handy website called Elfster, it's all electronic! Simply invite people via email or Facebook, set a "draw date," and wait to see who you get!
The idea of the draw date is to give people enough time to respond to the invitation before the system sends everyone their selection. However, if your group is particularly on top of things and everyone responds before the draw date, you can draw manually and the emails will be sent in one click.
I love this site because it has features that will really make your life easier when it comes to planning this event. For instance, the creator of the exchange may impose "Draw Restrictions" or prevent one person from drawing another. In our group, we have two sisters so we'd like to keep them from getting each other since they have to give each other holiday gifts anyway. You can also check a box that prevents someone from drawing the same person as the year before, if you decide to make this an annual tradition. There's even a Wish List, where people can make suggestions for what they might like as a gift!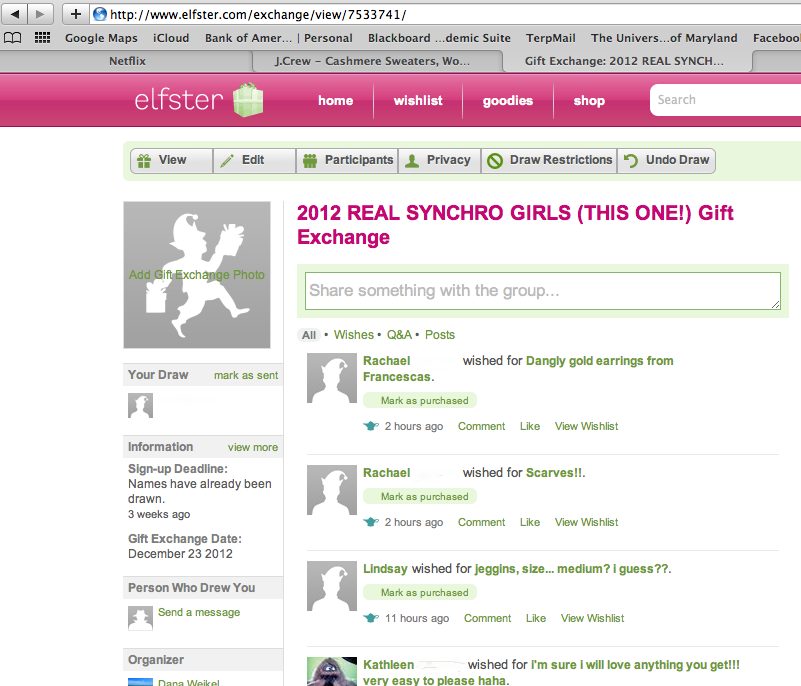 So now that you know how to handle keeping everything organized on Elfster, it's time to talk logistics. How do you make these plans come to life? Facebook is a great way to keep in touch, but cater the communication to your group. Is this a work-related gathering? Maybe you have a mass email going. Just getting together with friends? Maybe group text messages are your thing. No matter what method you choose, clear communication is key.
How do you decide when to have your party?
For simplicity's sake, it is probably easiest to select a date yourself to include on the invite, and if someone can't go, they can't go. However, if your event is part of a tradition, it might be imperative that everyone invited can go.
That's where Facebook comes in! Gone are the days where we all have the same winter break and virtually no winter break plans because we're in high school. Luckily this year we were able to find a day that works for all of us, but there have been times where it didn't work out so easily. Just be organized and, when it comes down to it, select the date that works for the most people.
What would a holiday party be without food?
I find that handling the food potluck-style works best. We usually just tell each other what we're bringing on Facebook in order to avoid having all sweet or all salty dishes. Here are some popular dishes we've had:
Punch – purchase Welch's cranberry concentrate in the frozen section, combine with Sprite or other soda, and just before the guests arrive place scoops of raspberry sherbet in the punch bowl. Looks pretty and tastes great! (And, if your guests are 21+ you can throw some champagne in!)
Mexican Bean Dip – we have a vegetarian (well, now a vegan!) in the group, and she always makes the best dip that goes great with Tostitos chips! It's basically a bunch of layers of beans, sour cream, cheese, tomatoes, and lettuce, and I'm sure you can find several variations on Pinterest!
Puppy Chow – melted chocolate and peanut butter spread over Chex cereal and covered in powdered sugar. This is my favorite thing to make (and eat!)
Bruschetta – toast slices of baguette and top with mozzarella, basil, and tomato
Trail Mix – the best part about this is you can use whatever ingredients you want! Last year, the trail mix we had included mini-marshmallows and it was delish!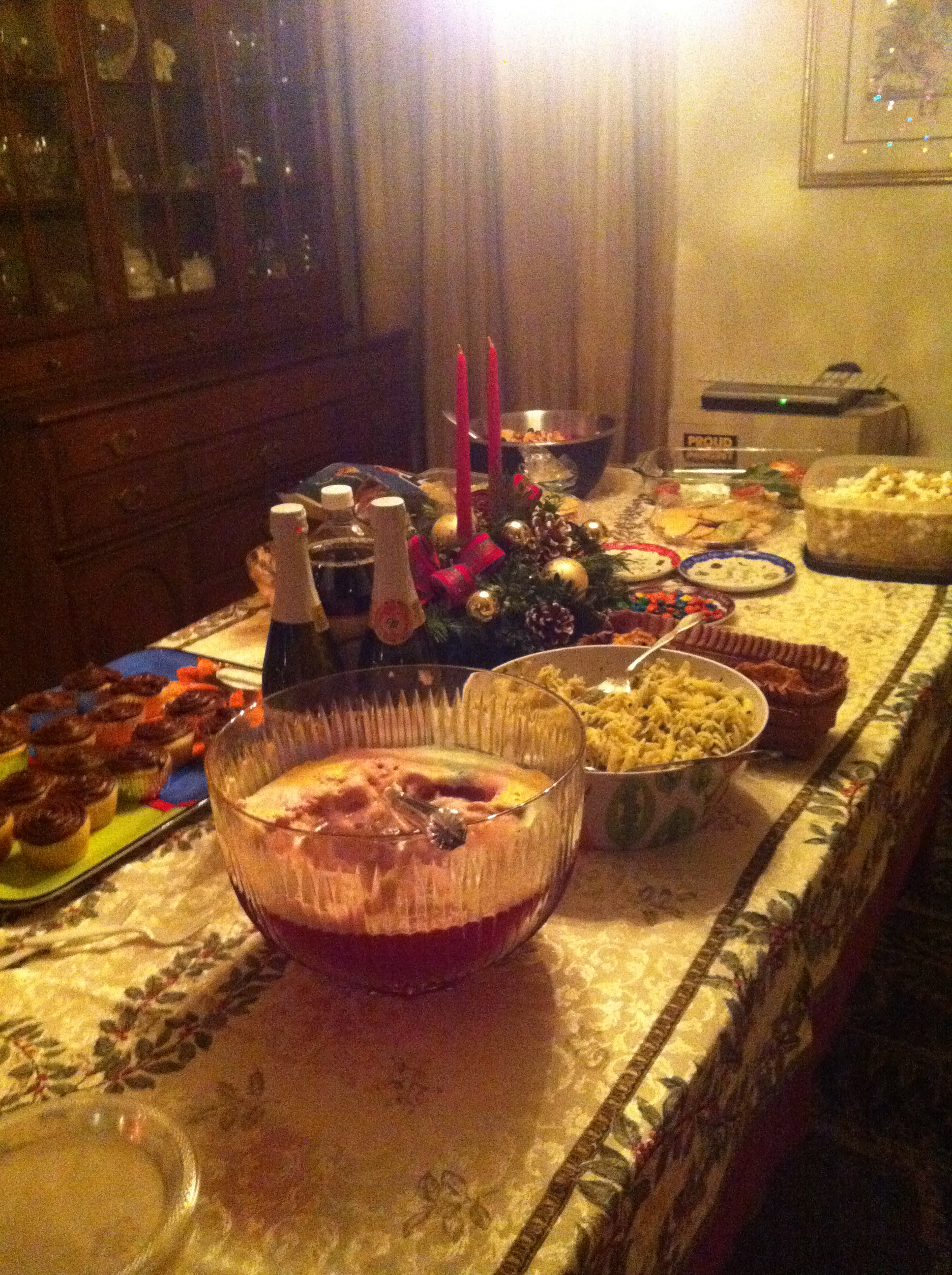 Ready yet?
Hopefully all of these things will either inspire you to have a Secret Something party of your own, or at least give you food ideas for a holiday party you might be attending this year. Of course, the best part about these traditions is the people you share them with. So don't sweat the small stuff – it's sure to be a fun time.
Want a summertime tradition idea? Every summer the same Synchro group gets together for cheese and chocolate at The Melting Pot!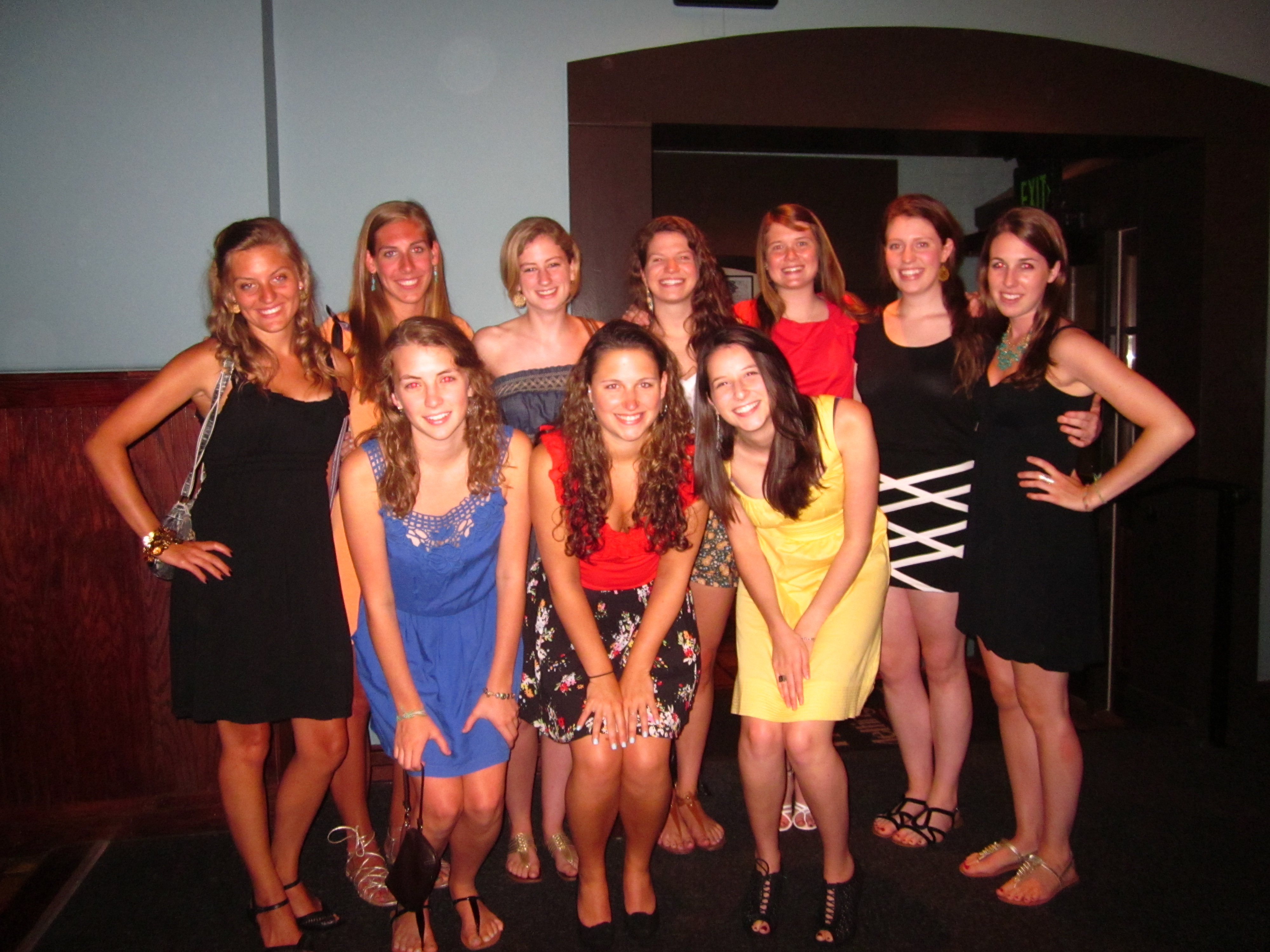 Happy Holidays, and thank you for reading!
————————————————————————–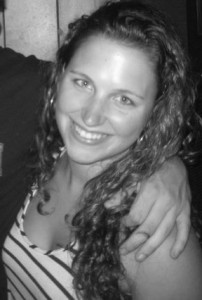 Dana is a senior Spanish major at the University of Maryland and planning on going to dental school. She loves to swim, cook/bake, read, and travel. She's had some amazing adventures in all kinds of fun places, but the place she loves most is Baltimore, her home.