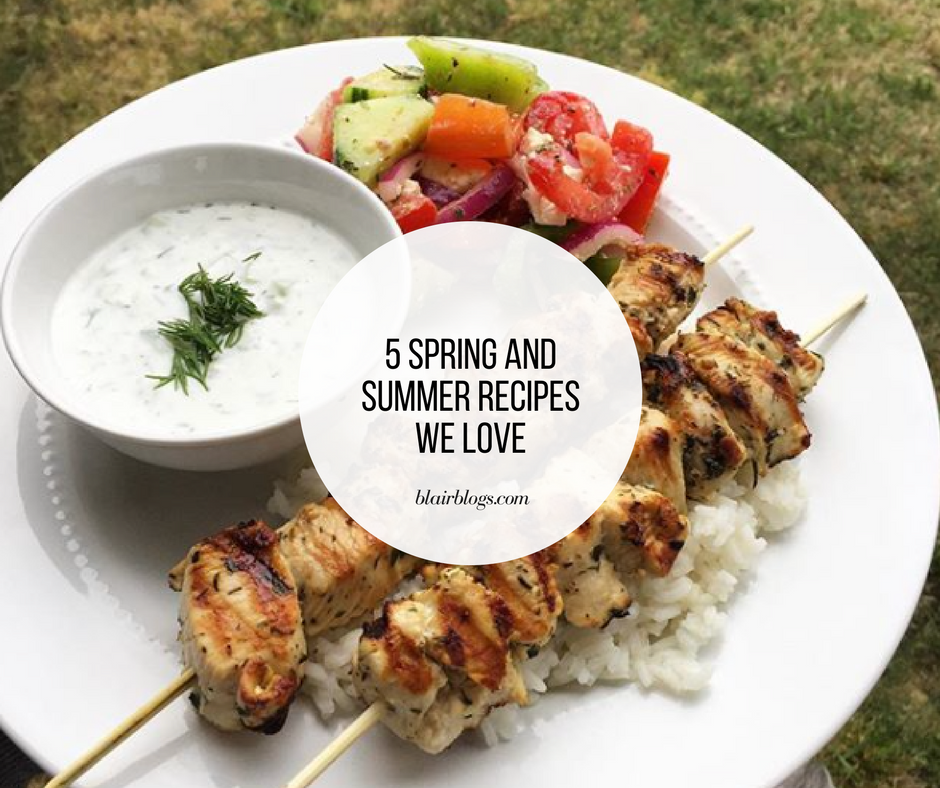 Apparently, I started a series back in 2015 called "Recipe Roundup," posted two posts (here), and then forgot about it. Since starting my YouTube channel (and sharing many of our meals in my vlogs), I've gotten dozens of requests to share more of our favorite recipes on my blog. So, let's get back into recipe roundups, shall we? Here are five spring and summer recipes we love!
1 | Copycat La Madeleine Salad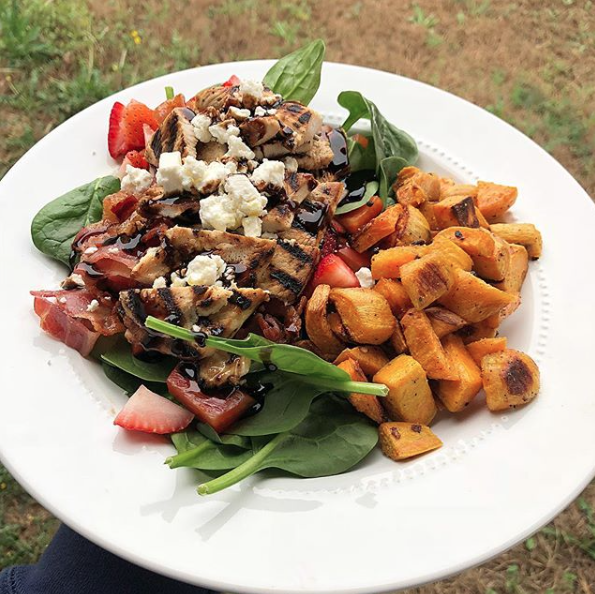 Have you ever eaten at La Madeleine? It's similar to Panera, but much better (in my opinion). Anyway, there's a delicious salad at La Madeleine that we recreate at home all the time. It's not an exact recipe, but here's the general framework:
Ingredients
Box of spinach
Cut up red pepper (we use one)
Cut up strawberries (we use about 10)
4 strips of bacon, fried and chopped
Chicken (we use either shredded rotisserie chicken or grilled)
Balsamic vinaigrette
Sometimes, we also add feta cheese, cucumbers, avocado, and/or tomatoes. This salad is both light and filling. We absolutely love it and eat it several times a month once the weather gets warm! (In the above photo, the salad is being served with roasted sweet potatoes.)
2 | Arugula, Feta, and Watermelon Salad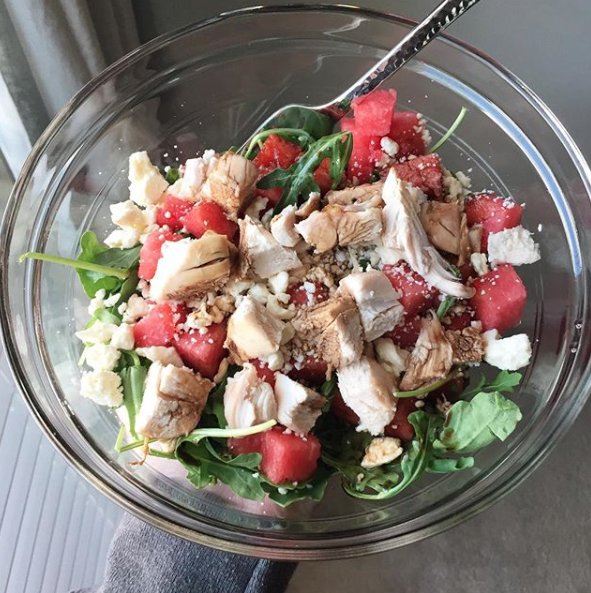 This is my all-time favorite summer salad (the La Madeleine copycat is Riley's). It is so, so yummy. We use Ina Garten's recipe here, except we use balsamic vinaigrette rather than making our own dressing (we have really delicious high quality balsamic on hand from a local farmer's market). We sometimes add feta cheese, rotisserie or grilled chicken, avocado, and/or cherry tomatoes to this dish to "beef it up" so that it can serve as dinner on its own.
3 | Greek Lemon Chicken with Tzatziki Sauce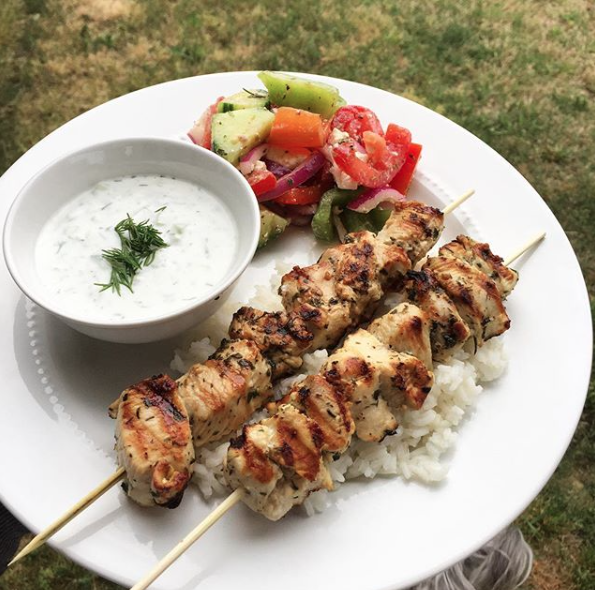 Oooh, my mouth is watering just talking about this recipe. It's GREAT. We've made it a dozen times and it's our go-to summer meal when we're having company because it's easy and everyone loves it. The recipe for the chicken marinade and tzatziki sauce are here; the Greek salad is made up, but it's basically a green bell pepper, a red bell pepper, a tomato, half an English cucumber, half a red onion, and about a 1/2C of feta marinated in a couple of tablespoons of olive oil, the juice of half a lemon, salt, pepper, oregano, and parsley.
4 | Summer Vegetable Gnocchi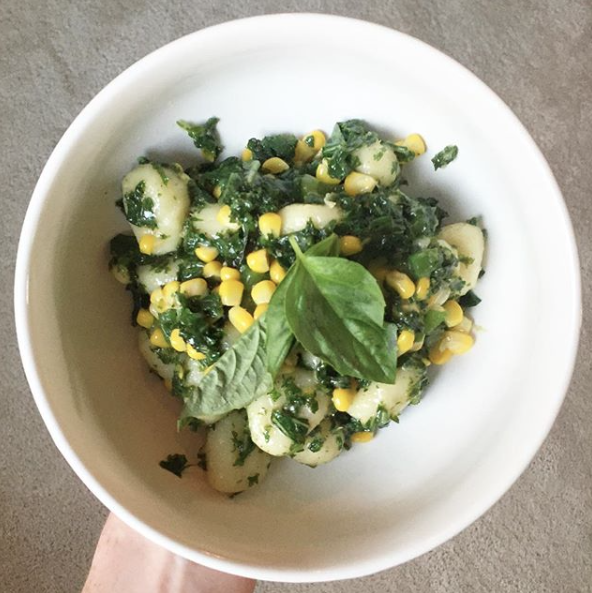 This recipe is fantastic! We discovered it a year or two ago in a Blue Apron box, but the recipe is available to the public online here. We love this recipe for spring or summer nights when we want something just a little heartier than salad, but nothing too heavy. This fits the bill perfectly. It's delish!
5 | Burrito Bowls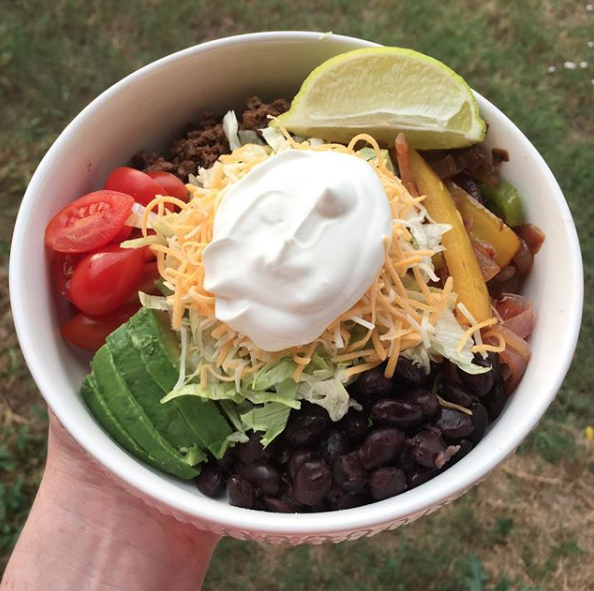 If I admitted to you how often we have these for dinner, you'd be shocked. We eat this meal all. the. time. For one, it's super easy and filling. For two, it makes amazing leftovers. You can throw in whatever you want, but here's what we usually use:
Ingredients
Rice (we use jasmine rice, you could use any or quinoa)
Ground beef with taco seasoning or shredded chicken with fajita seasoning
Fajita veggies (about three bell peppers and a red onion sautéed)
Avocado
Black beans
Tomato
Shredded lettuce
Cheese
Lime wedges
Sour cream
Salsa
We usually already have everything on hand, which is probably why this has become such a go-to meal. Yum!
6 | Bonus! Parmesan-herb zucchini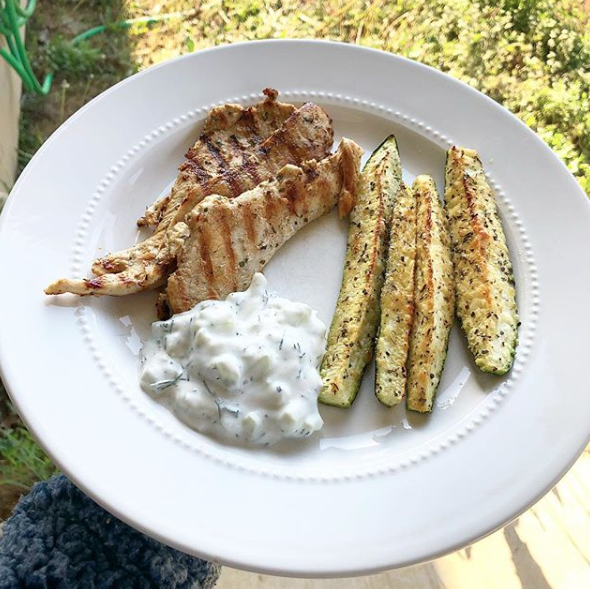 This zucchini is the perfect spring and summer side! Here's the recipe–it couldn't be easier! (Pictured above with the Greek lemon chicken and tzatziki sauce mentioned in #3!)
// What recipes are you loving?
Thank you for reading! You can find me online on YouTube, Facebook, Instagram, Pinterest, and Twitter. If you'd like to be alerted whenever I publish a new post, you can follow me on Bloglovin' or subscribe via email. Check out my fun tees in my Etsy shop! Are you a blogger too? Check out my Blogger Mentorship Program.